RedBud Track 'n Trail
Buchanan

,

MI
RedBud
Lucas Oil AMA Pro Motocross Championship
By Jason Weigandt, Steve Matthes, and Chase Stallo
Marvin Musquin, Red Bull KTM, 4-3 for second overall
Congratulations on a big afternoon, but what's been going on the last five or so Nationals?
I had the surgery on my knee, tore my ACL for the second time on the same knee. It was really tough to get back in shape to get my knee at 100 percent. It's still hurting. I didn't have so much time to ride, to train, to do all that stuff. I was dealing with it and I did my best. I had no choice. It's been tough but I proved that I have good speed and I can do better than what I did at the beginning of the season. It feels good to be out there and I'm in second place overall. It's really good. I had a great feeling on that track and I had a good flow, good rhythm. I was having fun. It was really rough but I was enjoying riding. It feels good. – Jason Weigandt/Post Race Press Conference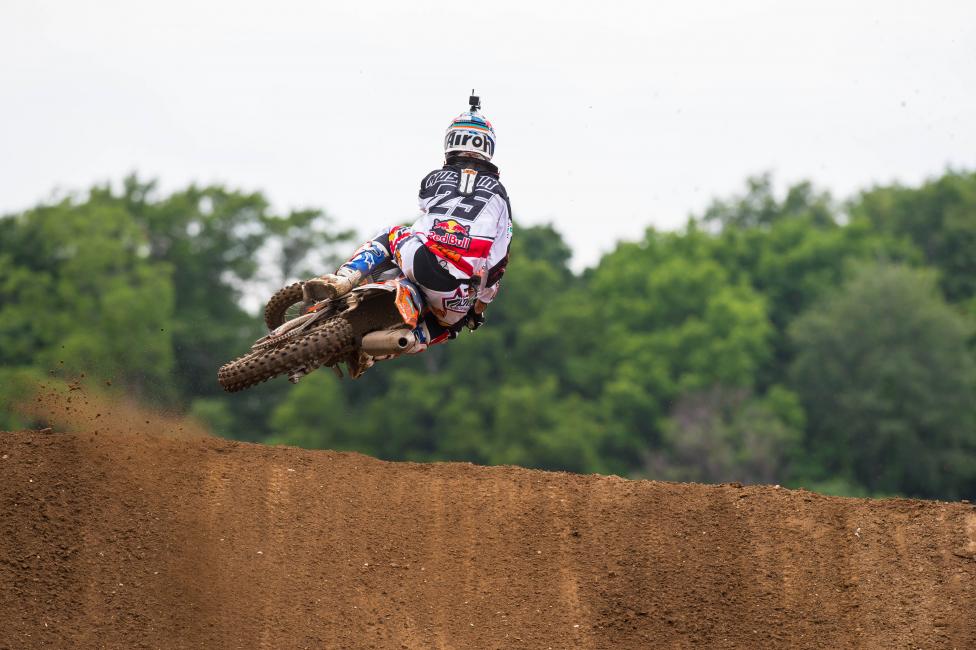 Jason Anderson, Rockstar KTM, 3-4 for third overall
You had an outstanding afternoon. It was another one of those days where things started coming to you a bit late. Talk about your day here at RedBud.
My day here at RedBud, it didn't start very good in practice. I kind of struggled with the track a little bit. But I feel like I worked into it. Honestly, I had a little bit of luck come my way and just kind of rode decent. But that first moto I think I kind of got third by elimination. Everybody kept falling down in front of me, which I'm cool with that. The second moto I rode a lot better and felt like I could have made a push and maybe got Marvin at the end, but I ran into some lappers. Just pumped to be on the podium. That's good for me. I had a rough weekend last weekend. I'm excited. -- Jason Weigandt/Post Race Press Conference
Cooper Webb, Yamalube Star Racing Yamaha, 14-1 for fifth overall
That was impressive, dude. You came back with a vengeance.
Yeah, I was determined to try to do really good in the second one. I knew in the first one I felt like I could have won the first one. It was cool to kind of pass my teammate and make moves into 1st and get it done. It's nice winning. I could get used to that.
How different was it leading this time around, just compared to a week ago, now that you've done it? Is it a totally different situation now?
Yeah, it was a lot more chill this time. It's one of those things for me. I've always kind of—I don't know why—but I kind of race myself. It's kind of weird, when one lap I'll have a little lead, and then you'll kind of get held up by lappers. Especially here, you can't really change your lines. And with all the lines, it's like, he had a couple lines that were better than me. It was like, man, where do I go? But I was a lot more relaxed. But the last lap kind of lapper got in front of me, kind of jacked me up and made it interesting. Glad I held on.

You are not going to get passed in the last turn of a race probably ever again, though.
No. Unfortunately, I had to learn from that. That will never happen again.

What happened the first moto crash?
Man, it was just one of those things, over the tabletop, I screwed up. [Christophe] Pourcel kind of came over on me and we landed on each other. We both ate crap and I was trying to get my bike started. It just took me a while to get it started and it was all bent. I was kind of hurting. I think I managed to get fourteenth. That was kind of a bummer, like I said, for both of us. We pretty much landed on top of each other. It was a bummer for sure, but at least I had redemption in the second one. – Jason Weigandt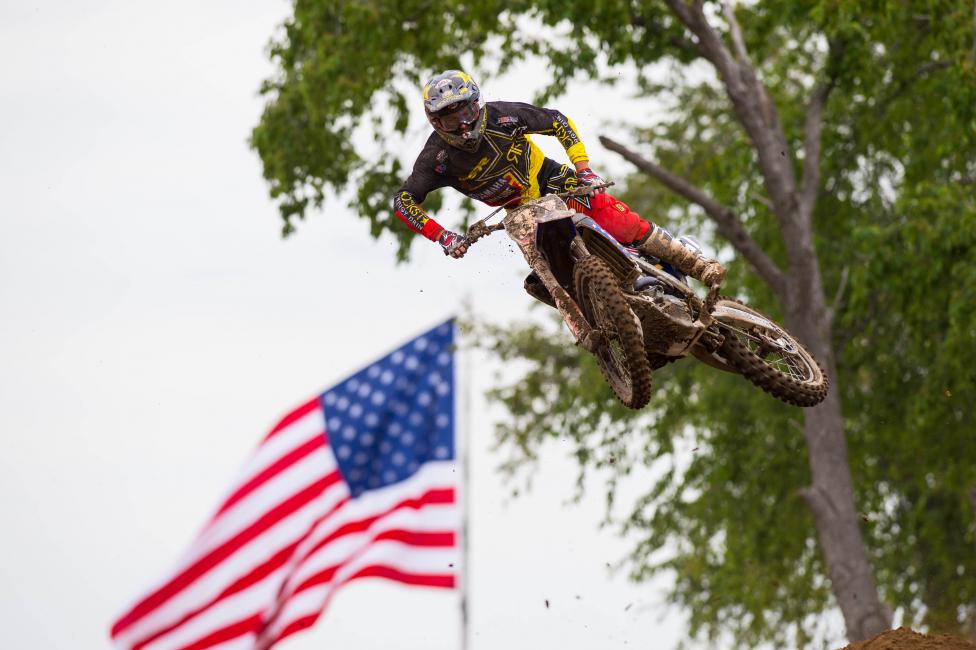 Dean Wilson, Monster Energy Pro Circuit Kawasaki, 9-5 for sixth overall
First of all, after last week, welcome back to the series—you go down in the first turn. This week, you hit Seely at some point. Both of you guys go down. It's just kind of little, small stuff for you. Probably setting you back a little bit from where you want to be.
A little bit. I'm happy. Last weekend I was racing, and that's pretty soon from the injury I had.

Your number one fan club member Dan Truman said you'd only ridden like two or three times.
I rode like four or five times. But there's no other training like racing. So raced last weekend, kind of got my feet wet. This weekend was better. I think I could have almost been either third, fourth, or ffith overall if I wouldn't have fell the first moto. But [I'm] just progressing, so that's all that matters to me. I'm not in the points chase, so I just want to build myself to where I'm able to start winning, and I'm slowly getting there. My starts were better. I'm happy. A 9-5 isn't awesome, but from where I was five weeks ago it's awesome.
What happened with Seely? Did you do that, or did he do that?
To be completely honest, I think we both did it. He was kind of acting like it was my fault. I didn't shut off, but I was on the inside, so you kind of control it [on the inside]. He was on the outside and he didn't shut off. It's alright, I'm not bummed out about it. I was a little pissed about it at first, but it's racing and we were two racers who didn't want to shut off the gas. It's all good. – Steve Matthes
Cole Seely, Lucas Oil Troy Lee Designs Honda, 8-6 forseventh overall
Bummer you went down with Deano there. You would have had a good first moto finish. What happened there?
I'm sure if you ask him it's going to be my fault.
I did ask him.
It's probably my fault.

Nope.
It was a little heated there. Not like heated like we were going to fight or anything. I was bummed because I felt great. I was passing into fifth.
Coming from the back a little bit too, I think.
A little bit, like mid-pack, just outside the top ten. It felt great. It's just common etiquette to me. I got the line, I've been on you for two laps, let me have it kind of thing. But it was a bummer, but I still felt like I rode good and got up and finished eighth, which kind of sucks but then came back and got sixth the second moto. I felt like I rode pretty good today. – Steve Matthes
Justin Bogle, GEICO Honda, 5-12 for ninth overall
The result looks horrible compared to how you rode.
The result definitely doesn't show how I felt this weekend. I was running up front first moto, I think second. I went down and then running third or fourth and went down again in the same corner later in the moto. Definitely not the way to do it, but still put down a fifth. Second moto got a great start and got into the lead. Led for a while, had a pretty good battle going, and I hit the deck. So I had to work my way back up to twelfth.

What did you do? Did you crash going up the face of that first?
I slid coming up the roller, got off to the edge, and then I hit the, I call it the California walls. Every practice track in California's got the dirt walls around it. So I hit the dirt wall with my front wheel over it.
When you were in the air, did you think there was a chance that you could save it?
There was no doubt that I was saving it.
You had it dialed?
I'm like, I'm riding this out and I've still got the lead, I'm all right. And then next thing I know I'm off the track and I've crashed, having to start my bike. But it's all good. It's a bummer, the result. Keep pushing. It'll come.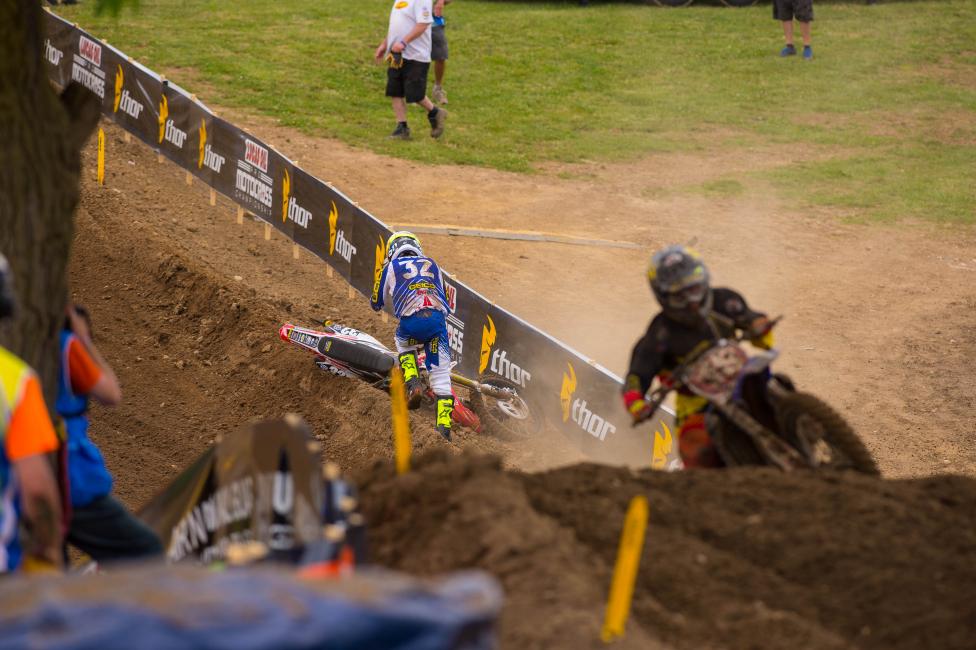 It's totally logical stuff. Now you have some podiums, so today it was like it was time to go for the victory.
I wanted that moto win for sure. I wanted to win. I think definitely working towards that. I just need to keep plugging away and keep grinding. I think it's coming. Like I said, I'm learning every weekend, taking the positives out of this, come out at Budds and have a good weekend.
Does your bike change as you do that? I'm assuming you're getting faster, certainly faster than you would have been, say, at this time last year. Does that have to change along with your pace?
My bike's definitely the stiffest it's been ever, as a professional or at all in my life. I keep going stiffer, just making changes. I think that's a good thing though. I don't think that's a problem. That means I'm going faster. Like you said, this time last year I was going for it like I was today, but just for a single digit, for like a 9th or a 10th. So it's all good. At least I'm going for it for trying to get moto wins now. – Jason Weigandt
Zach Bell, GEICO Honda, 11-17 for fourteenth overall
How's the shoulder? Was it all right?
The shoulder was completely fine. Just bruised it last weekend.

Didn't hold you back training this week or anything?
No, I actually went down to Stewart's and did motos with James, but he had to fly out early for press day. We got in two days of riding and motos, so it was a good week. I had a good practice, and the motos didn't go so great, both crappy starts. First moto I was way in the back and had to play catch-up and ended up eleventh. Second moto I was coming through the pack again and was getting into the top ten and happened just to catch my foot in a rut and fell over and stalled the bike. Whenever I got going, I had dirt stuck in my throat and I was choking for a while. Kind of had to slow down to make sure I was okay. Finally got back going. I actually set my fastest lap time on one of the last laps. Overall, I felt great today. Just need to get good starts again. I don't know what's going on with my starts.
That's really unlike you. You're known as a good starter. Is there anything you can pinpoint?
Actually, the first moto I think I was a little too excited because I wanted to make up from last weekend. I accidentally just wheelied right out of the gate. Second moto I tried too much not to wheelie and everybody just got me. Overall I'm happy that I'm still in one piece. Just taking points and I'm taking it race by race.
After so many injuries, it has to be a relief that the shoulder actually turned out fine. I'm sure there were a couple days where you were a little worried.
When I was driving home I was kind of scared because it was bugging me a little bit. I just completely forgot about it when I started riding. It feels completely fine again. – Chase Stallo