The Wick 338
Southwick

,

MA
Southwick
Lucas Oil AMA Pro Motocross Championship
If you lived in the state of South Carolina during the early to late 2000s you were bound to hear the name PJ Larsen. Destined for stardom, Larsen honed his skills in the small fishing town of Awendaw, South Carolina, a stones throw away from the majestic, historically rich Charleston coastline.

I can still remember the first time I witnessed the amateur sensation in action. I was a sophomore at College of Charleston, and I had made the short trip up the shoreline to Chesterfield, a small desolate town in the Midlands of South Carolina. Chesterfield was home to Sandhills, a sand and clay soiled track, and one of the favorites of anyone on the South Carolina coast.

It was your typical muggy southern afternoon. The sparse dissolute clouds of grey were rendered obsolete by the scorching hot temperatures that made you sweat just thinking about throwing on a pair of gloves. As a green blur whipped across the sandy terrain, tearing through the thick layer of clay underneath, I looked to my brother, then a journalist at Moto Playground Magazine, and rendered something along the lines of, "What's his name?" With a harsh defiance in his voice, he uttered, "That's PJ Larsen. You'll be watching him in the pros one day."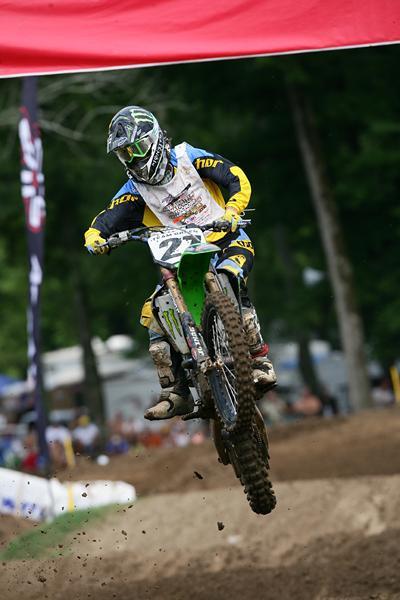 Larsen won a share of the 2008 Horizon Award while a member of Team Green.
Although Larsen grew up a long way from the Mecca of motocross, California, the early to late 2000s saw an influx of top talent from the east.

"I came up with [Austin] Stroupe, [Trey] Canard, [Nico] Izzi, [Les] Smith, [Broc] Tickle, [Taylor] Futrell, the list goes on," Larsen said about the top talent that pushed him to where he is today. "I probably wouldn't be where I am today if not for those guys, because I wouldn't have been pushing myself to beat them."

Larsen rose through the amateur ranks riding for the iconic Team Green Kawasaki. Racing against the likes of Izzi, Stroupe, Canard, Wharton and more, Larsen more than held his own; winning numerous amateur national championships throughout his illustrious career, including two titles at Loretta Lynn Ranch and a share of the 2008 Horizon Award—awarded to the top amateur rider in the country—along with Darryn Durham.

Winning the Horizon Award comes with a certain prestige. It'a an honor, but one that provides pressure to fill the shoes of those before you. Especially during the 2000s when names like James Stewart, Davi Millsaps, Mike Alessi, Ryan Villopoto, Josh Hill and Trey Canard all hoisted the trophy.  

The pressure of winning the prestigious award didn't faze Larsen. But for the laid back southerner, not much does.

"Whenever I went to Loretta's and won there, it was just an accomplishment that I had set out to do," he said. "It was definitely a huge deal to win it [the Horizon Award], but it didn't add any pressure to go win at the pro ranks. I never looked at it as I had these huge shoes to fill."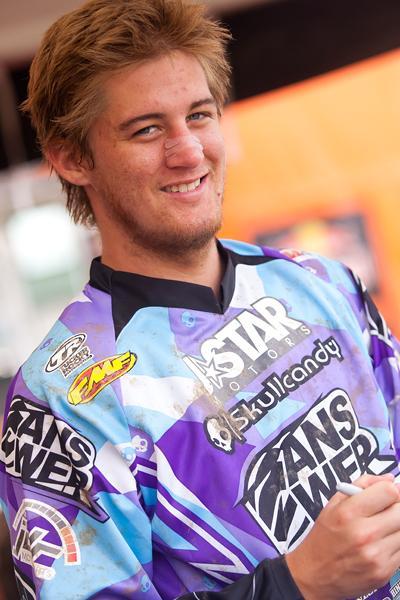 After his rookie season in the U.S. in 2009, Larsen went to Australia the following year and won both the Australian MX Nationals and Supercross Pro Lites titles.
Andrew Fredrickson photo
The following year marked Larsen's first professional season, which came in a class that read more like a who's who of motocross than a Regional Lites Class. Riding under the guidance of Bobby Hewitt and Team Canidae/Motosport Kawasaki—which has since transformed into Rockstar Energy Suzuki—Larsen would finish his rookie supercross campaign tenth in points—behind such names as Ryan Dungey, Jake Weimer, Ryan Morais, Justin Brayton, Chris Blose, and Trey Canard.

Then came the Lucas Oil Pro Motocross Championship, and the beginning of a string of injuries that have derailed Larsen's career. A wrist injury at Freestone stalled a promising rookie season—although he would return later in the season—eventually leaving Larsen on the outside looking in come contract time.

A proven team in Australia, which had plans on coming stateside in 2011, offered Larsen a chance. But it came with one hitch; he would have to proven himself in Australia first.

"When I went down there I didn't really have anything on the table. Luckily the guys at JDR Motorsports stepped up and said, 'We believe in you and we want you to come down here and prove yourself,'" Larsen said.

"They had told me about their plans to have a team in the U.S. the following year and it ended up being a great experience to be, 18, 19 years old and move to a foreign country and meet some great people."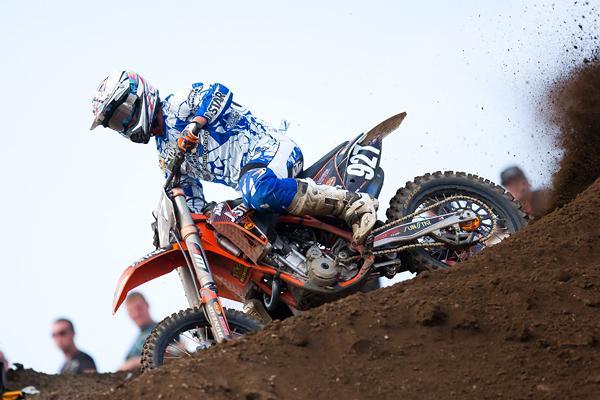 Since his return to the States in 2011, Larsen has yet to complete an entire supercross or motocross season.
Andrew Fredrickson photo
Success came quickly down under. Larsen dominated the Australian MX Nationals Pro Lites Class (250) and then eked out a hotly contested, controversy-laiden Australian Supercross Championship over current J-Star JDR teammate Matt Moss. The ecstasy of winning two championships would quickly diminish, though, as 2010 would mark the last time Larsen would get through a season unscathed.

Larsen returned to the States in 2011, under the J-Star JDR Motorsports KTM tent, smothered with expectations of living up to his highly touted amateur career. He looked fast, fit and ready for his first race of the season, the Lites East opener in Houston, but he broke the navicular (scaphoid) in his wrist at that race. He tried to race through it, with five top-tens and three top-fives through six rounds, but the injury would cut short a efficacious beginning and eventually lead to an abbreviated Lucas Oil Pro Motocross campaign.

First, the wrist injury kept him on the sidelines for motocross. Then, after he healed, came another big setback, this time in the form of three cracked vertebrae (C-4, C-5 and C-6) at Unadilla. With a season riddled with injuries, Larsen quickly fell off the radar.

While Larsen was able to avoid having surgery, it still meant another two months off the bike, another grinding rehabilitation and another missed opportunity. While the road back was exhausting, he never lost sight of his goals.

"I never lost my path and went off and did other things. I've always been set in stone in racing and that's always my top priority," he says.

But just weeks before the start of the 2012 Western Region Lites series, Larsen was dealt another blow—suffering a broken bone in his hand, relegating him to the Eastern Regional Lites Class. Larsen was never able to get the ball rolling in 2012, securing only one top ten through five rounds en route to a disappointing start to the season. Then in Toronto, things came unraveled. A crash in a rhythm section during practice resulted in a torn ACL and foot injury, ending another season prematurely.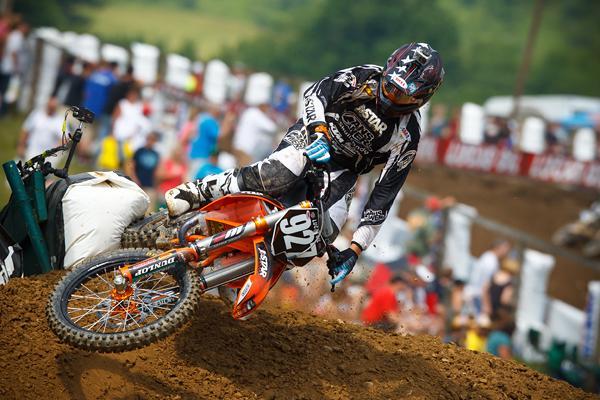 After two years riding in the U.S. for J-Star JDR KTM, Larsen and the team will part ways at the end of 2012.
Simon Cudby photo
"It's been tough. It's never something that I had gone through in the past," detailed Larsen on his recent bout with injuries. "It's been a challenge, but there are always pro and cons to everything.

"You go from being so busy to not doing anything at all and its like, 'What do I do with my time?' That's when a lot of guys go out and find other things in life that aren't always the most productive," he continues.

For young riders lined with a seemingly endless bank account, and the temptations of the wild and carefree California lifestyle, injuries can be hazardous to a career.  For Larsen, who concedes that he enjoys keeping to himself, his recent stint on the sidelines has allowed him to pursue opportunities outside of motocross, and begin planning for a future beyond the fences.

"With this injury I have started working with a company called ViSalus [a protein supplement company] and have become a promoter with them.

"It is something that I look at it as, you don't have a long span in this industry and your career is not going to last forever," he continues. "I feel that a lot of guys don't look at it like that and they don't go about it the right ways to sure themselves up in the future.

"I understand that you can only race a dirt bike for so long and once it's gone you have to have something to fall back on."

After two injury riddled seasons with J-Star JDR Motorsports KTM, in which Larsen has missed a combined 23 races in Monster Energy Supercross and Lucas Oil Pro Motocross, the team and Larsen will part ways at years end.

"The team feels that it's best that I explore my other opportunities within motocrosss, and I guess that means that at the end of the year I will be out shopping for a ride," explained Larsen on the recent split with J-Star JDR.

Larsen has been in talks with many teams, but has yet to solidify anything for 2013. And while he isn't against going the privateer route or even making the journey back to Australia, one thing he's unwilling to budge on is riding for free.



"A big thing with me is that in the U.S. a lot of teams are looking for riders to ride for free. Personally, I flat out tell people that you are not going to get me to ride a dirt bike for free," he says. "I love riding a dirt bike, but it's my job, and if I'm going to do a job than I'm going to get paid to do it."
Now, just four months removed from surgery to repair a torn ACL, the steadfast Larsen has begun riding with hopes of racing the last four Nationals—but doesn't necessarily believe good results will translate into a ride for next season.
"Once it comes down to the end of August, beginning of September, most of the teams are already full," Larsen said. "So even if I went out and did really well those last couple of rounds I don't think I'm going to earn a ride by it, because I feel like all the spots are going to be taken by then."
So why would Larsen risk further injury by pushing himself through the last few rounds?
"If I went out and did those rounds, it would be more to prove to myself that I still have the speed, and it will help current sponsors that I still have," Larsen stated. "It's more a current team thing, than for next year."
With unbridled potential leaving the amateur ranks, the sky was the limit for Larsen. But injuries have stymied a career that was once beaming with endless possibilities. Now, Larsen finds himself in the precarious situation of once again having to prove himself.
"I definitely haven't accomplished what I've wanted to accomplish in this sport," Larsen said. "I know I can accomplish a lot more."
Injuries have cost Larsen the better part of his early career, but the talent and drive have yet to subside. A burning desire to prove he can be part of the top tier in the 250 Class continues to fester, waiting to be unleashed.
"I have never lost my drive. I haven't lost sight of motocross racing and my career path in it," emphatically states Larsen. "It obviously hasn't gone the way I wanted it to [the beginning to his professional career], but I don't think we have seen the best of me yet."
At just 21 years old, the window of opportunity for Larsen is still ajar. But one more tough season could blow it shut, leaving only thoughts of what could have been behind.