Notre Dame Football Shamrock Series Helmets by Troy Lee Designs
Notre Dame Football - November 11, 2011
The University of Notre Dame will celebrate its Shamrock Series football matchup on Saturday, November 12, against the University of Maryland, by wearing helmets specially designed and painted by Troy Lee Designs.
The Shamrock Series is the new term delegated to the off site game played by the Notre Dame Football Team each year. For this game each football season, the Irish will deviate from the norm when it comes to the helmet, jersey, pants and shoes the team wears.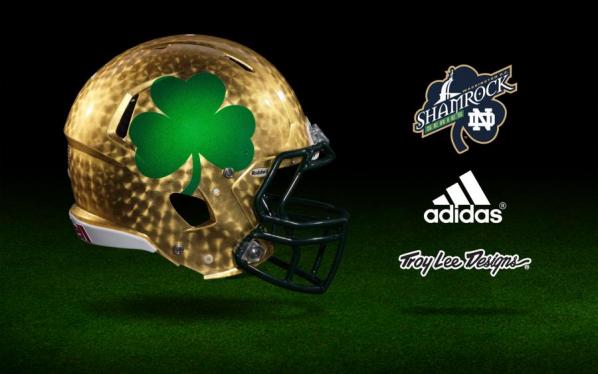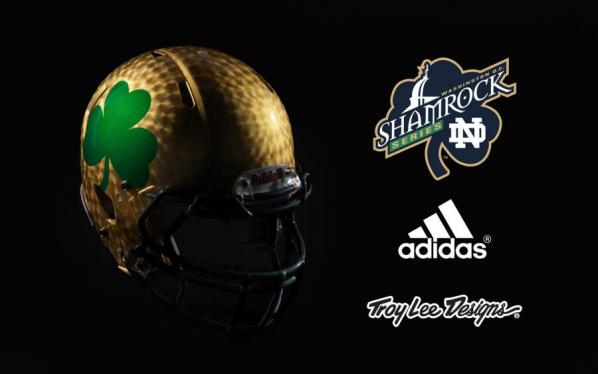 Created in partnership with adidas, this year's Shamrock Series helmets took over one month to complete. The helmets are covered in 24-carat gold leaf, a task exclusively accredited to TLD's Jay Stemska, and feature green shamrocks on each side with the trademark fighting Irish leprechaun on the back - decals individually placed on each helmet by TLD's Jason Navarette. Handcrafted with meticulous detail, the gold-leaf helmets combine Notre Dame's rich football heritage with the program's bright future.
These new helmets mark the first in a series of uniform features that will be utilized for Notre Dame's Shamrock Series contests. After the 2011 game at FedExField, the Shamrock Series in 2012 moves to Soldier Field in Chicago for a game against Miami. In 2013 the Shamrock Series matchup against Arizona State will be played at Cowboys Stadium in Arlington, Texas. The Irish will showcase uniform variations in their annual Shamrock Series games, but otherwise will wear their standard uniforms the rest of the season.
"Notre Dame football has one of the most iconic looks in college football, and to celebrate the Shamrock Series, our team wanted to create a special new element for their uniforms for Saturday's game," said Mark Daniels, director of football for adidas.
Beyond the new helmets, the Irish jerseys and pants for the game against Maryland on Saturday will be identical to those worn a year ago at Yankee Stadium against Army - including green adidas TECHFIT jerseys. New for the Maryland matchup, the Irish will wear adidas adiZero gloves featuring a gold palm and adjoining shamrock logo plus white adidas cleats.
The Maryland vs. Notre Dame game will be held at FedEx Field in Landover, MD., this Saturday, November 12. It will be broadcast on NBC at 7:30 p.m EST / 4:30 PST.
About Troy Lee Designs:
For 30 years, Troy Lee has been customizing helmets "For The World's Fastest Racers." TLD's relentless commitment to creating products that exceed the cutting edge of style, design and quality, has earned them the reputation as an innovator in many different fields of racing. Troy Lee Designs has since expanded into a full force operation, offering a complete line of helmets, apparel and premium protection for off-road motorcycling and bicycling, as well as seasonal lines of sportswear and accessories. Based in Corona, California, Troy Lee Designs has a global network of distributors.
About adidas:
For over 80 years, the adidas Group has been part of the world of sports on every level, delivering state-of-the-art sports footwear, apparel and accessories. Today, the adidas Group is a global leader in the sporting goods industry and offers a broad portfolio of products. Products from the adidas Group are available in virtually every country of the world.
About Notre Dame Football:
The University of Notre Dame Football Team has been competing since 1887. The Fighting Irish claim 11 National Championships and have produced 7 Heisman Trophy winners. Notre Dame competes as an Independent at the NCAA Football Bowl Subdivision level and is a founding member of the Bowl Championship Series coalition. The team is currently coached by Brian Kelly.
LIKE us on Facebook:
facebook.com/troyleedesigns.tld
Follow us on Twitter:
@troyleedesigns
Media Contact:
Chris Lewinski
951-371-5219 x277
clewinski@troyleedesigns.com