There's a new mechanic under the Pro Circuit tent but he's not necessarily a new face. Thirty-six-year-old Wayne Lumgair has taken up the t-handles for Tyla Rattray and somehow, I believe this union has a chance to work out. With all the demands of working for a top rider and team, the friendly South African (is there any other kind?) took the time to give me a shout and fill us in on the Lumgair mystery as well as the season and his career.
Racer X Online: Wayne, thanks for doing this and before we get into your story, how has the season been going for your and Tyla so far?
Wayne Lumgair: Yeah, pretty good I think. I didn't expect too much on the supercross side but with that podium at Anaheim it's good. He's learning and then after that he got hurt a bit before Phoenix—tweaked his wrist—and that bugged him at that race and at L.A. Just as that was healing up, he crashed with [Christian] Craig at L.A. when he crossed over into him and got landed on a bit which also set him back. His leg was a bit sore, but now this weekend I think he'll be all good and healed up. The aim is to get back on the podium.
I think he's been pretty good considering how much experience he has at supercross. Just how much indoor racing does Tyla have in his background?
Pretty much zero. There really isn't any racing in Europe, but he did race Bercy one year when he was around sixteen, but that was about it. It's all new to him.
Speaking of new, you're new to the Pro Circuit team but not new to being his mechanic. Can you talk about your background?
We raced in South Africa for many years and there was a sponsor that brought Grant Langston to Europe and luckily we also got on that program and got to go race the GPs. Tyla really wanted to go and we stayed there for two years before his mom joined us. We've been together ever since.
I was his mechanic over there and we won the World Championship together. I also did the engine service for a couple of years for the team. I was in-house and was shifted around but I was normally Tyla's mechanic. When Tyla got a ride with Pro Circuit, I was his practice bike mechanic for that first year. Then Vince, who was his mechanic, went to the KTM team and there was an opportunity for me to become Tyla's mechanic once again.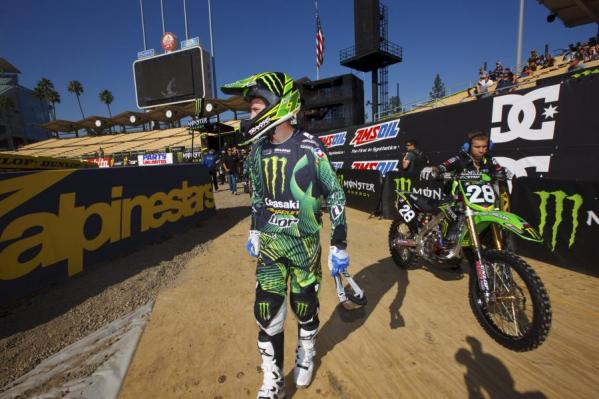 A rider and his mechanic are never too far apart.
Photo: Simon Cudby
Did you have dreams of being a mechanic over here or is it just one of those deals where you just want to help out Tyla?
No, no, I wanted to be a mechanic over here, no doubt about it. For myself and my own career, I wanted to get back into it and get the ball rolling again. I hope to have a long career doing it here and I enjoy it. It's a dream for riders to ride for Pro Circuit and same for mechanics, because once you work here you can work anywhere, you know what I mean?
Yes I do, and speaking of that, how is it working for Mitch Payton?
It's great, he's not as bad as the stories you hear about how gnarly he is. You always hear about him and all that, but it's not bad at all. We do work a lot but he's a great guy and he treats us good. I like working here a lot.
What about Kelly, Mike Alessi's mechanic, who once worked for Tyla and remarkably looks a lot like you?
[Laughs] Yeah, Kelly is my brother. He worked for Tyla, like you said, and then he's got a baby in Belgium from his ex-wife. He wanted to try and be half in Europe and half over here and the deal with Alessis was that he was going to try and do some GPs so he went that direction. That's how that all went and he still watches out for Tyla and it's all good. Some people get mixed up with us and call me Kelly and they've been doing it for a year or so. I just go with it, I'm Kelly!
You must be excited for the outdoors.
Yeah, I am. The goal, the dream, and the whole thing is about winning the title this year. Hopefully we can get some more podiums here in supercross and get through it healthy and fit and then on to motocross.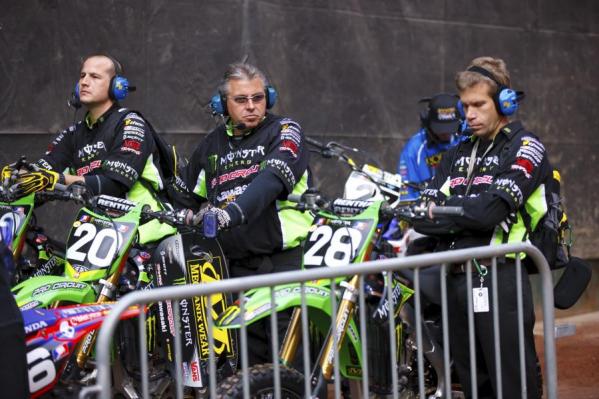 Lumgair (right) had worked with Rattray earlier in his career before joining Pro Circuit.
Photo: Simon Cudby
What's the biggest difference between working as a mechanic here and in Europe?
I think, for me, the traveling over here is the biggest difference. It's harder over here than in Europe. Over there we drive a lot and you would think it's tougher, but I think the flying is tougher. It's early up and out, you fly across the time zones and then it's one day and you're back on a plane. Everything is so rushed that it wears on you more. In Europe, you leave on a Wedsneday, you're with other mechanics and sharing driving, you stop for lunch here and there and you're at the track for a few days as well. Other than that, everything else is the same.