Round one of the WORCS Series took place last weekend in Taft, Calif., and series veteran Bobby Garrison was one of the riders who lined up to do battle at Honolulu Hills. The event was shrouded by the sad and tragic news of Nathan Woods, who crashed and passed away in practice on Friday. Certainly the shocking loss of a such a well-respected racer weighed heavily on everyone's mind at the opener—and will continue to.
Garrison, who nearly won the title in 2006, is running his own team this year, and has his sites set on becoming the WORCS champ. We spoke with Garrison and asked him about his new team, the WORCS series, and what he expects in 2011.
Racer X Online: Tell us what's been happening with you lately.
Bobby Garrison: I started doing the WORCS stuff in 2006. I joined the Zip-Ty team, and ended up missing the championship by one point. (Ricky Dietrich took the title that year) From there I've just had my head wrapped around trying to get that title. The following year, in '07, I got hurt in the beginning of the year, and won a couple races. In '08 I was leading it in the beginning, but got hurt. After that I struggled and took a few steps back. I started doing a few motocross races just trying to get back up to speed. Last year I rode for Husqvarna and did the entire WORCS series and a couple of nationals. One of my close buddies was trying to push me into hopping back on one of his bikes and doing the whole motocross and WORCS type deal like I used to in '06. I decided it would be in my best interest to do it, so I basically dropped everything I was doing with the Husqvarna team and that whole off-road situation I was looking at. I decided to do WORCS and moto and stick with that, to try to get some sprint speed and try to win this thing. Everything has started to come together within the last two or three weeks, since I wasn't able to really do anything until the first of the year.
Tell us how the first race of the season went for you in Taft.
It went pretty good. I got off to a pretty good start, right around fifth, and had a pretty good battle in the beginning with Mike Brown. I ended up getting by him, and things were going pretty good. By that time I had spent a little more energy than I wanted to though, and I had Kyle Summers come up and start battling with me, and he ended up getting around me. I tried to latch on to him as best as I could, but he ended up slipping away from me. I had Brown and Taylor Roberts right on me until the halfway point. We decided to pit at the halfway point, a lot of those guys decided to pit at the three quarter mark. So I pitted and nobody else did, and it dropped me back down to fifth, but on that lap, me, Brown, and Roberts battled for that position, and when I came around, they both went in to pit, so I got back into third with a little cushion. I just tried to run my own race from there, and took third to the finish. I was pretty happy with third on the first round.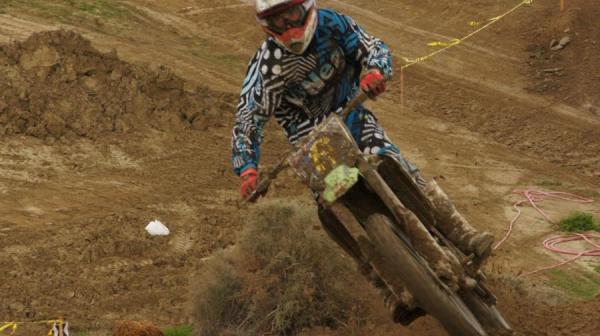 Garrison finished third in the first WORCS event of the season.
What team are you riding for this year?
I'm riding for my own team. It's mainly myself running the program, calling the shots as far as the sponsors. Also, one of my close buddies, Larry Laye, who has sponsored me for the last five years, he's been helping me get sponsors and getting bikes dialed. He's kind of half running my show as well. It's only myself riding for it, and my parents and friends will be doing my pit.
How hard is it for a WORCS rider to get factory support these days?
It's extremely hard right now, because of the whole way the economy went. It's tough for the motocross guys right now. They get motocross and supercross situated first , then the off-road guys. I think WORCS is the top series over on the west coast, and GNCC in the east, but I think both series' are kind of struggling to keep any support going. To be a privateer in off-road, is extremely hard to get sponsors, because there is less of a market than there is in motocross. It makes it tough.
Talk about losing the title by one point in 2006.
It came down to the last race, and I was actually leading the race until the last lap and I had a bike problem. It was a bummer way to lose it. Going in, I thought I had it wrapped up, and to lose it, I don't know. It's something that stuck in my mind, and I've never been able to capitalize on it again. In the years after that, I was still able to win races, but I was never able to put an entire series together. It's just been something that I really want to do. I've been so close to doing it, and there's a lot of motivation to get out there and do it. Also, I'd like to do some motocross races, it's something that I grew up doing. WORCS races are basically just motocross races with a little bit of off-road in there. You still get a lot of moto guys, Mike Brown is one of the top guys, and he was a full motocross guy. I think it helps doing the WORCS, in getting ready for the outdoors, and vice versa. I think they go hand in hand.
What do you think is tougher, an AMA National, or a WORCS race?
It depends on which WORCS race you go to. An AMA National is extremely tough. I mean, you have to go out there and go as fast as you possibly can for thirty minutes, and you're heart rate is usually peaked. In WORCS, I'm going as fast as I can the whole time, but you have some breaks, it's not constant obstacles. You'll have a road that you hop on, and even though you're going as fast as you can, you can take a little breather. It depends. Some of the WORCS races I've done are definitely harder than a national, but I think it's probably 50/50.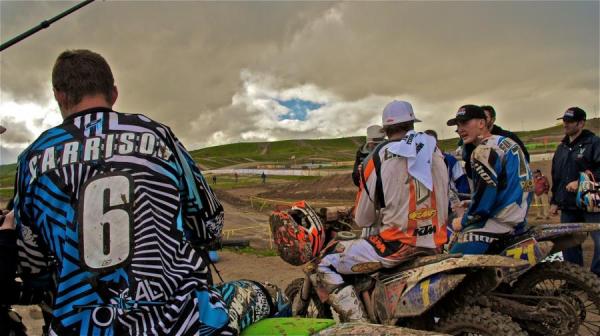 Garrison is looking to make a run at the title in 2011.
You mentioned that you've had some injuries in the past. How is your health coming this season?
I've been healthy for two years now. I had my arm worked on in the middle of '08, and it really set me back. It affected the way my arm moves, it got infected, and I was out for a long time. I started getting all the muscles back and everything last year, and it's starting to feel pretty good. Everything seems to be going really well for this year. I'm really healthy, and my bike's coming along good. I've got good motors and good suspension, and everything should be good. I'm 100 percent healthy, 100 percent in shape, and I'm ready to go.
Talk about your goals for the season.
My main goal is to win the WORCS series. I want to be in the top five consistently at all the races. I haven't set any goals as far as the outdoor nationals, but I'd like to show up and be competitive as far as getting into the top 10. That's kind of where I left off, and I feel like with the way things are going right now, I should be able to get in there and mix it up, at least inside the top twenty. I want to better my overall position. I've gotten a ninth at a national before, and if I got better than that, it'd be a big accomplishment for me. Other then that, I just want to hit as many races as I can and get some exposure.
Will you be on a Lites bike or a 450 for the nationals?
A 450. It makes it easier not having to switch up bikes.
Who do you see as being your main competition in the WORCS series this year?
I would say the main competition will be Kurt Caselli and Mike Brown. Caselli obviously has got the WORCS dialed, is a champion, and is very consistent. Also, I think Mike Brown will be good. They switched up the format to an hour moto now, instead of two hours. We're going to do a moto on Saturday, and a moto on Sunday, and they're only an hour long. I feel like that's going to help the motocross guys out a little bit; they have the sprint down. Mike Brown is probably the fastest motocross guy that we have riding right now in WORCS.
Who's helping you out this season?
Larry Laye Racing, O'Neal, Northland Motorsports, Dr D, Precision Concepts, Nazaroff Maintenance, GPR Stabilizers, Ame Grips, EKS Goggles, AP Brakes, LA Sleeve, Berm Cannon, Dirt Tricks, Zip-Ty Racing, and Emex
Good luck this year, Bobby!
Thank you.