Great Races: The 1985 Rose Bowl Supercross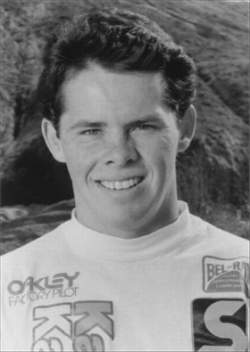 Jeff Ward went into the '85 SX finale tied with Broc Glover
We've heard it all winter: 2006 is the greatest single season in supercross history. Between
Ricky Carmichael
's charge to what could be his last supercross title,
James Stewart
going faster than anyone who has come before, and
Chad Reed
's remarkable staying power, the 2006 Amp'd Mobile AMA Supercross Series has come down to a three-man shootout that sees two riders tied in points and one just five points adrift heading into the very last round in Las Vegas. So is this the greatest single season ever in the history of supercross? Maybe, maybe not. That honor just rest with the 1985 AMA Supercross Series.
Supercross was an entirely different sport in 1985. The series, which launched on January 26 in San Diego's Jack Murphy Stadium (as it was then called), was 11 races long. The first 10 races took place from January through May, much like the modern-day schedule. However, the last round—set to run in the venerable Rose Bowl in Pasadena, California—was scheduled for Saturday night, August 17. That's a hiatus of over three months. In fact, the Rose Bowl Supercross fell between the penultimate round of the AMA National Motocross Championship Series at
Millville
(August 11) and the final national at
Washougal
(August 25). Said then-Team Kawasaki star Jeff Ward, "That would be like the Carmichael, Reed, and Stewart waiting until September or October to finalize the 2006 supercross championship! A lot of stuff can happen in that amount of time."
There was another big twist involved. The '85 AMA Supercross Series was run in a two-moto format. So instead of a 20-lap main event, the world's best supercross racers were sent out to compete in two 12-lap main events, combined, like a national, to determine an overall winner.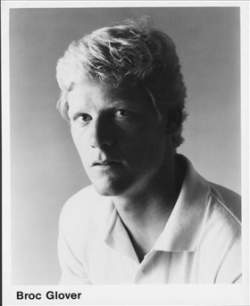 Broc Glover won six AMA MX titles, more than anyone but Ricky Carmichael, but no SX titles
Heading into the Rose Bowl, eight different riders had won overall supercross events. Johnny O'Mara won in San Diego; Broc Glover won Anaheim; Ron Lechien won the old-school Seattle doubleheader, as well as Orlando; Mark Barnett won Atlanta; old war horse Bob Hannah won Daytona; the aforementioned Ward won Houston; Rick Johnson rode a white Yamaha to the win in Dallas; and David Bailey won in the Los Angeles Coliseum.
With one round (and three months) remaining, Broc Glover and Jeff Ward were left tied at the top with 211 points. Honda-mounted Lechien was just two points behind, and to make things interesting, Rick Johnson was only 10 points behind the leaders!
The 1985 Fram/Autolite Rose Bowl Supercross was broadcast on fledgling "Total Sports Network" ESPN with a man named Steve Grad in tandem with former AMA 500cc National and 250cc World Champion Danny LaPorte behind the microphones. To watch the race on "The Greatest Supercross Races" DVD is simply mind-blowing. There's history and, well, there's history. "With over $100,000 in championship bonus on the line, the pressure is incredible!" Grad tells LaPorte. $100,000? We told you it was a different world.
At one point, earlier in the afternoon, Broc Glover is cornered. The Golden Boy (everyone had a nickname back in the day) looks nervous when he says, "Everybody is talking about all the pressure in the stadium tonight." Now, let's pick it up in 2006. This writer was talking to Glover, who holds station for Dunlop Tires at the races, in the pits of the recent season-opening AMA Supermoto National at Fontana.
"The championship was on the line," Glover said, flashing back to the summer of '85. "It wasn't as nerve-racking as it was intense. At that time, I had already won five championships. I had also lost a couple at the very end, like the 1980 125cc National Championship. I'd blown four or five tittles before, so I knew what I was in for going into the Rose Bowl."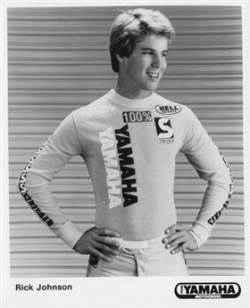 The young Richard Johnson
Jeff Ward, who was racing in the Supermoto class at Fontana, added, "It was really intense that season. With the two-moto format and 12-lap races, it put a lot of pressure on you to get good starts. I mean, it was hard enough get out of the first corner in one moto, let alone making it through in two! You had to survive. If you had one bad moto, you had to go back out and with the pressure of having to try and go after 25 more points. It was a lot more intense.
"There was a lot of pressure on me because I had also injured myself," Ward continued. "I had separated my shoulder a few weeks earlier at the USGP at
Unadilla
. Jeff Spencer [who works with
Chad Reed
] was on board with me then, and we really focused on getting my shoulder better. It kind of took my mind away from thinking about winning the race. I wasn't thinking about blowing the championship because of riding. Instead, I was thinking, Let's get this shoulder done and at 100 percent for the Rose Bowl. That might have made things less nerve-racking for me."
Ron Lechien, who today works at Maxima in El Cajon, remembers the race vividly. "Ward and Broc were tied with me three points behind. Whoever won that night was going to be the champion. But heading into the race, I was hurting. During the week my buddy Terry Fowler and I were riding. Terry cut the course we were riding around and dusted me out. I hit the ground and cut my right elbow down to the bone. I went to the hospital and had seven or eight stitches put into it."
Heading into the Rose Bowl, Johnny O'Mara quietly lurked back in fifth place with 182 points. While a long shot, O'Mara, too, was in the game. "I was the defending champion," O'Mara said recently. "I was on my game, had no injuries. I won the opener at San Diego and had a good season going. Looking back at the point standings from that season, it all came down to the last race. That's how competitive it was back then. If you messed up at one race, it could all be over for you. It was so tight, so competitive."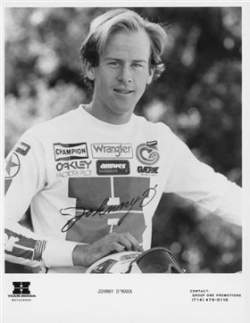 Johnny O'Mara won the finale but lost his title in the end
With the setting sun glowing over the ancient college football stadium, well over 65,000 fans watched on as the four heat races were run (yes, four heats, not two, back in '85). Kawasaki support rider Eddie warren won the first; team Yamaha rider Keith Bowen won the second; RJ narrowly defeated Johnny O' in the third; Glover won the fourth.
It was in heat four when things became unglued. Ward, who had been working his way through the pack, swapped sideways off a jump and hit the gravel. When he got to his feet and picked his wounded Kawasaki back up, he rolled down the face of a jump—going backward on the track—to try to bump-start his KX250. At the time, that was grounds for instant disqualification.
"I did a big swap and landed on my shoulder on the face of a jump," Ward offers. "When I got up and went to pick up my bike, it was sitting backwards on top of the jump. I noticed the clutch lever on my bike was broken. I put the bike in neutral and rolled down the jump to try and turn it around. Nobody was coming or anything. Also, it said in the rulebook that different things could be done if a rider was penalized for riding backwards on the track: He could be fined or docked a lap or disqualified. I think they fined me. I still had to ride the semi."
Going to the semi may not seem like that big of a deal, but back in 1985, the format was different than it is now. Glover, who knew Ward was in the wrong, explains, "You have to remember the rules were different back then. You didn't just transfer into the main event from your heat race—to make it into the semi, you had to finish high enough in your heat race. If you didn't finish at a certain level, you didn't even get to ride the semi. So if you DNF'd your heat race, you couldn't even race the semi, let alone the main event. You didn't get any second chances that year."
As history has taught us, Ward was not disqualified that night. It was as if everyone who had a say in the matter just looked the other way. Legend has it that supercross founder and Rose Bowl promoter Mike Goodwin, watching in the press box, screamed something to the effect of, "I don't give a f--k if he rode backward on the track! He's going to the main event!"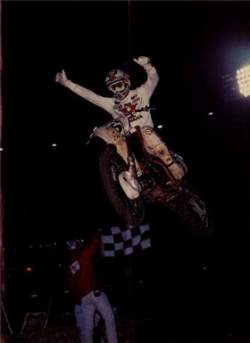 Rick Johnson
Glover is still troubled by the events of that night: "What bothered me about it was that other guys had been disqualified for the same thing before Ward had. I guess it was kind of similar to what happened with
Ricky Carmichael
's gas qualification this year. Other guys—guys like
Chad Reed
and
Michael Byrne
—had been disqualified for the same thing, but they never got their points reinstated like Ricky did. With Ricky it was kind of like a hands-off deal. As far as the situation with Jeff Ward riding on the track backwards that night, if it smells like a pig and looks like a pig and snorts like a pig, it must be a pig."
And the fun and games didn't end there. Ward, who had placed second to Lechien in semi number two, had the 16th gate choice when it came time to line up for the first moto of the evening. At least, in theory he did.…
"When he pulled up to take his place on the gate, at the last second, Goat Breker [his Kawasaki teammate] gave up his starting spot on the gate to him," Glover says. "A whole bunch of stuff like that happened all night. It was one thing after another."
Ward concurs with Glover's observation: "Breker had a good starting spot on the inside. At the gate, he pulled out and I took his spot. I think he was pissed off because he was riding good that night. But I took the spot and it rose a stink."
Ward, dressed in bright white and day-glo green Sinisalo racewear, took his spot on the line. Glover, done up in all-white and red JT Racing gear, took his spot, as did Ron Lechien. Soon the gate dropped and the first moto was on. David Bailey grabbed the holeshot with Ron Lechien chasing his red rear fender. But before the lap was complete, Lechien was on the ground.
"My arm was bothering me all day," Lechien says. "In practice, it really hurt, so before the main event we shot the arm with novocaine. I got a good start in the first moto—second or third behind David Bailey. But then I cased a jump, hit some whoops, and my arm went out and I crashed. When I got up, I looked ahead of me and could see David looking back to see where I was. I wasn't there. I was done. I was out of it in the first moto."
Bailey would continue on to win the 12-lap sprint, while Glover and Ward, both of whom had gotten bad starts, placed fifth and sixth. "I didn't have a good moto, but Broc didn't either," Ward says. "I was right behind him, and I was trying to get him, but it wasn't do-or-die. I knew it didn't matter and that it was all going to come down to the last moto."
Eleven venues, 23 motos, 276 laps—the series came down to that last 12-lap sprint around the Rose Bowl. It was basically winner takes all between Ward and Glover. O'Mara holeshot the last race with Jeff Ward in second, Rick Johnson in third, and Broc Glover in fourth.
"I almost got the holeshot, but Johnny was there," Ward says of the first turn. "I didn't want to force the issue because I knew Johnny wanted to win that night. So I backed out and dropped in right behind him. I blanketed him. Broc worked his way up from fourth. Then he got into third and was closing ground."
While few knew it, Glover was riding with a broken navicular bone in his wrist. "One hand was at 100 percent and the other was at 20 percent," he says. Pain and all, Glover gave it everything he had in reeling in Ward. But in the end it just wasn't enough.
"I saw Broc coming and kept up my pace," Ward sayws. "He was right there at the finish. I think I won by a bike length."
To lose the title by not only one place, but after a night of hijinks, as well, was it frustrating? "Of course!" Glover says. "You know that the guy you need to get around to win the championship is right in front of you, and you're thinking, If I can get around him, I'm the champion.… It was pretty hard."
After the event, Team Yamaha would protest Jeff Ward's heat-race incident. The legal and political maneuvering would last months, but in the end, the championship remained with Ward and Kawasaki, even though he only won a single race in the series (which really wouldn't be that different than
Chad Reed
winning just two races of 15 so far this season).
"The protest drug on for months," Ward says. "I dreaded getting the phone call from Roy Turner [Kawasaki's team manager] where he would say, 'Dude, we lost the championship.' But the call never came. I know Broc is still a little bitter about it."
Glover still wonders about what might have been: "It was the biggest tarnish on my career. I won six championships, but I didn't win a supercross championship. But then again, supercross wasn't as dominant as it is now."
So, will the conclusion of the 2006 AMA Supercross Championship finale be every bit as dramatic and hard-fought as the one in 1985? We'll let Glover answer: "It's very, very close and very intense. Has it ever been that close before? Ward, Lechien, and myself and Ricky all had a chance in 1985. It was so close and there was so much pressure that it was overwhelming."
Will this finale be as crazy and intense as 1985? Tune in tomorrow night to Speed TV's live coverage of the 2006 Amp'd Mobile AMA Supercross Series to find out. The show starts at 7 p.m. in the West, 10 p.m. EST.