Bench Racing Ammo: Don't Mess with Texas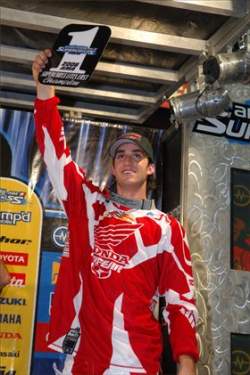 Millsaps celebrates his first professional title
First of all, let's offer our congratulations to
Davi Millsaps
and Team Honda. Davi is the newly crowned Eastern Regional 250F champion, as well as one of the youngest ever, since he just turned 18 on February 15. Amazingly, even though this is Davi's third year in supercross, he was only 17 the week before this title campaign started! And for Honda, this is their first Eastern Region Supercross title since 1993 with Doug Henry. For this week's Bench Racing Ammo, let's take a more in-depth look at Millsaps' career, more specifically the venue where he clinched his first professional championship.
After a very successful amateur career with American Suzuki, Millsaps signed up with the Team Suzuki factory squad and was slated to make his professional debut in 2004 after his 16th birthday. But after a closer look at the East Region Supercross schedule for that year, the opening round of the series, in Houston's Reliant Stadium (which had been a West round in previous years), fell one day before his 16th birthday. Millsaps and Suzuki pleaded with the AMA to let Davi race, arguing that the 125 main would go off at about 10:30 p.m. (EST), effectively 90 minutes before he turned 16, but the AMA held their ground. Thus Millsaps would go into his rookie season missing the first round of the series in Texas and going into round two with a 25-point deficit.
A week later, Davi was able to make his professional debut in the Metrodome in Minneapolis, MN. After placing third in his qualifier on a factory Suzuki RM125 behind James Stewart and Steve Lamson, Davi went on to finish 14th in the 125cc main event. Two races later, he finished on the podium with a second-place in Daytona. He would manage to hit the podium one more time before season's end and finished ninth overall in points. As it turned out, the 25 points he lost at round one didn't really ruin his championship run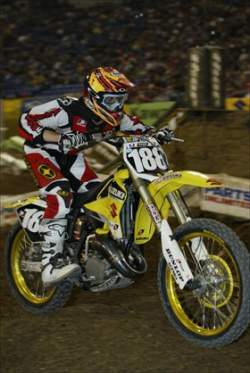 Davi at his first professional race, in Minneapolis
But Davi's opening-round win in the Eastern Region series in 2005 solidified the fact that he was a favorite for the championship. He showed consistency and speed, but an 18th in Daytona ended his chances for the title and he finished third, six points from first. Davi was headed to the front of the pack at the race in Daytona before tangling with a lapper, leading him to say that he learned to "stay away from other riders" in order to win this year's title. Oddly enough, the Houston round of the series was again a West Coast event in 2005, so Davi still didn't get to compete in that venue.
But finally, in 2006, Davi got his revenge. It was his first appearance inside Reliant Stadium, and he came in with the weight of the world on his shoulders and a 22-point lead for his first championship. after getting snubbed by Houston two years ago, Davi conquered not only Reliant Stadium, but also the Eastern Region with a superb performance. Well done, #118.