Privateer Profile: Adam Jones
What a great time to be a Pittsburgh fan. And not just because the Pittsburgh Steelers are going to the Super Bowl: Just last weekend, Pittsburgh native Adam Jones swept both nights of the IFMA event during its annual stop in the Steel City. Adam has won six consecutive IFMA events now and is well on his way to his first IFMA Freestyle Championship. Be sure to show Adam and his sponsors some support by clicking on the links at the bottom of the page.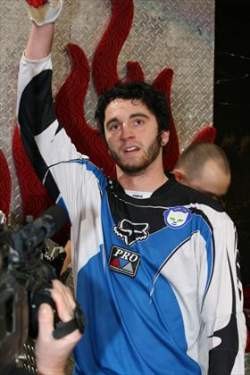 Adam is on a roll, having won the first three IFMA events of 2006

Racer X: Adam, you're coming off a pretty darn good weekend at the IFMA in Pittsburgh, where you convincingly won both nights. Is that a first for you?
Adam Jones: No, actually that was the third weekend of IFMAs I've done, and I've won all six of them this year.

Wow, that's pretty impressive. You must be eating your Wheaties!
No, I've just been practicing a lot. There is still a lot of competition, but Nate and Twitch and guys like that aren't at these events. I've been practicing hard, but I still have a lot of room to improve.

Well, I was in attendance over that weekend, and the competition was the best that I've seen with Mike Jones, Beau Bamburg, Jake Windham....
Yeah, it's pretty good. Everybody has been riding really well lately. It's good competition, but I've been feeling really good lately.

Now, you're not related to "Mad" Mike Jones, but it had to be pretty cool to be competing against one of the legends of freestyle.
Yeah, for sure. I've known Mike for years, so I never really think of him as being a legend, but it was definitely cool that he was there.

Not only is Mad Mike a local Pittsburgher, but you also grew up right up the road in Warrendale, PA. How did it feel to come back home and win in front of all your friends and family?
Oh, it's the best feeling in the world to ride at home. And to win on top of that is awesome—I love it!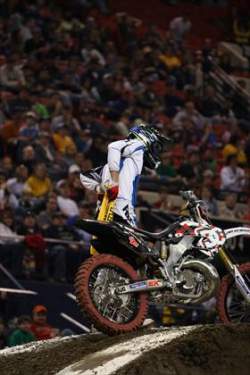 Adam represented the Terrible Towel in front of his hometown crowd

Was that your first win in Pittsburgh?
Actually, three years ago I won both nights, but it's been a while since I was winning. The first event this year was back in January, but before that I hadn't won anything in over two years, so it was good to get my first win in the beginning of the year, but to keep my streak going at home was pretty awesome, too.

Did you have a feeling that you could win coming into the season?
I knew I could win if I rode well, but you can't count out guys like Bamburg. He always rides good. I haven't seen him make a mistake all year, and I've always been known to make some small mistakes, but so far so good. I shouldn't have said that because I have another weekend of IFMAs and I'll probably choke it up this weekend in Tacoma.

What's the key to winning these days, Adam?
I don't really know!

Do you have to just nail the backflip or does it take more than that?
In the big contests it seems like it's just the backflip. I don't ever want to just focus on the backflip. I think it's cool to have a big variety with a couple grab tricks, a couple bar tricks, a couple flip tricks – just a little bit of everything, and that's what I try and do and hopefully the judges like it. I don't want people to watch my run and get bored just seeing me upside down the whole time. Because as much as people like the backflip, if you see 10 backflips in one run you're going to get bored with it.

Speaking of judges, do you know any of them?
Yeah, I know some of them and it's not an easy job, that's for sure. They catch a lot of grief and sometimes they deserve it, but at the same time it's really hard to look at a run and decide where to put who. Sometimes you can tell that it's way off and there are people that are winning and who shouldn't be. Most of the time they do a pretty good job, though.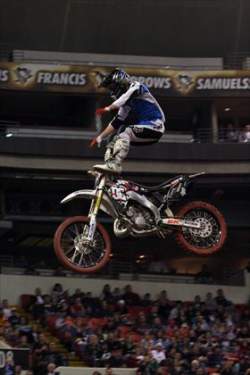 Adam credits his recent success to his rigorous practice routine

Unfortunately, it seems every year Winter X falls on the same weekend as this Pittsburgh IFMA, so did you have to choose between Winter X and this?
[Laughs] I wish. I didn't even get invited to Winter X. I don't know what the deal is because I've rode pretty good at X Games the past couple years, but I didn't even get a phone call for an alternate spot or anything!

Wow, that's unfortunate. Speaking of X Games, how important was it to you when you won the Bronze at the 2004 Summer X Games?
Yeah, that was awesome. First of all, it was my first experience at X Games, and most of the time I was the first rider to go. So I was looking at the jumbotron the whole time and I was seeing my name at the top pretty much the whole time. And then Nate and Travis had to go, so I knew I was going to get knocked off. I knew I didn't have a chance at first or second, but I knew third could've been a reality.

Well, you're currently leading the IFMA points, so could this be the year you put it all together for the championship?
I'd like to say yes, but Dallas is the last event and I'm not going to be at that event.

So you're hoping to build up a big enough lead that it won't matter missing that event?
I'm trying, but I don't think it's really possible. Beau is there and has been in second at every event, so I think I only have like 12 points on him and you get 50 points an event.

Why are you missing Dallas?
I'm going over to Austria to ride some overseas shows. I don't want to miss opportunities like that. But if the IFMA has any events later in the year it'll give me a chance to catch back up.

What does the rest of 2006 have in store for you?
I'm going to Austria for three weeks and after I get back from that I leave for Australia for the Crusty Demons Tour for three months. And when I get back the Dew Action Sports Tour starts up from there. I want to ride all of those and I'd really like to get a top three overall in the Dew AST, and then hopefully I get in for the Red Bull X-Fighters. I know my manager talked about that a little bit, but I'm not sure. And then hopefully I'll get invited back to X Games, but the way that situation always works out I'm not counting on that.

Who's your manager, Adam?
Jimmy Button. It's pretty cool, I was kind of starstruck the first time he called me!

Definitely! So, do you have any new tricks up your sleeve?
Not anything that nobody has done before, but I was riding at Nate's house yesterday and I learned flip-nac to heelclickers. But it's kind of scary though because every time I come up to the ramp I see Nate's crash in my mind from Spain, where he foot slipped off.

Well, keep your feet on the pegs and keep doing what you're doing, because it seems to be working. Any parting words?
Yeah, I just want to thank my family, friends and sponsors for all of their support. And go Steelers!