We know what it's like. When the High Point National rolls around in May, all of our industry friends stop by our office to see what life is like behind the scenes at Racer X. It's funny to see people go crazy over stuff that we see every day, but occasionally we visit someone else's office - and it's time for us to be the kids in the candy store.
That was the case last Friday. The Fox Racing headquarters are located just about an hour from San Francisco, so Mike "Fubar" Farber and I drove down to the office in Morgan Hill for a visit. We discovered so much cool stuff that we were soon filling our digital cameras with good stuff. Here are some of the highlights of our trip - and special thanks to Sandy Egger at Fox for the tour!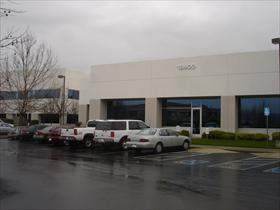 The building is big - offices in front and warehouse out back.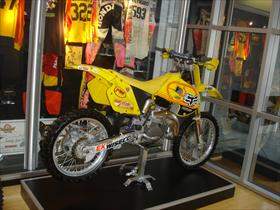 The lobby is filled with moto memorabilia - like this old Travis X Games bike, which includes a strategically-placed Fox sticker.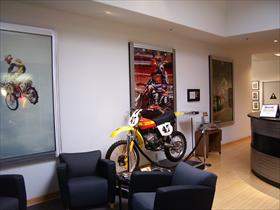 The other side of the lobby features an authentic Team Moto-X-Fox bike.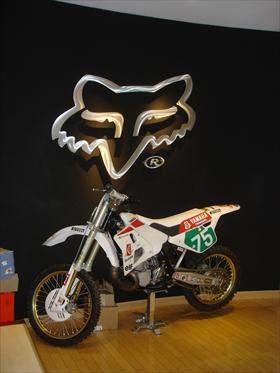 Donny Schmit's works GP Yamaha sits behind the receptionist's desk.
They love Doug Henry at Fox. This is the chest protector he wore at Dallas in 1995 - site of his first supercross win.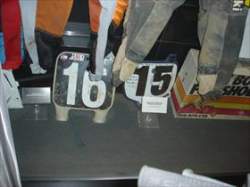 Here are some Doug Henry number plates. On the right, they have scribbled over the #5. Then there is an arrow pointing to the #1, and it says "The real comeback of Doug Henry?" It took two more years but they were right.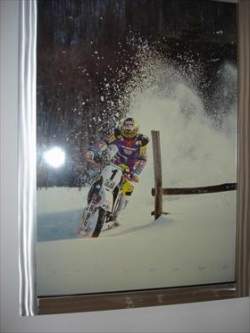 Our own Jeff Russell, the 1991 AMA Enduro Champion and the current GNCC Trail Boss, was immortalized on this photo that DC took about a dozen years ago. There are two copies - one in Davey's office and this one in the Fox lobby.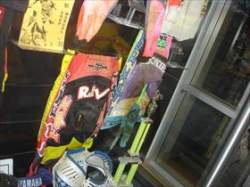 These are the pants MC wore the night he surpassed Rick Johnson's all-time supercross win record. Hence the check mark on RJ.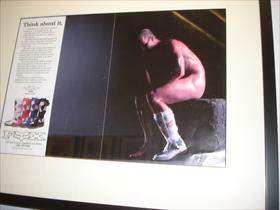 There is still plenty of love for RJ, though. Check out the classic thinker ad.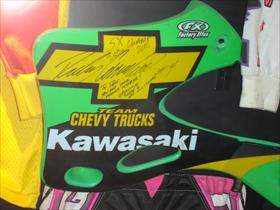 Then there is that RC guy: this is a shroud from the night he clinched the 2001 SX title.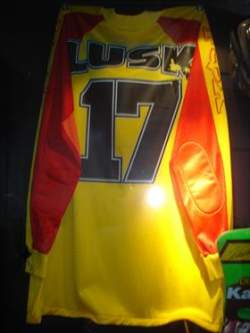 This is the retro jersey Ezra Lusk wore at High Point in 1994 - Fox's 20th anniversary.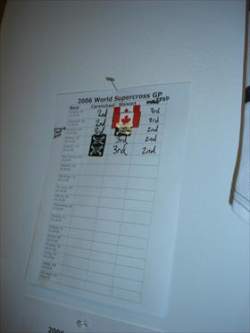 We got to see the screen room, where they actually apply numbers and logos to the top riders' jerseys. Check it out: this is the chart that keeps track of the Fox win stickers to put on Ricky and Bubba's jerseys. So far, they've won every race!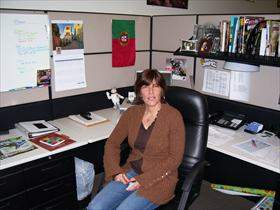 Here's our gracious host, Fox's Sandy Eggers. Thanks!