Anaheim, CA
Anaheim 1 (A1)
Monster Energy AMA Supercross Championship
Main image by Christophe Desmet
Now that all the racing is complete until the 2023 Monster Energy AMA Supercross Championship opener at Anaheim 1 Supercross, the Ken Roczen sweepstakes will fully take shape in the coming weeks. The German rider's time with Honda HRC appears to be over, although we are far from knowing where the #94 will land and what brand of motorcycle he will be racing at the opener. Our own Steve Matthes, Jason Thomas, and Jason Weigandt laid out where they think Roczen will land for 2023.
Steve Matthes: Well I asked an industry insider that's got some connection to Roczen and what he's doing and he replied that the "Kenny pie" broke down to this: 70 percent chance he stays with the Aussie-based Honda team he's been riding on (Fire Power Parts Honda Racing in the U.S.); 20 percent chance he signs with Twisted Tea/HEP Motorsports Suzuki (he's riding the bike this week); 5 percent chance he rides for ClubMX Yamaha; and 5 percent on his own deal, privateer style.
Which sounds about right to me, Roczen after winning Paris Supercross this past weekend, definitely made it sound like he's got some things to think about in terms of riding for his current team and one thing that I would think about, that Roczen would not want to ride a Honda because of where he just was for six years, didn't seem to bother Roczen at all. He's got a different bike than the one he had ridden with some different people doing the modifications. He's in a good place for sure and if he starts out strong, I would bet that the factory team might slide him some transmission gears or some other small stuff that he might need. I think he might have to lose Fox and get into Fly Racing gear to seal this deal but from what I've been told, this is a possibility.
The Suzuki, heck he knows that bike and the HEP team, with the help of Suzuki and Progressive Insurance, want to make it happen bad. Yeah, the bike is not on the same level as the other ones, but Roczen can make it work, the HEP team has some good people over there and he can keep wearing Fox I believe, so financially, I would bet on the HEP thing being the best money wise for Kenny although he's told me he doesn't care about that at this point.
ClubMX, we saw him there riding the new 2023 Yamaha YZ450F but I'm not sure that the team can make that work with the existing sponsors they have. Doing it on his own? Well, that's very expensive and tough as well.
Heck, maybe he'll be on a Stark Varg electric bike—we saw he rode that this week!
In the end, whatever he does do needs to happen very quickly, Anaheim 1 is coming up quickly!
Jason Thomas: Ken Roczen is one of, if not the most marketable riders to ever swing his leg over a motorcycle. For it to be the middle of November and Roczen to still be without a factory contract is not a scenario I envisioned. He does have options, though. Of those, it seems the most likely landing spots are either Fire Power Honda or Twisted Tea/HEP Motorsports Suzuki. They both have their own pros and cons outside of any financial considerations that we won't be privy to.
On the Fire Power Honda front, he will have continuity with the motorcycle and has shown success in three off-season races thus far. That momentum would be valuable as we are less than two months away from Anaheim. He wouldn't have to spend weeks on end testing and working through settings. He could instead focus on his body and mind, preparing himself in whatever fashion he fancies. He knows the team, he knows the motorcycle, and I would bet he could mend fences with Honda enough to gain access to upgraded parts (think Justin Brayton program in past years). It would be an easy transition to a familiar situation.
On the Twisted Tea/HEP Motorsports Suzuki side, there's much work to do. The upside is direct Suzuki interaction and corporate involvement with heavy hitters. Marketing opportunities with brands like Twisted Tea (Boston Beer) and Progressive Insurance have to be attractive to someone with a global brand like Roczen's. I would also venture a guess that they have more resources to employ based on the size and scope of those companies. The downside is that he is starting from scratch with the motorcycle. He hasn't tested it as of yet and it's late in the off-season game to start over. We also have to be realistic about where Suzuki's technology development when comparing to a factory HRC/Honda 450. Yes, Kenny has had success with Suzuki in the past but would his equipment in 2023 be on par with what he's up against with Eli Tomac, Jason Anderson, Chase Sexton, etc.? That's a tough ask and has to be considered.
I believe it's between those two options, barring injury to a factory star. That possibility always looms until Kenny signs on the dotted line. I don't see other options really being viable or in serious consideration. I believe Roczen will test the Suzuki late this week (after spinning a few laps on the Stark in Barcelona). No doubt they will throw the kitchen sink at him in hopes of landing the biggest name in moto. Fire Power Honda has already had several races to audition for his services and should be a known quantity at this point. In any case, I would expect a hard decision before Thanksgiving because of the time sensitivity. In a slow off-season thus far, this is the story to watch.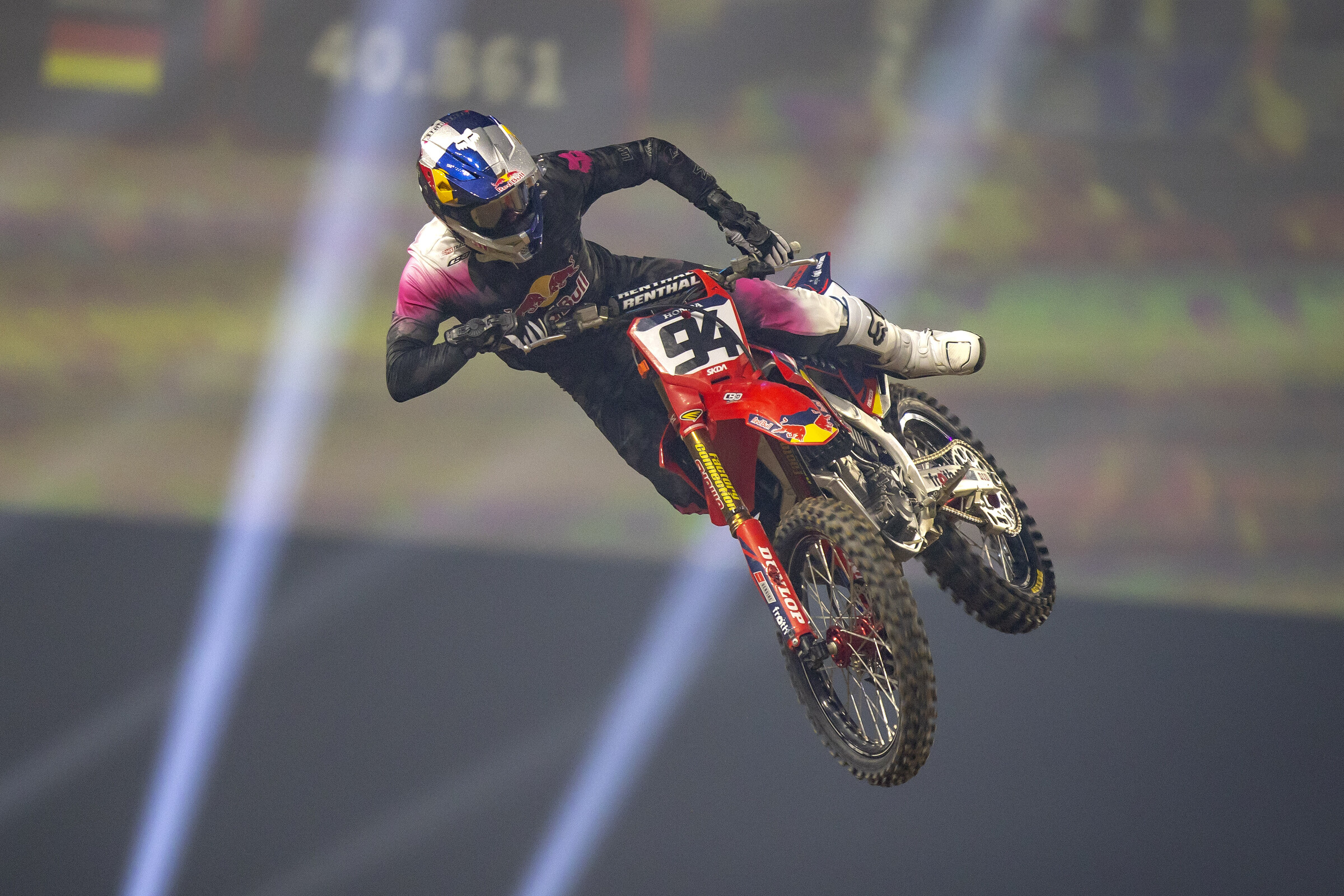 Jason Weigandt: Did anyone ever see that episode of Seinfeld where George Costanza theories that if he can just date a model, once, and get a picture of himself dating the model, once, then he can forever be considered a guy who dates models? And then, he can date more models?
That's the benefit to the teams that we hear are courting Ken Roczen. One week he's trying a ClubMX Yamaha, then an HEP Suzuki, and then on weekends he races for Genuine Honda (AKA Fire Power Parts Honda).
What team Ken Roczen ultimately ends up riding for isn't nearly as exciting as the actual process it took to get there. Have we ever gotten to watch a rider at Ken's level test and try bikes in real time, without hiding it? I suggested this in Racerhead a few weeks ago: how cool would it be if this sport had a legitimate free agency period where riders could try stuff in the open?
In his post-race Paris interviews, Ken sure sounded like he was leaning toward a Genuine Honda program in the U.S. This is not a full factory team nor one with the budget to normally hire a rider of Roczen's caliber. Right now, money isn't the goal for Kenny, but of course he has to get paid something. I believe team owner Yarrive Konsky will move heaven and earth to try to make it happen, because Yarrive lives and breathes this sport and for him, personally, to say he has Ken Roczen on his team would mean so much. No one is more passionate or emotional about this sport that Yarrive. That's what makes this recent courtship so fun to watch. I don't know if ClubMX, HEP Suzuki, or Genuine Honda have an actual business model to get someone like Roczen. I think these are Hail Marys. But Roczen represents a once-in-a-lifetime shot at getting a rider who could win 450 races.
The real winner is that now teams like ClubMX, HEP, and Yarrive's Honda outfit now appear to be viable options. They're teams that can flirt with Ken Roczen! They date models! Now, they can date more models in the future. Maybe, one day, they can propose, and that model will say yes.
As for where Roczen is going, I lean heavily toward the Genuine Honda team. I know Ken had success on Suzuki before, but this is a different generation bike, and some tell me it doesn't even have the magic that 2016 Suzuki did. Meanwhile, everyone else has advanced. Too bad, you'd love to see a team like Twisted Tea/HEP Motorsports and Suzuki get on the podium, but the bike is the biggest factor here. Will Kenny like it enough to make it work?