Main image by Mitch Kendra
Welcome to Racerhead, and a busy week in the off-season. Lots happening as everyone starts gearing up for 2023. Of course there are still some races happening, including the ADAC Supercross in Stuttgart, Germany, this weekend, and next weekend's big Paris Supercross, which will boast Eli Tomac, Cooper Webb, Marvin Musquin, and now Ken Roczen as well. The Paris SX is a one-off, so the guys don't usually take it as seriously as, say, Anaheim, but it is the oldest and most prestigious of all the international supercross events and will be a lot of fun.
Last weekend was a lot of fun, too, as James Stewart was inducted into the AMA Motorcycle Hall of Fame in Pickerington, Ohio. James' whole family was there, including his little brother, Malcolm, who took some time off of training with Aldon Baker and the gang to attend the ceremony, as did Aldon himself. In fact, James had a bunch of folks who worked with him along the way turn out, including Kawasaki's Bruce Stjernstrom, Anthony Paggio from Oakley, Eddie Cole and the boys, longtime mechanic and JGR Yamaha team manager Jeremy Albrecht, Feld Motor Sports' Dave Prater, MX Sports' Tim Cotter and Roy Janson, the AMA's Mike Pelletier, AMA Pro Racing's Kevin Crowther, of course James' close friend and longtime business partner Roger Larson, and many more. James also had his two sons there, and it was just really cool to see what the honor meant to him and his whole family. It was also cool to see speedway legend Greg Hancock and flat track legend Kenny Coolbeth go into the Hall of Fame alongside Stewart. (Superbike World Champion Ben Spies was also inducted, but a last-minute illness kept him at home in Texas.) And Dunlop's Broc Glover, an AMA Motorcycle Hall of Famer himself, was there to present James. (Mitch Kendra will have more on the ceremony below.)
So what happens with James Stewart next? He and Roger and Cole Beach plan on continuing their excellent Bubba's World podcast, and I can assure you that he will be doing more TV coverage next year as well as AMA Pro Motocross joins Monster Energy AMA Supercross and returns to the NBC family and the Peacock streaming service. In the meantime, he will be keeping an eye on Malcolm's racing endeavors.
Congratulations again to James and his whole family for this well-deserved honor, and thanks to everyone at the AMA Motorcycle Hall of Fame for a great weekend event. If you've never been, put it on your list for next year. (And to my fellow AMA HOF voters, let's work on getting Grant Langston in next time around!)
Class of '22 (Mitch Kendra)
Last weekend, I had the opportunity to attend the AMA Motorcycle Hall of Fame induction weekend in Pickerington, Ohio. I visited the AMA Motorcycle Hall of Fame Museum once years ago with my family while in middle school but when I went back for the event over the weekend it was a whole new experience for me. Being born in the late '90s I missed out on the careers of so many the legendary names in the sport, so being able to read and learn about them and see memorabilia from their career was like a really, really fun history lesson field trip! I did a handful of laps at the museum and each time I walked around I would catch something I missed the previous time around. If you have never visited the museum, I suggest you add it to your bucket list.
It was a neat experience being able to attend the induction event to honor the six-member Class of 2022: Kenny Coolbeth, Greg Hancock, Effie Hotchkiss, Sandy Kosman, and Ben Spies, and James "Bubba" Stewart. Not taking away anything from the other five inductees, who all had amazing stories and left an incredible impact on the sport for their individual contributions, but let's be honest I was really there to see James Stewart. Here at Racer X, we focus a lot of our attention on the AMA Supercross and Motocross scene and James Stewart was one of the best in those two disciplines. Growing up as a kid watching Stewart on TV, playing with his Hot Wheels action figures, and having posters of him around my bedroom, and our garage, it was an unbelievable opportunity for me to cover his induction into the AMA Motorcycle Hall of Fame in person.
Friday night consisted of a reception that brought the invitees together at the museum for a friendly gathering and to view the Class of 2022 displays for the first time. Then, dinner and the induction ceremony took place at a nearby event center, where the Hall of Fame members that passed away since the last induction were recognized, the new inductees were introduced by current Hall of Fame members in a similar discipline and then the individuals gave a speech and were interviewed. Stewart was the last of the inductees to speak, and—while I think he might have gone over the time slot by a few minutes—he finished the ceremony off with a bang. The Florida native delivered an incredibly passionate speech that covered different aspects of his life and career, but the big takeaway from his talk was the importance of his family. He mentioned how his father got him into the sport and then recently he was showing his two young boys videos from his racing days on YouTube when a video popped up of his mom working on his PW50 at a race when he was a little boy. Stewart teared up talking about how much it meant to not only have his mom and dad there—as well as his now-bigger-than-him little brother Malcolm—but how much it meant to him to share the night with his two young sons, Tabiahs (six years old) and Bacari (four years old). The two were invited to join their dad on stage for a perfect full circle moment for the Stewart family. I advise you to watch the livestream replay of the induction ceremony on the American Motorcyclist Association Facebook page to learn about all six inductees.
Then a brunch on Saturday morning brought everyone together again, followed by the public unveiling of the Class of '22. The #7 described his 2008 Kawasaki KX450F from his perfect '08 AMA Motocross season that now sits in the museum as a "bad mofo." After an autograph session on Saturday afternoon, I sat down with Stewart for a one-on-one interview about 12 hours after the induction ceremony had ended and he had a chance to sleep and gather his thoughts on the entire weekend. He started out the interview by telling me he got a text from Chad Reed that morning! We know the two rivals buried the beef from yesteryear recently, but 10 years ago this is not something we could see happening! He kept the specifics of the message to himself but had to give a shoutout to his rival Reedy, as well as Ricky Carmichael, who also sent him a message.
"Just as much as my family means to me with those guys being here, it meant just as much with those guys that were here and all the people who couldn't show but sent texts. I got a badass text from Chad Reed this morning, and I got one from RC [Ricky Carmichael] last night. So, it was cool."
Stewart ended our interview by saying how thankful he was to be able to celebrate with so many people who played a positive impact on his racing career:
"It's funny because you race and each team you celebrate with that team, the members of whoever, Kawasaki, Yamaha, but last night I had the opportunity to celebrate with everybody I've worked with. It was like one big championship, and that was cool."
If you missed it, check out my exclusive interview with Stew on being inducted into the AMA Motorcycle Hall of Fame. And once again, congrats to the entire Class of 2022 and their families!
More on the AMA Motorcycle Hall of Fame Class of 2022:
HOW IT STARTED/HOW IT'S GOING (DC)
When the 2022 season started, the two defending 250SX champions, Monster Energy Yamaha Star Racing teammates Justin Cooper and Colt Nichols, found themselves in terribly unfortunate positions. Cooper, the '21 West Region Champion, crashed in the preseason and ended up with a badly broken foot. And then Colt Nichols, the '21 East Region #1, switched to the West Region and lasted half of his first heat race before crashing hard in the whoops while leading. He suffered multiple injuries and was essentially out for the rest of the season. The problem for both is that the AMA's rule for advancement in 250SX says once you win the title, you can only defend it once. Neither had a chance to race the rest of supercross, and both were going to be forced into 450SX for 2023 regardless of their hardships or lack of any real title defense. What 450 factory-level team was going to give a spot to a career 250 rider who had just sat out an entire series?
Cooper was able to get back on track outdoors for Star Yamaha, while Nichols had to go in search of something else—anything else. He thought he had a deal with what was a new team but sponsored by Rocky Mountain ATV/MC, but then that team went away before it got to race. Nichols eventually did a deal to ride the FIM World Supercross Championship (WSX) with the Rick Ware Racing team, only to drop out just before the opener because he didn't have enough time on the bike. At that point, he had gone from a 250SX Championship to full unemployment within nine months and zero races.
Cooper, meanwhile, was able to return for the outdoors, and despite having not raced since the previous September, he acquitted himself well, finishing fourth in the final standings. But he had no good 450 options for 2023, so he and the Star Yamaha squad carved out a unique deal that would basically be motocross-only in 2023, while still in 250SX for AMA Pro Motocross, which has no mandatory advancement. They also hinted that they might let him try a couple of 450SX races to test the deeper waters indoors.
Had the stories of Justin and Colt's 2022 seasons ended there, it would have been a push for Cooper and a complete washout for Nichols. Fortunately for them, there was more to come. Cooper ended up getting chosen as Team USA's MX2 (250cc) rider for the '22 Monster Energy FIM Motocross of Nations, alongside Star teammate Eli Tomac and Honda HRC's Chase Sexton. They ended up winning for the first time since 2011, with Cooper playing a vital role in winning the MX2 division outright, salvaging the end of his season. He also just landed on the cover of Racer X magazine for his outstanding performance at the MXoN at RedBud.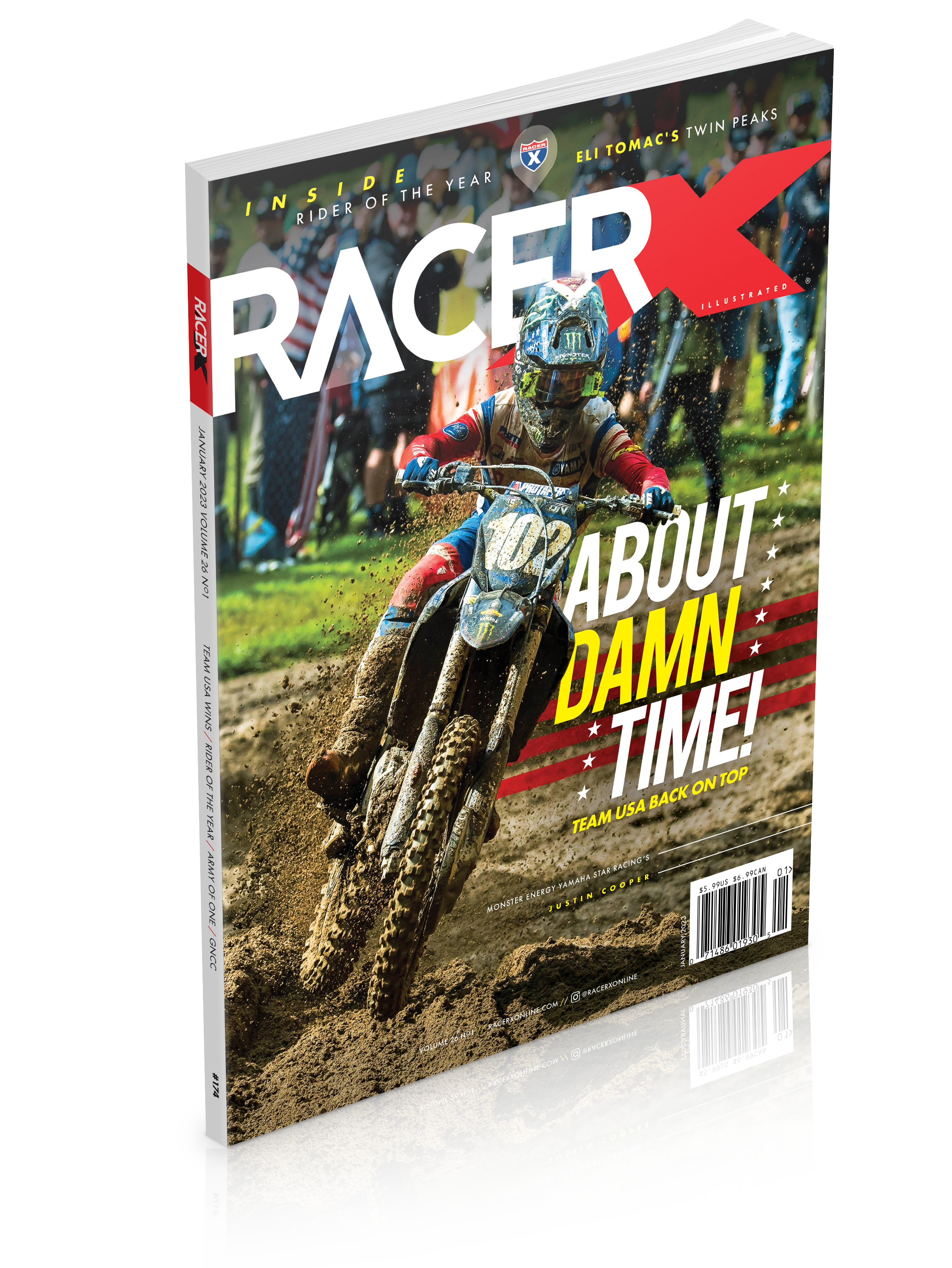 Racer X Illustrated Motocross Magazine
The January 2023 Issue
Team USA is back on top at the Motocross of Nations. We also revisit some of the all-time great individual performances from the MXoN over the years. Eli Tomac's first professional sweep of MX and SX made him an easy choice for Racer X Rider of the Year. The natural grandeur and luxury amenities of the Mountaineer GNCC belie its grueling, gnarly racecourse.
Read the Issue Now
Preview the Issue Now
As for the star-crossed Nichols, he found himself on the phone with Team Honda after a falling-out with Ken Roczen saw the veteran rider and the team part ways. Honda ended up signing Nichols to a 450SX deal alongside Sexton—a shocking reversal of fortune. He also signed a gear deal with O'Neal, which was another big question mark for him when he left Star Racing at the end of supercross.
Jason Weigandt spoke with Colt recently about his very down-and-up season on the Racer X Exhaust Podcast, and it's definitely worth a listen this weekend. (Colt's breakdown of how and why he crashed in the whoops at Anaheim, in detail, is worth the listen alone.) Check it out below:
So all's well that ends well, or at least well enough in the case of both Colt and Justin. Now the question is, what's going to happen with the aforementioned Ken Roczen?
Free Agent in the Wild (Jason Weigandt)
I swear I didn't go to ClubMX this week to see Ken Roczen ride a Yamaha. That was the last thing on earth I expected to see. I had already penciled November 1 as a day to hop on my own dirt bike, because that marked six months after I had ACL surgery. And my son's school was smart enough to give them a day off after trick-or-treating. So I was already loading up when I heard Ken was down there trying a 2023 YZ450F. Then he posted a video on social media.
The next morning, we were there watching Ken ride supercross laps between our own ride sessions on Club's turn track, and Ken was cool enough to chat for the Weege Show. He just wanted to try a Yamaha and meet the ClubMX crew and see the facility. He has not signed with the team or with Yamaha, but this is a good way to try things. He'll be back on a Honda, actually, for Paris next weekend because his WSX bike has already been shipped there. He also posted a clip of him back on a Honda with the caption, "I felt like red today."
This out-in-the-open free agency got me thinking. Imagine if this was always the way? Imagine if riders weren't allowed to sign with a team until the season ended, and then contracts expired and a true free-agency period could begin? The big sports leagues do it this way. Imagine a two-week span of guys trying teams and bikes and not having to keep it secret because they're no longer under contract. That would be really fun for everyone and get a lot more eyeballs and attention from the fans. In my experience, silly season gossip is a favorite topic for fans, yet it all has to happen behind closed doors. This could be a boon for the sport. Plus, riders would no longer have to sign for a team without riding the bike—or without doing it in secret for fear of getting caught. I don't think there's enough calendar year time to fit in this two-week period. But it's something worth thinking about.
HERE COMES Tom Vialle (Kellen Brauer)
On Thursday I headed out to the KTM test track here in Murrieta, California, with Spencer Owens and Tom Journet for a fun shoot with Red Bull KTM's latest transplant, Tom Vialle. The two-time MX2 World Champion from France made the decision a few months back to leave the GPs behind and try his hand at American supercross and motocross. Vialle signed a four-year extension with Red Bull KTM last fall, and he explained to me that the deal will carry right over to the USA with him, as he is expected to compete here now until at least 2025.
Vialle made the decision to come here while he was battling Monster Energy Yamaha MX2 ace Jago Geerts for the MX2 world title this season, and at the time it was actually Geerts who was getting the better of him. It's interesting to see in hindsight that some of Vialle's worst results from the year came just before the decision to move to the USA was announced, which may explain how such a difficult decision was impacting his performance this year. Vialle told us in an interview that his whole family actually moved to the USA with him, so it was big not just for himself, but the whole family as well. He eventually put a string of victories together at the end of the year and just pipped Geerts for the title. In winning his second MX2 title, he is now forced to move to the MXGP class—which of course plays a part in the decision process of coming to the USA—but he also bet on himself a little bit, having decided to make the move well before the title was his. (Had Geerts won, Vialle could have had another year of MX2 had he chosen to stay, as he's not yet 23, the age every rider has to move up to MXGP in Europe.)
Either way, he's here now and just starting to get his feet wet with supercross. Unlike fellow Frenchmen Dylan Ferrandis and Marvin Musquin, Vialle has almost no supercross experience in a race environment. With the French Supercross Championship and the Paris Supercross as prominent races in his home country, it's common for French riders moving to the USA to have some supercross experience. Not so for Vialle, who is practically learning it from scratch—and honestly looks solid in just his third week. The technical ability is there without question, but everyone wants to know about his whoop speed. Well, for someone in their third week of sending it into the whoops, he's really not bad at all. He did go over the bars in them in his second session, but he bailed out well and was going slow enough that the impact was light. It's going to be a learning process, no doubt, but he has some time. He will be racing 250SX East this year, which gives him three months until the first round.
It's exciting times to watch him progress and see where he plants himself in his first year here. Under the tutelage of Mike Brown (and eventually Aldon Baker, as he heads to Florida next week), Vialle has the right pieces around him. And from my observations yesterday, Brownie and mechanic Richard Sterling were being very cautious with Vialle, allowing him to go around the whoops when he felt a little uncomfortable. These first few weeks of progression and not getting hurt will be huge steps for Tom Vialle. So far, so good.
And while Vialle has never raced an AMA Supercross before, his father, Frederic, did back in the 1990s. And he grabbed a couple of top-five finishes in 125 SX, as you can see here in the Vault.
You check out Tom Vialle's early progress right here in this Racer X Film:
UNFORTUNATE #1s (DC)
Okay, back to the lousy seasons last year's 250SX Champions had in 2022. It was bad luck for both, but their lives and careers went on, and now they're humming again. That's not always been the case for defending champions. Sometimes things go really, really wrong, like in 1982. That's when Team Honda stablemates Donnie Hansen and Darrell Shultz each had the best years of their careers. Hansen swept both AMA Supercross and 250 Pro Motocross, while Shultz won the 500 Pro Motocross title. But no sooner was the season finished than Hansen got badly hurt over in West Germany getting ready for the upcoming Motocross and Trophee des Nations. He was so badly concussed that he never raced professionally again. As for Shultz, he beat himself up so badly pulling out that 500 title, tearing up his knee and puncturing a lung, that he decided he was done too. So of three of the four #1s that were supposed to be out there in '83 were gone from the sport.
In 1979, Bob "Hurricane" Hannah was at the top of his game. He had just won both AMA Supercross and 250 Pro Motocross titles, but when the season ended he got hurt in a water-skiing accident with his buddy/rival Marty Tripes driving the boat. Hannah went into some rocks at Lake Havasu and shattered his leg, knocking him out of the 1980 season completely. The Hurricane would return, but he would never be champion again.
Same goes for Rick Johnson in 1989. He was well on his way to defending his AMA Supercross Championship when he collided with Danny Storbeck at the first round of 250 Pro Motocross at Gainesville (back when the series overlapped) and suffered a snapped wrist. Like Hannah, RJ would return, but he would never be the same.
Ricky Carmichael might have won six AMA Supercross Championships in a row if not for a practice crash while getting ready for the '04 season, where he would be going for a fourth straight SX title. He tore up his knee enough to require surgery, which left him out of supercross. The crash ultimately cost him his Honda deal, though he would return that summer and sweep all 24 motos outdoors for his second perfect season, then switch to Suzuki. Then he added two more AMA Supercross crowns. (No, Ricky would not have worn #1, preferring his #4, but the point remains the same!)
In 2012, Ryan Villopoto won his second of four straight Monster Energy AMA Supercross crowns and was already looking ahead to defending his 450 MX title when he dabbed his leg at the Seattle SX and ended up tearing an ACL. That knocked him out of the outdoors, but he did return in '13 and add another SX title.
James Stewart had both of his AMA Supercross title defenses end badly. In 2008, he was tied with his rival Chad Reed after two rounds when he was forced out with a knee injury, ending his first title defense. And then in 2010, when he was defending his second title, he hurt his wrist at the second round in Phoenix. He tried to go at round three and actually finished on the podium, but the wrist hurt too badly. Turned out he had snapped his navicular.
In 1986, David Bailey lost the AMA Supercross title to Ricky Johnson, then beat RJ for the 500 Pro Motocross title. After a great off-season of testing, Bailey was ready to take the fight to RJ (as well as Kawasaki's Jeff Ward and Ron Lechien) when he crashed at a Golden State race in California and suffered a career-ending back injury.
Finally, there's Grant Langston, who in 2007 became the first 450 Pro Motocross Champion of the post-Ricky Carmichael era aboard a Yamaha YZ450F. But then GL started having issues with his eye and went to the doctors. They discovered that he had cancer, which required extensive treatment. He never got to race with the #1 he had earned, just as had happened with his 2000 FIM 125cc World Championship (because he moved to America), his '03 AMA 125 Pro Motocross title (he moved up to the 250 class), his '05 125 East SX title (he switched regions for the following year), and his '06 SX Lites title (he moved back up). The multi-time champion Langston wasn't always unlucky, but he was more often just on the move!
---
Hey, Watch It!
Daniel Rogerson put together this awesome reel of drone highlights that he captured this summer in the AMA Pro Motocross Championship—Daniel is the pilot as well as a video editor:
---
Head-Scratching Headline/s of the Week
"Mattress Mack looks miserable watching $75 million Astros World Series bet slip away"—New York Post
"A US Air Force flight spent 2 hours drawing a phallic pattern in the air near several Russian military facilities"—MSN.com
"Air Force claims 'no intent by the pilots' to draw sky penis near Russian base in Syria… Sometimes miracles happen."—Taskandpurpose.com
(Thanks to The Stump Grinder for this one)
"Nick Cannon gets trolled by Ryan Reynolds over baby No. 11"—CNN Entertainment
---
Random Notes
This is kind of cool from our friend Larry Hughes down in Texas. It's a shot of what appears to be the first Stark Varg on American shores, this one in the back of a custom-hybrid F150 Fox truck headed to the SEMA show...
For the latest from Canada, check out DMX Frid'EH Update #44.
Thanks for reading Racerhead. See you at the races!