Anaheim, CA
Anaheim 1 (A1)
Monster Energy AMA Supercross Championship
You know the basics: everyone is healthy, everyone is ready, everyone is happy. That's standard pre-season press conference fare. Tonight, in a virtual presser on Zoom, 16 top 450 riders from Monster Energy AMA Supercross took questions from the media and host Daniel Blair. We'll have plenty of coverage as the days roll to Anaheim but here are quick, key takeaways from tonight's hour-long discussion.
Cooper Webb is now generally regarded as the favorite for this title, and he's noted that. But while the industry knows him as the current defending champion, he has made big changes to his off-track program this year in leaving Aldon Baker's Baker's Factory.
"Our motorcycle is brand new, and the program is quite different than what I've done the last couple of years," he said. "I feel a lot better on this bike, it's all brand-new, so nothing that worked on last year's bike works here. So it was a challenge and overwhelming at first, but we really did well this year on getting settings dialed. I can't complain, man. I haven't touched a clicker since early November. It just fits me and the way I want to ride it, more. I'm stoked on it."
Webb says he, "Has a lot of motivation to go out and show that change has been good. Definitely motivation there, and to go out and defend. I didn't do it the last time, I feel more experienced, I feel stronger and physically fitter. I think the motorcycle for me is a step in the right direction. It does the things the old one did just as well, and it's better in other ways. I've ridden at a variety of tracks and I feel good wherever we've ridden."
Change is huge for Eli Tomac this year in his switch to Monster Energy/Star Yamaha Racing.
"Everything is different," said Tomac. "Scenery is different, change in the color of the fender on the motorcycle. We've been everywhere. We've been in Florida, I initially started in Colorado, and now I'm in California. It's been really fun. I've been riding with a group of guys most of that time. It's been a nice change. Before I think I might have isolated myself a little too much, or maybe now that I'm doing something different it just feels better, and it's refreshing that way. It's good—my focus was to get this thing dialed in and come in healthy, and we did that."
Ken Roczen might not have a new bike, trainer or team, but he has made advances this year to try to figure out his previous troubles on the physical side.
"I actually ended up going to Europe this year, to catch up with some family, but more of a business trip," Roczen said. "Me and my trainer Blake [Savage] caught up with APC Training Facility and Red Bull guys in Austria, and that was awesome. Obviously, I had history with them back in the GPs, I would go to them three times a year and did testing and training with them. We had some fun there, but they have really upped it to a whole 'nother level. They basically have a specialist in every category. It was just going back to the basics, I was super covered, scheduling wise, and Blake and I looked at it like a collab a bit. We also saw a doctor over there to try to get some more things figured out. Everything was going to plan until December when I came down to a gnarly sickness for some reason. Kind of still battling it. Not COVID[-19]. It kind of threw off my preparation here in December. I just felt revived myself a little bit. I made the sport my hobby again, and training. Felt really good to go back to having fun, spending a lot of time at the track and worked on my craft a bit."
Justin Barcia has the same bike and team, but a new trainer in Wil Hahn, a new crew chief and mechanic, and he's riding with his 250 teammates Pierce Brown and Michael Mosiman a lot more.
"It's been a really fun group to be around—the 250 guys being around him, Wil, new crew chief and mechanic," Bam Bam said. "Riding with Michael and Pierce has been huge for me. It's kept the pressure on—I don't know if they will say it but I feel like they have taught me things and I have taught them things. To have Wil doing the training program is good, I've trained with a lot of people and I trained myself. It's kind of a collab like that."
Barcia also has some history on the line, as he has tied Jeremy McGrath's mark with three-straight season opening wins. He said he would love to break that record and take his fourth-straight on Saturday.
Jason Anderson is never the most outspoken during press events, but he did reveal a bit about his off-season, his first with Monster Energy Kawasaki.
"I've been in California with the team," the 2018 450SX Champion said. "I've been trying to ride as much as I can with AC [Adam Cianciarulo] and the Pro Circuit team but I've also been trying to ride more public tracks. As far as training, I've been working with Broc Tickle. I've been feeling good. Ready to get going to see if we've made any progress."
Anderson's new teammate Adam Cianciarulorecently admitted he separated his shoulder a few weeks ago and only got back on a bike on Monday. He knows better than to let that get him down.
"Gonna be one of those things where I get in there and see what I can do…don't go to crazy and see what the shoulder gives me," Cianciarulo said. "It could be a positive mind set for me. Just go in and get my feet wet. I feel pretty confident in my starts, and being up there with the guys will progress me along. Yeah, just do what I can."
Dylan Ferrandis is now based in Florida with his Star Racing team's move to Ricky Carmichael's old track. He said he's had a great off-season working there.
"Everyone has always dreamed to ride at a place like this, the dirt is really good and the facility is on the site," Ferrandis said. "Yeah, we just had a really good winter. Eli was there for a few weeks and we trained a little bit together. He's always an animal on the track and really fast and strong so it was really good to have him with us. Yeah, a great winter."
Meanwhile, Marvin Musquin now works full-time out of California with David Vuillemin. It's a big change from Marvin's old days coming in as a title favorite, and working with Baker in Florida. Marvin says there's a lot less pressure now than in 2018, when he had won a ton of off-season events and then won Anaheim 1.
"This year is a lot different, I stayed here in California and had DV [Vuillemin] at the track," the Red Bull KTM rider said. "I tried that in 2019, but it didn't quite fit with the program with Aldon. It's something I really wanted to do, especially out on the track, it's something different and fun. We would do different rhythm sections and work on the whoops, which is exactly what I wanted and it worked out great. I'm excited about it. The expectations, I have no idea. I want to do good but there are a ton of good guys. I like it like this. There's no pressure and I'm excited to be here. It's definitely a new program that brings more motivation, and I'm more free and having more fun coming into the championship. So that's awesome."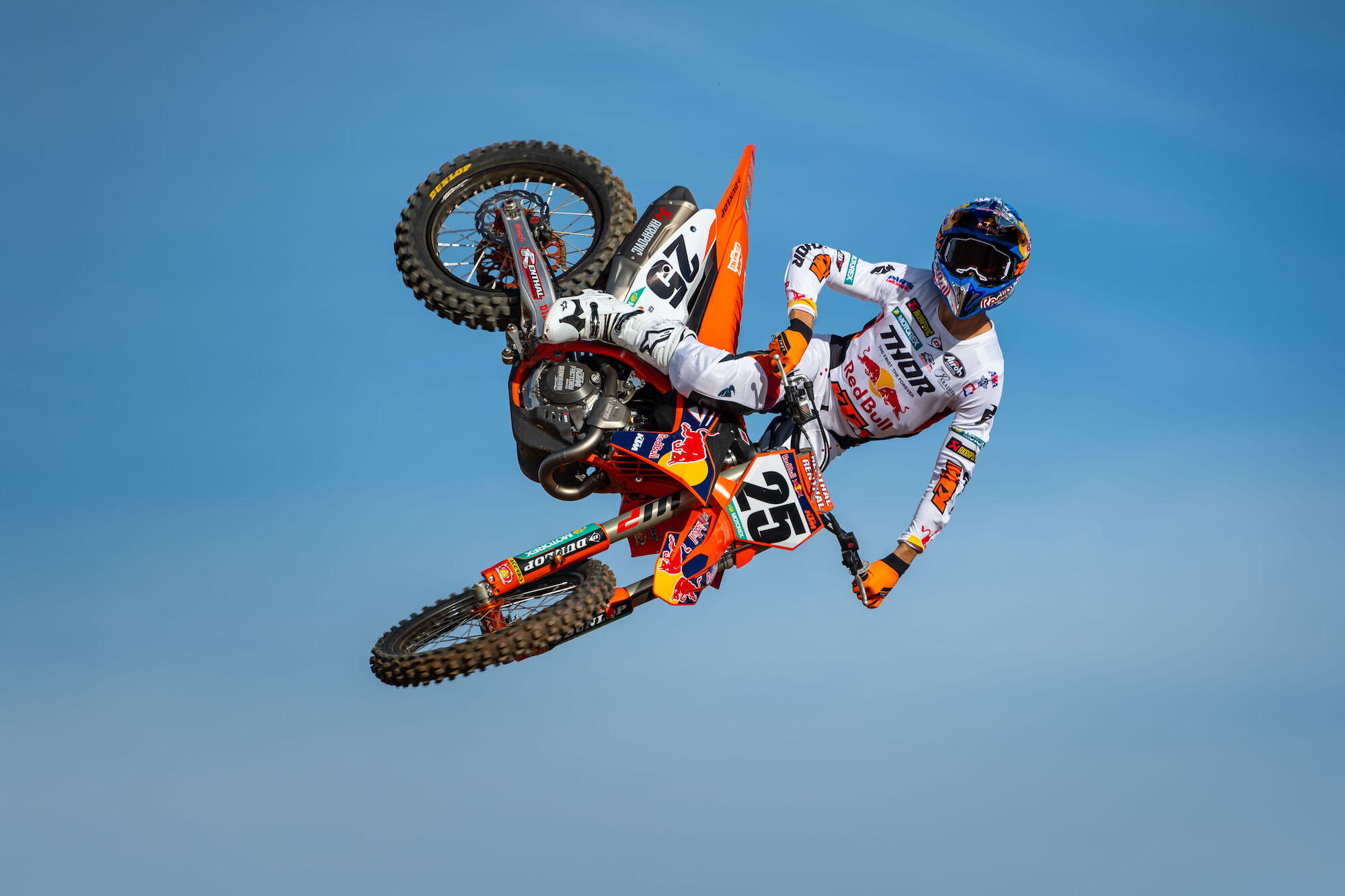 Now at the Baker's Factory is Malcolm Stewart, fresh to the Rockstar Energy Husqvarna team. He's been putting in the work, which means putting down his favorite hobby of fishing.
"Definitely no fishing," he says. "Had to put the poles down. We've been pretty much grinding this whole time. It's been a pretty big change for me jumping ship and going to Aldon's. For me, I'm just going to go out there and do the best that I can and the results will come."
Stewart seemed very content to stay away from the hype and just let his riding do the talking.
That's the case for most riders during the pre season presser. Anaheim brings enough pressure, no reason to ramp it up with trash talk. The real story will be told over 17 Saturdays.