This year's FIM Motocross World Championship (MXGP) has featured a dramatic tilt between five riders, with Tim Gajser, Romain Febvre, Jeffrey Herlings, Antonio "Tony" Cairoli, and Jorge Prado all winning races and fighting for the points lead. Then Cairoli, who is riding very well this year, upped the stakes when he announced he would retire at the end of the season. Could he go out with a tenth World Championship? It's possible.
All five superstars healthy and battling weekly has set up a dream scenario in the MXGP ranks. At Cairoli's retirement party in Rome, Italy, our Jason Weigandt asked noted MXGP reporters Adam Wheeler and Lewis Phillips for some insight to what's happening in the MXGP paddock.
jason weigandt: Tony Cairoli is announcing his retirement, even though he's still very good and could even win this year's MXGP Championship. Adam Wheeler, did you know this was coming?
Adam Wheeler: For the last year or two, there have been questions. He was at the end of his contract with KTM at the end of 2020. You've got the most successful Grand Prix team in the history of the sport, with Herlings titles, Prado's titles, and of course with Cairoli's nine titles, I think that's 15 world titles between the three of them. So, there was a question of how long could KTM keep fielding these three big hitters? So, there was a question, "Will Tony get another year?" And he did [for 2021]. I don't think people expected him to retire. With the way they're restructuring their brands with KTM, GasGas, and Husqvarna maybe there would be a new opportunity. But, if you're raced with one team and one set of guys for 17 years, it must be incredibly hard to change. Tony had this great chemistry with the De Carli KTM team. It's the chemistry that Clement Desalle, Gautier Paulin or any of these guys that were searching for championships never really found.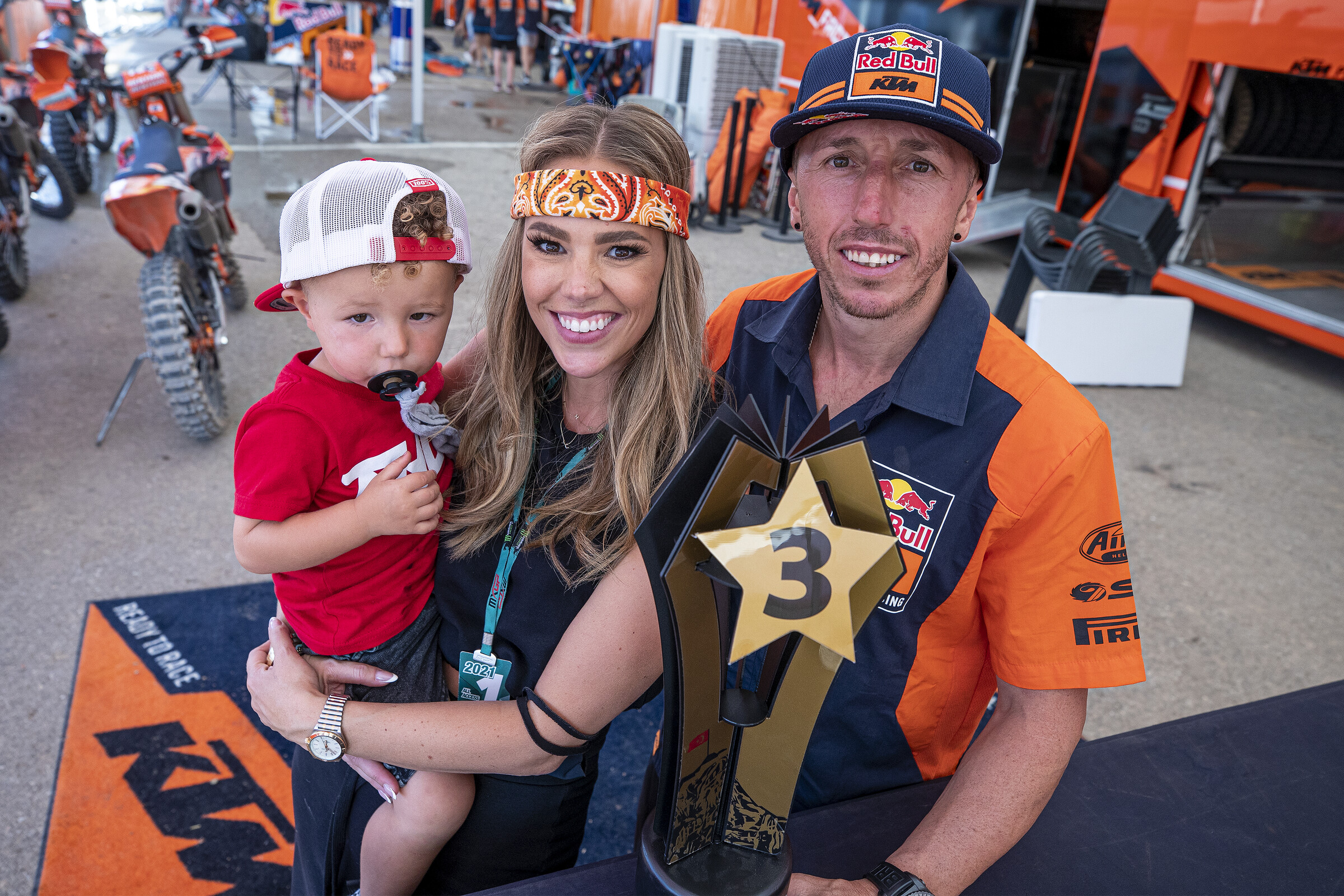 Weigandt: Was this news a bit of a shocker?
Wheeler: I think so, but of course there ended up being a slip of a press release last Friday that kind of blew the lid on the surprise element of this event! But the guy is third in the world championship. This is not the case of a Valentino Rossi where the guy is struggling to even be in the top ten, and you can see clearly this is the end of the road. I don't want to be disrespectful to Rossi, but while there are many parallels between Tony and Valentino, in this way they diverge quite a bit.
Weigandt: So Lewis, now you get to say you saw this era, where KTM had all three guys, Herlings, Prado, and Cairoli, on the same team. And the racing has been pretty spectacular when you add in Tim Gajser and Romain Febvre. Do you need to savor this an extra amount because now we know at least one of them won't be there?
Lewis Phillips: Well, I feel like you already had to anyway! You look at supercross. Two thousand eleven best season ever, but 2012 was a horrific year because all the guys got hurt. Next year, Tony's gone, so that's a blow, but there's a high chance next year the rest of this thing could fall to pieces. So take it in! MXGP needed this as well, the last two years have been so bad, injuries, runaways, no one has got what they wanted. I feel like if we didn't get it this year, everyone was going to give up and just say, "I guess we'll never get this five-rider battle that we want."
Wheeler: That's a bit of a disservice to Tim Gajser, though. His level has been incredible. He's at the peak of his career.
Phillips: Yeah, but we want a battle! We don't want dominance. The fact that we have Herlings, Tony, Prado, Febvre, and Gajser, everyone wants that clash of the titans.
Wheeler: The part of the sport that sucks because it's just the guy who is the last man standing almost. That's part of the reason Jeremy Sewer has been so successful, Vice World Champion twice in the last two years, because he can make it to the end.
Weigandt: Hey Wheeler, I remember when [Ryan] Villopoto was coming over to the GPs for 2015, and everyone was anticipating this incredible battle between Villopoto and Cairoli, and you did a podcast with [Steve] Matthes where you said the whole thing will probably be decided in the medical office. And you were right, for both of them! Neither of them made it to the end of that season! In this sport is, we start every season thinking there's no possible way it won't be amazing, because we assume everyone will be okay. But that's not usually how it works.
Phillips: Technically, we shouldn't even be here right now! Herlings shouldn't even be in this. He broke his shoulder, and everyone was saying, "Well, at least it was a good three rounds!" We shouldn't have even gotten here. It's just a rarity.
Wheeler: I think MXGP is in a bit of a generational shift. Just like anyone who watches MotoGP will see someone like Rossi and Andrea Dovizioso stepping away, and even Marc Marquez to a degree, he's trying to come back from a devastating arm injury, we're also seeing that happen in MXGP. Desalle and Paulin have retired, now Tony will be finished. You've got Prado, you've got Maxime Renaux who will move into the class over the next year or two, Tom Vialle…
Phillips: Don't forget Ben Watson.
Wheeler: Yes, Ben Watson!
Weigandt: Yes Watson, the Brit. Lewis needs him. It's been very tough on Lewis not having [Max] Anstie at the races the last two years.
MXGP
| Position | Rider | | Points |
| --- | --- | --- | --- |
| 1 | Jeffrey Herlings | | 460 |
| 2 | Romain Febvre | | 454 |
| 3 | Tim Gajser | | 450 |
| 4 | Jorge Prado | | 398 |
| 5 | Antonio Cairoli | | 387 |
Full Standings
Phillips: Well, I have enjoyed the post-race shows you did with Max! What's funny is, when you first reached out to him, he actually asked me, "Hey, what is this show, and should I do it?" Of course, I told him it would be good!
Wheeler: Can I mention a story with Max? The first Grand Prix he did was at Glen Helen, and Tony Cairoli is part of this story as well. They held a press conference, Tony is there, Max is there, and Tony described his qualifying race and his pole position. Then he was done, and Max stood up, grabbed his energy drink and his cap, and delivered this exposition, this standing monologue about how this means to him. He delivered this soliloquy. And Tony was like, "This isn't Shakespeare here. You don't need to deliver a thing like this." It was all Max, all over. I think this was 2010. He was on the Yamaha.
Weigandt: He was on Star Racing!
Wheeler: I think he had finished fourth or so in a supercross that year?
Phillips: Yes, San Diego, a mudder. He should have gotten second… [Phillips shakes his head in disappointment].
Weigandt: [Laughs] Poor Lewis. I remember that race. Look, hard to believe it now but there was once another man battling you to be Max's number-one fan, and that was Bobby Regan, the owner of Star Racing Yamaha. Max was doing very well in 250SX West to start that season, and then Star's 250 East team struggled. So two months later when the West resumed, at the Seattle Supercross, I remember Bobby was so pumped to have Max back. He was all, "Max is my guy! We're gonna get podiums! We're gonna win boy!" Then at the end of the season he was no longer on the team.
Phillips: Yes, and I don't think they've signed him for 2022 either. So that love has clearly gone down a little bit!
Weigandt:One thing that's exciting about having Max around is, I feel like the one thing you can always count on, his whole career, is that a few motos a year, he's gonna get it going and he can run with anyone.
Wheeler: Well, the des Nations was a perfect example. And his first year on a 450 at Lommel was outstanding. Absolutely outstanding.
Weigandt: We probably need more sand tracks.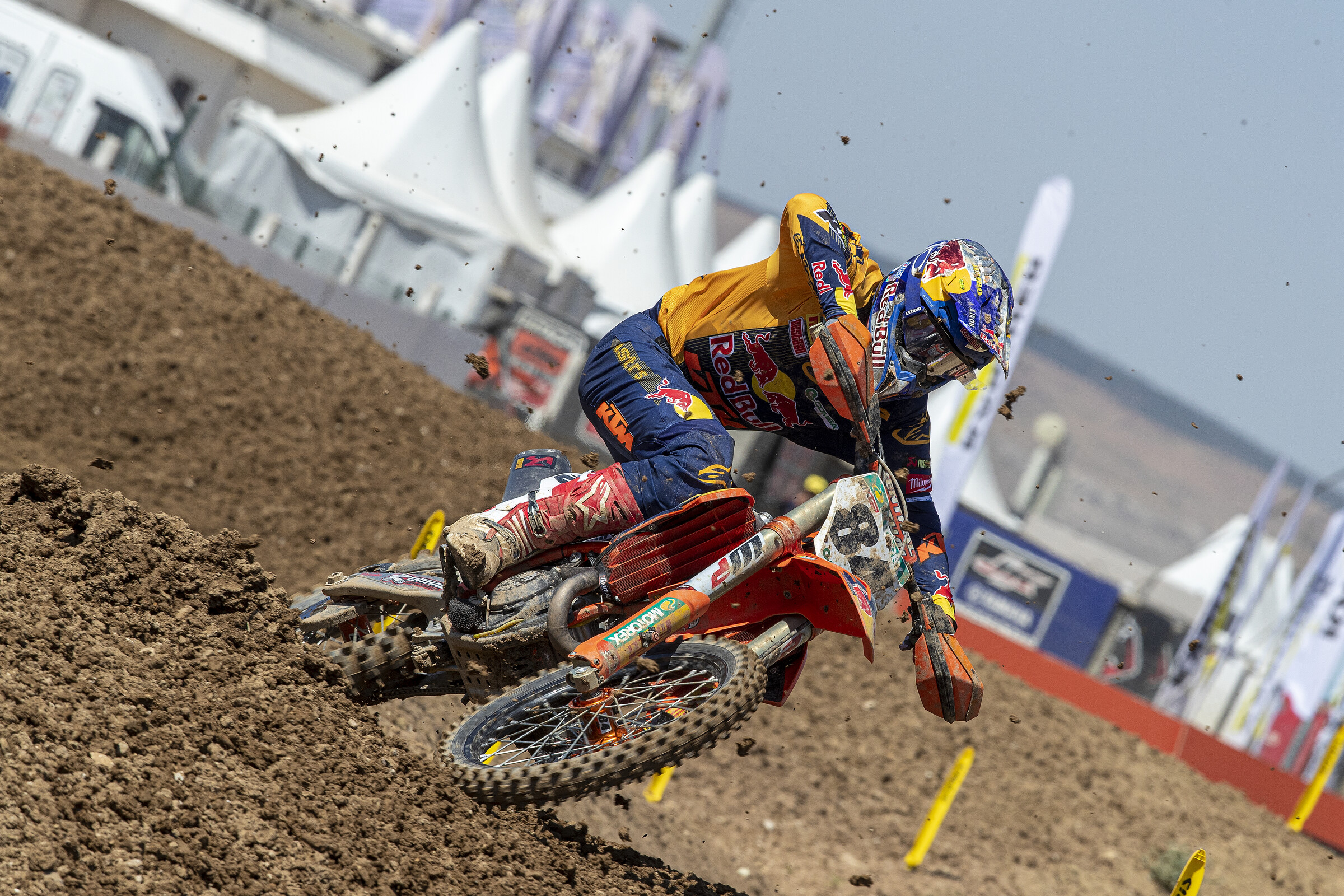 Phillips: Actually, on that, I spoke to Max after Southwick and he said it was a legit sand track! He said it felt like a round of the Dutch Championship. He said it was legit, gnarly sand, and I told him, "You need to tell everyone this, because everyone else is wrong!"
Weigandt: Oh yeah. People trash Southwick compared to the bottomless sand tracks of Holland. They say it's sandy on top with a hard base underneath. I did not expect to hear this!
Phillips: I know! I was surprised too!
Wheeler: Didn't Marc De Reuver and Clement Desalle come over and have good races there?
Weigandt: Yes, De Reuver got second in a moto once.
Phillips: That was during Stewart's perfect season, right?
Weigandt: Yes, it was! Actually, let me talk about this. I feel like the European riders are so much more honest about what they say. They're less guarded, they just tell you what they think. So that year De Reuver was coming to Southwick, he said he knows Stewart is Superman, but he would like to challenge him. And everyone was so offended by this! "How dare you even say you would like to challenge Stewart!" But what's funny is, the only guy who wasn't mad was Stewart himself. He thought it was cool, and in our pre-race show on Friday, Stewart brought him over and they actually hung out and talked. We thought Stew would be so mad, but he loved it. Anyway, what I've learned is, you have to be careful when you hear these quotes and interviews with the European guys. We're just not used to that kind of honesty so we will hear things and it shocks us. Herlings does that, for sure, and Ferrandis is brutally honest with his podium speeches.
Wheeler: Plus, you also have a lost in translation issue.
Weigandt: Oh absolutely. I feel like it needs to be our job in the media to explain that sometimes when these guys say something, we need to explain that they didn't always mean it that way, the second-language translation gets the better of them. Okay, speaking of Ferrandis, are you surprised he ended up this good?
Phillips: Oh yeah absolutely! I still don't believe it! I still don't understand! I not sure he would have done this in MXGP, I'm not even sure it's the same guy! I don't know!
Weigandt: So you didn't have, "Ken Roczen can't stop Dylan Ferrandis" on your MXGP bingo card?
Phillips: Absolutely not. And Dylan keeps saying Jeffrey Herlings is the best rider he's ever faced, but I feel like at his current level, he could run with Herlings and guys who kicked his ass when he was in the GPs.
Weigandt: Do you feel, though, that Ferrandis was a few injuries away from maybe winning a MX2 title or two? I think one of the reasons he is under the radar is because he didn't come over with the titles that [Marvin] Musquin and Roczen did. Maybe he could have or should have won one during those Herlings injury years in MX2?
Wheeler: His last season in MXGP was 2016, Jeffrey was at his peak, going for his third world title, and that year was particularly juicy because they were hitting each other coming out of the gate. Besides Herlings against Tommy Searle in 2012, that was probably the most dramatic we've seen MX2.
Weigandt: I just feel like the year Jordi Tixier won the title, for example, I think Ferrandis might have been able to win that title, but he didn't get a chance to show it because he also got hurt.
Phillips: Tixier was 2015, then the next year was Gajser. Ferrandis could have won either of those, but still, it's not like he would have gone to America and people would have said "Ferrandis is World Champion!" They would have said "Ferrandis is World Champion…when Herlings was injured."
Weigandt: Oh for sure.
Wheeler: Don't forget, Ferrandis' last statement in the GPs was a badly broken arm during free practice in Switzerland. That was it, after that he was gone. To see him resurface in the U.S. with this kind of success, obviously David Vuillemin and the people around him at Star Racing have had a tremendous impact, like De Carli and KTM has here with Tony. With Ferrandis, he always had the technique to do it, but you would question the temperament.
Weigandt: Well again I have to bring up Bobby Regan. I believe Pro Circuit Kawasaki had a shot at Ferrandis, for whatever reason they didn't end up taking him, and I remember Bobby telling me, "I watch GPs, boy. I like his technique."
Wheeler: It's probably the same reason Bobby Hewitt and Rockstar Husqvarna decided to sign Christophe Pourcel.
Weigandt: Yes. You know how it works in all sports. People see talent, maybe it hasn't worked out, but they feel like if they can just get the guy into their system, they can straighten it all out and get results.
Okay, my last question for you guys. I'm going to circle this back to Cairoli at KTM. People love the drama, so they're always wondering how do Herlings, Prado, and Cairoli get along? Especially this year, where we have seen some gnarly battles out on the track.
Wheeler: Well, you have to understand that Red Bull KTM is actually six riders but two different teams. You have Jorge Prado and Tony Cairoli on the Italian side. Herlings' team is more on the Austrian side. They do kind of share a common area inside the awning where they change, but Cairoli doesn't often venture in there, but Prado does, Herlings does, Tom Vialle the MX2 World Champion does, Rene Hoffer who is also part of Herlings' team, so it's kind of an acceptable kind of convenience. But even in 2018, when Jeffrey and Tony were feeling out each other's handlebars, there was still a common ground. There was a bit of distance between them, but there was a common respect. It never really flared up like I think the KTM people were worried might happen.
Weigandt: It never got to the level like it did in MotoGP? Where guys will literally ask the teams to build walls between them so the teams within the teams don't interact?
Wheeler: Nothing like that. And no one ever really said anything with any real vitriol between them.
Weigandt: Same thing with Prado? He has been racing these guys hard this year!
Wheeler: Yeah. It's actually really nice here because Jorge came to the event, and he was actually one of the first guys to come up to Tony when it was over to congratulate him. He kind of, emotionally, said it was a privilege for him to be here, and it was very sincere. At one time what was a sort of mentor/protégé relationship between them but that has distanced a bit. I thought that was cool.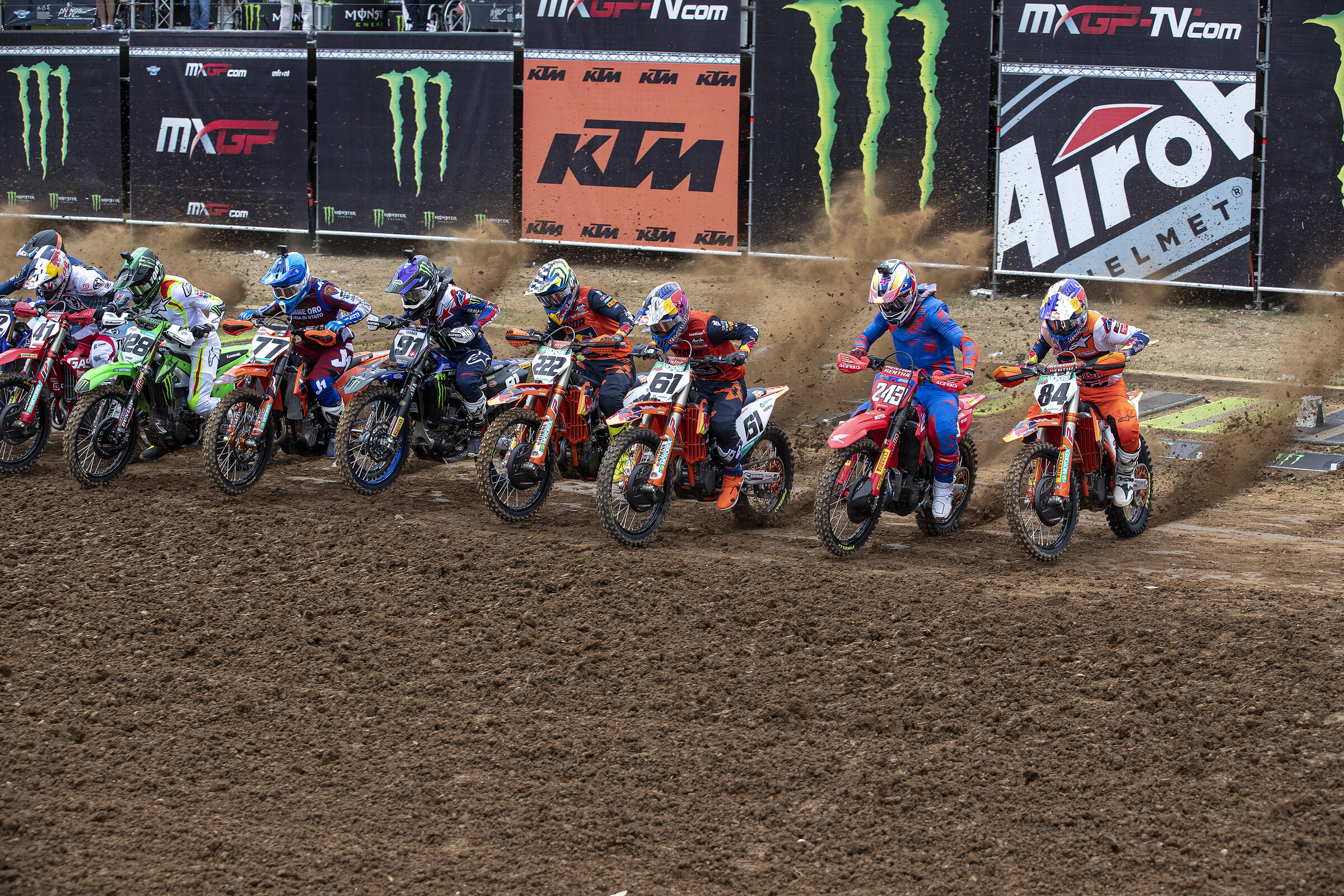 Weigandt: Hey Lewis, we have these three KTM guys that could all win the title, then you throw in Gajser and Febrve, let's include them also. This title is so close, is there any heat between these guys? There's certainly the potential for things to get tense, personally. Has it gotten that way?
Phillips: You certainly hear how it could, but no one has seen it. You don't see any arguments after the races, no throat-slit gestures Phil Nicoletti style. So, it sounds all fine. But I think, like Adam was saying, the Herlings-Cairoli thing always worked perfectly, because they were from different eras, and Herlings always idolized Cairoli to an extent. Then Prado came in, and three is a bit of a crowd. Now it's like, "How does this all fit in together?" You have this weird, three-layered system that you can't even make sense of in your mind. But, for the most part, they're great riders and they want to win so they know they're going to have to race each other hard. Everyone wants to make a big deal out of it, because normally you don't even have two riders this good on the same team. Kawasaki, everyone knows Febrve is the number-one guy, Ivo Monticelli knows there's absolutely no way he will be the number-one guy, and he accepts it. This is a very special situation KTM has found themselves in.
Wheeler: I think there's a little bit of a whirlwind because these top guys have all lost so many seasons to injury. So there's this extra bit of caution to not jump off the bike and do something crazy, Jason Lawrence style, just because someone put an aggressive move on you. So, it's all been very cordial. Sorry Weege, I know you want the drama!
Weigandt: Well, it's just like Lewis was saying. Even the riders know they have this amazing season going and they all have a shot at the title. Don't screw this up!
Phillips: I genuinely think that's what they're thinking! Even some riders who should be in that battle who aren't, they've told me, "Oh man I wish I could be part of that." This is a once-in-a-lifetime season that we're going to be talking about for the next ten years.
---
Main Image: KTM Images/Ray Archer