Main image courtesy of KTM Images.
---
This evening in Rome, Italy, nine-time World Motocross Champion Antonio Cairoli announced his intentions to retire from professional motocross at the conclusion of the 2021 season. Cairoli, a seven-time MXGP World Champion and two-time MX2 World Champion, has amassed 93 Grand Prix victories in his 19 year career to this point and still remains right in the thick of the 2021 MXGP title chase as he sits just 19 points off championship leader Tim Gajser at the halfway point of the season.
Cairoli's career has been one of unmatched consistency at an elite level. After making his way through the ranks into Grand Prix racing by 2002, he really came into his own in 2004 when he broke through for his first Grand Prix win at the daunting Namur track. That year, he finished third in the MX2 Championship behind Ben Townley and Tyla Rattray, but it was just the beginning.
In 2005, Cairoli piloted his Yamaha to 12 race victories, six Grand Prix wins, and the 2005 MX2 World Title. The young Italian followed it up in 2006 with 11 race victories and three Grand Prix wins, but he was narrowly beaten by Christophe Pourcel to the title. But in 2007, he purely dominated. With 23 race victories helping him capture 11 Grand Prix wins, he walked home the 2007 MX2 World Title. He would have been well on his way to doing it again in 2008, but an untimely torn ACL at the South African Grand Prix left him on the sidelines for the remainder of the year and also began a long battle with knee problems that flared up later in his career.
When he moved up to the MX1 class in 2009, he became unstoppable. In six straight years from 2009 to 2014, Cairoli collected 47 Grand Prix victories and piloted his Red Bull KTM to an unprecedented six consecutive MX1 World Motocross titles.
Cairoli had reached his zenith in the 2010s and instantly skyrocketed from one of the most talented individuals ever to race in MXGP to simply one of the greatest riders of all time. He became a national icon in his native Italy and became a real threat to Stefan Everts' seemingly unbeatable 10 World Championships and 101 Grand Prix victories.
But for all of his successes throughout those magnificent years, Cairoli still wanted desperately to tick one more box: win the Monster Energy FIM Motocross of Nations for Team Italy. Cairoli appeared to have a love-hate relationship with the MXoN as he claimed six race victories and won individual honors in 2012 and 2013 in the MX1 class, but also had a weird run of bad luck at the event as well. That bad luck finally caught up to him in 2014 when he once again suffered a knee injury at the 2014 event in Latvia.
When 2015 came around, Cairoli just wasn't the same guy. He battled for the championship, but ultimately fractured his elbow at mid-season and would not compete for the elusive seventh straight title. He was slowly coming back to form in 2016 and ended up second in the World Championship, but it just wasn't quite the same Tony.
Then in 2017, it all clicked again. Cairoli was consistent, fast, and more importantly, back to winning form. He claimed six Grand Prix victories and came out on top in a close fight against his rookie teammate Jeffrey Herlings. It was Cairoli's ninth World Title, putting him just one behind Stefan Everts, but it was a title Cairoli won after facing so much adversity with injuries.
Since that magical 2017 run, Cairoli hasn't found the same recipe again. But he has been aging into his mid-30s all the while and the clock seemed to be ticking on his career anyway. Still, he was winning and contending for the championships, though he was not coming out on top when the dust would settle as seasons end.
Now in 2021, Cairoli is still searching for the 10th World Title, but this year will be his last try at making it a reality. His retirement at the end of the year will leave an unmistakable void of talent and charisma on the MXGP starting gate in 2022. But Cairoli still has the opportunity to go out as a champion as he puts his full effort into making a championship run in what will be his final nine Grands Prix of his career.
"This is going to be my last season as a professional motocross rider," said Cairoli at his retirement press conference on Tuesday. "It's a very difficult decision, because I'm still on the top. When you are there, you never want to stop because you feel you can still go for the wins."
"It's time. I think some things change inside and you don't really have the fire that you need sometimes in a lot of situations, so you struggle a little bit in some situations. And when it comes to that, I think it's better to stop because I don't want to just be there to take 10th place or something like that. So, yeah it's better to make a decision like this, and we took it."
Pit Beirer says signing Cairoli and making the then-new 350 work immediately for him was key to KTM's long term success: "Stefan Everts was with us and we thought it was dangerous on these brutal 450s, they had aggressive power at that time. The motivation was to bring all the brands to the 350 but the FIM congress decided to keep the 450. But Tony said "Hey you told me the 350 was the better motocross bike. Can you do that for me?"
KTM was knew the bike was great for the later stages of the moto, but they worried about the starts. Cairoli promptly pulled the holeshot in his first GP on the bike. He says the fact that the bike could rev out so far in second gear, while the 450s were already having to grab third, actually made it better on the start."
Because of this is where I think I was able to convince Roger De Coster to come to KTM," says Beirer. "I think he would have hung up on us if we weren't having that kind of success in Europe."
"It's a personal wish to myself that no one will go to a GP and feel like Tony can be beaten easily. You see that at the last race in Turkey. It was hot and he's the older guy and he's not getting tired and he's catching all of those guys. He could keep getting paid to race a motorcycle for a long time but we want to see him go out as a champion."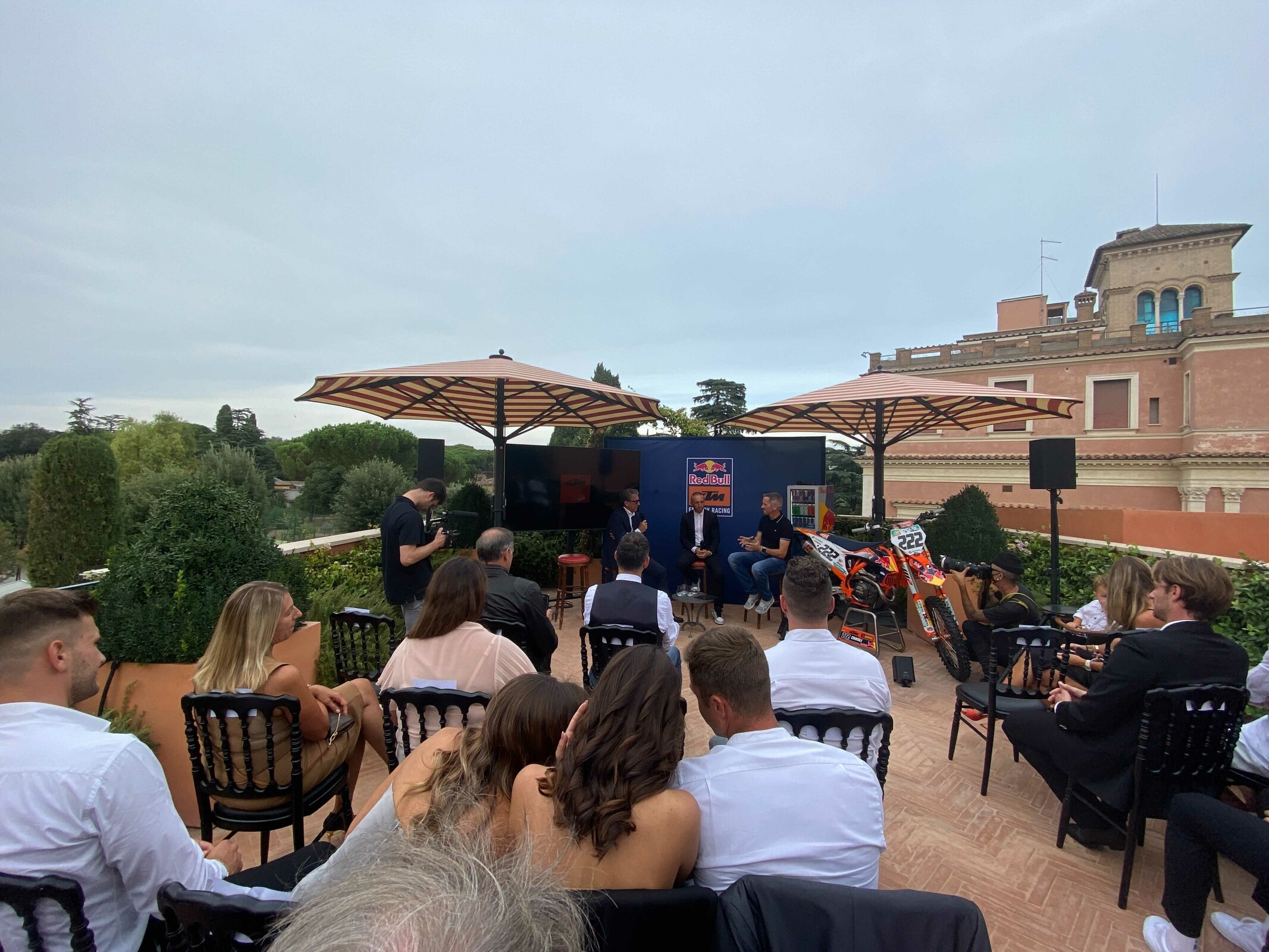 Read the full press release from KTM below:
Antonio 'Tony' Cairoli announced his plans at a special press conference alongside KTM management in Rome, today. The Italian will bring down the curtain on a glittering world championship career in which he has become statistically the second most decorated rider in the history of the sport and the greatest racer from his country to have thrown a leg over a motocross machine.
Importantly, Tony gave KTM a first premier class crown in 2010 (his fourth and second in MXGP). He followed the achievement with a further four titles – all with the KTM 350 SX-F – before triumphing again in 2017 with the KTM 450 SX-F. Together with Claudio de Carli and his loyal technical crew, Cairoli has been a mainstay of the Red Bull KTM Factory Racing team, image and development program since that first 2010 season. He has won at least one Grand Prix in all his 18 terms.
Currently, Tony is still very much in the mix for a coveted 10th FIM World Championship title. Prior to this weekend's FIM MXGP of Sardegna (ITA), Cairoli has accrued one win and five podium finishes from the nine rounds of 2021 MXGP. He is third in the standings and only 29 points from the top of the table.
Cairoli's contract extension with the KTM family means that the Italian will provide his expertise in various segments and potential future endeavors within the KTM group, all with the aim to continue developing the sport of Motocross for all audiences.
Tony Cairoli: "This is not an easy decision. I've always said that numbers and statistics did not mean that much to me. I think it was an achievement for me and my family to win one world championship so to have had a career like this is very special. I feel that it is the right time to stop. Everything around me makes it seem like the right decision, and we are still trying to win the title this year, so the motivation is high for this challenge. I want to thank all those who have helped me and supported me since I came to the world championship, and all along the way actually. There have been many faces and names and of course all the excitement and love from the fans. I have felt very much part of the KTM family from day one and we will continue our work and relationship together, but now in a different way. There is a lot more to do in life after 2021 but for now our goal is very clear."
Pit Beirer, KTM Motorsports Director: "Our story started in an impressive way because when Tony came to KTM when we still hadn't won a title in the premier class and we were also developing the KTM 350 SX-F, so it's like there were two challenges to conquer! To then win five consecutive championships and establish the 350 concept was a big milestone for us. Over the years the relationship became closer and the friendship grew even more. A lot of our success both in the U.S. and in MXGP arrived because of those first years with Tony and the belief that he had in us and the vision for the future. It's something we didn't forget and we won't forget."
Robert Jonas, VP of Motorsports Offroad: "We're immensely proud to have been such a major part of Tony's career story and to have contributed so much to one of the best motocross racers the sport has ever seen. When we first started working together with a motorcycle that was almost a gamble for the highest level of the world championship at that time, I don't think we could have imagined the success that would come, and just how deep Tony was able to make his impression on MXGP. He has fans all over the world and some of the biggest are right here in the factory. It will be strange not to see that orange #222 on the track next season but his passion for riding and his experience will still be big assets for us. The story doesn't quite end here."
The 2021 calendar is due to finish with the Grand Prix of Mantova on 10.11.2021. After this event, Tony will remain very much part of the KTM family and part of the KTM race department activities.