Rancho Cordova, CA
Hangtown
AMA Pro Motocross Championship
If you're Michael Mosiman you've got to be pretty satisfied with how your summer went. Yeah, he missed some races due to injury and had some mechanical issues here and there, but he also showed, arguably, the best speed he's had in his entire career, and ended up with a pair of podium finishes (second overall at Spring Creek and Fox Raceway 2) as a result. He went 11-8 for tenth overall at Hangtown, which isn't quite where he wanted to be in front of his hometown fans, but hey, that's the way it goes sometimes. We caught up with Mosiman afterward to chat about his day.
Racer X: Do you ever get tired of answering these same questions over and over after the race?
Michael Mosiman: No, not really, I like talking to people, I'm an extrovert.
To start off, take us through your day.
Wow, through the whole day?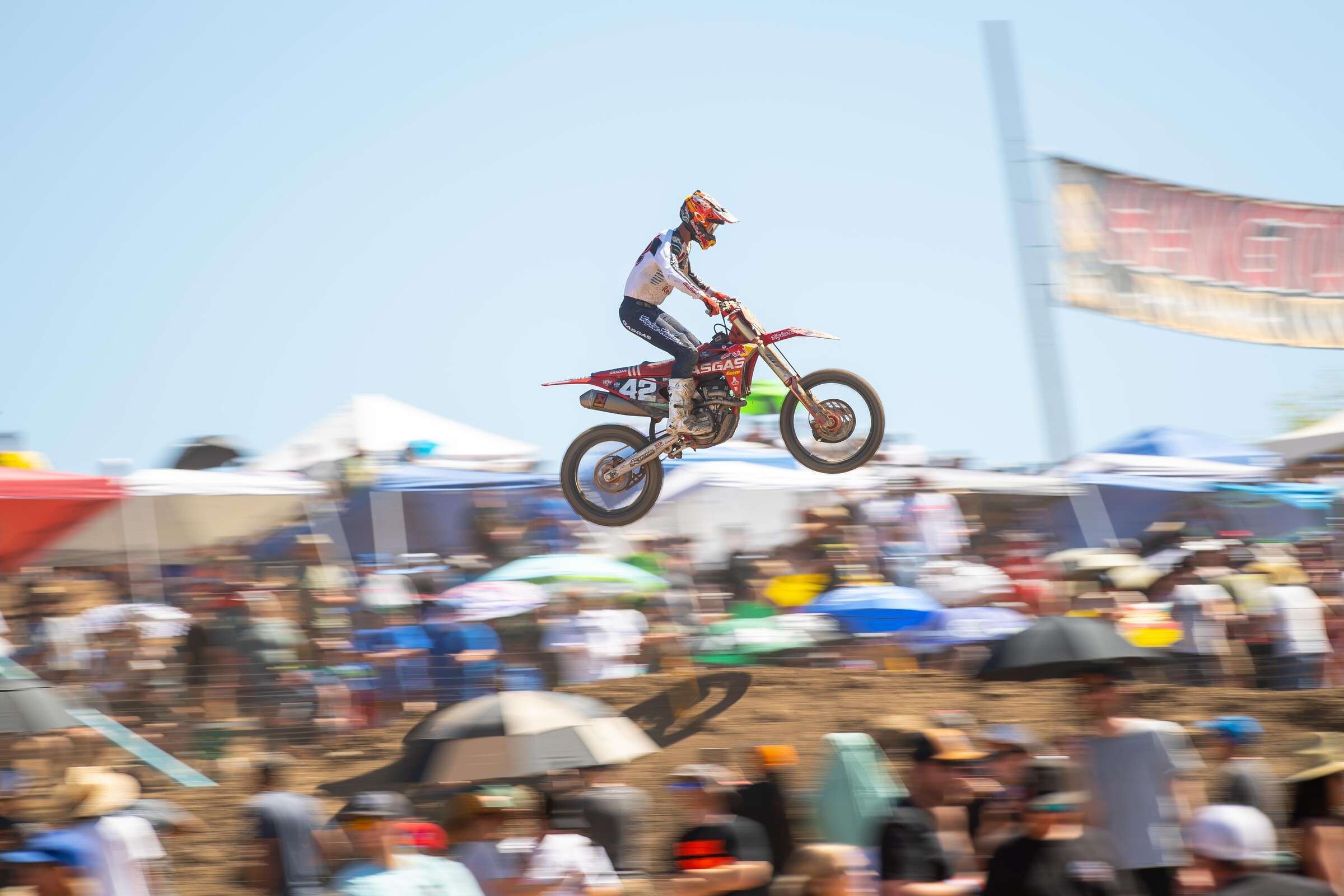 Well, I mean, I don't want to know what you had for breakfast or anything. Unless it was it was something weird or really good?
Nah, it was normal. It was a home race today, the fans were pumped on me! The first practice wasn't too bad, not too great—I didn't quite get the lap I wanted. In the second practice we had some bike issues. We couldn't get the thing started, and it was kind of funny, because part of that helped me lock it. It was like, "Oh, okay, adversity, all right," and I was able to lay down a pretty good time. I felt good for the motos but didn't have it on the start. I'm a good starter, so that was a bummer deal, but I started making my way through the pack. The first lap was solid and the first moto was really good. I was kind of just walking to the front. I was gauging the leaders and I was right on pace. I really think I could have done some damage. I was passing into third and just threaded the needle a little too much. He [Dilan Schwartz] moved over at the last second and I wasn't quite there for the pass yet. I got caught in the bike and threw out a couple ribs.
You jacked your ribs up?
Yeah, but they're back in now, shout out to [Doc] G [Dr. H. Rey Gubernick].
You dislocated them? Can you dislocate ribs?
I don't know, but they didn't feel good, I'll tell you that! It took my breath away every bump I hit after that. I think without that it would have been a great day. That kind of took the wind out of the whole day. I'm proud of my riding and proud of my effort, I didn't give up all the way to the end. In the second moto I was a little timid out of the gate and just kind of managed the first part of the race knowing I'd get into my groove toward the end. I kind of just let the race come to me, and about halfway through I started trusting in my abilities again and started walking forward. I made some good passes, some doors were opening up, and I spent some time banging bars with Hunter Lawrence, which was kind of fun.
You're smiling and laughing as you say that. What was so unique about that battle that's making you chuckle right now?
I had so many runs on him, it took me so long to get around him. At one point I hit him. I pinned it into a corner and we bumped. I didn't hit him hard, but it was an off-camber so it doesn't take much. He got offline and we had [Josh] Varize right in front of us, and I thought I had it but Lawrence just went straight and hit me back. Totally fair game.
Like a slam-fest?
No, we were bumping each other, not hitting each other. I lost some wind, started getting it back, and got right next to him in the rollers. He wanted to go inside and I was like, "Frick!" If I would have kept going, I would have just clobbered him. I got next to him and nailed the pass I didn't get on Schwartz, but then, because of our history in this race, he was ready to square me up and park me so I had to park him. And I think he still tried to square me up! I barely made the drop. It was just fun.
You and Hunter don't have any kind of beef or anything though, right?
No, we don't, I think we're cool. We were just going at it in the race and bumping. I came in directly, and he didn't shut down. The Lawrence Brothers just don't shut down. Anyway, he got me, fair game, then I got him. It was kind of a cat-and-mouse thing. We were having fun.
Let's go back to that crash you had with Dilan Schwartz.
I had a great run and he was a little ahead of me. I'm trying to give it everything, and I know he's going outside. I was going to go inside and meet him in the middle of the corner. The line I was taking was taking you to the outside. You miss the bumps and get a full corner. He was jumping inside the bumps. We had ten feet between us, but then he jumped in and I'm jumping inside of him. There was a barrier there so I couldn't really jump farther inside. I didn't have him yet. I maybe could have anticipated it better, or sent it in harder to make sure I was ahead of him. I got caught up, sorry Schwartz. Bummer deal, he was riding so good. He had a podium on a Suzuki, that's really good.
This is your hometown national. How much did you actually ride here growing up?
We rode here quite a bit, but this wasn't in the weekly rotation. Practice days here just aren't that great, generally speaking. A lot of races here aren't that great either, and it changed ownership at one point. We were friends with the past owners, and no disrespect to any one owners after, but they always did a really good job with the track. We were always here for the Dodge National every year. I did serious battle here with Derek Drake and Sean Cantrell! I pulled off on the white flag here one time too. I have so many memories from this place. So much history here.