Rancho Cordova, CA
Hangtown
AMA Pro Motocross Championship
In the 450 Class of the 2021 Lucas Oil AMA Pro Motocross Championship, a little-known Maryland native was beginning to stack some solid results week after week. Jacob Runkles, a journeyman privateer in his fourth year as a professional, turned the six career points he had earned prior to 2021 suddenly into 36 points this year and 24th overall in the 450 Class standings. The results even seemed to take him aback and the impressive rides garnered plenty of attention. So much so that our own Kris Keefer has been all about #TeamRunkles this year and even had him join in for his 2022 Husqvarna FC 250 intro test last week. With such an impressive turnaround, we had to catch up with Jacob and hear his story after a 20th-place overall finish at the Hangtown Motocross Classic.
Racer X: So, you went 15-36 here today at Hangtown. Just tell me first of all what happened in the second moto there.
Jacob Runkles: Yeah, so just came off that little double and the back end dropped into another rut and went right into the face just completely sideways, landed sideways, and it just slapped me down. There was really no way of saving it. So, I got a little banged up, but it was mainly the bike. So, I just couldn't finish the second moto.
You've had a pretty strong year, and honestly, I haven't done much research on you. What's kind of your story? Where are you from and what's your deal?
I'm from Maryland. Kind of a normal child, going to school and everything. It wasn't all moto. I was just able to ride all winter this past winter and that kind of helped me out this year. So, yeah, that's what did it for me. I got a couple points years back, but nothing like this year, that's for sure!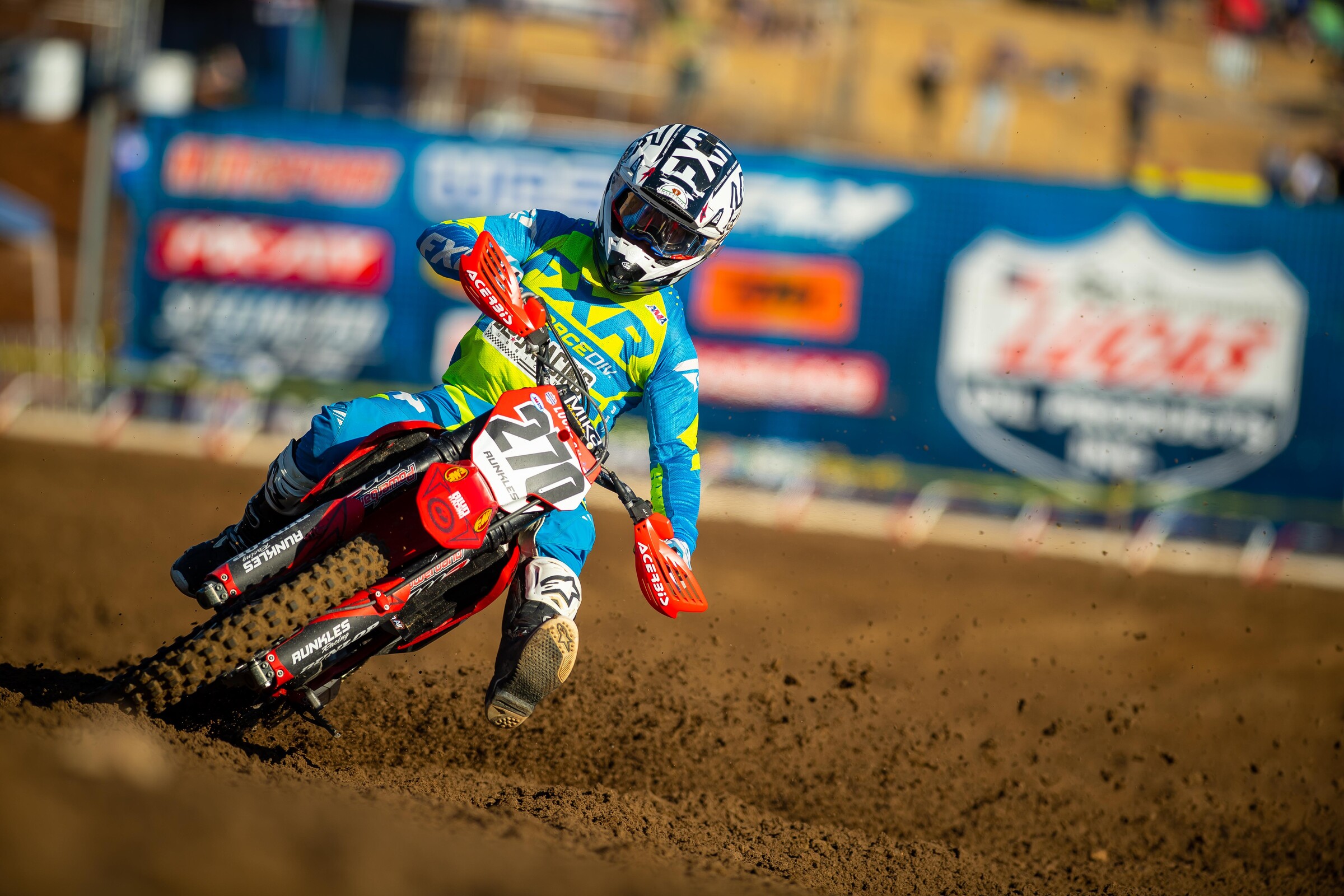 Were your goals changing throughout the year? Were you looking at it where now you were getting points, now you could get a top 15, maybe look at a top 10? Kind of updating your goals all year?
Yeah, so I got my first points at Southwick and that was kind of weird because that was the last track that I expected to get points at. Then, the next weekend, I got a couple more, and really Unadilla is what switched it. I got five points, I got points both motos. And then, right there I was like, "Okay! If I can get five points each weekend, that would be good." I went to Budds Creek. I went 13-16, and then it was like, "Okay, I can do it." So, that gave me a bunch of confidence. I had a few tough motos, but all in all, I couldn't be happier.
You're a Maryland local so Budds Creek is like home for you, right? You feel comfortable there?
Yeah, I'm about an hour and 45 minutes from Budds. So, we ride there during the week when it's warm enough. I like the track. It's never like it is on pro day, but to have the layout and the jumps, you know, not have to figure that out, that's good. And you kind of know how far you can push it in spots. So, yeah, it helps.
We were kind of, almost making fun of it a little bit, because we always talk about Southwick locals and how they do well at Southwick. This year, Maryland locals crushed it at Budds Creek! What's the deal there? Everybody just showed up to play it seemed like this year.
Yeah, I don't know. I think we were all kind of shocked. I was shocked on my results, I think [Tyler] Stepek was a little bit too. [Justin] Rodbell, he's always done pretty well. But yeah, I think we just have a good group of guys to kind of ride together and kind of push ourselves in the off-season. So, I think that helped a lot.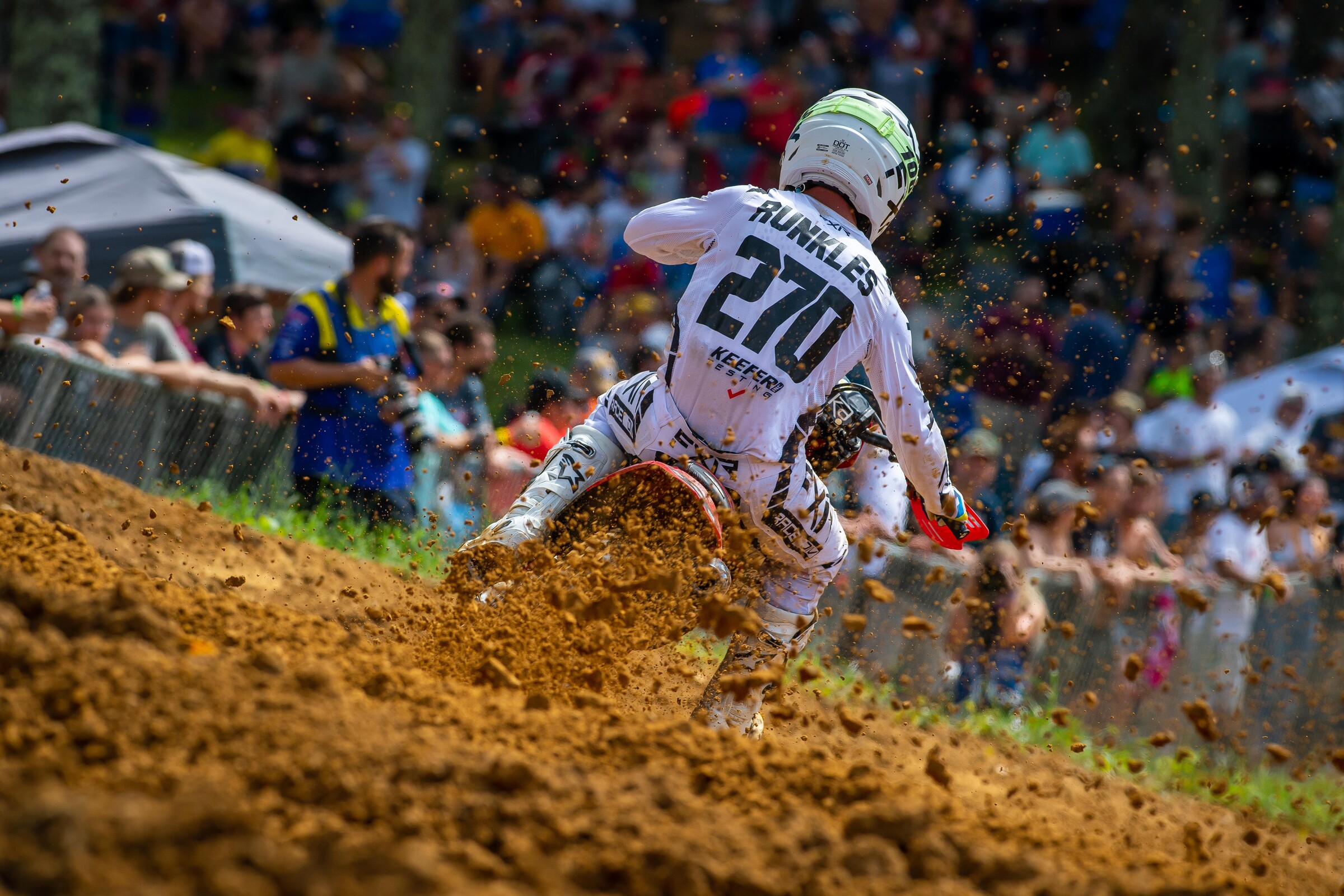 What does this season do for you looking forward? Does it kind of change your plans of how you view your career? Are you going to try to take some more steps next year?
Yeah, so, pretty much, this was going to be my last year. Now with looking at a two-digit [national number] and everything, I'd kind of be crazy not to go for next year just to run the number at least. [Laughs] But yeah, so we'll take it week at a time, year at a time and we'll see how it goes. But yeah, definitely threw a wrench in the plans I already had for the coming years.
So, who's your traveling posse here? You've got this motorhome here and a bunch of people around. Who comes to the races with you each week and helps out?
Yeah, so typically it's me and my dad. We have a van and a trailer. But a buddy of mine right there, Kevin, he offered to bring me in this rig for these couple of weeks. You know, he drove me out here, he's been feeding me, I'm kind of getting spoiled with all this. But my dad flew out for each round, and this weekend my dad and my boss flew out. So, it's cool. We've got a little group here and I couldn't be happier. I'd like more friends and family, but I'm from Maryland so California's not a real easy trip for everybody.
Watch Runkles in our 2022 Husqvarna FC 250 first ride video below:
So, your boss you mentioned, what do you do during the week? Because it's Runkles Racing on the weekend but what's Runkles during the week like?
So, I do HVAC for a residential company.
You and Rodbell!
Yep! Something about hot attics really makes you want to go faster on a dirt bike.
Yeah, it must make you feel like, "Oh it might be a bit better to do that dirt biking thing!"
Exactly! [Laughs]
So yeah, great year overall! How would you summarize everything that's happened for you this year because it's been a big turn around for you?
It kind of isn't real. I think I ended up with 36 points for this year. And honestly, I would have been over the moon with 10. And then, it just kept jumping! So, it's definitely been really cool. It probably hasn't hit me yet until I see what number I get, and then I think it will hit me. But right now, I'm just biting at the bit to see where I'm at.
I think you're going to be in the 80s or something right? Somewhere around there.
Yeah, someone told me with everything jumping around, I could be like 84 to 90. So, hopefully the lower the better!
Do you have one in there that you'd prefer?
No, I'd take any two digit! I'd take 99 and a half honestly! [Laughs]
Who would you like to thank for getting you to the races this year?
My whole family, friends, everybody. Blud Lubricants, FXR, GasGas, FMF, 6D, 100%, Jimmy Anderson HVAC, Kevin Heck. Just so many people, I can't think of them all. I got a whole list, but they know who they are and thank you guys.