Pala, CA
Fox Raceway 2
Lucas Oil AMA Pro Motocross Championship
Honda HRC's Jett Lawrence is firing on all cylinders at the perfect time. After sitting 11 points down on Justin Cooper just four rounds ago, Lawrence has won three of the last four rounds (and the last four motos in a row) and pulled to a 23-point lead in the 250 Class standings with just one rounds remaining. Cooper's spiral has coincided with Lawrence's best stretch of his entire career to this point, and it's put the 18-year-old Australian on the precipice of his first professional championship. Lawrence laid down another 1-1 performance at Fox Raceway last weekend and he spoke with the media via Zoom afterwards about his win and the championship that hangs in the balance.
Jett, ultimately you came in with the red plate after a big weekend last week, back in control of the championship. You were going for three in a row here, and you did it again. Another 1-1, so two straight 1-1 efforts for you. I know that you have said before there isn't necessarily anything special about this track and why you seem to be so good at it, but you're three in a row now. You've won three races in the last eight months there. You're now the winningest rider at this track, with all the times we've been there. The track and you seem to gel really well, so what's the magic of today and how are you feeling going into the final round?
Jett Lawrence: I don't know what the deal is with this track. I can't complain about it, really. I'm setting myself up pretty good for this next weekend at Hangtown, which is really good thankfully. Getting another 1-1 is awesome. I'm looking forward to next weekend and finally get it over with and have a break. I feel like it's been a pretty long season. Today was pretty good with the track. It was different. I'm surprised I still won. In the practice, I thought I sucked in the morning.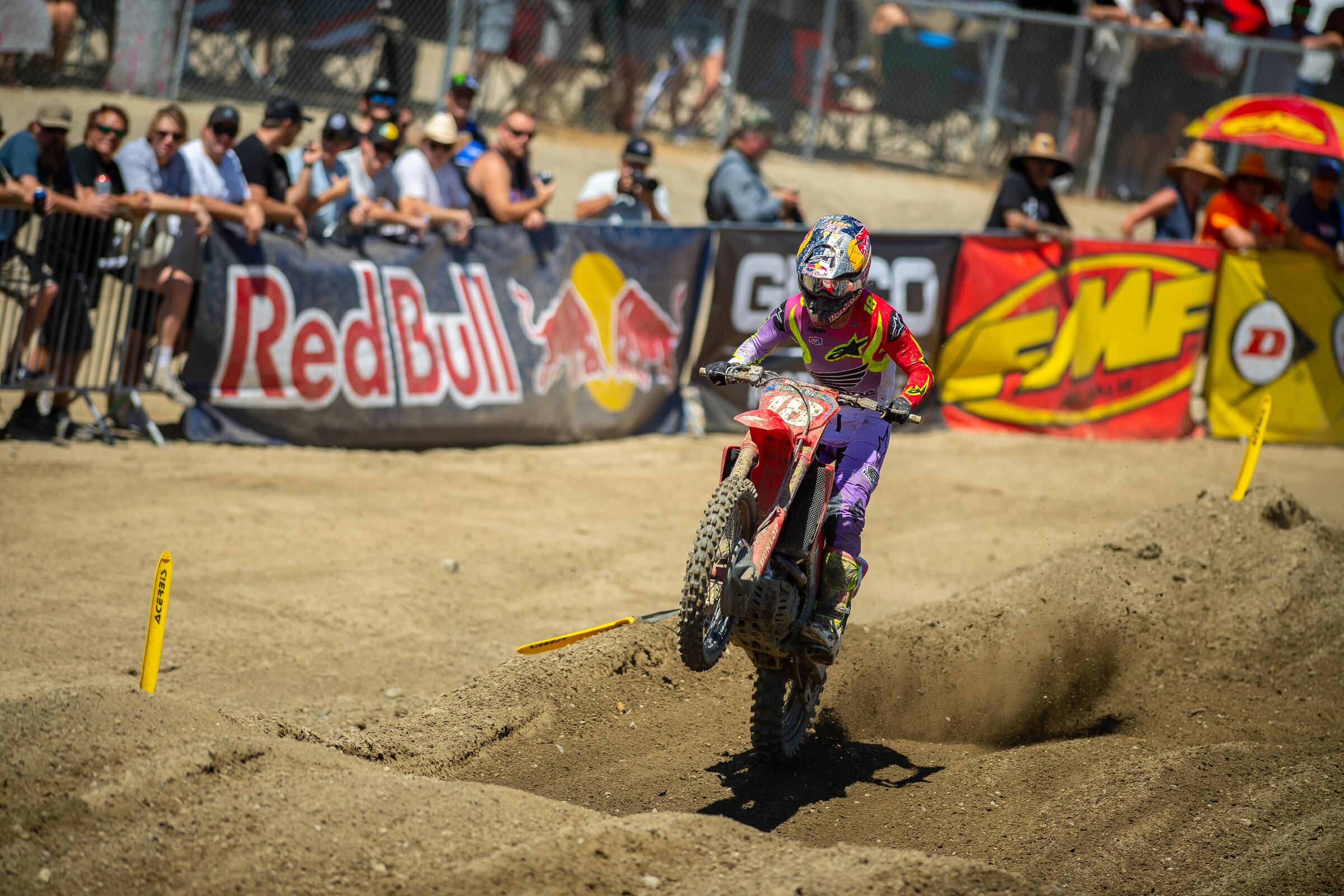 In the second moto you ripped a massive holeshot. I think the first thing you said when you came off the track is, "I finally got a dang holeshot." Talk about the confidence that you've been building these last couple weeks, because you're riding phenomenally, and how that has maybe poured into getting better starts? Your starts have really come around here in the second half.
The funny thing is on our starts, we changed our gate prep a little bit, but realistically technique-wise I actually haven't really changed much, to be honest. It's kind of been more the not stressing so much about it. Halfway through the season when I started to get those bad starts, I started to almost mentally screw myself before I even did the start. I really wanted to get a good one because I know Cooper is very good at starts and my only chance of trying to battle with him is to actually get up there on the start. I think I was just overthinking them way too much to try to get them perfect. I think I was just digging myself a deeper hole. Coming to Unadilla, I just finally did a few starts, not many leading up to it, and just didn't worry so much about it. Just kind of pictured what I needed to do in my head and then just made sure I executed that and not make it such a big thing. I felt like that has really helped me in the past few days. Plus, the boys have been at it with the bike and improving it. So, I think it's just an all-great mix with the team and my mental state with my starts, not overthinking it so much.
I know we just spoke about if there's anything you're doing differently with the bike, but it looks like in the past two weeks there's something that HRC has found with that motorcycle. Is there leaps and bounds that you guys have found that have made this thing better for you? Or is it just you're happy with the motorcycle?
It's a little bit of a mixture of both. The team and I have been working pretty hard to try and always improve. They found a little step and we found confidence-wise another step and speed. I think it's just a mixture. Thankfully, we've been actually seeing the results because we've been looking for quite a while to try and improve. Obviously, the Star bikes are the top power of the 250 guys and we're always trying to get close to them. So, we found something. It was really good to visually see it on the weekend, today really that we've actually closed the gap I felt like a bit power-wise. It was really good to see that because the boys have been putting in some hard hours at the factory and just searching for some better things. I think it's just been a mixture with what has been helping me lately. Obviously just getting those 1-1's and good starts, I think it's just been helpful. Obviously, confidence-wise it's been really nice. It's been helping me get into a better position early and not have to fight out of tenth or something.
You're not the type of guy who comes across to get too nervous or caught up in a situation, but what's this next week look like for you and next weekend as well? It's going to be a big one.
Next week is going to be exactly the same, me wanting to go play golf and Dazzy [Darren Lawrence, his father] and Johnny [O'Mara, trainer] turning it down because I've got to race this next weekend. So, nothing is going to change. I'm going to go into this next weekend like I just sucked the weekend before and try and ride at 100 percent. Nothing is going to change. I still have to go there and do a job, and I think that's really it. Mentally I'm not going to change anything, because I feel like I've been doing pretty good lately, so I'm not going to change my mental state where I am right now.
Do you remember in your early amateur days and your early professional days, were you always this sort of care-free and loose and able to compartmentalize your stress and the pressure about winning a championship or winning races? You seem incredibly loose in light of the tightness of the race and what's at stake for winning a championship.
Yeah, I think I've always been pretty relaxed, even like you said in amateurs and first year of pro. It's not I don't go into it scared. I come in and I'm going out there to have fun and race and do what I love, really. So, I don't really put much pressure on myself because I get to go out and do what I love every day. I think that's what kind of helps me to stay more relaxed in more pressure spots. I obviously feel like I have some hiccups, but I feel like most of the time I'm pretty relaxed in those and pretty stress-free, I would say.