Rancho Cordova, CA
Hangtown
Lucas Oil AMA Pro Motocross Championship
Austin Black wrapped up his amateur racing career last month at the 2021 Monster Energy AMA Amateur National Motocross Championship at Loretta Lynn's Ranch in Tennessee. The Oregon native finished fourth overall in 250 Pro Sport behind Levi Kitchen, Chance Hymas, and Preston Kilroy, which certainly put him a bit more on the radar when he eventually made his professional debut on September 4 at Fox Raceway. He rode two solid motos to finish 19th overall, and improved his consistency just a bit more this past weekend at Hangtown to end up 17th overall. Now with some professional experience under his belt, Black is ready to take the next step in his professional career. We spoke with him at Hangtown about it all.
Racer X: Austin Black, 18-18 here at Hangtown. Just kind of sum up your day for us.
Austin Black: Yeah, I got off to a good start in my first moto… Actually, it was a really bad start. I was in like 25th, but I actually caught up to like 13th on the first lap and made my way to 11th. I had a little overheating issues because of the weather out here so my bike wasn't running all the best, but we made the best of it. I think I got 18th, fell back some positions, but I'm happy with it. I learned a lot. Second moto was really tough for me, but I dug in deep, and I finished the moto, and that was all I really could do. I'm just happy to get these last two rounds as good experience to go into next year. And yeah, next two weeks, take off and get ready for supercross.
So, what was the whole plan with you doing Loretta's, but then you skipped a few nationals and came out for these last two. Was that the plan all along or did something come up?
Yes, so we did Loretta's and I'm stationed in Lake Elsinore, California. We're doing it out of the van so it just would have been a lot to go to the next two rounds in the van. So, we just focused on Pala and Hangtown, and came out swinging and did the best we could.
Is that where you're from [Lake Elsinore]?
I'm from Portland, Oregon, actually. I just live in Lake Elsinore now.
So, supercross. You're going to try supercross?
Yep, supercross. I don't know exactly what I'm doing for a ride next year, but we're going to figure that out. I don't know if I'm going to do west or east, but I'd assume I'm going to do West Coast because I'm a West Coast guy.
What was your expectations coming into these two rounds? Coming off Loretta's, you kind of knew where you stacked up against some of those guys like [Levi] Kitchen and them, but did you have any high expectations of finishing top 20?
I mean, yeah, that was just to goal was to get into the motos. I knew I could do that pretty easy. But yeah, just top 20 and just really learn from these. That was my biggest thing was learning, and I did a lot of that. I made a lot of gains this weekend which I'm super happy with. Just got to figure out some things with my body and my recovery for that next moto, but overall, it was solid.
How about the heat and dealing with that these last two rounds? Has that been difficult?
Yeah. Pala was hotter but it did feel pretty hot [today] because we were second moto today. Last weekend, we were fist moto. But yeah, the heat is brutal dude. You've got to really prepare for it, and you've got to make sure you have the right supplements in your body to get you through that. Because if you don't, man it's going to be hell out there.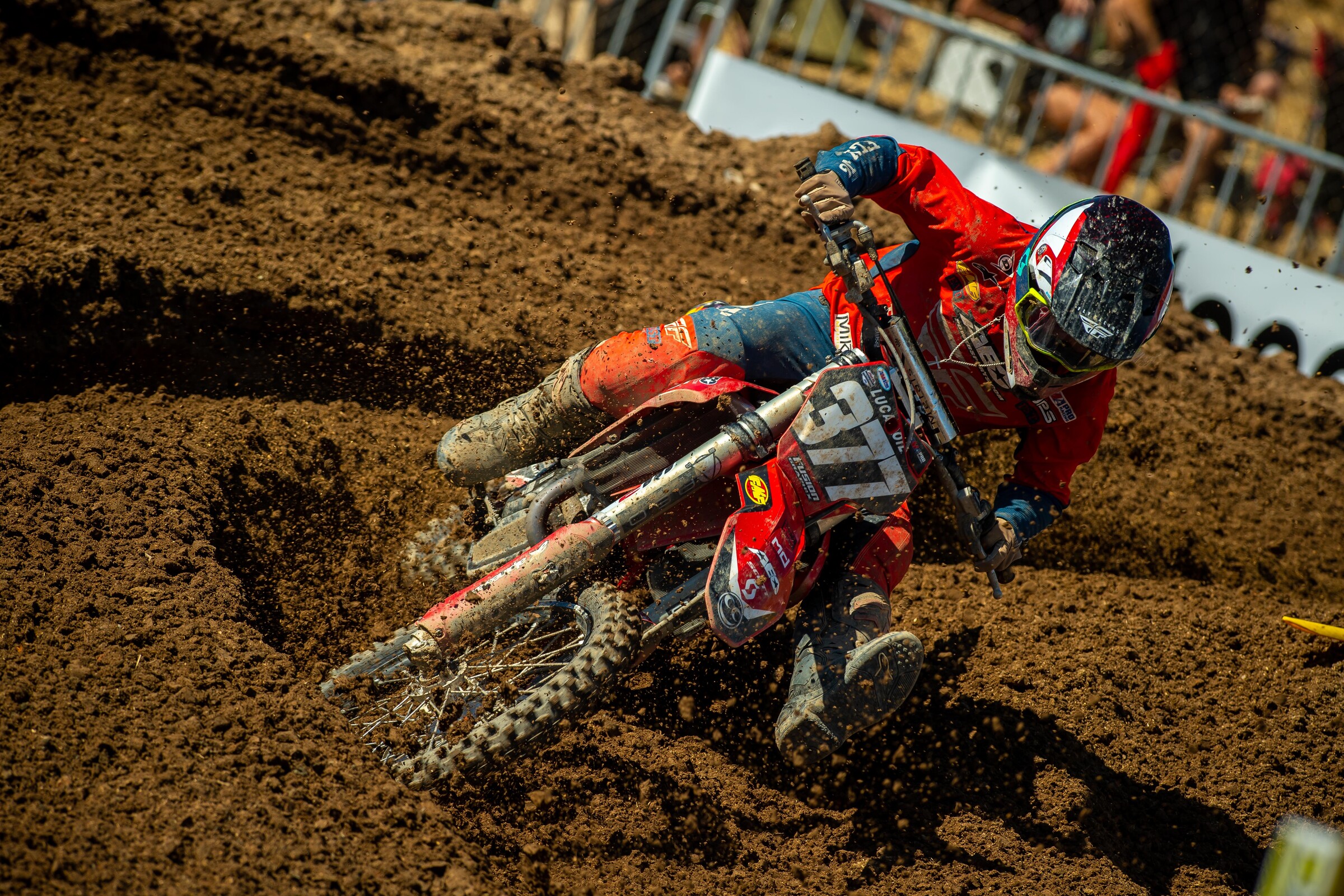 How much different is the experience with the tracks and longer motos and everything than coming from amateurs like you were?
Oh I enjoy it so much better because I didn't really enjoy being at the track for a full week and waiting to see how you do. I love this program. You go out, and you get it done in one day. Two practices, two motos. You've got four times to prove yourself throughout the whole day. I really enjoy this. My stress levels at the pro nationals are less than Loretta's. So actually, I had more fun with this because I knew I didn't have to do anything spectacular. I just had to do it for myself and just figure everything out.
How different is it just lining up against like Justin Cooper and Jett Lawrence? Do you almost, not maybe feel star struck I guess, but is it weird to be in that position finally in your career?
Yeah, it's cool. It's just what I've dreamed of since I was a little kid you know. I've been at this amateur thing for like 17 years, so it's been a long time coming. It wasn't too crazy lining up with them, I ride with them a lot in California. I know where I can be, so we're just going to work towards that and get that going for next year.
Who would you like to thank for getting you to these last two races?
I'd like to thank AEO Powersports, EMT Racing, Research Engineering and Suspension, VP Racing Fuels, Fly Racing, Scott, JBP Cleaning Supplies, Dunlop, GasGas, My mechanic Joe [Dehart], my mom and dad, my girlfriend, Fusion. Everybody that's in my corner. I really couldn't do it without them.
Watch this interview in the video below: