Welcome to Racerhead, and welcome to what is starting to seem like February 2020.… As the days go by, our long global nightmare driven by this pandemic seems to have just gotten the white flag. This strange, surreal race we've been running seems to finally be winding down. The news this week that we can start sharing air again, let alone spaces, means we're getting back to normal—maybe even better than what used to be normal. It comes just as we're getting ready to launch into the 2021 Lucas Oil AMA Pro Motocross Championship, and I admittedly don't quite yet know what it all means. Will we have to continue to limit crowds? Will we have to continue to wear masks at motocross tracks? Can we open the pits back up to fans and enthusiasts? We can only hope so. The fast-changing headlines of the past 24 hours have us both optimistic and confused. We are obviously coming out of this invisible fog, but we also need to stay the course of being smart and responsible and not jumping the starting gate. In the meantime, as we await the start of summer and a brand-new season, we can only hope that the news gets better, the danger continues to wane, and we can all get on with it.
In the meantime, I am an admitted volleyball dad, and I find myself in Elyria, Ohio, for another weekend tournament involving the Morgantown Volleyball Club and a certain 13-year-old libero. The news is happening fast—Southwick may have to postpone until early August due to COVID-19 restrictions in Massachusetts, or maybe not—we'll likely know within a couple days—and the season is about to start. But for now, for one more weekend, I'm off the motocross grid and on the volleyball beat. So let me turn this over right here to…
Can't Wait (Jason Weigandt)
Earlier this week I wrote about this extra-long break between Monster Energy AMA Supercross and Lucas Oil Pro Motocross. I'm sure riders and teams are beyond thrilled to not have to throw a motocross program together as quickly as usual. There's now time for an emotional release from supercross stress, time to test, time to get acclimated to longer motos and softer suspension. That's awesome for anyone actually racing. But I don't like it! I like the chaos of the opener, when everyone is guessing, riders are in completely different stages of comfort, and the results bounce all over the map. We've seen shocking openers because some riders are more ready than others, and we've seen openers that were in no way an indicator of how the rest of the series will go. That makes for an exciting race and an exciting season. That's all I'm looking for. Yes, if I worked for a team I'd hate it.
I talked to Ryan Dungey about this earlier this week. I brought up the 2010 Hangtown opener, when Ryan went 10-6 for eighth overall, which he says is probably the worst race day of his career at an event where he actually finished both motos. Ryan says he was "mentally fried" after winning the 450 Supercross Championship as a rookie, and even though his Rockstar/Makita Suzuki Team Manager Roger De Coster kept telling him to get his head back in the game and focus on outdoor testing, Ryan couldn't do it. Ryan says after the Hangtown disappointment he took a trip to the beach, which he never does, and relaxed. Then he came to the next race at Freestone in Texas and just decided to not even worry about his result. He then went 1-1.
Ryan says he was better prepared mentally when he next won the supercross title in 2015. He thinks Cooper Webb will be better prepared for this motocross campaign compared to 2019 for the same reason. In 2015, Dungey's problem wasn't mental but mechanical. Red Bull KTM had an all-new 450 SX-F, and the small bit of outdoor testing they got was not enough. They weren't at all ready for Hangtown, and that's the famous race where Eli Tomac bested Dungey, and everyone else, by over a minute in the second moto.
"Every year at the opener it would be the same thing, I come in after practice and I'd be three seconds off," said Dungey. "Every year! I'd be like 'How am I going to make up three seconds!'"
By that 2015 season, Dungey had gone from the rookie chasing vets like Chad Reed and James Stewart to the vet trying to hold off young kids like Tomac and Ken Roczen. The kids had speed, but Dungey said by then he would just try to rely on his experience, and playing the long game over an entire championship.
I'm sure at the time it sucked for Dungey and his team to be so far off at the opener, but I always liked seeing dynamic championship seasons with ups and downs for everyone. We'll see if the extra time means people come into round one more ready, and if round one leads to more realistic results all around. Heck, this year's opener even takes place at Fox Raceway in Temecula, California, which means most of the riders have already been logging tons of laps there in testing. Should be a big change from the usual.
Also this week, I interviewed Christy LaCurelle of the U.S. Motorcycle Coaching Association. Why the big deal about coaching? Because key industry players found out this is one area where the motorcycle world is lacking compared to other sports. Want to go skiing? You take your family to the ski resort and the kids get lessons. Stick and ball sports? Coaches every time. The USMCA was designed to help rebuild the industry and get people riding. Then the pandemic hit and bikes started flying off the shelves. Now we have all these new customers, and good guidance can keep them safe, happy and involved. Check out the interview here.
On Any Sunday at 50 (DC)
This week marks the 50th birthday of the all-time classic motorcycle movie On Any Sunday, Bruce Brown's 1971 masterpiece documentary about our sport. The film is probably the single most influential bit of media every produced about motorcycles, as our friend and contributor Brett Smith explains in his recent podcast "50 Years of Sundays: On Any Sunday will change your life."
Smith has been celebrating On Any Sunday on his site wewentfast.com, with a longform feature as well as memorabilia and collectibles he licensed through Bruce Brown Films. Brett and I discussed all that he had going on while we were riding in Pure Michigan last week with Jeff Stanton Adventures for this Between the Motos feature.
Personally, honestly, I don't really remember seeing the movie for the first time, but I do remember my dad taking us all out to a motocross track called Lazelle Union (not far from where High Point is today) to see what the races were like in person. Within a week he had traded the Triumph Bonneville street bike he had in for a 400cc Maico motocrosser, which effectively changed his whole life, as well as my mom's and us kids', and then a whole bunch of other folks' in the years that followed.
What I did not realize until recently though was what a big deal it was in the industry in 1970 and '71 as Brown was producing the movie, filming big events all over the country with a budget based in large part on the contribution of motorcycle-loving Steve McQueen, then one of the most famous actors in Hollywood. Every place Brown went with his cameras seemed to end up in the pages of Cycle News, at the time really the only regular way people across the country knew what was going on within the motorcycle industry, as the world was still far from the information age we live in today. Race events would advertise in Cycle News that Brown and his crew would be coming out to an upcoming race like the Elsinore Grand Prix as a way to boost attendance and interest. Brown even ended up on the cover as he filmed the iconic sand dunes shot of McQueen and costars Malcolm Smith and Mert Lawwill.
When the film finally debuted on July 14, 1971, after a delay in post-production, the biggest motorcycle industry party ever must have taken place at the Plaza Theater in Westwood, where it apparently debuted. The previews and reviews were giddy with excitement and praise of Brown's film, which finally depicted motorcycle racing in honest terms, and not the "bikesploitation" vibe of earlier biker films like The Wild Ones starring Marlon Brando and Lee Marvin as part of a gang that terrorizes tiny Hollister, California. Cycle News' review of the film didn't mince words, stating "The photography is, even at its worst, overwhelming." Entitled "Why You Should Take A Friend to See On Any Sunday" it urged pre-existing riders to "Just smile, grunt and nod your head (knowingly) while they watch a heretofore unknown world of mechanical/physical art dance before their eyes and ears. You'll walk out of the theatre a hero like you've never been before."
Looking at the film now, 50 years on, after we've gone from once-a-year coverage on ABC's Wide World of Sports to literally every race streaming live; from Evel Knievel to the Crusty Demons of Dirt and on to Travis Pastrana; from $1,000 dirt bikes to ten times that today, On Any Sunday doesn't seem quite as big as it once was, but to Brett Smith's point, it's bigger and more influential than ever because almost all of the current motorcycle industry fraternity was raised in its long shadow. And 50 years later, On Any Sunday is still leading our way.
UPDATE (Matthes)
I'm out. See ya next week!
That Time Of Year Again (Keefer)
Can you believe it's already May and the outdoors are gearing up to start in two weeks? Not only is it AMA Pro Motocross season, but it's also amateur motocross season. What this means for me is juggling testing duties and trying to get my son ready for the B class in 2021. As I type this we are currently in Colorado doing a block of training to get him a little stronger in order to get him to the Ranch this summer. Being a parent of a child who wants to succeed in this sport is stressful. I sometimes don't know how some families do it with juggling work, money, and time with their children. Nonetheless, we have some work to do this year to get him to Loretta's, but hopefully with my guidance and some luck we can get him back to one of the greatest family moto vacations there is! Hope to see you all this summer in Tennessee.
Does Anyone Else Remember This? (DC)
Recently I was talking to the other 6-Time—Broc Glover, not Jeff Stanton—and he was telling me about an upcoming TV interview he was going to do near his home in San Diego about the upcoming Lucas Oil Pro Motocross opener at Fox Raceway at Pala, and how so many fast motocross and supercross racers came from that city and surrounding suburbs like El Cajon and Santee. I told Broc I remembered back when USA Today actually did a Sports section cover story about the "El Cajon Zone" and he and his fellow 1980s superstars Rick Johnson, Ron Lechien, and Scott Burnworth. Broc remembered the feature but didn't have a copy of it.
Turns out my mom, Rita, really does keep everything! I remembered her having a box of motocross press clippings from mainstream sources like Sports Illustrated, People, the National Enquirer, and even Playboy. It took about 30 seconds for her to dig out the USA Today with the El Cajon feature, which was published on Thursday, February 6, 1986, just before that year's San Diego SX at Jack Murphy Stadium. The article was entitled "Good, Clean Fun on Dirt Bikes: Motocross riders avoid life's ruts" and featured photos of Broc, RJ, Dogger and Burner:
"EL CAJON, Calif. -- The sandy hills around this San Diego suburb echo with the buzz of angry bumblebees as dirt bikes fly, wobble and bounce through boulders and brush. It is this breeding ground that has spawned 'The El Cajon Wrecking Crew'--four of the world's top motocross riders in a sport known for its youth, broken bones and rich rewards... Locals have dubbed them the 'wrecking crew' because of the way they destroy the competition."
And from there it was more of that mainstream copy we always see what non-moto folks (in this case the reporter Garth Wade) try to describe what exactly motocross is: "They'll join about 60 helmeted, booted, padded and masked riders astride souped-up motorcycles snarling over a rutted, man-made obstacles course. There are jumps, 180-degree turns and ripples known as 'whoop-de-doos,' designed to throw the rider."
The USA Today feature was one of those mainstream moments our sport is always trying to achieve, sometimes to great effect and sometimes not-so-great, like the time Rick "Super Hunky" Sieman went on 60 Minutes to talk about the "Sahara Club," which was going to combat the Sierra Club's efforts to close down the desert to off-highway vehicles. (It did not go well.)
Anyway, Broc was thrilled to hear that my mom kept that newspaper all these years, and we scanned it in and sent him the files to print for himself and also show during the TV interview, because it's not every day that moto gets on the front page! As for the San Diego race that weekend, RJ won aboard his Honda CR250.
Eli's Six (Andras Hegyi)
Ed. note: We found out yesterday that our man in Budapest, Hungary, Andras Hegyi, has been under the weather with an illness and found himself in the hospital. Here's a get-well-soon to Andras, who has been contributing cool statistics and information to Racerhead every week for several years now. DC
The 2020 Monster Energy AMA Supercross Champion Eli Tomac has ridden for Kawasaki since 2016, and as you already know, he is parting ways with the team at the end of the season. In looking back at the numbers it turns out that Tomac just had his worst performance in 450SX since 2016. Between 2017 and '20, Tomac got at least 6 wins and 10 podium results every season. But in 2021 he collected only 3 victories and a total of 8 podiums. Tomac did keep a streak going this season, and as a result he's joined a very elite club. Eli became only the fourth rider who ended an AMA Supercross season in the top three overall in at least six different seasons. Tomac joined Jeremy McGrath (10 seasons), Chad Reed, and Ryan Dungey (eight seasons each).
He also moved up on the all-time wins list, to sixth place with a total of 37 wins. Tomac also went up higher on the all-time podiums with his 72 podiums, making him the 8th most successful supercrosser of all-time. And Tomac became just the tenth racer to win in at least seven different seasons.
Riders to finish the series in the top three overall in at least six different seasons:
1993: champion
1994: champion
1995: champion
1996: champion
1997: 2nd
1998: champion
1999: champion
2000: champion
2001: 2nd
2002: 3rd
2003: 2nd
2004: champion
2005: 2nd
2006: 3rd
2007: 2nd
2008: champion
2009: 2nd
2011: 2nd
2010: champion
2011: 3rd
2012: 3rd
2013: 3rd
2014: 2nd
2015: champion
2016: champion
2017: champion
2015: 2nd
2017: 2nd
2018 3rd
2019: 2nd
2020: champion
2021: 3rd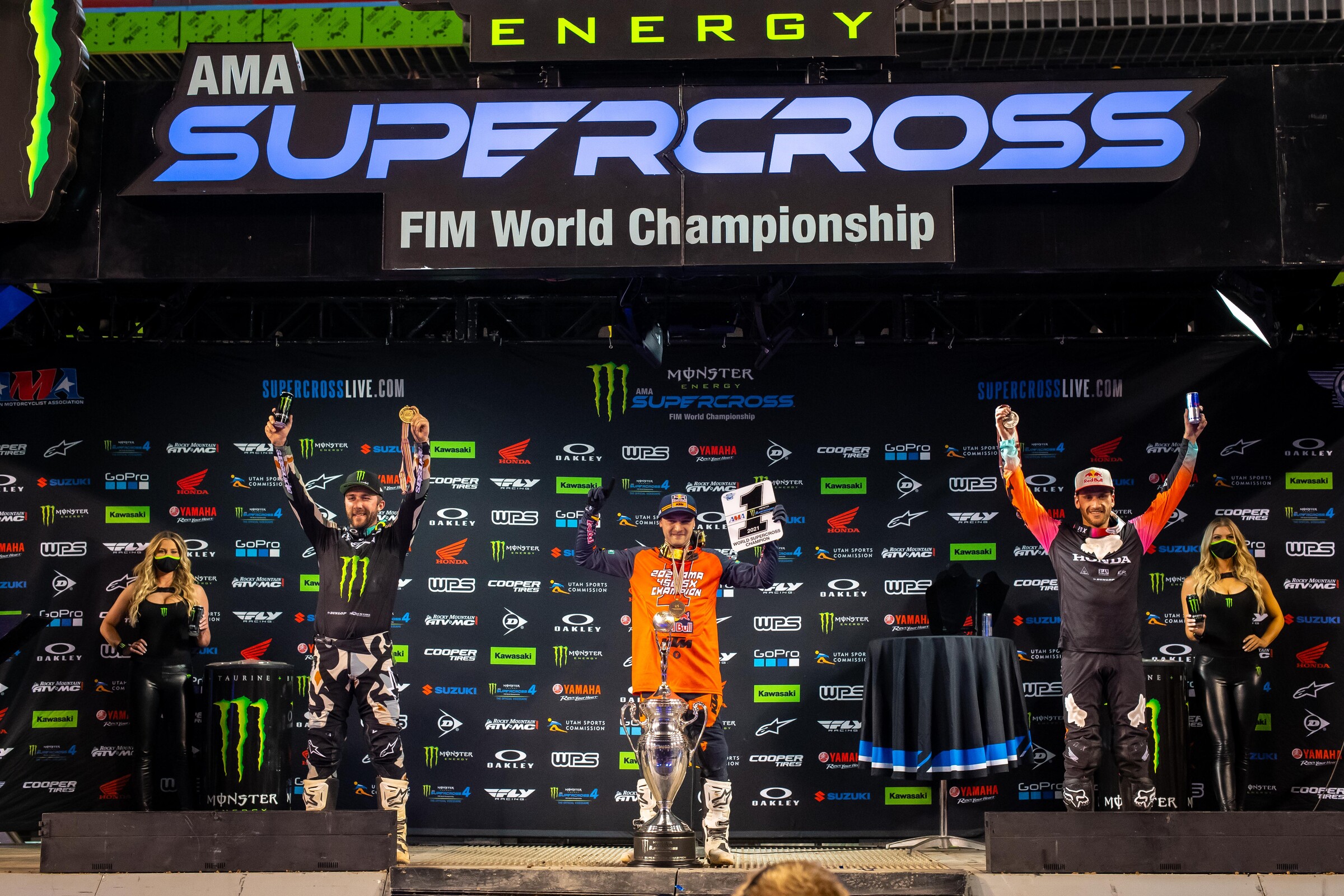 Hey, Watch It!
Official Mad Skills Motocross 3 Game Trailer (iOS/Android) COMING MAY 25
Here's another good Year-in-Review video of the 2021Monster Energy AMA Supercross Championship:
Here's a very interesting, behind-the-scenes look at what TV production was like for motocross races in the 1960s:
Head-Scratching Headline/s of the Week
"An escaped leopard is eluding its would-be captors in China. Officials sent hundreds of drones to find it."—The Washington Post
"Boy meets girl. Girl leaves him to go back-packing for 2 years"—CNN Travel
"West Virginia mayor reelected 2 days after arrest"—Fox5 New York
"Rich Hill responsible for best trending topic in MLB history"—FanSided
Random Notes
For the latest from Canada, check out DMX Frid'EH Update #19.
Thanks for reading Racerhead. See you at the races!