Indianapolis, IN
Indianapolis 1 (East)
Monster Energy AMA Supercross Championship
Just one month prior to the season-opening round of Monster Energy AMA Supercross in Houston, Joey Savatgy learned he would be riding for the Rocky Mountain ATV/MC-KTM-WPS squad for 2021. With the sudden move to a brand of bike he hadn't ridden on in over six years, Savatgy was set to full sprint to try to get up to speed with the bike and team. So far, he's put together a nice 2021 campaign so far with a season best eighth coming on Saturday night.
Following his strong ride, Savatgy met with the media on Sunday via Zoom.
Racer X: You haven't really had a chance to be up front. Last night it seemed like you finally got up front with that lead pack, sort of looking like you did your rookie year when you were up front battling with those guys. Was it just a start that was needed? Has something changed from Houston to Indy?
Joey Savatgy: Yeah. Obviously, a start goes a long way, and we got one this weekend by pure luck. Zach [Osborne] kind of helped me out there a little bit. Sometimes it's better to be lucky than good. My starts were better. I got a better start in the heat race. My practice starts during the timed practices were better. I've just been struggling with my starts, which is not normal for me. But with this bike, it's just different than how that Kawi and the Suzuki was. It's just been something that I've had to adapt to, and I'm trying to figure it out on the fly. Obviously not a lot of experience or seat time with the bike. Honestly, I didn't ride terrible for the first probably 14 minutes or so, and then in the last five to six minutes I tightened up. I was probably losing about a second a lap in the whoops. I think everyone who passed me got me in the whoops because I was doubling through them. I don't want to talk about it. I've talked about it so many times this morning, I'm beating a dead horse. I already know where I can be better. I think for me it was just getting a good start this weekend and just reminding yourself that you can still be up there, and it's been a while since I've been up there, so it was kind of a lot to take in, but that start went a long way.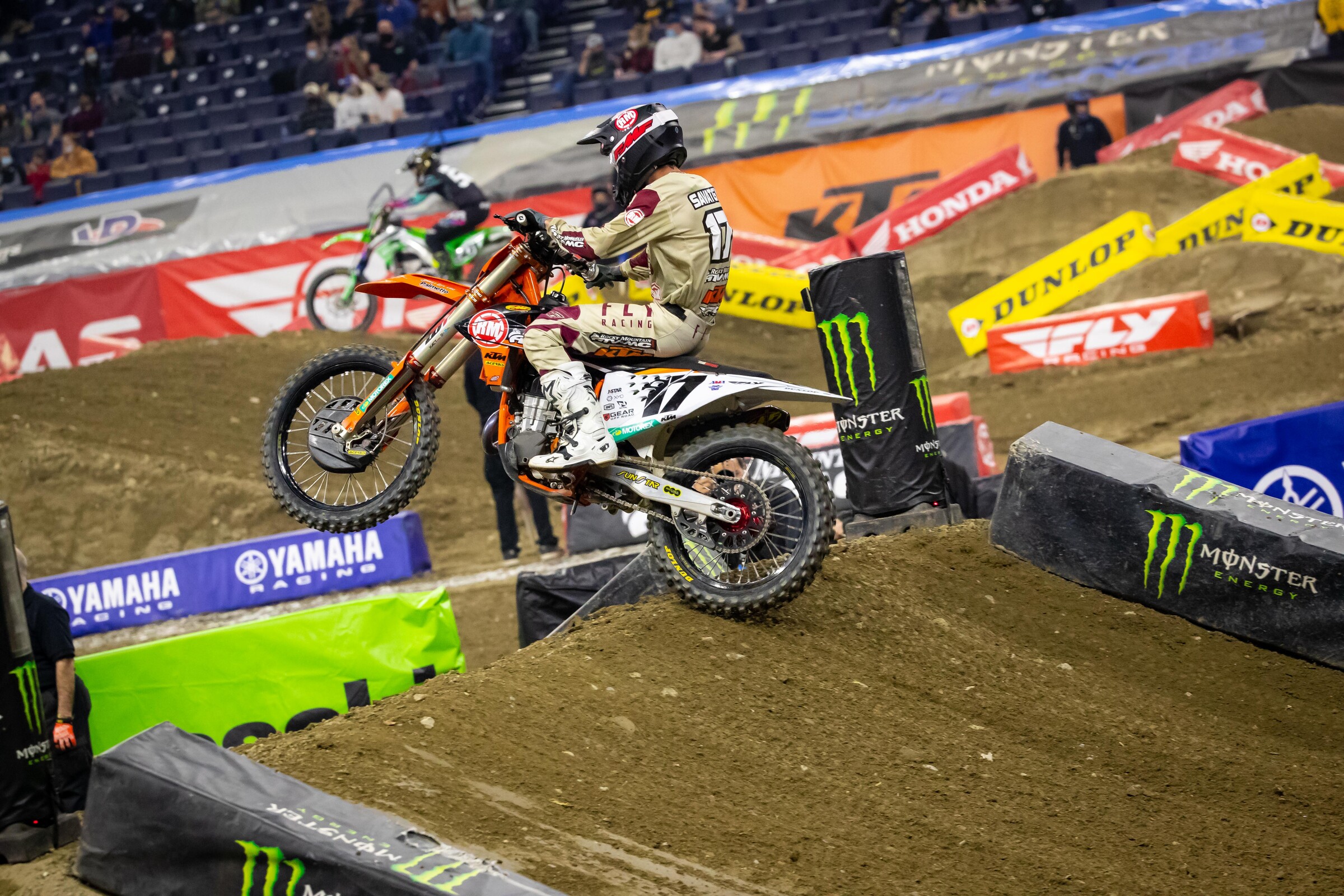 Any bike changes or anything that you were able to do in-between Houston and Indy? Again, just even the way you rode, you looked more aggressive to me here in Indy than you did in Houston.
A little bit of both. We messed with some things during the week at home. Also, just a confidence thing. I'm not normally one that does well with limited riding time, so the whole going into the first round not really knowing what to expect, getting bad starts, and then obviously the crash in the second round, then third round kind of having some nagging injuries, to be able to go home and just get a good week of riding in I think was the most important thing for me. We figured some things out with the bike, as well as the starts, and then obviously with myself I just went home and worked on pure speed stuff. Like everyone has said, everyone is pretty close on the timed qualifying and it's just a matter of executing in the race. We've just got to get better as far as race craft and race lines. I think last night was a step in the right direction.
Joey, to embellish more on that start, that wasn't just a good start. That was a phenomenal start. You were bike lengths ahead of everybody halfway down the straightaway.
I didn't holeshot. It doesn't matter. [Laughs]
How have these Saturday, Tuesday, Saturday races been, especially with the few injuries that you've picked up?
I think this week's Saturday, Tuesday, Saturday will be a little bit more enjoyable than the first one just because kind of building blocks. I marked off some things on my checklist that I've wanted to do as far as from the foundation standpoint. I think my starts are better, which is huge. I think I need to keep focused on that and make sure that I keep executing and putting myself in good spots. I think that's what I did so well my rookie year, getting good starts. I wasn't able to do that the first three rounds. So as far as how do I feel about it now? I'm pretty excited that we get to go racing again Tuesday. I'm sure a few guys are that made some mistakes early in the race. That is the nice part about racing this often, three times a week. If you had a bad night or a night that went okay but could have gone a lot better, you have a chance to turn it around and do it again in three days. So, I'm excited.
Coming into this year, I wonder how much motivation you're using as redemption. During silly season maybe getting passed over, and your adversity the last few years. Do you use that as motivation?
I don't really like the word redemption, mainly just because it's a lot of hostility built up in that. There was a time and a place in my career where I felt like I always had a chip on my shoulder and I just wanted to prove things to people out of spite, and I'm not really like that anymore. I think obviously getting older and learning and being through a lot of ups and downs, the motivation is just from myself. I want to do well, regardless of who passes over me or who doesn't think I can do well. That doesn't really sway what I do during the week. My main goal is still to perform to the best of my ability and try to put myself in good spots. So, people passing over me or maybe not getting the rides that I felt like I deserve, of course it sucks. It would be nice to have a guaranteed ride for multiple years and to be on the same bike for multiple years, and to not start each year on a new bike that you've never been on. I could sit here and cry about it but at the end of the day there's a lot of people that would kill to be in the position I'm in and to have a ride. At the end of the day, if I want more, if I want people not to pass over me or whatever, then that's completely up to me. I need to perform better, and I need to prove myself to be a front runner. Last night, like I said, was a step in the right direction for about fifteen minutes or so. We ran top five. So, I think it was a step in the right direction, but as far as motivation and everything, I've got a little one at home and I've got a family and they've got mouths that need to be fed. My motivation just comes from myself.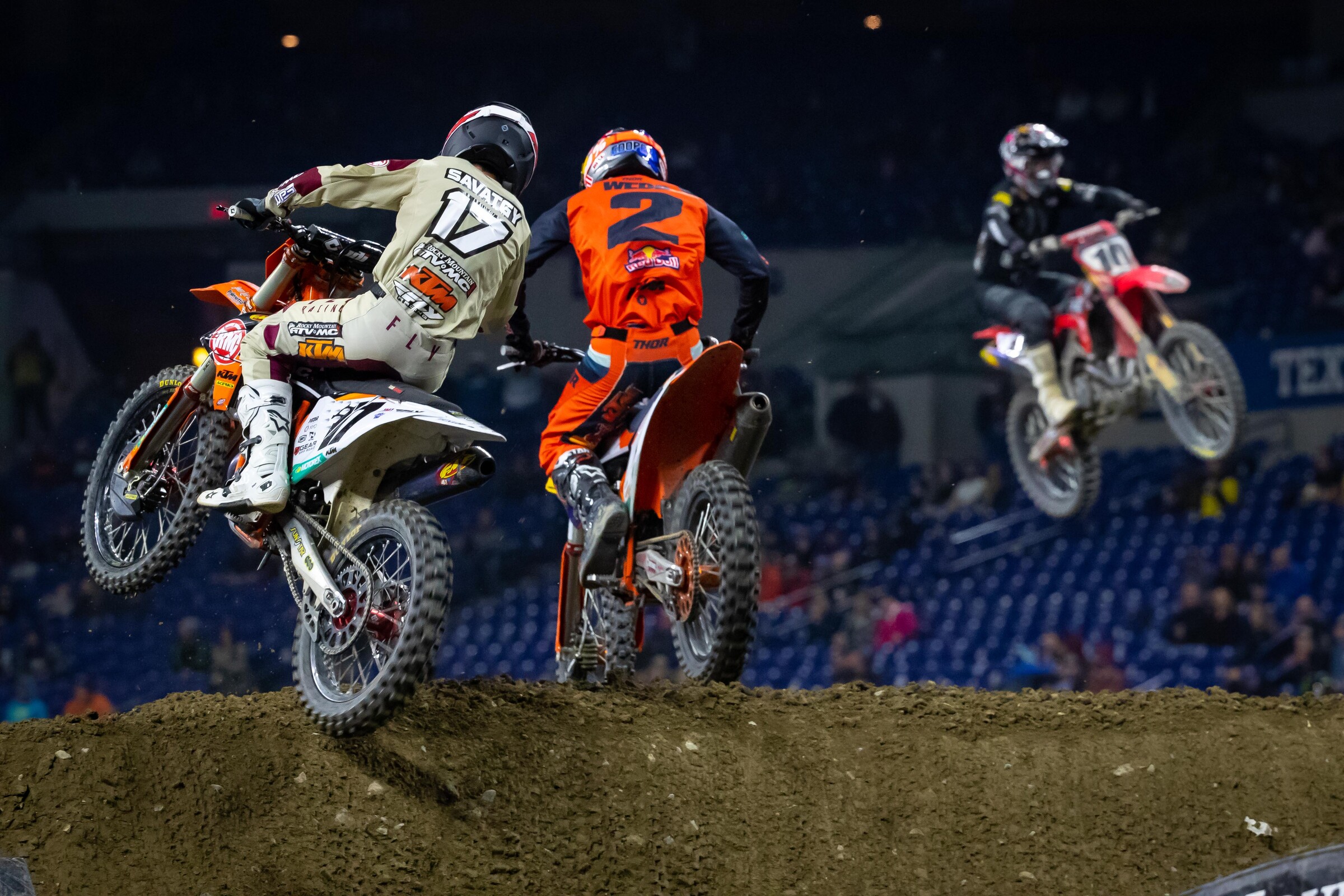 Now you've had a chance to kind of run that pace, as you you said, for fifteen minutes there and then fell back a little bit. Where do you feel you're at with that pace and with your comfort level starting up front like that?
Obviously I think Kenny and Eli were for sure the fastest guys that were up front off the start. Obviously, Zach came from a ways back. Marvin came from a ways back. There were guys that were also fast, but the guys that started up front where I was, I felt like my speed was pretty good. I think maybe had I been able to get around Ferrandis and stay in front of him I could have possibly gotten into a little bit of a rhythm, but we kind of went back and forth and passed each other a few times. Speed, like I said I felt okay, but it's been a while since I've been up there, so I was a little bit uncomfortable with the pace and with the track being like it was. Like Zach said, it was kind of sketchy. A lot of the rhythms were all about being patient, and it's hard to do that when you're in the middle of a battle. But I am glad that they took our advice and fixed the double-double before the main events because I think if they didn't fix it, it would have not been good. I think my race craft could be a little bit better. Obviously, that will come with more races being up front.
In terms of this is your third different team in as many years, how are you gelling with the team four rounds in?
It's been good. The bike is awesome. Really no complaints. Obviously, we've had to tweak some things as we've gone, but as far as how it was last night, the bike was awesome. The reason that I didn't do better was simply because I had poor line choices and poor execution in areas. As far as the team and everything, I get along with everyone. It's been really good. I have a teammate that I've gotten along with for a long time and known for a long time. Having Byrner [Michael Byrne] on the team has been also a huge help. He's I think one of the biggest plusses on the team, just his knowledge and being at the track with me during the week. It's just been helpful all around to have another set of eyes out there that has been at this level and gets it and understands from the rider side as well as from the team manager side. Like I said, I get along with everybody and the bike has been awesome.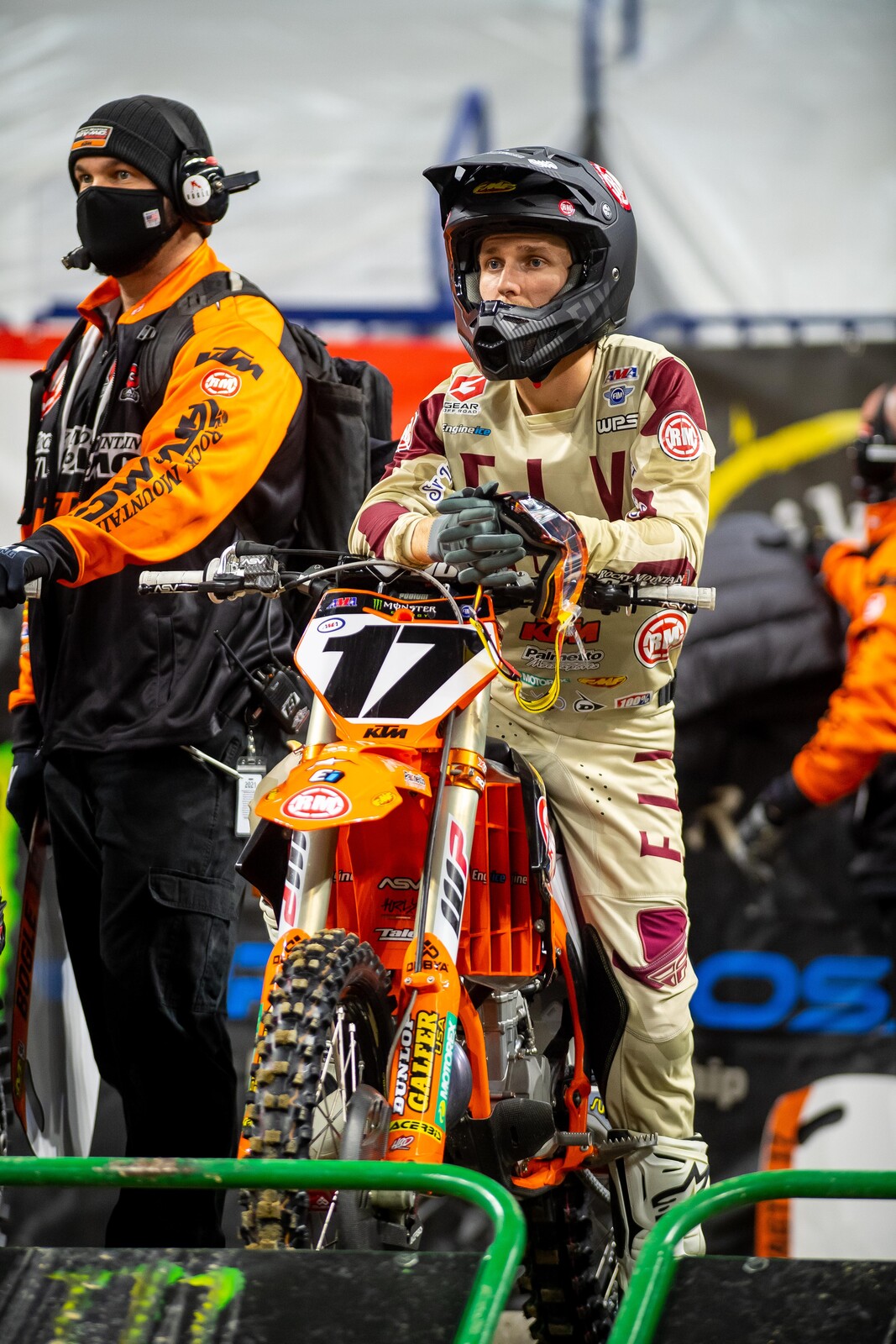 In terms of the qualifying lap times, how important are they to ensure that you get a good gate selection for the heat?
Yeah, unfortunately as important as I feel like qualifying is for a gate pick, I think I qualified tenth in the second practice. I think I qualified 12th, and I think I was eight-tenths or something off of the fastest in the second practice. So as important as it is, you're only able to do so much. You look at it on paper and you're like, man. I was eight-tenths. If I could have just made up three tenths that lap it would have moved me all the way to fifth. Well, three-tenths is a lot for us when everyone's that close. It's just a matter of trying to string together a perfect lap. When the track is like it was, it's really hard to do that. So, it's very important. I think the heat race is probably more important than qualifying is, per se. The qualifying is important for a gate pick for the heat race, but regardless of where you qualify, you cut that in half and you have a decent gate pick. So even in the heat race, eighth gate pick is still going to put you in a spot where you're going to be okay. But you get eighth in the heat race and you get 16th gate pick in the main. Now you have a big hole to try to dig yourself out of. So, qualifying is important but I think honestly this year maybe more than ever the heat race is probably the most important thing for the night.
In the heat race you had a little incident with Bam Bam at the end there. What was your outlook on that attempted pass and crash by him?
He came up to me after the heat race before the main event and talked to me. It was just poor judgement on his end. He thought he was closer than he was. I knew where he was and I knew that as long as I continuously shut the door as I made it through the whoops, I was going to be fine. But I guess he thought he was closer than he was. But he came up to me before the main event and apologized, said it was his fault. So as far as that goes, it's just one of those things where it was a racing deal. Not really much to say about it.