Indianapolis, IN
Indianapolis 1 (East)
Monster Energy AMA Supercross Championship
With a first career 450SX win last year followed by the Lucas Oil Pro Motocross 450 Championship, Zach Osborne seemed primed to take another step in Monster Energy Supercross in 2021. So far though, his season has been derailed by trouble: first-turn crash at round one, crash while running second at round two, terrible start at round three, stuck in the gate at round four. This time, Zach rallied from stuck in the gate to fifth at Indy, his best finish of the season. Now already 28 points down in the championship, Osborne's mindset is on limiting damage moving forward and trying to get back on the podium.
After the race on Saturday night, Osborne spoke with the media on Sunday via Zoom.
Racer X: If you were to not watch the first four races and just look at the results sheet, you'd be going, "Man, what's going on with Zach?" But the riding has been there. You've been on the gas, but just constantly in these little issues, these problems. Are you frustrated or encouraged by the way you're riding?
Zach Osborne: A bit of both. After last night probably more encouraged than frustrated, even though I made a beginner move on the start. It is what it is. I have to take it and live with it. So, I would say at this point I'm more encouraged. I've never had daytime speed like I have right now and I've never been able to kind of slice through guys like I was last night. But at the same time, I guess I was kind of fighting the negative momentum ball after the press day thing at Houston 1 [Osborne's bike cut out at press day for round 1, and he crashed hard on a jump]. So last night was a huge step in the right direction as far as the result on paper went. It would have been really nice to get those two guys right at the end for a podium, but to get stuck in the gate and get a fifth was pretty solid.
The dirt is a lot different in Indy than it was in Houston. Most normal years you'd go there one night. If you miss your setup, you miss your setup. Now you have two more chances maybe to readjust and reevaluate. Does that give you any more confidence, any help going in? I know you're not really going to get any chance to practice this week, so how does that work out for you?
I don't know if I'm old school or what, but I just don't change that much stuff. Yesterday we made some small clicker adjustments. In Houston I didn't change a single thing from the first lap I did until we left, I don't believe. I feel like the better you know what you're riding, the better you can do. The more you change that, the further away you get from what your brain has felt so much over the off-season. Every 20-minute main we do, you learn so much about your bike, not even on a face-value level, but even deeper than that. I just feel like every time you make big changes; it changes all that. For me, I just don't change that much stuff. So that's not really one of the benefits for me to this type of racing, or negatives really.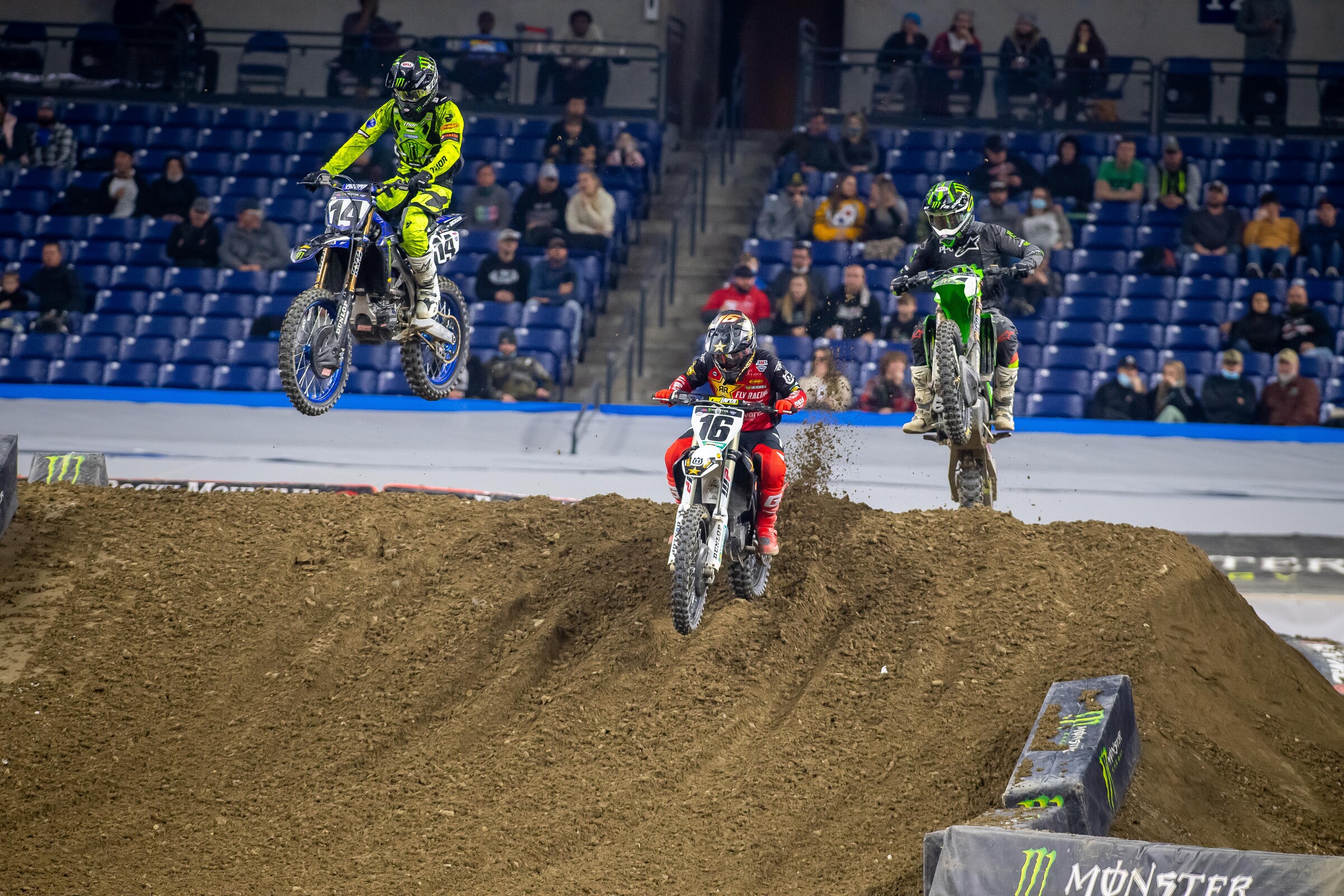 In the points and the math, you're pretty far out of the lead because of the first four rounds, but obviously it's still early enough in the championship that you're not out of it. Is there any of the riders right now, of Kenny [Roczen] or Eli [Tomac] or Cooper [Webb] at the top, that you don't want to see them go on a run? Are you concerned that a run of a couple good races could make it that much harder to make up the ground?
It is a game of runs, right? I think it's hard to say that none of those guys are going to go on a run at some point. I would just like to claw my way back into it a little bit closer than 28 after four rounds before it gets too far away. I just need to take it round by round and do as good as possible, obviously. It's hard to say. The parity that we have right now, four rounds, four winners, and I think there's four or five more winners in the field at some point this season. So, anything can happen. I think I'm only twelve points out of fourth, which is a lot better considering the way the first four rounds have gone for me. I can't really worry about what those guys are doing. Just keep plugging away at it.
When is the last time you got stuck in a gate?
I don't know. I don't know if I ever have, to be perfectly honest with you! Maybe when I was a little kid once or twice, but I don't actually remember it.
You always hear from racers that these tracks are one-lined and hard to pass. How did you make that time up?
Whenever I left the gate, I was like, now you just to send it this first lap and see what happens, because everybody's bunched up and when they're bunched up like that you can make a lot of passes. So, I think in the first full lap I passed ten people. Obviously, I got a little lucky with that pileup with Mookie and Barcia and I think Marv, so that was three spots. So, I would have maybe been 15th or whatever. I didn't expect to get to fifth, and I definitely didn't expect to be wheel to wheel for the podium. I just knew as soon as I finally got my wheel out of the gate that I needed to just go for it.
When that happened, what was your thought process? Obviously, you had to get unstuck and get going. Compared to a normal race, I can imagine your heart rate was probably through the roof and you were probably trying to get your thoughts together to even get going.
Yeah. What do you say, right? AC flinched, and I thought the gate flinched a little. Maybe it did, maybe it didn't. But then I flinched, and I rolled a little too far forward. As soon as I rolled forward, the gate fell on it [his front tire]. I was already trying to pull it back before the gate fell on my wheel. Just a goon move, I guess. It is what it is.
[Laughs] You're officially blaming AC?
No, not at all.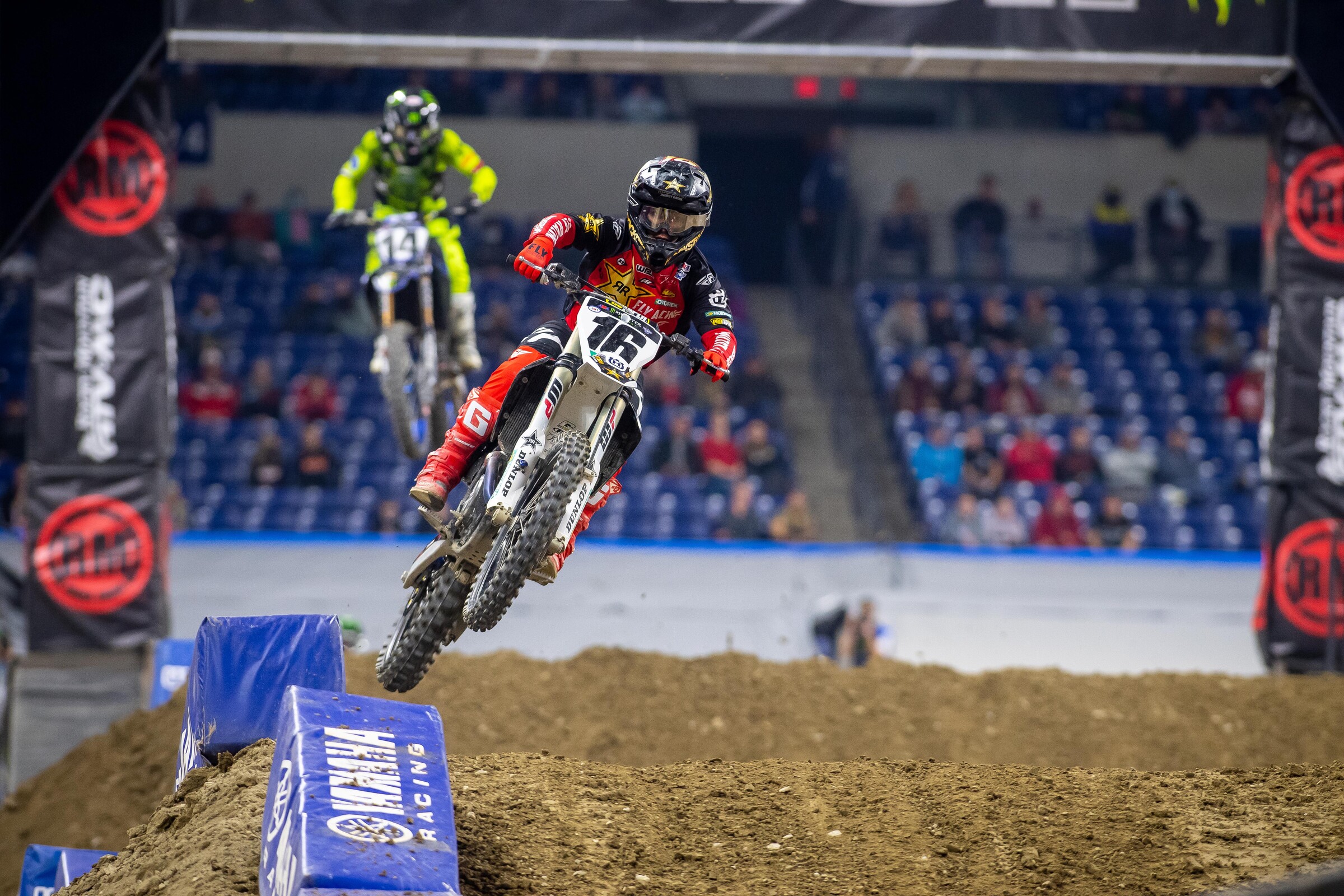 Indy tends to kind of break down and have some really loose soil to it. Last night it maybe looked a little bit better than normal, but it was a quite jumpy track. They had the big double-double, and the rhythm lane also pitched you guys really high in the air. How technically challenging was that with the dirt breaking down? You came through a lot of guys. Was there some sketchy moments?
To me, it was drier than typical but maybe a little more sketchy because the transitions are so soft and they have these weird pockets almost where the rut goes extra deep, and then the face goes even extra steep after that. It also has this tiny little bit of a slick base, which I've never really seen here. The last time I raced here was in 2018 and it was like mush. We were blowing through jumps and stuff. So, it's strange. That double across the start was not small. The first time I jumped it, I was like, man. In the 450 main it gets so broken down and there was lines all the way across it. It's strange, honestly. Maybe a little more sketchy than normal.
What was it like once you got around the top five mark? At one point, it looked like you were going towards the podium. How did the momentum shift once you got right up there around those front guys?
At one point I kind of looked. There was four or five of us in a line there. I don't remember. Brayton, Ferrandis and Joey were at the front of it. I was like, man, maybe I could get into the top five which would be sick after getting caught in the gate. Then I got to fifth, and then Coop was right in front of me. I was really trying to set up a pass. Chisholm over-jumped that big double and ran into the back of Coop, and I was on the outside of him. It caused just a little bit of separation. Then by the time I got back to Coop, he had already gotten AC and then it just kind of messed the whole flow of what I was planning up. I'm happy with the performance that I put in. it's just something to build off of. Better than a tenth or a ninth.
What is the emotion like when you finish a race like that? On one point, the results were quite good, but then there's obviously the disappointment of what happened at the beginning. Is it like a sense of relief to salvage that result?
A massive sense of relief, for me actually. Just like a weight lifted off my shoulders. I've had some strange mistakes this year. I fell while running second at the second Houston. Should have been an easy podium for me, and I got a tenth. Then obviously the thing on press day at Houston 1 was just a nightmare. So, it's been strange. So, to literally have a worst-case scenario situation like that and be able to salvage a top five was a nice feeling.
What was it about this weekend? You've started in that spot mid-pack a few times and not been able to carve through. Was it how bad the track deteriorated that worked in your favor? You seem to do better on those kinds of tracks.
Yeah, I think this is just more my style when it breaks down like that. It's just something I'm more comfortable on. I was down in the first turn at the first race and I got tenth in a decent effort, but last night I felt more comfortable on the track. I think other guys kind of feel less comfortable when it's like this, but this is more my style. We actually ride really rutty stuff quite often, so it just kind of comes more natural to me.
We've got two structures this year– the Saturday, Tuesday, Saturday, and the Saturday to Saturday. What structure do you like most, and why?
I really like the Saturday, Tuesday, Saturday thing just because for me it's a lot less riding during the week and a lot less riding for nothing, I guess you would say. Not for nothing, but at home you're not riding for points. I think that I would be willing to do 25 races a year of supercross if we could do them all like this, do six or eight rounds of this in a row or six rounds of this in a row and have a couple weeks off and then do three or four more. I think it would be a really good system.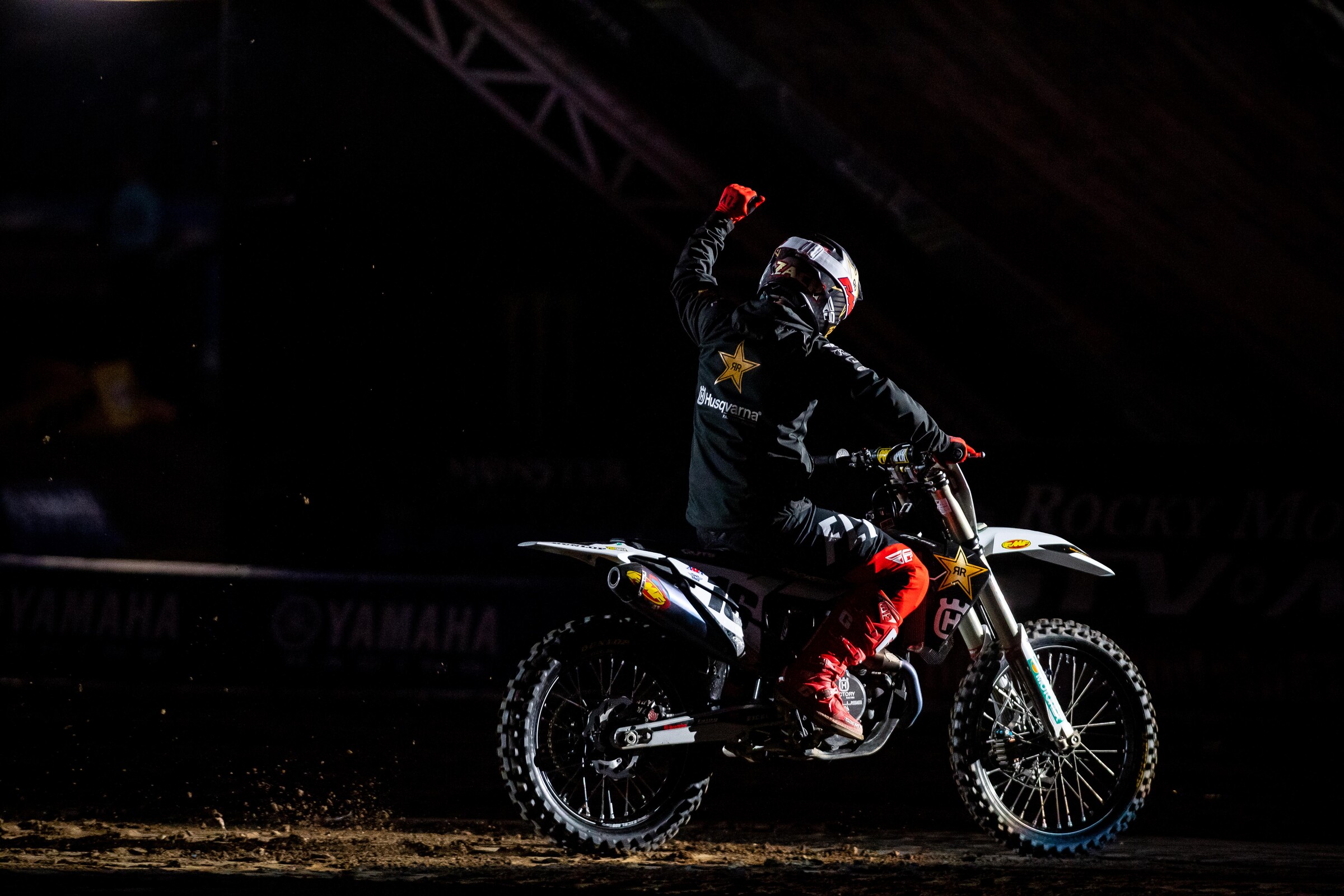 Riding Saturday, Tuesday, Saturday, obviously you guys don't get to ride properly during the week, at least this week. What kind of training do you do?
It's snowing outside right now, so it's pretty much limited to spin bike and I have workout equipment in my motorhome to be able to do the gym training and stuff that I need to do. It's pretty limited, but also the recovery time is short so there's not really any time for major intensity or anything like that. So, it's just kind of maintenance stuff.
Any backup plans for you coming to Indianapolis if the first race didn't go as planned? Did you have any backup plans to go back home riding or anything like that?
No. I may try to go ride on Thursday somewhere, depending on the weather, but I don't know. It's not really for testing purposes, just more for staying loose and having a little bit of fun, really.
You won that motocross title, and you won the last round in Salt Lake City last year, so just by default it was like, "Zach has taken another step and he can contend for this title." Did you feel that way? Where was your confidence coming in? You've shown good speed. You were even running down Eli at one point at round two. You were matching Cooper last night. Is that confidence for you, or did you expect to be at that level this year?
I needed to prove it to myself a little bit. I still kind of do. I've only gotten a fifth at this point. I'm really bummed about mostly… The biggest bummer for my whole season is blowing the podium at Houston 2, and even a chance at possibly winning. Unlikely, but possibly. So, for me, I did have a lot of momentum, I guess you would say, but it's kind of turning a completely different deal to come here and win races again. A little bit of both. Yes, I was confident, and I also needed to prove it to myself. I think the biggest thing for me this year is my speed. I've never had daytime speed like I have right now, and speed to just kind of overtake people when and where I feel like it. So, I'm happy with that. Coming into the season I wouldn't have said that I was any faster than any season before, or I didn't have any indicators like, wow, I'm going to be top five in qualifying every weekend, whereas sometimes last year and even in Salt Lake I was like 11th or 14th or 12th. So, I'm really happy with where I'm at. I just need to improve the end result a little bit.