Indianapolis, IN
Indianapolis 1 (East)
Monster Energy AMA Supercross Championship
Cooper Webb, Michael Mosiman, and Jo Shimoda all had reasons to be happy following the main events on Saturday night. Each rider spent time fighting inside of the top five before ultimately finding ways to land on the podium. In Webb's case, a great charge forward from mid-pack saw him make a late pass on Adam Cianciarulo for third in the 450SX main event. As for Mosiman and Shimoda, both riders were granted a gift when Christian Craig and Jett Lawrence crashed together on the last lap promoting both men from fourth and fifth to second and third, respectively.
All three riders spoke to the media following the race via Zoom.
Racer X: Cooper, this year you guys are putting on a hell of a show. Everything is tight. Really don't know who is going to win race to race. What's it going to take to get this championship done? Is it just as simple as consistency, or is there something that you guys are going to have to do to really step out and take a lead and walk off with it?
Cooper Webb: I don't know. That's a good question, man. I think as you can see, the start like Eli alluded to is super important with the way things have been recently. We're all super close. I think tonight kind of showed. There's three of us that are really fighting for it, and there's a lot of other contenders too. It's going to be just maximizing opportunities all year. There's going to be bad races, there's going to be good ones. So, I think putting yourself in a good position each weekend is important. Just riding the wave if you will. You're going to have ups and down, and just try to be in it. I think it's going to be tight. There's a lot of good guys, so you never know. I think consistency is definitely always important.
Can you talk a little bit about your preparation from Houston to Indianapolis? Did you have any riding on the bike between Houston and Indianapolis? What do you envision for this week for riding and for preparation for the next few races? Will you have access to tracks, or at your level do you not need that access for track practice? You might have the preparation coming into the series.
Same. Houston was a little different, being the first few rounds. I know we tried to do a few track days just because the weather was nice. I don't think there'll be much riding with the weather. I don't think any of us want to get on a plane and go ride for a day and get on a plane again. So just kind of trust your settings and your training and regiment and come out feeling good for the races.
Just take me through your main. You had to make some passes. It was a pretty hard battle. Did you even know the podium was in reach? Just take me through your strategy there.
Yeah. It was weird. My start was really good. Joey, I don't know how he came out like a rocket ship, but he braked super gnarly and I was kind of expecting him to push wide so I braked gnarly. Then Eli kind of went around the outside of us. I got bottled up behind him and ended up going back to fifth pretty early on, and then made a mistake in the rhythm. So, I got pushed back early. First lap I saw who was out front and I'm just like, Shit. Track position is key, and tonight was pretty hard to get around, especially in the beginning. Everyone was going pretty fast. I just felt like I was trying to get around and started making a little bit of mistakes trying to force things. I kind of took a deep breath and just calmed down and accepted those guys being out there and out front and having a gap. Just knew if I could get around Ferrandis and Savatgy that a fourth was there, but if a mistake happened then we were going to be good. Adam went down, so that kind of made third more reachable. Like the guys were saying, it's track position right now. It wasn't great for those first two laps.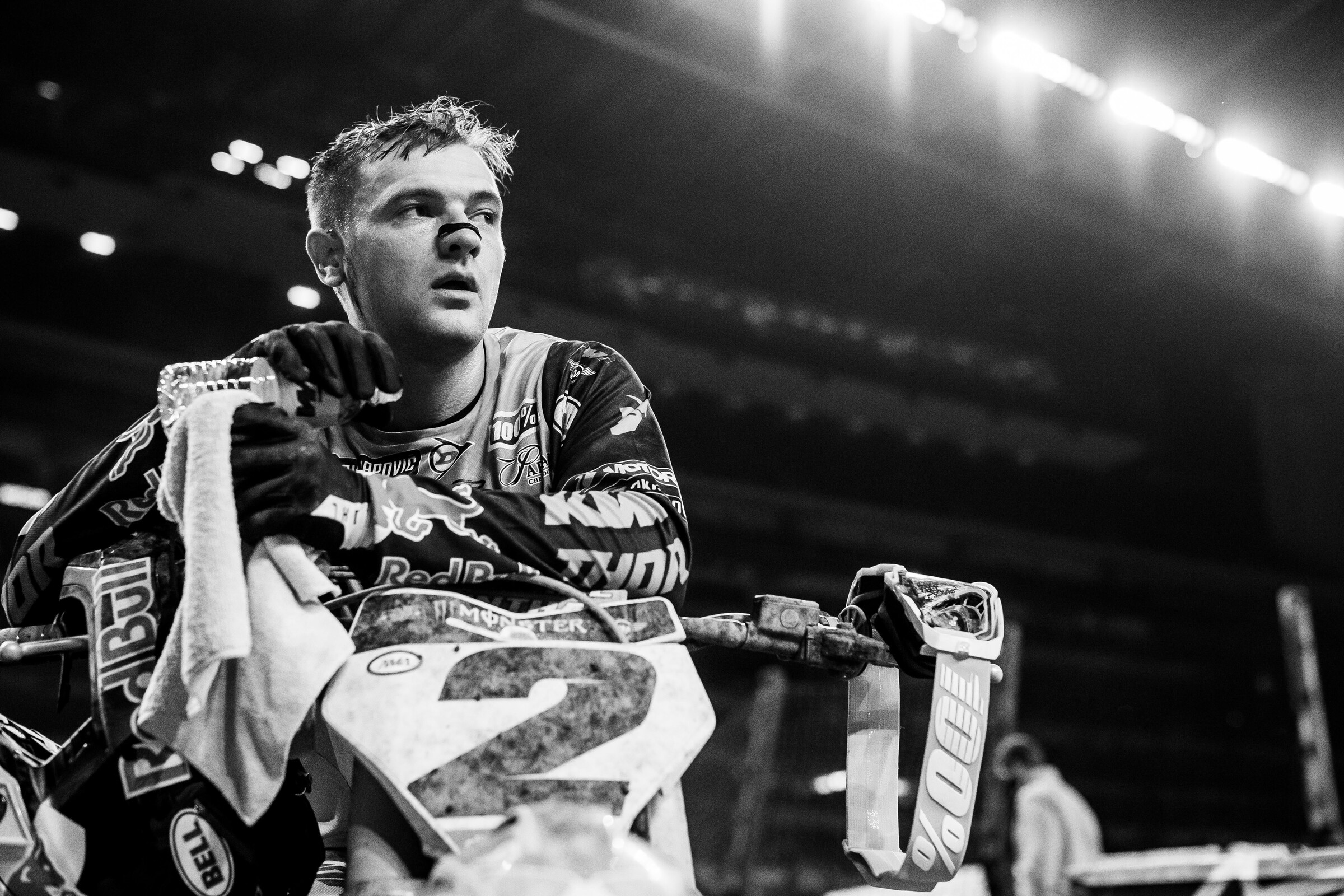 Racer X: Talk about that heat race. I'm sure everybody is wondering about that. Then also in the main event, you were in a good spot in the beginning. Kind of went backwards and then all of a sudden, wham, you were back in a great spot again at the end.
Michael Mosiman: Yeah. It was an eventful day. The heat race obviously stuff went down with Jett [Lawrence] and I the week prior. You hear about that all week and use it as motivation. I didn't want to say anything or use words. I just wanted to share it with my actions, and I think I did that tonight. I did that in the heat race. I wasn't gung-ho, I got to take this guy down, but the opportunity presented itself. I was on him like white on rice that first lap. I ran him high and he went down. The crowd went nuts. Everyone was stoked. It was fun. The team was amped. I think Jett and I are cool. He gets it. So, it's good. We fist bumped at the end of the night and stuff. That was good, clean heat race then in the main event another good start, or a better start. I was right there with Christian and Colt out the gate. I made two mistakes on lap five or something. I haven't seen those Star guys here for a little bit, especially on the main. So, there was one point where I was just kind of settling in behind Christian and I was like, Wait, no. I should pass him. Lappers were really bad, making a few mistakes. Man, leaving tonight, just a big confidence boost, a step in the right direction. I knew I had the speed, even after a lot of the lappers. Christian wasn't too far. Obviously, Jett put it to us pretty good tonight and came through. So, there's more speed out there. Honestly, I think I just got to apply myself lap to lap and find it.
What's it going to take to close the gap to the front guys? Are you working on anything specific to make it happen or is it just kind of coming to you race by race?
I think Jo had a good point. I think it's maybe something I'm struggling with as well, kind of riding trying to make the best of it instead of riding to win and riding to not mess up, to not make mistakes. I think that's kind of maybe just riding a little bit reserved. I'm totally capable. Even watching it back I'm like, I can run with these guys. So, it's really just letting myself send it a little bit more. It's really tricky because sometimes the more you send it, the more mistakes you make, and it ends up being backwards, counter intuitive. I've taken a lot of hits over the years, so that's always in the back of your mind. The track is no joke, and it will bite you if you get sloppy. Ultimately, it's going to take that. It's going to take taking a little bit more risk and getting on the gas, I guess.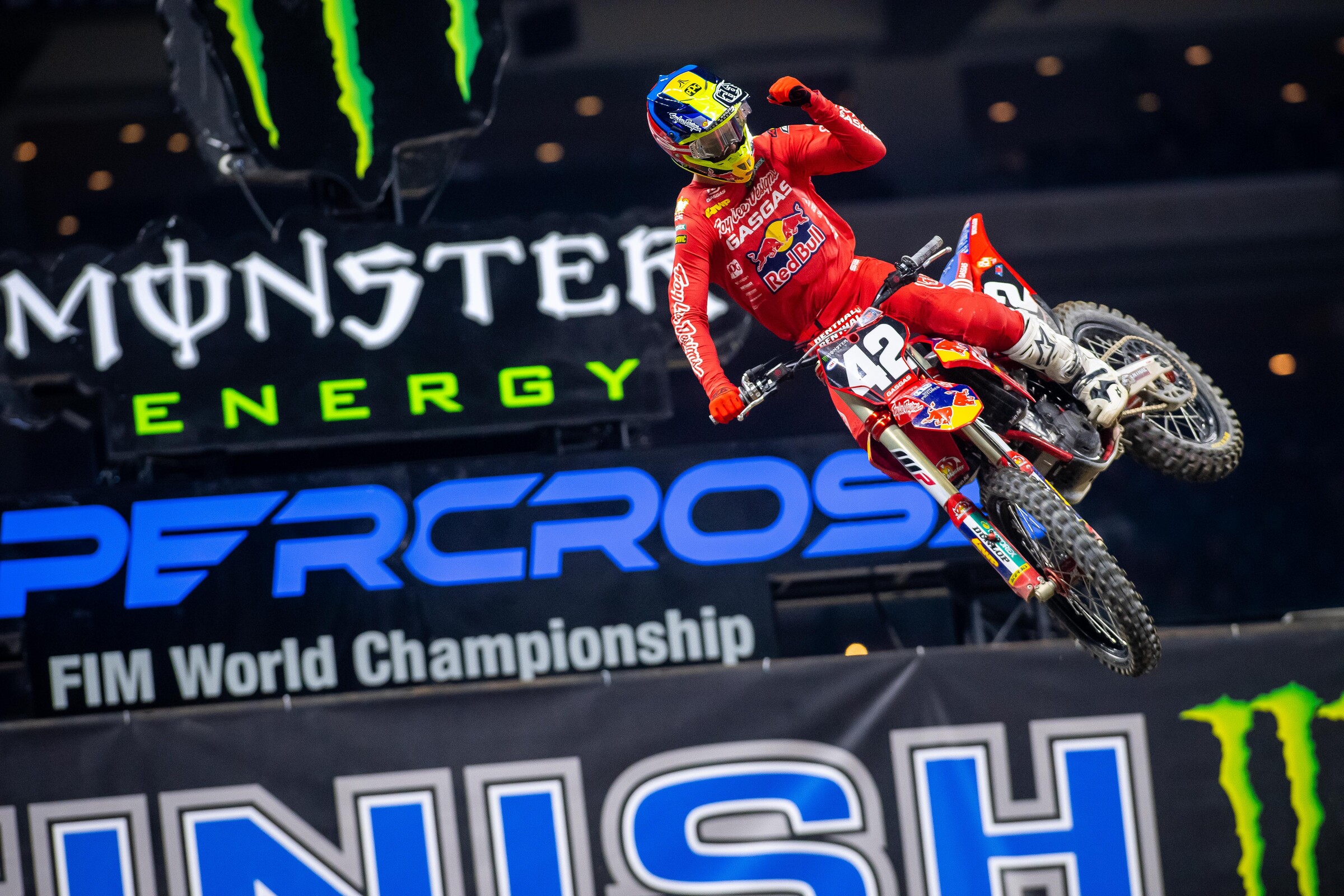 Racer X: Jo, congratulations. It's your first podium. It's a pretty amazing story coming from Japan and doing that. Now that you've had a little bit of time for this to set in, what does this mean to you? You've gotten to a pretty big step in your career.
Jo Shimoda: Yeah, the podium definitely feels nice, but like I said in the podium speech, I had more in me. Jett and the guys were running really good and obviously they crashed out. But we always have the next one to change. I will make that change. We just have to make it real.
You talked about it here, you talked about it in the press conference that it really wasn't your podium, but you're getting closer. What do you need to do or improve on to make that next step where you are getting what you consider your podium?
Just riding 100 percent. Right now, I feel a little, not nervous, but tight. So, I'm riding around 80 percent to 90 percent. I just need to get rid of that just from the start to the end. Instead of riding trying not to fall, you kind of want to just go, go, go and not stop. That's what I'm looking for.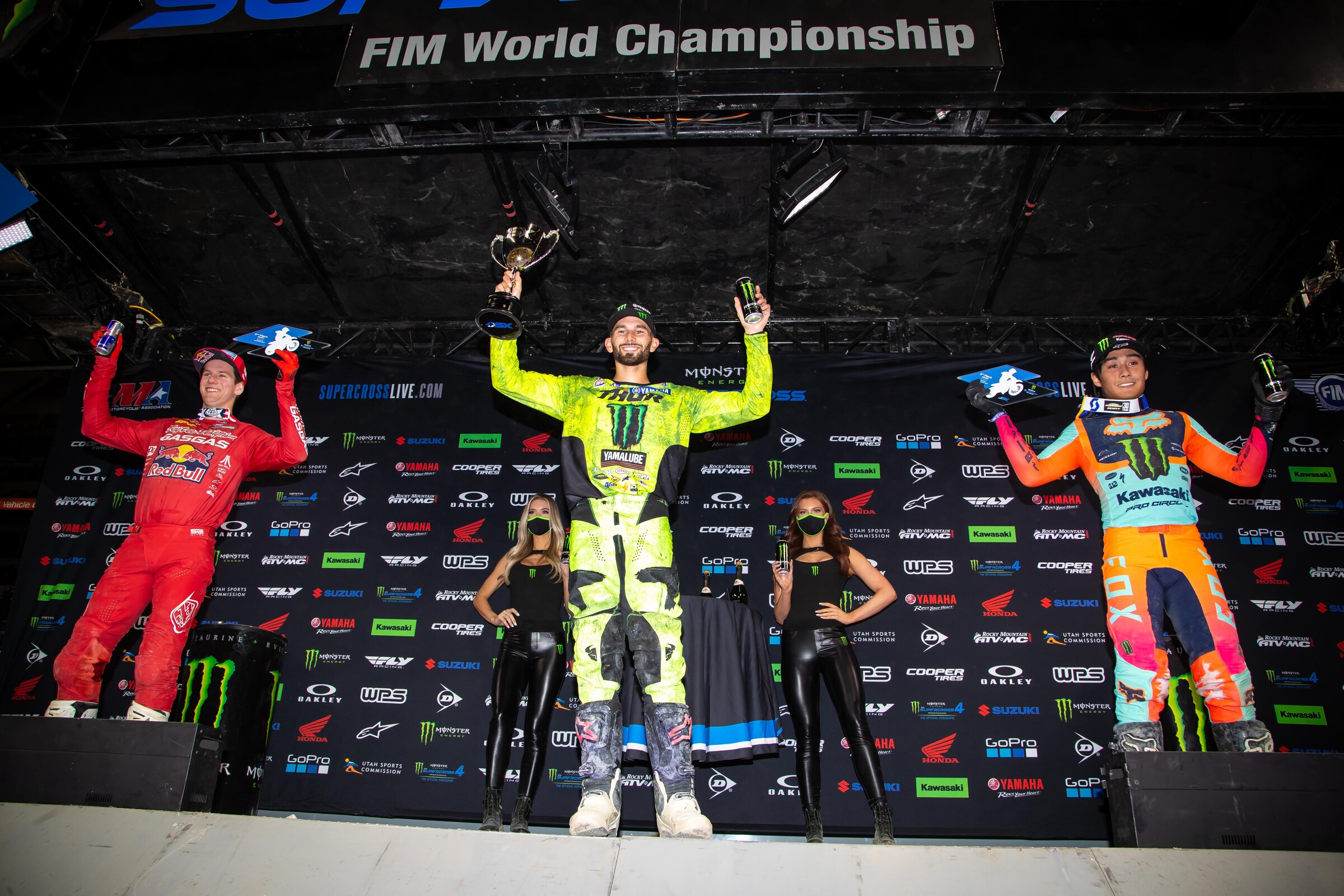 Watch the full press conference from the 2021 Indianapolis 1 Supercross below: