Buchanan, MI
Motocross of Nations
Motocross of Nations
By Rob Kinsey
The race is less than a month away, but we already know it will be the most epic motocross experience of all time. It's coming October 6-7, 2018, when the Monster Energy FIM Motocross of Nations comes to RedBud. Combining this track with this event is an idea literally 60 years in the making. If you haven't already been to a MXoN in person, you don't know what you're missing. We're reaching out to you, the fans, to hear your stories of attending Motocross of Nations in the past. Email online@racerxonline.com with the subject line "MXoN Story" for a chance to be featured.
This week, a renowned motocross painter gives an insider look at the Motocross of Nations.
(Note: This post has been slightly edited for clarity.)
I'm Rob Kinsey, a professional artist from Ashbourne, England, specializing in motorsport.
My love affair with the Motocross des Nations began in 1980 at the legendary Farleigh Castle circuit in Wiltshire, England, where Team Belgium rode to victory, but not before a young Englishman Dave Watson announced himself on the international scene with a fine second place—almost holding off World Champion Andre Malherbe in the last moto.
In 1985, I launched Stadium Video Europe Ltd, distributing Mike Goodwin's supercross footage and many training videos, such as Rick Johnson's Profile of a Champion. We travelled to Gaildorf, Germany, to film Team USA (David Bailey, Jeff Ward, and Ron Lechien) clinching the Peter Chamberlain trophy. New 500cc World Champion Dave Thorpe took individual honors in the 500cc class, sporting "Good as Gold" across the back of his custom Yoko golden race jeans.
I missed out on the dream team in Maggiora 1986, as we were expecting the birth of my second daughter. In 1988, I launched Moto-Travel, organizing coach tours to the Nations, GPs, and the Paris Supercross. Our first trip was to take a coach of 50 English fans to Villars Sous Ecot, France, in 1988 to see Ronnie Lechien dominate, backed up by legends Jeff Ward and Ricky Johnson, who almost caught up with Englishman Robbie Herring after starting on the second row in the third moto. The race was red-flagged when Sweden's Hakan Carlqvist flat-out nailed an errant photographer standing beside the start straight, breaking the poor guy's leg! Ron Lechien's two wins were even more impressive, considering he had partied into the early hours with a local girl and snuck back into his hotel room as Roger DeCoster came knocking, concerned at his no-show for breakfast....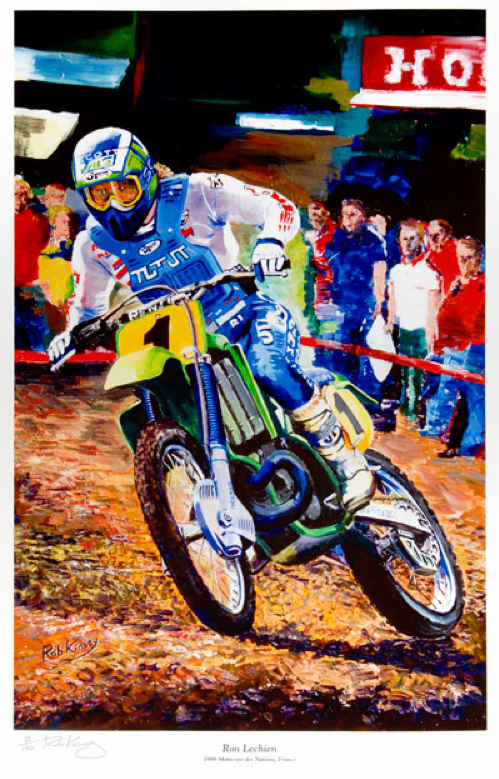 In 1989, it was back to Gaildorf with another coach tour to watch Jeff Stanton lead Team USA to victory. One of the most impressive things in Germany was the colossal beer tent, longer than a football pitch, with an oompah band playing and the delicious sausage rolls and breaded pork steaks, washed down by strong German lager.
One year, with a slowdown in the economy, I flew to Sweden with a smaller contingent of English fans, hired a small mini bus, and drove south past a thousand lakes to the picturesque sandy Vimmerby circuit in southern Sweden. Highlights of this trip were the riders' parade downtown and presentation on their bikes, the Swede's somehow holeshotting every moto, and Jeff Stanton's "clutch ride" to snatch victory again for Team USA in the last moto. The funniest thing was seeing the Japanese team manager physically attacking one of his riders on the infield for daring to pull out of a moto after a crash. The rider was soon back out on the track, evading a public beating.
Racing downhill mountain bikes took me away from the sport for almost a decade, and at the last minute I decided to drive down to the 2006 Motocross des nations at Matterley Basin to catch up with my old friend Davey Coombs. Sneaking into the press tent, many journalists were impressed with the display of artwork by a French artist, and whilst his work was impressive, it rekindled an idea and longing deep within me to go back to my original trade as a technical illustrator. So, I started Rob Kinsey Art, specializing in motorsport. My first paintings garnered rave reviews, and I set about creating a body of work to exhibit at the 2007 Motocross des Nations in Budds Creek, Maryland. The plan was to ship a quantity of prints to Crescent Framing in Morgantown, along with my original paintings, surplus prints, and brochures to Racer X, which is also located in Morgantown, West Virginia. Everything was coming together—I had another exhibition at the British Motocross Grand Prix at Donnington Park and had arranged for Chuck Sun to fly in, stay with us, and race the Veterans FIM World Cup races. After setting up at Donnington, I rang the hospital to see how my mum was doing to get the shock news she had passed away that afternoon. The head nurse said my mum talked about how proud she was of my career change, and I should stay on and do the exhibition. This left less than two weeks to arrange a funeral before my wife Jo and I flew out to Washington, D.C., ironically on Sept 11, 2007.
We spent a day visiting the White House, Pool of Reflections, Lincoln Memorial, etc., before collecting our motorhome and driving over to Morgantown, arriving the following afternoon.
Davey Coombs welcomed us at Racer X, gave us the meet-and-greet of all his staff and family, showed us where to hook up the motorhome, and said, "Here, have my car, I don't need it for a few days so you can go explore Morgantown and West Virginia." What followed was a fantastic week of sorting out my exhibition, enjoying the nightlife in Morgantown; a pre-event party at Parts Unlimited's Hylton Beattie's house; and filming the opening sequences to the Racer X MXoN footage using my artwork and DC's memorabilia collection. We ended up staying longer than anticipated, as U.S. Customs decided to impound my paintings, and thankfully Jerri Mackey in accounts was able to provide the necessary documentation to finally release them.
Jo and I set up our stand next to the Racer X booth at Budds Creek on a very sweaty, humid day as Tom Daniels, press officer for Team Belgium, came to collect his framed print of Roger DeCoster and said we must leave now in their mini bus to go to the reception for the team at the Belgian ambassador's home in Washington, DC. This led to a crazy one-hour dash through traffic, with Ken de Dycker, Jeremy van Horebeek, mechanics, and managers taking turns to spot the landmarks, Watergate Hotel, etc. We arrived in plenty of time, so the team guys went to eat whilst Jo and I got changed at the ambassador's house. I came up into the main reception room to find Jo in deep conversation with a very polite man who turned out to be the ambassador! As the other guests and press arrived, DC noted a surreal moment when a taxi arrived and Roger DeCoster, Eric Geboers, and Stefan Everts stepped out, a total of 20 world championships in that precious cargo!
The team was introduced to the world's press, and the ambassador joked how he hoped the home team was busy drinking Belgian beer! They honored Roger DeCoster, and I was invited to step forward and present him with my artwork, a very proud moment!
Afterwards we all moved out into the garden for drinks and nibbles, overlooking the Potomac River as Roger DeCoster and I chatted over my painting.
We had a fantastic response from fans to my exhibition over the MXoN weekend and sold many framed prints and originals. Organizer Jonathan Beasley asked us to host Danny "Magoo" Chandler on our stand, meeting his many fans and watching their response as Magoo signed his videos, T-shirts, and my art prints. Danny made a special fuss of a young guy who was only 15, acting as signing and interpreter to three deaf Puerto Rican fans, saying he was the man and what a great job he was doing....
I only got to see about 20 minutes of racing as we were so busy on the stand, but the post-race after-party was legendary, with a very relieved Jonathan Beasley so glad the U.S. fans had turned out to support his dream.
The following year, the des Nations returned to England on a purpose-built track on the infield at Donnington Park road race circuit. Team USA of James Stewart, Ryan Villopoto, and Tim Ferry again lifted the cup, but were pressed all the way by a strong French team, a sign of things to come. I got to present a painting commissioned by Pit Beirer to FIM MX2 Motocross World Champion Tyla Rattray at their Red Bull Hospitality unit, and Mitch Payton bought a portrait of Roger DeCoster with the Chamberlain trophy and presented it to Roger on behalf of Team USA for another great job well done.
Organizer Giuseppe Luongo invited Danny Chandler over to Donnington and they had a great chat, and Danny got to check out the trophy one more time....
In 2009, Youthstream commissioned a painting of David Bailey and Ricky Johnson to celebrate a Lifetime Achievement award for RJ at Franciacorta, Italy. Luongo again paid for Danny Chandler to attend and got to sing him "Happy Birthday" at a gala reception.
The 2012 Motocross of Nations at Lommel, Belgium, was a big event for me, and I produced three paintings for Youthstream.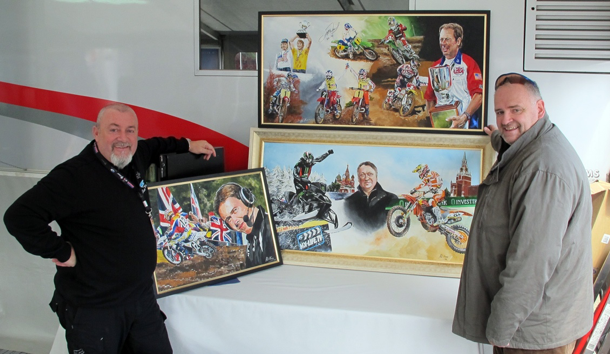 In 2013, I embarked on the long journey to Teutschenthal, Germany, catching the overnight ferry from Hull to Rotterdam and driving solo in my motorhome the 750 miles to the venue in what was the old East Germany, formerly behind the Iron Curtain. Passing the now-defunct border watchtowers, there was a marked difference in the architecture, houses, and cars. The circuit, set in a steep-sided valley, seemed a lot more compact than on TV, but created some great racing and a victory for Team Belgium. At the Youthstream awards dinner, I was commissioned to produce a painting of KTM motorsports director Pit Beirer to celebrate his lifetime achievements.
Ernee, France, hosted the 2015 edition in front of a patriotic home crowd, and the French team of Gautier Paulin, Marvin Musquin, and Romain Febvre took a convincing victory. I finally got to catch up with Ryan Villopoto to show him the painting from Budds Creek, which he bought for his trophy room.
The atmosphere at this event was incredible, and I was lucky to be able to shoot from the infield.
I was determined not to miss the 2016 MXoN at Maggiora, Italy, and what an incredible event this turned out to be, with Team France snatching the victory from the Dutch with a last-lap pass. I was commissioned to present an oil painting to three-time Motocross World Champion Dave Thorpe for his lifetime achievements and also got to spend time and watch the races with old friends Rick Johnson, David Bailey, and Johnny O'Mara, the original Dream Team from their 1986 victory.
I was only yards away when witnessing the sickening crunch of a Japanese rider cutting short Jason Anderson's celebration of winning the second moto when he landed on him on the finish line tabletop.
It was back to Matterley Basin in 2017 to see the French team of Paulin, Febvre, and ISDT specialist Christophe Charlier cope with the muddy track and persistent drizzle to claim another victory. Max Anstie was superb, winning both his motos and getting the British team finally onto the podium. Watching from the VIP area, where I had a display of my art, was great to make business contacts, but somehow lacked the raw earthy atmosphere of being trackside and feeling the passion of the fans of many nations who make this event so special. I travelled down to Matterley with my cousin Joel Ibbotson, who got to chat to the late Eric Geboers at the Belgian Team after-party and drink Juliper beer with him.
From wherever you view the upcoming RedBud MXoN, just make sure you are there to sample this unique event, which will generate some great memories to recall to family and friends.
other entries