Lake Elsinore
Lake Elsinore

,

CA
Lake Elsinore
Lucas Oil AMA Pro Motocross Championship
A few short years ago, Ryan Dungey had to prove he could win a championship. He had proven fast and strong, but had yet to seal the deal on a number-one plate. Coming up short in a close 2008 West Lites SX title fight only made the situation worse. But a year later, he delivered, and since then, he's won more titles than anyone else, a total that includes this year's 450 National Championship in Lucas Oil Pro Motocross.
The final round of the year, the first-ever Red Bull National at Lake Elsinore, served as another Dungey showcase, as he went 1-1 on his Red Bull KTM to lock up his tenth-straight overall win. Mike Alessi went 2-2 on his MotoConcepts bike, and Broc Tickle went 3-3 on a Monster Energy Pro Circuit Kawasaki. There are no longer any doubts about Dungey's ability to lock things down.

Today, it was Blake Baggett's turn to prove himself under pressure. Last year, the Monster Energy Pro Circuit Kawasaki rider had the speed to win the crown, but couldn't hold on down the stretch. This year he found his points lead shrinking, with the GEICO Honda duo of Eli Tomac and Justin Barcia breathing down his neck coming into the finale. The pressure was on, but Baggett proved he could deliver under it, not backing into the tittle but instead delivering a stirring 1-2 performance to log the overall win--and clinch the 250 National Championship.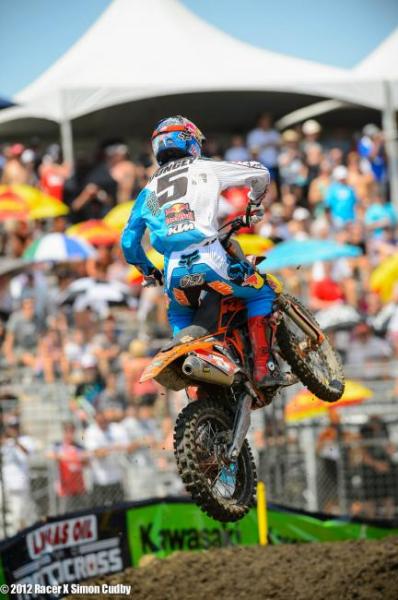 While Ryan Dungey dominated the day in front of a big crowd...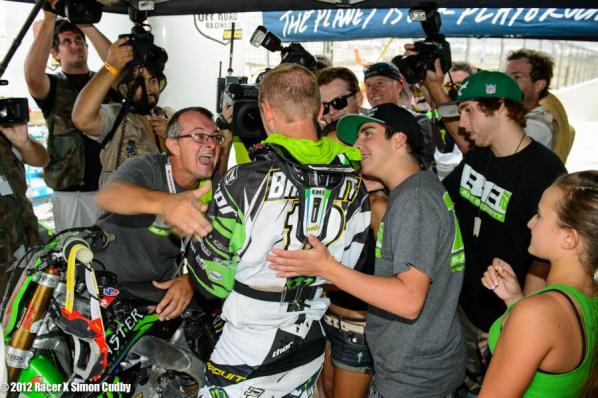 ...Blake Baggett celebrated a championship in front of a crowd of his own.
Cudby photos
"All kinds of people were telling me all kinds of things coming in," said Baggett. "They were saying I needed to finish here or do this or whatever. I just wanted to win [the race]. I feel like I ride a little better when I have a little bit of panic in me."

A similar high-pressure situation presented itself in the Women's MX Class, with defending Champion Ashley Fiolek mounting a late comeback to pull within five points of Jessica Patterson coming into the finale. But Patterson suffered a big crash during the week leading into the race, and basically couldn't hang on. She DNFed the second moto, and Fiolek went 2-2 on the day to win a title that seemed nearly impossible to get when she missed a few rounds with a concussion. The race winner? Italy's Chiara Fontenesi, who went 1-1 in her first U.S. pro MX experience.

When the 250s began their site lap, a ripple of excitement pulsed through the crowd. The fans were anxious to see if Baggett could hang on to his lead, or if Tomac's momentum could carry him to his first National Championship. After the pack rounded the first turn behind Red Bull KTM's Marvin Musquin, Baggett held fifth with Tomac not far behind.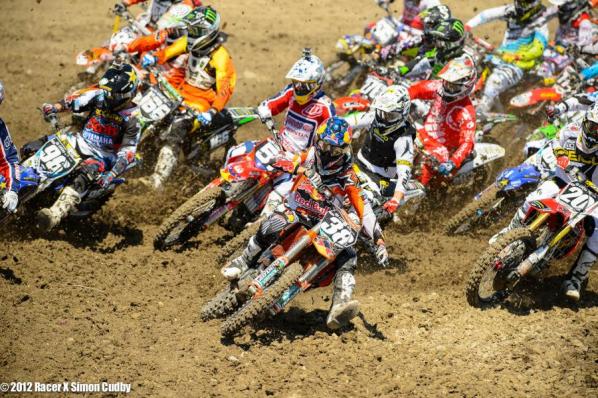 Marvin Musquin grabbed the 250 moto 1 holeshot.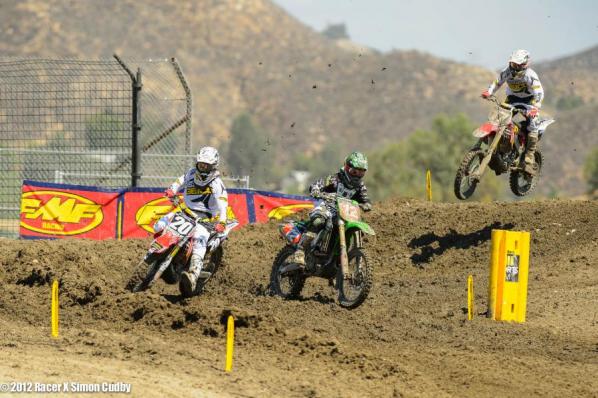 The fans got what they wanted to see, as Bagget, Barcia and Tomac all battled out front.

Up front, Barcia quickly dispatched of Musquin on his GEICO Honda, while Baggett wasted no time in passing Wil Hahn and Jessy Nelson. Tomac battled with the same riders, which allowed the lead trio of Barcia, Musquin and Baggett to get away, but when Tomac, who laid down the fastest qualifying lap of the day (including the 450 times), got clear moved into fourth he quickly started reeling in the lead group.

Baggett moved past Musquin into second and was putting all kinds of pressure on Barcia. Barcia proved tough, as Baggett moved into the lead only to have Barcia quickly retaliate. In his eagerness to regain the lead, Barcia swapped and crossed lines right in front of Baggett, narrowly avoiding a collision. The mistake allowed Tomac to close right up on Barcia, and a few turns later Tomac was in second chasing Baggett. But again, Barcia wasn't done and put a move on Tomac to get back into second, giving Baggett some breathing room. Tomac would not be denied though, and moved back into second place and started putting laying down some strong laps. He was six seconds down on Baggett, but then logged a lap a full five seconds quicker than Baggett to reel him in.

"All of a sudden I just looked over, and he was right there, on my back tire," said Baggett.

But the charge took everything out of Tomac, and he was unable to maintain that torrid pace in the 100-degree temps at Elsinore. Tomac ditched his goggles and started to fade, as Baggett pulled back away to grab a clutch moto win.

"I had pretty much hit the redline the lap before that, so I decided to just go and give it all I had," said Tomac. "That was pretty much it! The heat was really bad. Since humidity usually isn't a issue here, I was really surprised that the California race was the hottest of the year."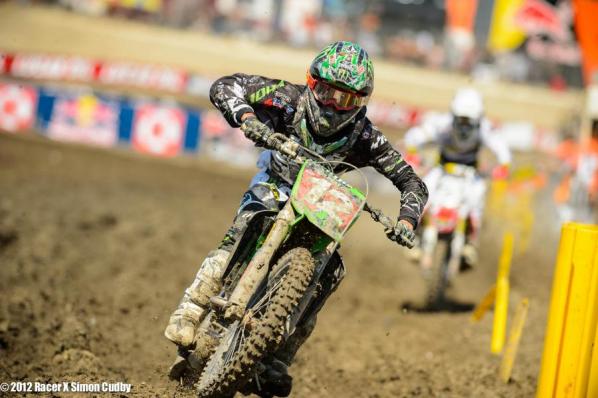 Baggett got away, but Tomac put in one last charge to try to get him. Baggett held on for a big win.
Cudby Photos
Barcia finished a distant third, also admitting the heat had sapped his energy.

Overshadowed by the fantastic race up front was the stellar ride put in by Ken Roczen, who rounded the first turn in thirty-ninth. The German put his head down and went to work in the scorching Southern California sun and started picking riders off like a sniper in a war zone. Eventually he worked all the way up to sixth, just ahead of Malcolm Stewart. Stewart did his best to pass Roczen back, and for quite a few laps you could have thrown a blanket over the two. It was great battle, lasting all the way to the checkered flag with Roczen edging Stewart out for sixth place after starting the race in almost dead last. Musquin was fourth and Wil Hahn fifth.

After the first-moto win, Baggett only needed a 12th in moto two to clinch the title. Alex Martin kicked off the final 250 moto of the year by securing his second holeshot of the season, but Barcia quickly took the lead away, followed by Jason Anderson, who showed some of his best speed this year The situation was nearly opposite for Tomac, however, who crashed early and remounted in dead last.

The championship was all but over at this point, but that didn't stop Baggett, who started somewhere around thirtieth. He started cutting through the pack like a hot cheese slicer through smoked Havarti. Before long Baggett was in second place and had nearly erased the large lead Barcia had built. By then, he already had the overall win in hand, but he kept charging until he crashed--which had to scare everyone on his Monster Pro Circuit Kawasaki team. He came into a left hand 180-degree turn with entirely too much speed, briefly locked up the front brake and hit the deck. It was a small crash, and he was able to keep the bike running and rejoin the race just behind Anderson and Musquin, who were having quite a battle of their own. Baggett quickly moved back into second, and it seemed as though he had settled for the position. Then, he caught fire again and started taking big chunks out of Barcia's massive lead as the race was dwindling to a close. But it was too little too late, and Barcia took the win by a nose over Baggett. Musquin, Hahn and Anderson rounded out the top five.

Tomac put on an honorable charge, but his first-lap crash put him way back, and he was only able to race up to fourteenth, which handed Barcia second overall on the season. Baggett, meanwhile, had iced his first professional title.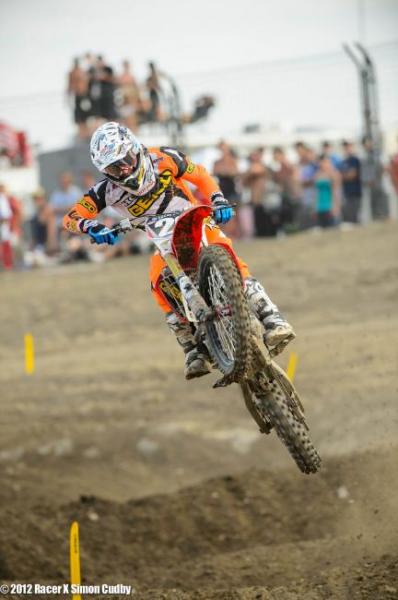 Barcia ended his 250 career with a moto win.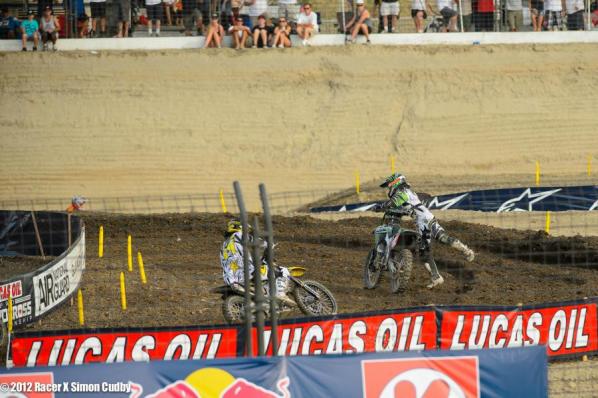 Baggett felt like he had to win both motos. His torrid pace led to a crash, but he got up quickly and without harm.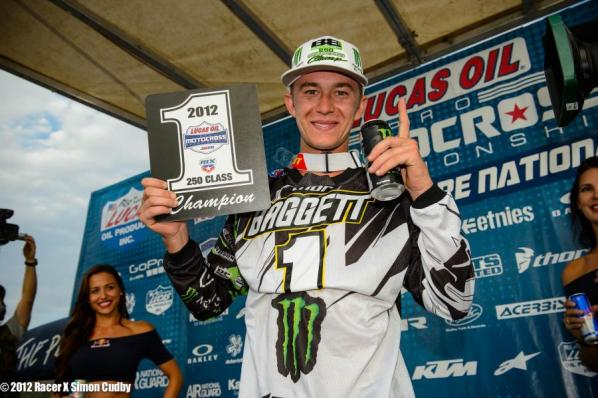 Baggett is champ.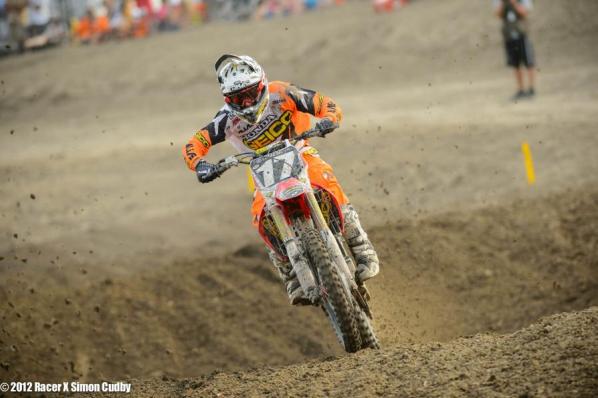 Tomac crashed early in moto two, and had to fight from last to 14th.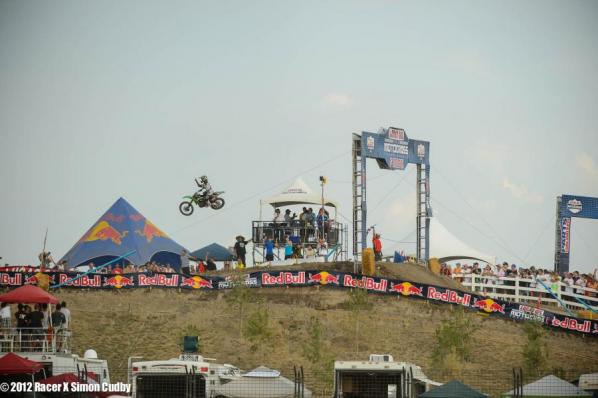 "I came out swinging today," said Baggett. "I knew I would either go to the front, or it would all go down the drain. The first moto was crazy battling with Justin (Barcia) and Eli (Tomac). In the second moto, I got a horrible start and I don't even know, I couldn't even see. I just needed to get to the front and finish as good as I could, so I did. I really wanted to make a push at the end just to show that I was still giving it all I had."

When the gate dropped on the first 450 moto the fans at The Red Bull Elsinore National got to see what so many other fans got to see this summer – Mike Alessi streaking to the first holeshot of the day. Behind him? Chaos, as a large first-turn pileup collected the likes of Nico Izzi, Kevin Rookstool, Jake Weimer, Bobby Kiniry and more. Up front, Ryan Dungey quickly dispatched of Tyla Rattray to take over second place. Alessi had a sizable lead at this point, but no gap is safe when Dungey is on the prowl and it wasn't long before Dungey had closed to within striking distance of Alessi. After dogging him for about a lap, Dungey cut to the inside, pulled alongside Alessi and made the pass in a turning rhythm section located on the perimeter of what is normally Lake Elsinore Motorsports Park's off-road truck stadium.

Alessi managed to keep Dungey in sight, and when the race clock hit the five-minute mark, he actually started reeling him back in. Apparently Dungey wasn't interested in battling, however, and he dialed up the speed and opened the gap back up.

Back in the pack, the ride of the day was coming from Jake Weimer. After going down in the first turn and remounting outside of the top thirty, Weimer was absolutely flying, no doubt motivated by the fact that he needed to put points on Andrew Short in order to finish the season third overall. Weimer was clearly on his game today, and not only did he catch and pass Short, who came into the weekend feeling under the weather, he caught all the way up to Rattray in fourth. Had there been one more lap, Weimer would have made the pass.

Dungey took the win, followed by Alessi, a lonely Brock Tickle in third, Rattray and Weimer.

When the second 450 moto got under way, Alessi nabbed another holeshot and went to work immediately building an even larger lead than he had in the first. Christian Craig held second, with Justin Brayton and Dungey closely in tow. Dungey once again methodically made his way into second place and went to work erasing Alessi's lead. The inevitable pass for the lead took place several laps later, but this time Alessi had some fight in him.  A few turns after Dungey took the lead, Alessi knifed to the inside on the backside of a stepdown which put him bar to bar with Dungey. From that point it was a drag race to the next corner, with Alessi taking retaking the lead. It didn't last though, however, and soon Dungey was back in front and building a massive lead.

Behind him, there wasn't a whole lot going on, as the race had, for the most part, turned into a single-file affair. Dungey took yet another moto win, followed by Alessi, Tickle, Rattray and Brayton. Short clearly wasn't on his game today, as lousy start turned into a backward slide that saw him end the moto in thirteenth place. Weimer. meanwhile, had another horrible start, but fought his way up to ninth, which allowed him to edge Short by a single point in the final standings.

The 250 and 450 motos were bookended by the WMX Class, which featured a tight points battle between Jessica Patterson and Ashley Fiolek for the championship. Also present was Italian Chiara Fontanesia, the newly crowned Women's MX World Champ.

Fiolek holeshot the first moto, but would soon fall under heavy pressure from Fontanesia. Fiolek hung tough as long as she could, but Fontanesia's speed was unquestionably superior. The Italian moved into the lead and checked out. When the completed the final lap, she stopped at the line to celebrate with a fist pump and started rolling backward downhill. It was unclear whether or not she had crossed the line, and there were a few tense moments as several riders flew past her over the finish line. Fortunately for Fontanesia, she had crossed the line by a matter of inches, and her win was secure.

Patterson, who has been nursing injuries all year, didn't have the same speed she had early in the season, or even at the last WMX round at Southwick, and spent most of the race in fifth place, which is where she finished. With Fiolek taking second, only one point separated her and Patterson, setting the stage for a true do-or-die situation in the second moto.

As the sun began its final descent, the final gate of the 2012 Lucas Oil Pro Motocross Championship dropped and the girls rocketed off the gate one last time. Fiolek nailed down another holeshot, while Patterson salvaged what looked to be a fifth or sixth-place start by holding the gas wide open deep into the start stretch and somehow still managing to cut to the inside and glue herself to the back of Fiolek. Fontanesi was close behind in third, but quickly moved into the lead and checked out.

The only race that mattered now was between Fiolek and Patterson, as whoever bested the other would be the WMX National Champion. Patterson was all over Fiolek, but then she made a mistake on the finish line jump and blew the following corner, which allowed several riders to get by. Fiolek went to work building a lead while Patterson tried to regroup. Late in the race, Patterson made her way into third by launching a huge double that Mariana Balbi opted to roll. With two laps left, it appeared as though Patterson was going to put on a championship charge, but was forced to pull off the track when an already bad ankle gave out. No official word on the injury yet, but after the race Patterson's team said they thought she jumped to far a few times and her bum ankle wasn't able to stand up to the abuse.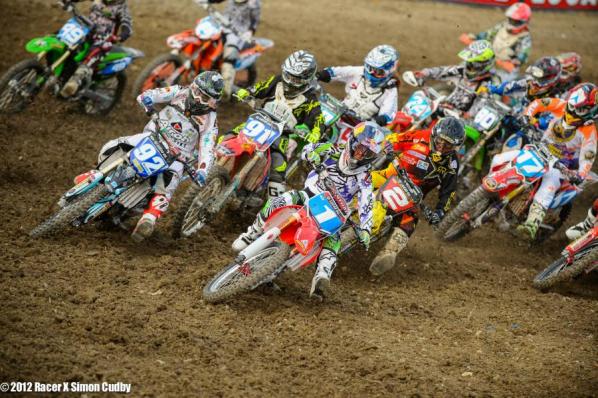 Ashley Fiolek (1) needed to finish in front of Jessica Patterson (2) at Elsinore. Two holeshots helped.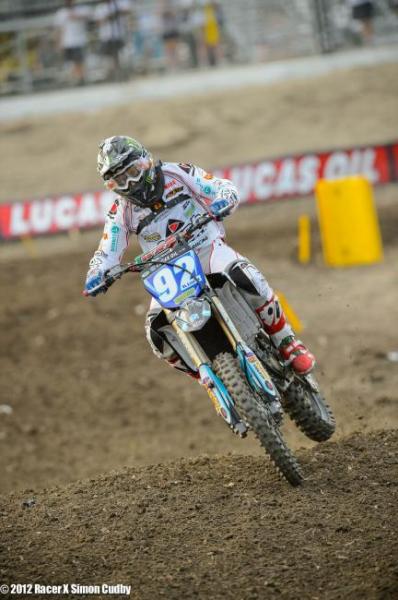 Italy's Fontenesi dominated the day in WMX.
Cudby photos


Fontanesi took the win by a mile, followed by Balbi, who squeaked by Fiolek on the final lap
Lucas Oil Pro Motocross Championship
Red Bull Lake Elsinore National
Lake Elsinore Motorsports Park - Lake Elsinore, Calif.
September 8, 2012
Round 12 of 12
450 Overall
Ryan Dungey 1-1
Mike Alessi 2-2
Broc Tickle 3-3
Tyla Rattray 4-4
Jake Weimer 5-9
Justin Brayton 12-5
Christian Craig 7-10
Andrew Short 8-13
Ben LaMay 10-12
Weston Peick 13-11
Josh Grant 35-6
Jimmy Albertson 11-16
Kyle Regal 6-32
Nico Izzi 38-7
Kyle Chisholm 28-8
Vince Friese 15-14
Fredrik Noren 9-30
Derek Anderson 14-20
Preston Mull 16-19
Bobby Kiniry 31-15
Austin Politelli 29-17
PJ Larsen 17-34
Vann Martin 25-18
Cole Martinez 18-33
Chris Plouffe 19-31
Austin Howell 20-26
Dalton Carlson 21-22
Scott Champion 26-21
Jason Thomas 24-24
Nick Paluzzi 23-27
Zack Williams 22-29
Ricky Renner 30-23
Tyler Keenom 34-25
Zack Freeberg 27-35
Jeff Alessi 40-28
Mike McDade 32-36
Sean Collier 33-37
Davi Millsaps 36-38
Robert Lind 37-39
Kevin Rookstool 39-40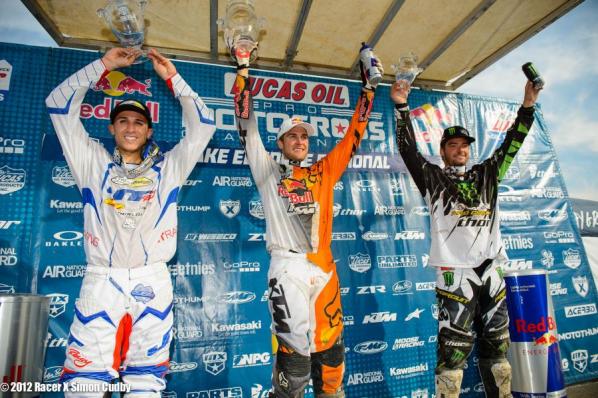 The 450 podium.
Cudby photo
250 Overall
Jeremy Martin 10-10

Jessy Nelson 9-13

Justin Bogle 15-11

Dillan Epstein 17-12

Kyle Peters 13-16

Cole Thompson 12-30

Jackson Richardson 32-19

Brandon Scharer 20-36

Dylan Schmoke 23-23

Matas Inda 24-29

John Pauk 33-22

Landen Powell 30-25

Mitch Alcorn 22-33

Johnny Jelderda 21-35

Austin Burns 34-24

Preston Tilford 29-31

Travis Bell 36-26

Joey Peters 37-28

Josh Cachia 27-38

Bracken Hall 39-27

Sean Hackley Jr. 35-40

Jake Canada 40-37
WMX Overall
Chiara Fontanesi 1-1
Mariana Balbi 3-2
Ashley Fiolek 2-3
Tarah Gieger 5-5
Taylor Higgins 8-4
Alexah Pearson 9-7
Lindsey Palmer 12-8
Sade Allender 11-9
Hailey Larson 10-10
Jessica Patterson 4-28
Sarah Troxel 13-12
Brianna DeGray 15-11
Sara Pettersson 7-27
Ashley Boham 14-15
Amanda Brown 16-14
Jackie Ives 18-13
Sarah Whitmore 17-16
Jessica Wharton 25-17
Lauren Volentir 19-19
Cortney Roewer 22-18
Rachel Karlgaard 20-20
Bryanna Marcotte 21-22
Alexandra Lopez Soliman 24-21
Meghan McClain 23-23
Heather Lockwood 27-24
Alyse Priest 26-25
Cady VanCura 28-26
Tiana Falls 30-29
Brittany Marcotte 29-30
Lecksi Winder 31-31
450 Class Championship Standings
Ryan Dungey, Belle Plaine, Minn., KTM, 580
Mike Alessi, Victorville, Calif., Suzuki, 453
Jake Weimer, Rupert, Idaho, Kawasaki, 355
Andrew Short, Smithville, Texas, Honda, 354
Broc Tickle, Holly, Mich., Kawasaki, 349
Josh Grant, Riverside, Calif., Kawasaki, 277
Justin Brayton, Ft. Dodge, Iowa, Honda, 247
Kyle Chisholm, Valrico, Fla., Kawasaki, 211
Davi Millsaps, Cairo, Ga., Yamaha, 176
Tyla Rattray, Durban, South Africa, Kawasaki, 172
250 Class Championship Standings
Blake Baggett, Grand Terrace, Calif., Kawasaki, 519
Justin Barcia, Monroe, N.Y., Honda, 499
Eli Tomac, Cortez, Colo., Honda, 487
Ken Roczen, Apolda, Germany, KTM, 456
Marvin Musquin, La Reole, France, KTM, 406
Wil Hahn, Decatur, Texas, Honda, 316
Blake Wharton, Pilot Point, Texas, Suzuki, 265
Jason Anderson, Edgewood, N.M, Suzuki, 238
Jessy Nelson, Paso Robles, Calif., Honda, 225
Travis Baker, Temecula, Calif., Honda, 193
WMX Class Standings
Ashley Fiolek, St. Augustine, Fla., Honda, 317
Tarah Gieger, Aguadilla, Puerto Rico., Honda, 302
Jessica Patterson, Tallahassee, Fla., Suzuki, 298
Mariana Balbi, Belo Horizonte, Brazil, Honda, 269
Jacqueline Strong, Sedona, Ariz., KTM, 236
Sara Pettersson, Sweden, KTM, 223
Alexah Pearson, Sacramento, Calif., KTM, 175
Kasie Creson, Vallejo, Calif., Honda, 174
Sade Allender, Sanford, Maine, Honda, 170
Amanda Brown, Baltimore, Md., Honda, 142