Chad Reed
was finally back on the box. The man who once owned a starts-to-podium percentage well up into the 90 percent range had been through hell over the last two supercross seasons—one podium last year, and zero through the first three rounds in 2011.
Over the weekend at Oakland, he finally got a start, finally stayed on two wheels on the first lap, and finally put his TwoTwo Motorsports Bel-Ray Racing Honda on the box. He even outdueled defending SX Champion Ryan Dungey for second.
At first, Chad flashed his old smile, high-fived the team and celebrated what amounts to a breakthrough for the first year team owner. But an hour after the event, with time to reflect, he wasn't quite as happy.
"It feels nice to get a good start and ride up front," he said after the race. "But I didn't ride that great, to be honest. Everyone is asking me how it feels, and I'm excited to be on the podium, and I'm so bummed with how I rode. And that's probably the biggest thing I'm fighting right now."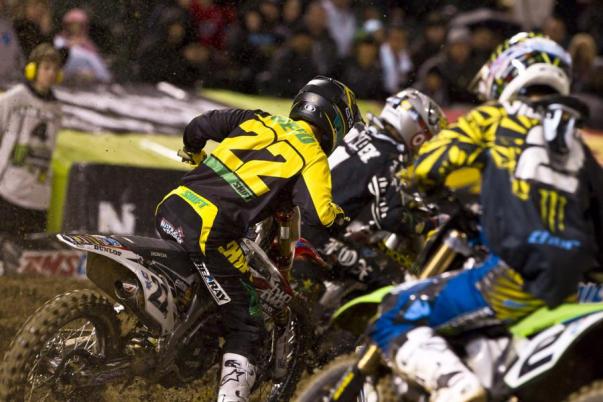 Reed got the start and finish in Oakland, but he's looking for more.
Photo: Garth Milan
Indeed, Reed is just now getting through the same things contenders like Ryan Villopoto experienced at the opening rounds. No one feels that ride their best early in the season, but Reed has started slower than most.
"I've said it before in other interviews. Villopoto has been off longer than I was, and Stewart was off longer than all of us, and they've had no trouble jumping right back into the pace. I've struggled a bit to get into race pace. So I'm struggling with some things, small things I need to do. I think it's consistent with starting in the middle of the pack at a lot of these races, compared to getting up front and having to get fast immediately. But from the issues I had and how bad I rode, I'll take second."
Digging deeper, it turns out that not all of Reed's riding issues can be traced to the rider. At Oakland, his bike began misfiring as soon as the race began. "I was annoyed to be honest," he explained. "I don't know what it was, the moisture or what. As a team owner I'm a little concerned. We've clearly got an issue we need to work on, it wasn't like we were riding through water like we were at Daytona a few years ago."
Those two events—a misfiring bike, and Reed's lack of recent experience running at the front from the very start of the race—let Stewart and Villopoto get away.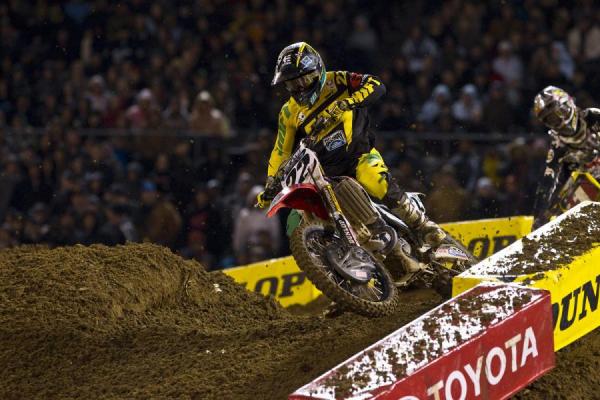 As a team owner now, Reed has a lot more to worry about than just podiums.
Photo: Garth Milan
"Right from the get go I had to be careful," said Reed. "I had to ride around some issues, I was kind of nervous. Both of those guys got me. James went by, and I wasn't really worried about him. He was riding really well, I wasn't able to keep pace with him and do the jumps like he did. I tried it once and it scared me. I had to be careful, I could have been hurt if the bike cut out on a triple. At least the issue was consistent, I was able to pick where to push and not to push."
Villopoto later fell, and Reed took over second, a big distance behind Stewart. Then Dungey made a move, but Reed didn't relent, chasing him until the last lap and unleashing a pass in the very last corner of the race. While Reed has been struggling with his starts, he seems confident in his ability to finish a race. In fact, he wasn't at all surprised to outrun Dungey, known as one of the fittest riders in the game, at the end of twenty laps.
"I think the gap was big enough where Ryan got a little lazy," said Reed. "And I feel like I'm in the best shape I've ever been in. I've been working hard with Platinum Fitness and it's going well. I've never looked at Ryan as some guy who was stronger than me. I think he had a great year last year, but this is a whole new year."
And that's the kind of confidence you expect to hear from the old Chad Reed, the one who had zero fear of mixing it up with anyone. Could this podium be just the start of a run? After a few tough weeks, Reed and his new team may have turned the corner.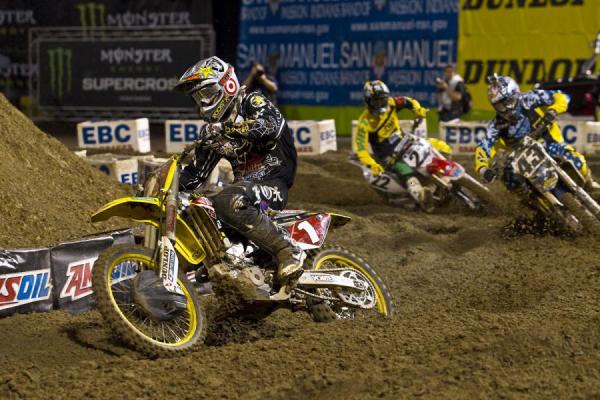 Reed (rear) tracked down Dungey on the final turn and made the pass for second place.
Photo: Garth Milan
"Besides that one particular issue, the bike's great. As far as turning, handling, engine suspension, it's great, and we had a great week. The big gains we were achieving the first two weeks aren't coming anymore. I think we're in the window now, and to move forward and get some more gains won't be easy. But we're close, and I don't think you're ever on the money. When you're on the money, it's just a week where you're just riding awesome—in motorsports, normally you're chasing something anyway. I think having the bike so close helped, it gave me more time to work on my starts this week."
Reed also had a little extra motivation off the start. He lined up next to Austin Stroupe, who you may remember collided with Reed off the start at Anaheim 1 last year and ended Reed's night early.
"I started next to Stroupe, and that kind of made me nervous," said Reed. "I had the better gate pick, so when he lined up next to me, I was like "Oh God he were go again!" I had flashbacks of Anaheim 1 last year. And he's been killing his starts, so it kind of fired me up a little bit, to be on my game, be in the zone. I think I could have had the holeshot but I was really careful in the first turn in the mud. I think Ryan went up the inside and officially got it. But it just felt nice, just as soon as the gate dropped, I was out of there."
So now it's coming together. The bike. The starts. And the honest judgements. Will Reed really be a contender for wins this year? Can he close the gap that Stewart and Villopoto had on him early in Oakland, and early in the season? Hard to say, but it's clear after this one that motivation isn't the issue. Reed at least wants to run up front as much as he ever has.
"Honestly, it was nice to see the front guys and be in the battle," he explained. "It hurt my feelings last week to be down on the ground, to be half a lap behind and hear the crowd going nuts for this battle, and to not be in it. I don't want to feel that way anymore."