Anaheim, CA
Anaheim 2 (A2)
Monster Energy AMA Supercross Championship
The 250SX Futures Class of Monster Energy AMA Supercross made its 2023 debut over the weekend at the Anaheim 2 Supercross. This year, the futures main events take place during the night show for the pro races. This will help the amateur athletes get some more exposure as they will be a part of the Peacock broadcast.
At Anaheim 2, the futures riders completed two qualifying sessions on Friday, following by one final qualifying session on Saturday. All eyes were locked on Haiden "Danger Boy" Deegan as he made his Supercross Futures debut, but it was Julien Beaumer (Yamaha) who was the fastest qualifier with a 59.621 over Deegan's 1:00.279, a 1:00.302 from Yamaha's Daxton Bennick, a 1:00.447 from Husqvarna's Casey Cochran, and a 1:01.921 from Husqvarna's Talon Hawkins.
Between the second 450SX Triple Crown race and the third and final 250SX Triple Crown race, the 250SX Futures riders took to the starting line for their main event. When the gates dropped it was Hawkins who grabbed the holeshot just ahead of his teammate Cochran as Yamaha riders Bennick, Beaumer, Cole Davies, and Deegan rounded out the top six. After being the fastest qualifier, Beaumer cased the supercross triple hard early in the race, damaged his bars, and would not finish. He was officially 16th in the results.
Before the end of the first official full lap, Cochran had taken the lead. However, the #66 got a little wild in the whoops and it allowed Hawkins to retake the lead. Two teammates battled back and forth before Hawkins finally got control of the race. He would lead the following three laps until Bennick made a charge from third to challenge the two Husqvarna riders. He then made pass for the lead in the whoops. A few positions back, Deegan suffered a crash that dropped him to seventh as Preston Boespflug (KTM) took over sixth. Bennick led the final three laps and took the checkered flag in his debut 250SX Futures race.
Hawkins suffered a crash in the whoops on the last lap, which allowed Cochran to take over second. Hawkins finished third ahead of Davies, Deegan, Boespflug, Gage Linville, Slade Varola, Braden Spangle, and Dylan Cunha, who rounded out the top ten.
Supercross
Rider
Hometown
Bike
1
Daxton Bennick
Morganton, NC

United States

Yamaha YZ250F
2
Casey Cochran
Portsmouth, VA

United States

Husqvarna FC 250
3
Talon Hawkins
Temecula, CA

United States

Husqvarna FC 250
4
Cole Davies
Waitoki
Yamaha YZ250F
5
Haiden Deegan
Temecula, CA

United States

Yamaha YZ250F
6
Preston Boespflug
Battle Ground, WA

United States

KTM 250 SX-F
7
Gage Linville
Lake Park, GA

United States

Honda CRF250R
8
Slade Varola
Kawasaki KX250
9
Braden Spangle
Spokane, WA

United States

Yamaha YZ250F
10
Dylan Cunha
Modesto, CA

United States

Yamaha YZ250F
Full Results
Following the race, Bennick spoke to the media:
Daxton Bennick: It was intense, practice wasn't too bad there wasn't that many people [watching]. But when I went to the gate in the main event, it really hit me. I've been dreaming of this my whole life. It was cool, really cool. To get the win tonight was special.
Track changed up a lot, we were the first guys out on Friday. It felt super peaky, and it was pretty slick, too, because they watered it. We raced later in the day, so then the track ws pretty dry and the ruts were pretty cupped out. The ruts were really deep. You just have to adapt to it. Sometimes your limit changes when it's super rough.
Obviously there's a lot of hype around your teammate, [Haiden] Deegan. Do you like being the underdog or do you want to be the main guy?
Bennick: Yeah I don't mind it, obviously he's got a lot of followers on YouTube and stuff. But it feels good. Especially when I win!
You had two Husqvarnas in front of you. How does a young rider like you figure out how to make passes on a track that's very unlike what you usually ride on?
Yeah it was different because we never really race supercross. First time we've ever raced with the bowl corners and stuff. I felt that I was a good bit faster in the whoops. I was jumping them while they were skimming them. I felt like I was a good bit better there. And then I just tried to be smooth, I was finding my lines pretty good, and yeah, I was making up time. Later in the race, yeah it was pretty short, but they ended up fading a bit and I got around them.
You looked pretty comfortable. It didn't seem like you were a fish out of water out there. What do you credit that to?
It was kind of weird. On the start I was kind of nervous but after lap 1 I just felt good. I wasn't nervous, I just hit my marks. It didn't feel like I was going too fast. I just felt relaxed. I wasn't too nervous after lap 1.
What was it like riding over the finish and hearing the fans?
It felt cool. The last two corners I was going slow because I didn't want to crash, but when I crossed the finish line, it felt good. It wasn't, obviously, like a 250 win or anything like that, but it felt good for sure.
When you look at the pros that recently turned pros, you see some cautionary tales. When you see that, does that help you plan your future?
Yeah I just feel like you have to go when you're ready. I don't think there's a big rush, but I mean, I would hope if I'm ready I can go pro next year, and I'd hope I would be ready. Obviously it works differently for everyone.
What's it like being Daxton right now? You're surrounded by lights and cameras. You're handling press conference questions like a pro. Have you done this before?
No I haven't. Obviously I like being in this position so hopefully we can keep doing this. It's cool, hopefully I'll see you guys next time!
---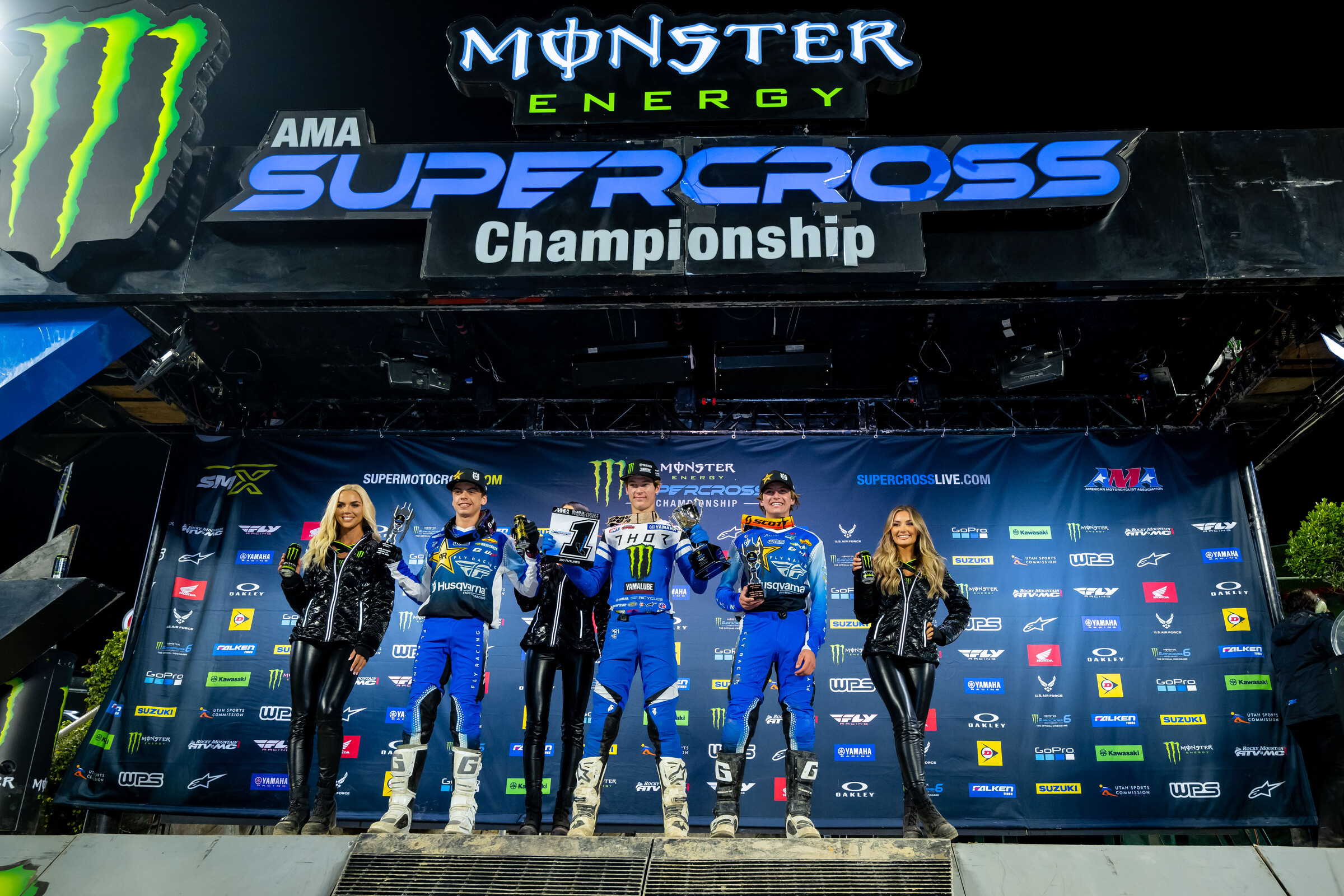 With the goal of helping prepare riders for the pro level of AMA Supercross, within a week we are now seeing a few of these riders ready to make the jump to the pro scene.
Husqvarna announced on Wednesday that Hawkins will make his pro supercross debut this weekend at the Houston Supercross 250SX East Region opener. Jalek Swollsuffered an arm injury last week, leaving the team without a rider about seven days ahead of the opener. So they drafted up Hawkins, who competed in several AMA Pro Motocross Championship rounds in 2022 but signed an amateur/pro deal with the team in fall 2022. Hawkins was set to compete in his final season as an amateur in the A class this year, but now is in the perfect position to get an early start on his supercross career.
Cochran, new to the 250F, is also on the Rockstar Energy Husqvarna Factory Amateur Racing Team.
Also this morning, Yamaha confirmed Deegan will in fact make his pro supercross debut this weekend.
Check out Haiden Deegan's vlog about the race:
Hawkins and Deegan will join Tom Vialle (Red Bull KTM) and 2022 AMA 250SX Futures Champion Chance Hymas (Honda HRC) as four factory riders set to make their pro AMA Supercross debuts this weekend. Second-generation rider Vialle is a two-time MX2 FIM Motocross World Champion who moved from Europe to the U.S. in fall of 2022 to start on a career in the AMA Supercross and Motocross scene. Hymas will compete in select 250SX East Region rounds as a member of Honda HRC. It will be fun to see where this foursome will stack up against one another and the remainder of the 250SX East Region field.
With the adjustment to the 250SX pointing out rules starting in 2023, young riders can enter pro supercross races earlier without worrying about losing eligibility in the class.
With the pointing out rules now gone from 250SX, factories are going to bring more kids in earlier, starting this weekend in Houston. (Deegan and Hawkins). They don't have to sweat the "don't lose a year of eligibility until you're really ready" stuff anymore.

— Jason Weigandt (@JasonWeigandt) February 2, 2023
Watch the full A2 250SX Futures main event in the video below:
Below is the full press release from Feld Motor Sports:
Daxton Bennick Wins Supercross Futures Amateur Race at Anaheim Supercross
Anaheim, Calif., — Monster Energy Yamaha Star Racing's Daxton Bennick showed the form and composure of a seasoned Supercross pro on his way to a strong victory in the first round of the 250SX Futures Class of Monster Energy AMA Supercross. Angel Stadium of Anaheim was packed and loud for Round 4 of the pro season and the Supercross Futures race that took place midway through the night's racing program. Rockstar Energy Husqvarna's Casey Cochran, who was competing in the B Group, earned second overall while teammate Talon Hawkins grabbed the holeshot and had an eventful race to garner the final podium position.
The Supercross Futures program was conceived to provide a stadium Supercross experience and path to the pros for the next generation of racers. Four rounds are held throughout the Monster Energy AMA Supercross season with the top five finishers qualifying for an AMA Amateur National Championship held in Salt Lake City, Utah during the final event of the full 17-round pro season.
When the gate dropped Talon Hawkins nabbed the holeshot in front of 17 other racers. He mis-timed the first rhythm section and Casey Cochran took over the lead spot with Hawkins and Altherm JCR Yamaha's Cole Davies right behind. Davies' wild ride through the whoops on the opening lap allowed Daxton Bennick and EBR Racing Yamaha's Julien Beaumer to get around Davies. Beaumer landed hard on a following jump and his handlebar rotated in the clamps; he was forced to slow his pace.
Cochran led the field of young racers until, similar to Davies' opening lap troubles, Cochran had a bobble in the whoops that allowed Hawkins to re-take the lead in the next rhythm lane. With 3:38 remaining on the race clock of the six-minute plus one lap race, Bennick made an inside move under Cochran to take second while just behind them Monster Energy Yamaha Star Racing's Haiden Deegan crashed trying to re-take fifth position from KTM USA's Preston Boespflug. The mistake sent Deegan, a race-win favorite, back to ninth.
Bennick steadily reeled in Hawkins and with just over a minute left on the race clock, Bennick used a fast run through the whoops to get cleanly into the lead. On the final lap Hawkins ran into trouble, allowing Cochran to grab the runner up spot as Hawkins recovered to finish in third place.
The 250SX Futures Class races again in Arlington, Texas on February 25th, which will also be the second of three Triple Crown-format events for the professional racers. All Monster Energy AMA Supercross events are streamed live on Peacock with select events also broadcast on NBC, USA Network, and CNBC. For the full schedule, results, video highlights, and ticket sales to any of the remaining Monster Energy AMA Supercross events, please visit SupercrossLIVE.com.