Anaheim, CA
Anaheim 2 (A2)
Monster Energy AMA Supercross Championship
We teased this before Anaheim 1. In most years Ken Roczen's health is the headline. Ever since his gruesome arm injuries and multiple surgeries in 2017, his body hasn't been the same, and each weekend becomes a wait and see. Will we watch the fit and healthy Ken or the fast-then-fade Ken?
This year, Ken's health is no longer the story, because he's switched from Honda to Suzuki. The retro vibes (this is Ken's third go-around with RM-Zs) and possible rebirth of Suzuki at the front is just too enticing. We've barely considered Ken's physical side at all, as instead all eyes are on the mechanical. At the first two races, Ken looked like a guy working on a new bike. He rode okay, and his finishes of 5-4 were okay, too, but it wasn't spectacular, certainly not the kind of opening-lap or opening-round speed that has become his trademark. This would be fine, because a lot of riders take a few races to get into the groove, but that's not what we're used to seeing from Roczen, a four-time winner at Anaheim 1, including last year.
Last year, though, even after winning the opener, Ken said he had missed the entire month of December with illness. That quickly showed as his season fell apart. This time, it's starting to build. He said he's been fortunate to go through the entire off-season, even traveling the world for WSX and the Paris Supercross, without catching a major illness. He's getting better and better. At Anaheim 2, he fought hard to grab a podium, giving him 5-4-3 finishes for the year.
"It's been extremely fun, I think I know more about the bike and the technical side than ever before," said Kenny in the post-race press conference. "It's been very busy for me, besides the training and riding I feel like I'm on the phone and emailing all the time. It's been fun. Riding a lot, really, really late days, it's paying off. We're all pulling on the same string and obviously results wise we're going in the right direction. We have a ways to go, though."
The good thing for Ken is that his body is able to handle all this work. He's actually decided to become his own trainer this year, and it's working. That led to the jarring quote in his post-race TV interview where he actually thanked…himself.
"What a night, this was hard earned," he said. "I want to thank myself, I've been doing all of my training on my own. I'm staying engaged with it, and I'm really happy to be in this position."
Well, he's had a lot of frustrating years, physically. He kept at it, kept learning, kept searching. He finally feels good. Why not thank yourself?
"I don't feel like all this work is a hassle for me, I'm really into at the moment," he says. "My health has been really good, so that helps. I think this work is needed to get to the top and I'm pretty confident I'm doing the right thing. I'm planning all my training myself. For right now I don't have anyone telling me what to do, I think I'm the best judge of that, and it's working out. I've never needed anyone to kick me out of bed in the morning to go train. I was flying all over the place, Paris and Australia and there's no way for anyone to understand that unless they were with me. I feel like I started to get a better system, and I've been able to absorb it and stay with it."
You saw a much racier Roczen at Anaheim. When Eli Tomac rolled up on him in the second race of the night, Roczen fought like heck to hold him off, another classic in a decade of Tomac/Roczen duels. Ken definitely didn't roll over in this one.
"It's great to put up a fight, for me to make passes and stay with it and not give up, it makes it really fun out there," he said. "I slid out, that's why he was able to get around me, if it wasn't for that I think I would have been able to hold him off."
Heading into the last main, Roczen and Tomac both had a shot at the overall win. They picked starting gates next to each other, but the ruts in front of those gates went sideways. A collision was practically inevitable. Tomac got the jump and that sent Roczen to the middle of the pack. He kept grinding, even getting Dylan Ferrandis on the last lap to make sure he secured that overall podium.
"I completely botched the start in the last one, I locked bars with a few guys," Roczen said. "I thought I had to make that pass for the podium. Turns out I didn't. I might have to have a word with my mechanic! No, I'm kidding. I can't complain."
Heading into Anaheim 1, the sight of Roczen on the podium on a Suzuki tantalized. Seeing him on the bike for three weekends now has made it look a little more normal. But let's not obscure that this is the first-ever podium for the HEP Progressive/Ecstar team, and the first for an RM-Z450 since Chad Reed scored a Triple Crown podium, the last of his career, in 2019.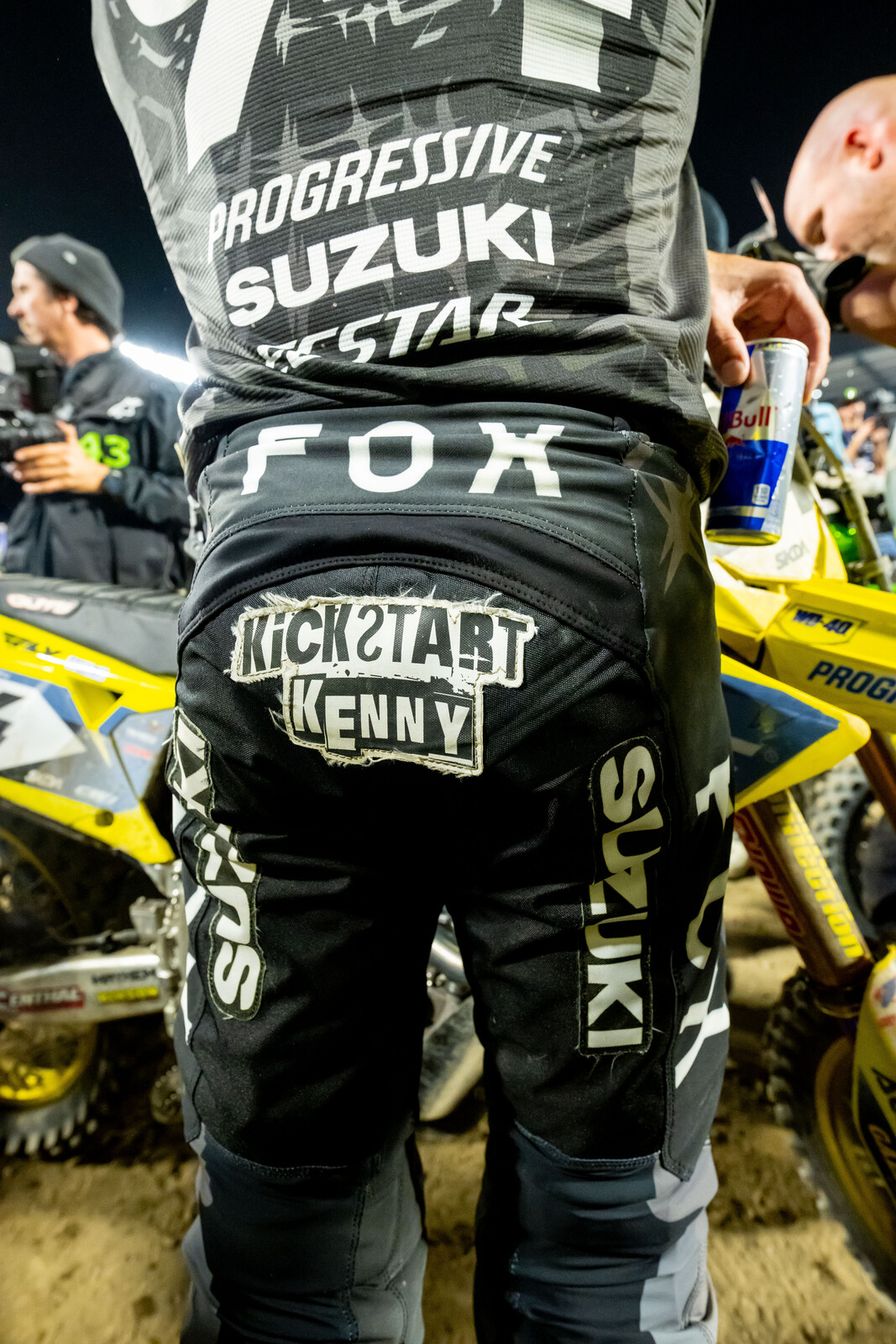 It's pretty impressive considering how late this program came to be, and how inexperienced this team is with a racer at Roczen's level. Further, Roczen switched to Factory Connection for his suspension techs starting at San Diego. It was almost like a second season opener. Again, he looked like a rider testing a bike, which he was. At Anaheim 2, he looked a notch better.
"The entire race day at San Diego was a test day for me," he said. "It's been really tough for me. But like I said the vibes are really good, and we're gonna let this podium set in."