Anaheim, CA
Anaheim 1 (A1)
Monster Energy AMA Supercross Championship
Last off-season, Ken Roczen did everything he could to understand why he gets sick, drained, and lethargic during the season. He skipped the Lucas Oil Pro Motocross Championship in 2021 to rest, then spent the off-season visiting doctors and trying to solve his issues. Then December came and another gnarly illness ended up keeping him off the bike for an entire month. He won Anaheim 1, but his season quickly crumbled.
This year, last year is but a distant memory because instead of the usual "Can Roczen stay strong all season?" question we're now talking much more about his new motorcycle. After six years with Team Honda HRC, Roczen races for Progressive/Ecstar Suzuki. Roczen on a Suzuki brings up great memories of past wins and titles, although Ken himself says this bike is nothing at all like his 2016 RCH Suzuki. That bike used a different suspension brand, and it was a true factory bike with special parts from Japan and all. Roczen, in fact, didn't even realize how trick his old bike was back then. His mechanic now, Travis Soules, actually worked at RCH back then and during a recent visit to Ken's house. He took a look at Ken's 2016 Pro Motocross Championship bike and pointed out all the hand-built parts on that machine. Roczen's 2023 Suzuki isn't like that. Suzuki is no longer supplying R&D and works parts from Japan like it used to back in the glory days.
It's okay though. Roczen still loves this new bike. He likes it so much that, while flying to the FIM Awards Banquet with fellow WSX Champion Shane McElrath, that he urged McElrath to call HEP team owner Dustin Pipes. Brandon Hartranft was injured, and Roczen told McElrath he will absolutely love the bike and should try to race it. Now McElrath is on the team, as is Kyle Chisholm, and the three guys are loving being teammates. Just a great atmosphere over there.
We had a chance to chat with Kenny yesterday and he answered a lot of questions about this bike, this team, and the position he's in for his career. Less pressure, all that. Roczen also hopes that maybe if he has some success, it will spark renewed interest from Suzuki. "Maybe they have something new hiding under a tarp somewhere. I don't know!" Kenny said.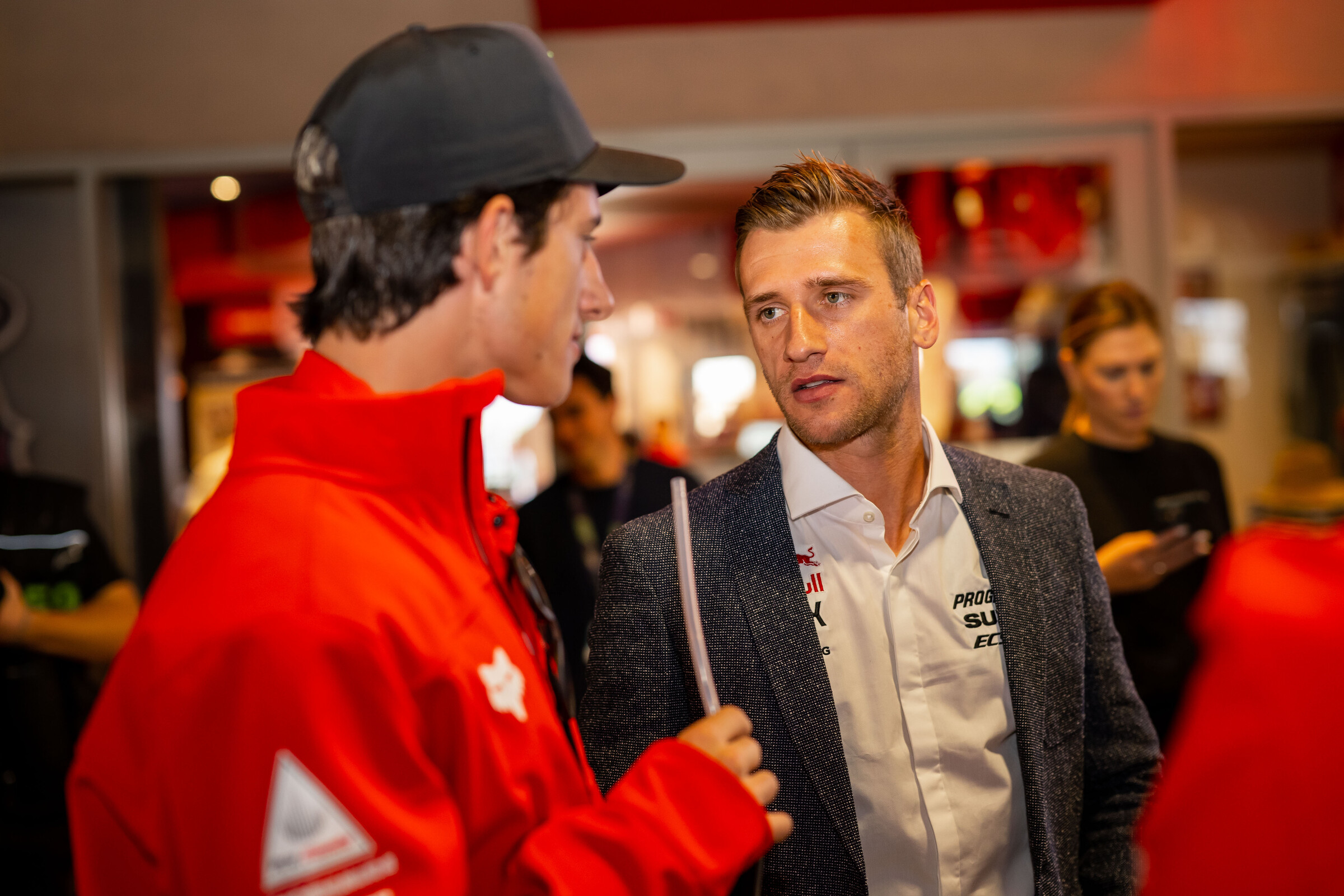 So much talk about bikes and teams and the journey to get here. Then I realized something. For one, no one had asked Kenny about his health. No one asked about his arms, his immune system or his fitness. Better yet, there's no story there right now. Roczen told us he's surprised that even though he did more traveling than ever this off season, he also didn't get sick nearly as much as usual. No major illnesses, no major time missed training. He said he did a lot of running this off-season and he felt great. Through tests, he's found out his body has had trouble absorbing nutrients, so he's working with a nutritionist and changed his diet. So far, right now, health is not an issue. That's refreshing to hear, and even better for Kenny himself, who says he has gone through some dark times in previous years, when he was feeling so drained and ill that he wasn't even sure he wanted to race anymore.
There's so much talk right now about Roczen back with Suzuki, but there's a bigger story brewing in the background. Roczen's old story, the story about his health, finally isn't a story, at least for now. If he can keep the focus on the bike and not the body, we know he's in for a much better season.