When you're a pro motocross racer, the retirement age isn't exactly 65. That leaves many racers in a precarious position when it comes to maintaining a positive cash flow after racing. After all, all many of these athletes know is racing, and when that goes away, what are they to do? For many of them the answer is simply to become their own boss, and when you look through the ranks of both retired and active racers, you'll see plenty of athletes who've gone on to create their own businesses. Note, these are not all the riders with their own businesses, but these are some of them. Shout-out to all the riders selling merch and doing riding schools—there are too many to list them all without missing a ton! Let's have a look and be sure to remind us of the ones we missed in the comments section at the bottom. We'd imagine many, many riders have started their own companies outside of the motocross space. If you know 'em, let us know about 'em.
Although Deegan didn't form the Metal Mulisha alone, it's easy to say the MM empire wouldn't be the juggernaut it is today without the watchful eye of Deegan over the years. Interestingly enough, if you were to travel back in time to the '90s, there probably weren't a whole lot of people who would have thought Deegan, one of racing's biggest hooligans, would become the business magnate he is today! After all, celebrating your first (and only) supercross win by ghost riding your bike over the finish line jump and business suits don't exactly go hand in hand!
The Diesel doesn't have to work if he doesn't want to. But c'mon, no way a dude like Dungey, who was famous for his work ethic (you know, like all those race wins and championships), is going to be able to sit still and do nothing in retirement. Guys like him just have to work, which is probably why he created RD Coffee. He also purchased a portion of the GEICO Honda team before it folded, although that only lasted for a few months.
Seely is big into the beans too. Coffee beans, that is, as evidenced by the forming of his company, Bump Start Coffee. We know the world wants a Seely versus Dungey coffee shootout, but we're not sure how they compare. We do know if Seely's coffee is anything like his riding, drinking it will probably give you smooth and precise form as go about your workday, flawlessly clicking off task after task. That is, unless Jason Anderson bumps into you, causing you to spill the second half of your cup all over your shirt. Seely also recently announced his entrance into the cryptocurrency game with CS14 Coin.
You may or may not have heard of Bryar Perry the racer, but you've definitely seen and/or heard of his work. Perry is the owner of 180 Decals, a company he founded in 2003, and named it after a race number (180) he had as a kid. Almost two decades later, the NorCal-based decal business is still going strong.
Martin's fitness has always been impeccable, especially in the last few years, so it should come as no surprise that he, along with John Wessling, started Troll Training (named after his Matthes-or-Nicoletti-assigned nickname), a business with which he uses all the fitness knowledge he's gained over the years as a pro. In his words, "Whether you're racing motocross, off-road, or just trying to stay in shape, we'll be there for you every step of the way as you pursue your goals."
Again, we will mention that tons of racers now make a living as trainers and coaches. We'll spotlight AMart here as just one of many ways to get it done.
You don't have to be into tattoos to know about Hart's wildly successful business venture, Hart and Huntington Tattoo Company. It's all over the place! Originally founded in Las Vegas in 2004, Hart now has five locations across the nation, as well as a successful H&H clothing line. He was also business partners with Ricky Carmichael when the two joined forces to form the now-defunct RCH Racing.
Telling your competitors to "Eat R Meat" might not go over well, but in the case of the Wageman brothers, they'd just be trying to get you to try their product, R-Jerky. When the 2018 season was approaching the duo came up with the idea of selling jerky to help fund their racing efforts and they're still going strong today. Even Adam Enticknap now has his own R-Jerky signature product, the 7deucedeuce Edition.
Sometimes you just have to work with what you've got, and in A-Ray's case, that means embracing the reputation of sketch and leaning into it, hard. Enter the Sketchy clothing line, founded by sketch master Ray himself. The man sees solutions, not problems!
As mentioned, pretty much every privateer now boasts some sort of merch via social channels, so if you want to support some dudes that need support, now's your chance.
You know Langston as a former champion and former analyst for the Lucas Oil AMA Pro Motocross Championship on NBC Sports, but you might not know he owns a power sports shop in Perris, California, that sells Yamaha, Kawasaki, KTM, Polaris, and Suzuki. Live in the area and need a new whip? Go see GL!
If you live in South Louisiana and exercise at Planet Fitness, there's a good chance you're sweating it out in one of Kevin Windham's gyms. Windham owns a bunch of Planet Fitness gyms in the region! You think the Lunk Alarm would be triggered if he rode his 450 through one of them?
The August 2021 Issue of Racer X Illustrated
Pure Michigan Adventure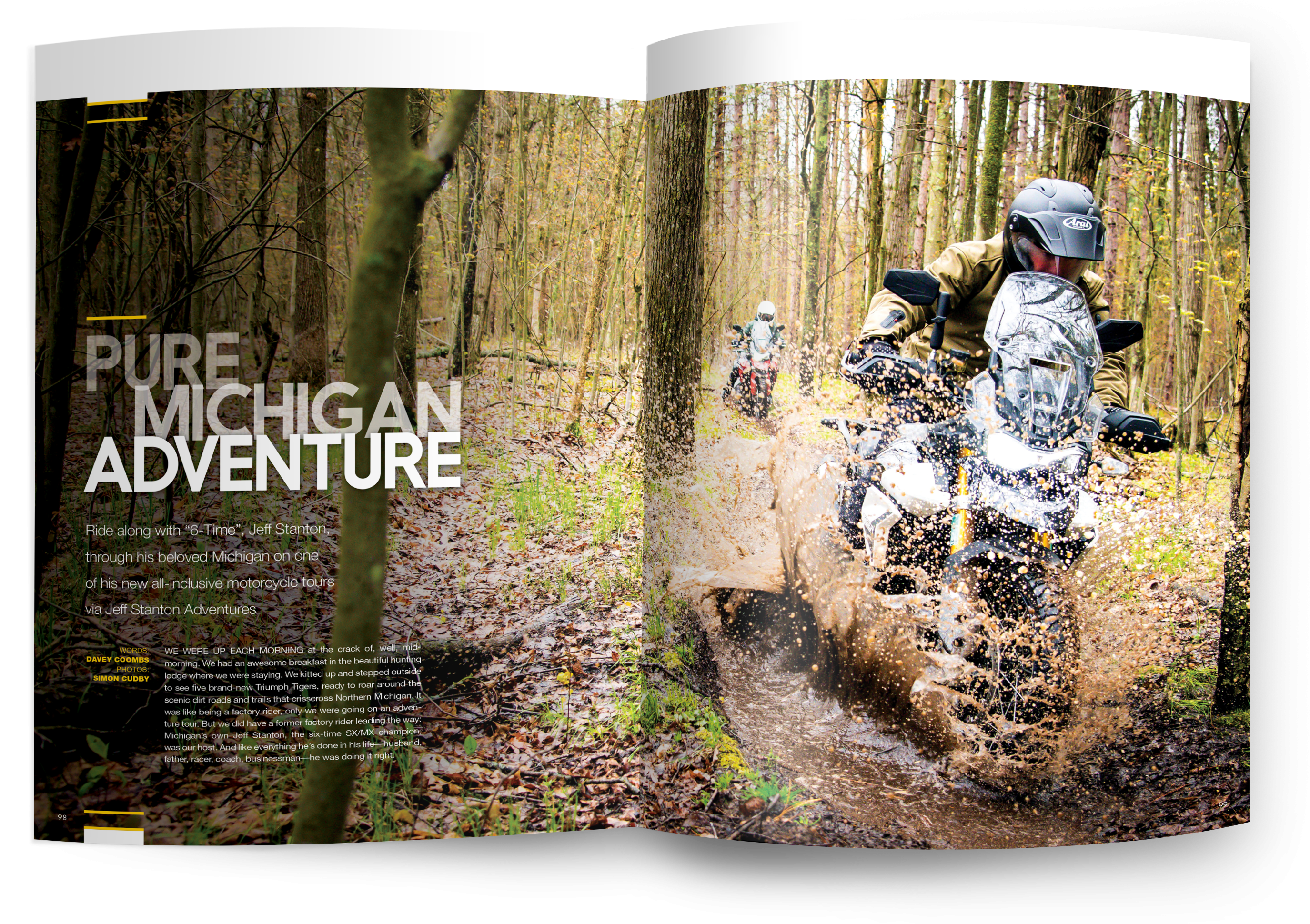 Ride along with "6-Time", Jeff Stanton, through his beloved Michigan on one of his new all-inclusive motorcycle tours via Jeff Stanton Adventures.
Read Now
Preview Now
Ryan Hughes
Hughes has been charging life since the day he was born, so it should come as no surprise that his name is part of Ryno Power, a line of nutritional products to help give your body what it needs for training hard, be it hydration, endurance, recovery, or protein. Ryno doesn't run the company now but if he didn't like the stuff the brand was doing, no doubt he'd tell you what he thinks.
Unless you've been living under a stack of worn-out grips, you've heard of Arma Sport. Cleverly tagged as, "Ammunition for your body," Arma products are designed to deliver proper nutrition before, during, and after exercise. Arma's website says superior ingredients and clinically proven dosages help athletes and enthusiasts realize their maximum potential. With dudes like Wey, Reed, McGrath, and Cianciarulo running the show it's gotta be good!
Watch McGrath talk about Arma on the latest episode of the Moto Marketing Podcast: