Anaheim, CA
Anaheim 1 (A1)
Monster Energy AMA Supercross Championship
Just a few short months ago Coty Schock was riding as high as he'd ever been. He was having the summer of a lifetime and he'd even secured a salary with Honda. Then everything came apart in an instant with it was announced FXR/Chaparral Honda Racing would not be competing beyond 2021. Undeterred, Schock went to work immediately and was able to pull together the beginnings of a new ride with Phoenix Racing Honda in a Schockingly short amount of time. With his deal with the North Carolina-based team now finalized, Schock will spend the winter in California preparing for supercross. We spoke with him to learn how it all came together.
Racer X: You're at Phoenix Honda now, congrats on securing a ride for 2022.
Coty Schock: Thanks, I'm pretty amped on that.
Did you know [team owner] David Eller before at all?
Briefly. When we first met we had a connection right away, that was pretty cool. There are a lot of familiar faces too, so it's good kind of knowing everyone going in.
You two seem like your personalities would mesh well.
Yeah. I like that East Coast, southern vibe.
Talk about how the Phoenix deal came together.
Michael [Lindsay] gave me the call, letting me know the team was folding. He gave me the contact for Phoenix and told me to call David, who was open to making something work, and we kept in touch. Right after Hangtown I knew I was going to fly home, and he's only like seven hours from me so I decided to drive down and meet everyone at the shop. When I walked in there were a lot of familiar faces. I'd met a lot of them through the years racing. As soon as I walked in and saw what they had to offer, I was like, "Yeah, this is home for me."
So you weren't ever at the point where you were wondering if anything was going to pan out? It sounds like you started making things happen right away.
Yeah, I did what I needed to do. I really wanted to stay on Hondas too because I already knew the bike. Everyone at Honda has treated me very well too, and I wanted to keep that relationship going.
It had to be pretty wild to get the news that FXR/Chaparral Honda was folding. You were doing really well in the nationals, word came out that Honda was going to be paying you a salary, then boom, you find out the team is going away.
That was not fun. But I believe everything happens for a reason. I think I grew up a lot moving 3,000 miles away from home and living life on my own. I'm my own manager and I think dealing with this adversity, figuring out what's best for me, helped me learn more about myself in what I want and how I handle things. I'm pretty stoked on how everything went overall and I think this Phoenix deal is a step in the right direction. I see a lot of benefits.
That team is pretty big, in that it's involved in several different disciplines like GNCC racing, arenacross, they have a quad team, all kinds of stuff.
It's huge. If I want to have fun and change things up I can always go try a different department. David is all about keeping things fun, while also putting in the work. I'm really excited. I also got to stay with 6D Helmets, and Enzo Suspension is with Phoenix for 2022 so I get to stay on Enzo. We have a really good group of guys who I have a really good relationship with.
Were you able to bring your mechanic, Tony Archer, with you?
Unfortunately not. Tony's girl was pregnant, and they were about to deliver within days after Hangtown. Tony really needed a job, and he took a job with Pro Circuit working for Austin Forkner, which is amazing for him. He told me he didn't want to leave, but he kind of had to. He needed a job, and this one has a lot of security—Pro Circuit isn't going anywhere. And who doesn't want to work for Mitch Payton, or a team of that caliber? It's really good for him. We both need to grow and it can't always be together. He's happy for me, he knows the Phoenix deal is really good for me. We're both really happy. I just finalized my new mechanic, too, Dalen Vernazza. We grew up racing 85s all through the amateurs back east. He's like family to me. He's not a Tony Archer, but he's an up-and-comer and I'm excited.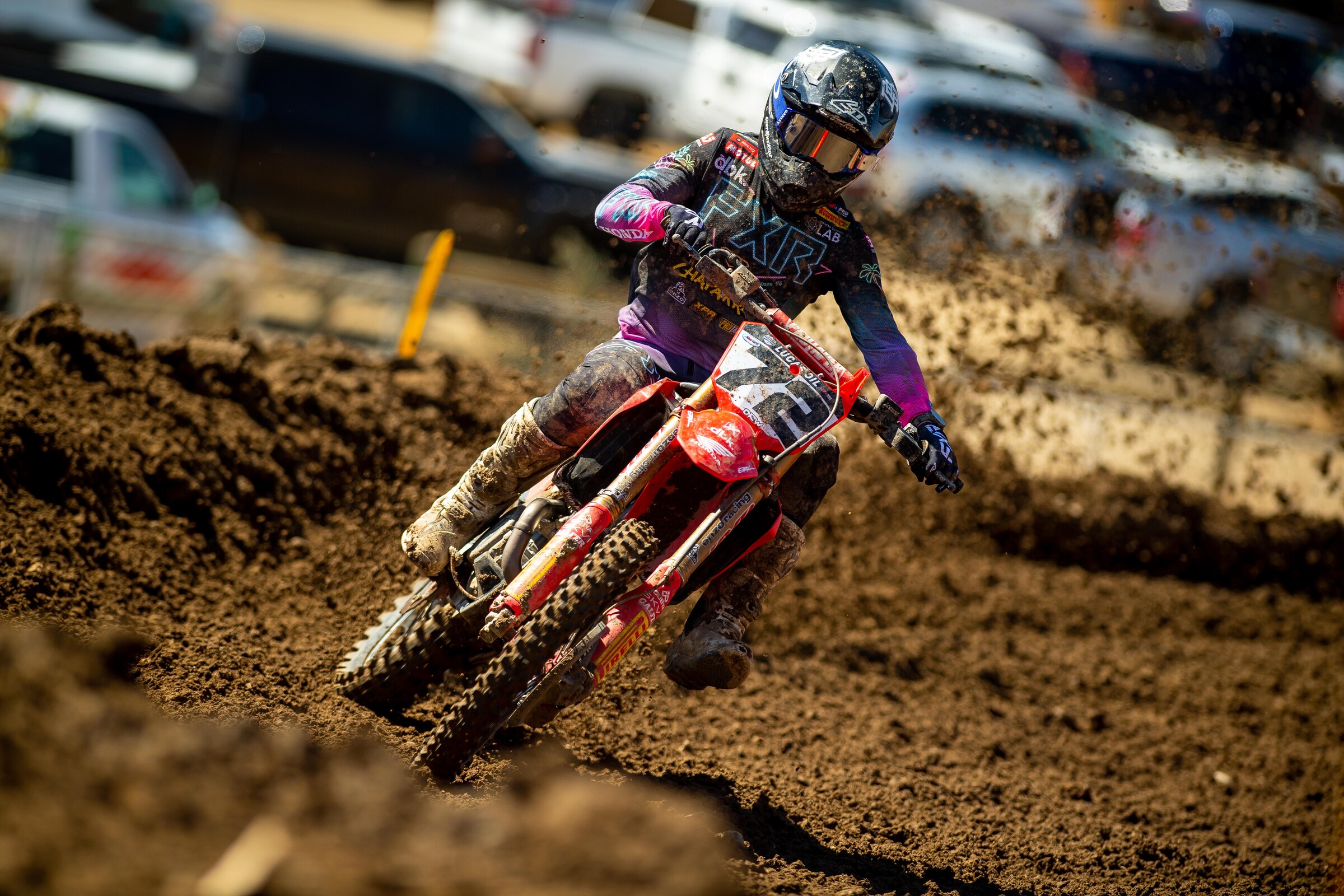 You'll be on a 250 in supercross, right?
Yes, 250SX East.
Back on the 450 for motocross?
I think that's how it's going to go, but I'm not sure. The contract just says outdoors. I told David whatever he wants to put me on, I'm okay with it.
Talk about supercross and what your expectations are. I talked to you a while ago and it seemed like you'd started to click with supercross in 2021.
I definitely want to get closer to the top five. I held podium position at Daytona for practically the whole race, and I had moments where I was up there and something would happen. I know I can be a top-five guy, and even a podium guy, but I need to stay realistic too. I think top five every weekend is doable. Last year my goal was to be top 15 and I was a top ten guy. We'll stay realistic and take it one race at a time.
Random question. Do you ever get tired of the stupid headlines we write using your last name? We call you The Schocker, The Schockwave, or say your results are Schocking, that kind of thing.
No, not at all. I think it's awesome. I've always wanted to do something with my name and for me, it fits perfectly.
What's your favorite one?
I think The Schocker. It's just funny. People can take it so many ways. I love having something that's open for interpretation.