Crawfordsville, IN
Ironman
GNCC Racing
A few weeks ago, I got to announce the television finale for the 2021 Progressive American Flat Track Championship, where Jared Mees and Briar Bauman stood four points apart going into the last race of the season. The difference between first and second at an AFT race is five points, so the four-point lead essentially meant winner takes all. After a rain delay led to a one-day postponement of the race, Mees and Bauman hooked it up. As the race qualifying went on, one rider topping the other in the $5,000 Mission Foods Challenge (a four-lap sprint race for cash) and the other come out on top in the heat race. Both had reason to think the title would be theirs as the revs came up for the main event. It was high drama. Bauman secured the early lead with Mees on his heels. The laps clicked off, the pressure began to rise, and the rain-soaked track got rougher. Bauman hit a rut and went flying, setting off a chain-reaction crash that also collected third-place Sammy Halbert in one of the wildest crashes you will ever see. Mees controlled it from there, taking second place in the race to first-time winner Davis Fisher to secure the title. We didn't get a Mees/Bauman battle to the last lap, but we did see a high-stakes, high pressure duel for most of the event.
It looked like another was coming in the Grand National Cross Country (GNCC) Series, with a year-long Steward Baylor versus Ben Kelley slugfest coming down to the wire. Kelley was four points ahead of Baylor heading to the finale. The difference between first and second in a GNCC? Yup, five points.
Baylor had fought back valiantly after missing the first round of the season with a nasty open wound that doctors warned would get infected if he raced. Then he had clutch problems at round two. He dug out from that massive hole by winning seven of the next nine races. Kelley has been solid the whole time and scored a clutch win at the last race two weeks ago to wrestle that slim points lead back. It was all going to come down to the winner-take-all finale this Sunday at the Yamaha Ironman GNCC in Crawfordsville, Indiana. Since Ironman is also the biggest event of the season in terms of rider entries and spectator count, and it carries a really fun Halloween atmosphere, and a packed weekend with concerts and activities, it was set to be the grandest of grand finales (just like that AFT final round, which ran across the street from NASCAR's Roval race at Charlotte Motor Speedway).
Then penalties were announced last weekend. After the last GNCC, two different race teams approached GNCC officials with cell phone videos of riders cutting the course during the last two laps of the race. GNCC rules specify that the track can roam 25 feet on either side of an arrow, and on the last two laps, riders were shown taking a line 31 feet away from the arrows. Sixteen different riders took that line, and Stewart Baylor was one of them. Kelley was also shown on the videos but he did not take the short line. That's probably because Kelley was hit with a penalty of one-position at least year's GNCC season finale for taking a short cut beyond the 25-foot mark.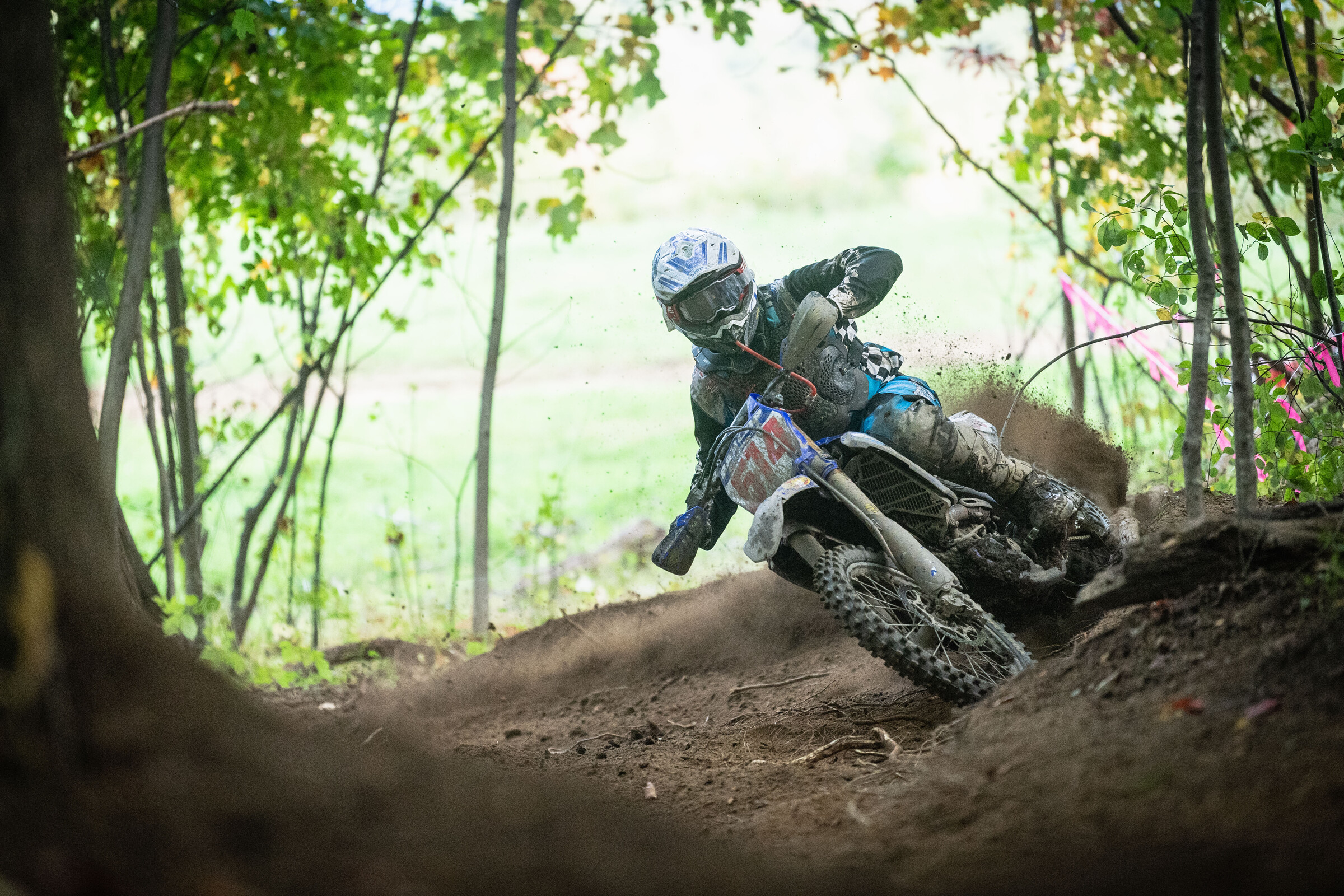 The GNCC Series (which is a sister operation to Racer X) decided to follow that past precedent and give points penalties equivalent to a one-position loss in the results. That hit Baylor hard, because he finished second. A one-position loss in the results would be equivalent to a third-place finish, which pays four fewer points than second. That bumped him from four points down on Kelley to eight.
GNCC
| Position | Rider | Hometown | Points |
| --- | --- | --- | --- |
| 1 | Ben Kelley | Harwinton, CT | 304 |
| 2 | Steward Baylor | Belton, SC | 284 |
| 3 | Jordan Ashburn | Cookeville, TN | 215 |
| 4 | Josh Strang | Inverell | 205 |
| 5 | Josh Toth | Winstead, CT | 164 |
Full Standings
The one-position penalty in points is consistent to Kelley's one-position penalty last year. However, at least year's race the results were changed as well (Kelley was pushed from first place to second place, Baylor got moved from second to first). Why did they not change the results this time? Because a full 16 riders were found to have gone through the shortcut this year. The series feels the results would have been a jumbled mess of penalties if 16 different positions had to be changed.
Now down eight points, Baylor must win the finale and hope Kelley finishes third or worse. Since Baylor is known as one of the most outspoken and unfiltered riders in the sport, most braced for an outspoken and unfiltered response on his social media. Instead, Baylor remained quiet until he felt compelled to defend Kelley, who was getting tons of heat from Baylor fans. He didn't want it to become personal like that.
Then Stu explained his side, which you can read all about in his long Instagram post here.
The summary: Baylor admits he took a line that was more than 25 feet away from the arrows, but in his opinion, there are small incidents and close-course-cuts all over the place at these races, and he cites several examples. That's the nature of racing where the track changes every lap. To back up his claim, I've heard that the area Baylor and 15 others took was completely overgrown when the race began, and then the brush got smashed down during the three-hour race, with several hundred bikes out on the course. New lines open up throughout an off-road race, and sometimes spectators or team people will point those lines out. To know if that line is 24 feet or 25 feet away from an arrow is tough, but it's ultimately on the rider to make the right call.
What Baylor and other riders don't like, though, are teams videoing new lines but not attempting to fix that line, or telling GNCC officials to fix them. This can quickly turn into a game of "gotcha!" and that's not a situation any rider wants. Baylor even suspected a different short cut line had opened up earlier in the race, and he yelled to his team to go check it out. Baylor says his own team even went over to film the line instead of alerting officials to get the line fixed. That's not what he wanted. So this is becoming a bit of a game. Luckily, another team had discovered the line Baylor saw earlier and did actually get it fixed.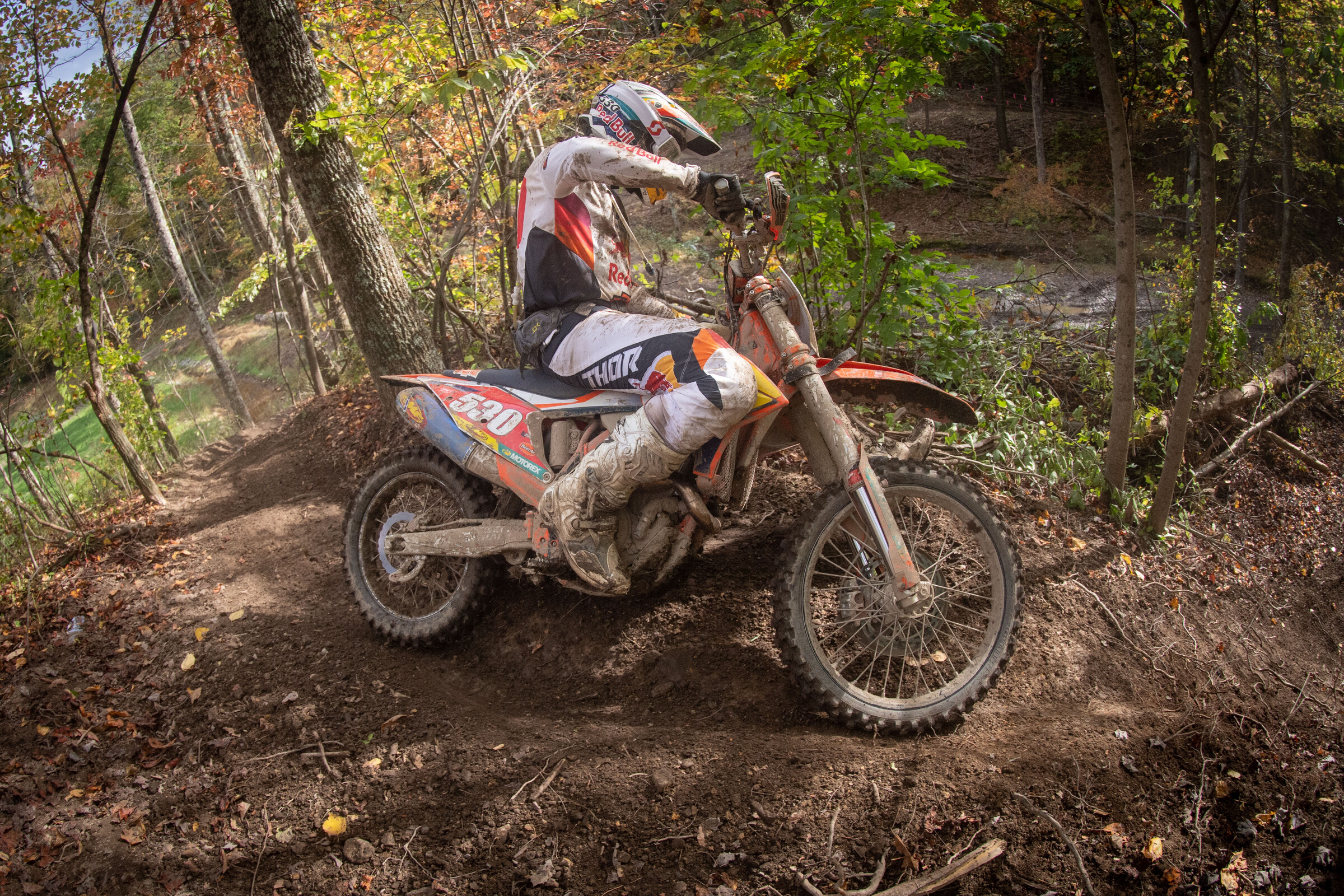 So, Baylor's not denying anything, but he is bummed about the nature this stuff is taking on. Crazy things are going to happen in a gnarly GNCC when riders are making split-second decisions, and athletes rarely like when events turn into games of gotcha, or when it comes down to officials to make calls.
"My points is it happens," wrote Baylor. "And there are witnesses but most are not brought to light because the mechanics and managers are out there to help racers, not entrap them. The GNCC crew will mark these lines off immediately if they are contacted, but evidently at the race the decision [by witnesses] was made to contact a team and set up a camera rather than engage an official to get some ribbon. We (XC1 racers) don't want to cheat, don't try to cheat, and work hard as competitors of this sport at the highest level to avoid being branded as cheaters."
With video evidence of Baylor going 31 feet off the course, and Kelley staying within the boundaries, and prior one-position penalties already set, the GNCC series had to go for consistency and penalize Baylor the equivalent of one position in the points. That does make the finale less dramatic, but the series would rather have consistent penalties than ignore them to keep the points close for the final round.
If you're a Baylor fan, and there are many in the GNCC community, you're bummed. There's still a chance at the title, of course, but now Baylor will have to win and Kelley will have to finish third or worse. Obviously, if Kelley suffers a DNF with a mechanical problem and Baylor finishes the race, the title swings, anyway. Anything can happen in racing, but the racers would much rather keep it as racing, and keep the games away from the track.
---
Main Image by Mack Faint