The goal was always long term. Jason Anderson might portray the loose, free spirit off the track, but behind the scenes he has been fiercely loyal to his team, the only one he ever rode for since turning pro in 2011. It was called Rockstar Energy Suzuki back then, when he was part of a rookie tandem alongside Ian Trettle. In just their third race together, Trettle crashed badly at the Daytona Supercross and suffered a severe head injury that ended his career. The entire team was shaken up, and Anderson struggled so badly as a rookie that the team even benched him for a few rounds of that summer's Lucas Oil AMA Pro Motocross Championship. The next year, his results improved, but he still scored just one podium all year. This was not the expected success after spending years as one of America's top amateur talents. After two rough years, the team could have let him go, just as so many teams do to so many young riders.
They didn't. The old team owner, Bobby Hewitt, was always loyal to his riders, and he, along with team manager Dave Gowland, kept Jason going. He kept improving, and by 2013 he had won his first race for them, at the Salt Lake City Supercross. That Rockstar team had a magical 2013 season all around, even without actual Suzuki support, for this was the year of Davi Millsaps' incredible bid for the 450 Supercross Championship.
Finally, the Rockstar team found a factory partner in KTM for 2014. Anderson being loyal to them and them loyal to Anderson, they switched brands together and Anderson delivered the 2014 250SX West Region Championship. This was a happy partnership.
On it went. The KTM deal became a Husqvarna deal and Anderson became a 450 rider with great success, taking a podium in his Anaheim 1 debut, a race win the next year, and then the vaunted Monster Energy AMA 450 Supercross Championship in 2018. Loyalty was the repeated phrase in interviews with both Anderson and Hewitt. They were in it together, to the end.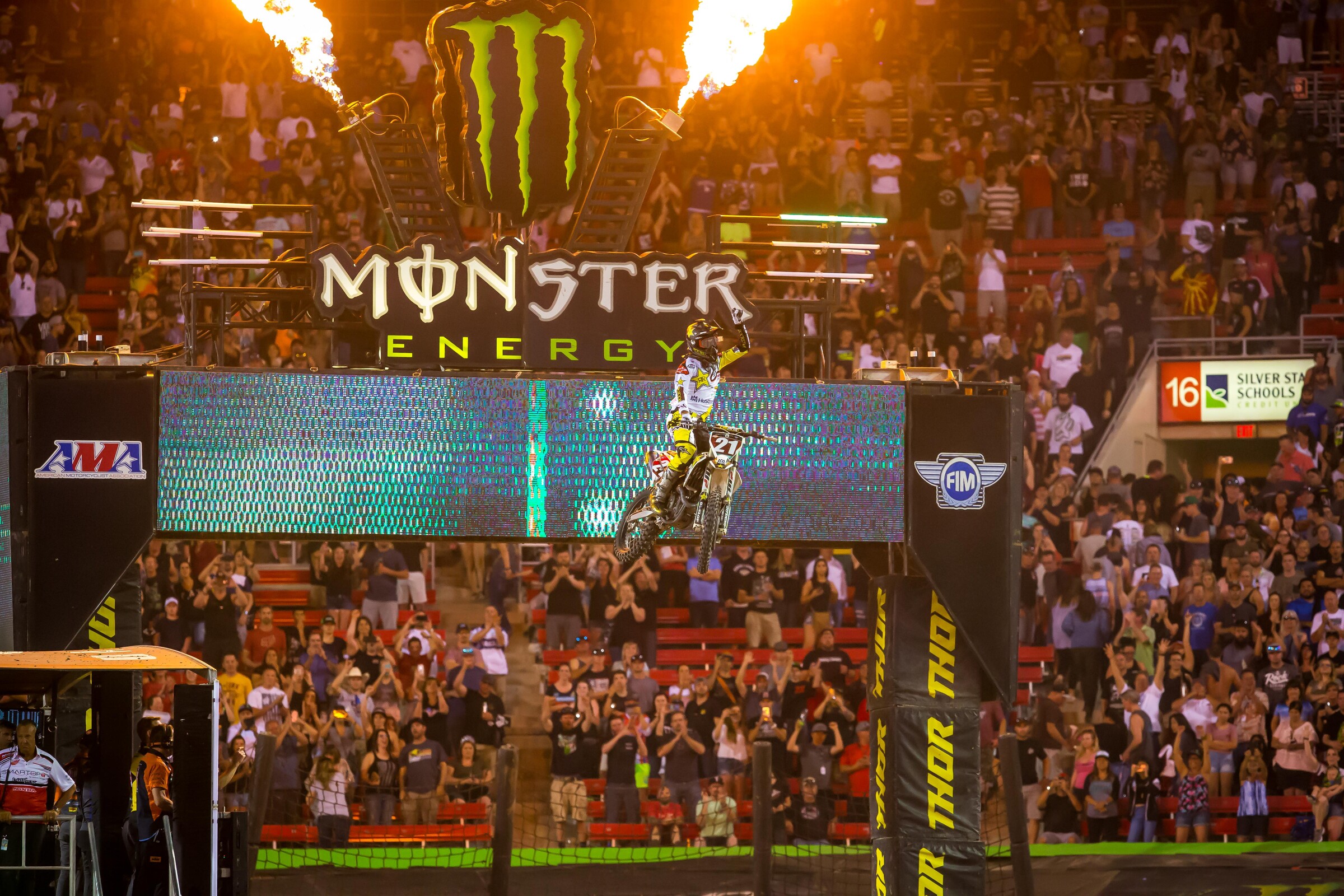 Until it ended. Along the way, the Rockstar Husqvarna team transitioned from a private team owned by Hewitt to a team owned by the factory. Then Hewitt and Husqvarna parted ways in 2020. Also by then, Anderson left Aldon Baker's training program, and there's no doubt higher-ups at the KTM Group believe in riders training with Baker. They have the receipts in terms of titles and race wins—some of which are Anderson's.
Things change. Anderson and Baker are no more. Hewitt and Husqvarna are no more. Now Anderson has left the only team he ever rode for, and will instead race for Monster Energy Kawasaki for 2022.
Check out Anderson's first ride on the Monster Energy Kawasaki KX450:
"I'm not with them anymore," said Anderson in a video titled "Thank You Husqvarna." "That's a company I would have liked to have work with forever. But sometimes, when it comes to racing, and life in general, we weren't always on the same page. At the same time, it's a top-notch program that you can go and win championships on. It's been proven time and time again.
"For me it's going to be crazy, I've been with the same team and same people. Over the years I've been able to have so much damned fun with him. From Bobby Hewitt taking me under his wing, if it wasn't for him, I wouldn't be where I'm at. Dave Gowland [too]. At the beginning it was a rocky road. We made it happen on most of those days. And then Husky came in with Rovert Jonas, [Roger] De Coster, Ian Harrison, they were there and they helped me reach my goal. Roger and all of those guys, and even Aldon. You know, Aldon, if it wasn't for him, I wouldn't have been able to learn the structure and the work ethic. So being able to work with him was amazing."
Class move by Anderson to leave the Husqvarna and Aldon terms on the highest road possible, but he was willing to dig a little deeper. No surprise, one of the toughest parts of the program isn't actually the work, but working alongside other racing rivals in the trenches each day. It's always been the delicate balance of that program, both its blessing and its curse. Getting to elite to battle each other each day raises the level, but it brings side effects, and Anderson saw both sides.
"With what he had going on, he was making his program bigger and bringing in more guys, and it was hard for me to feel vulnerable in an environment with a bunch of people," said Anderson. "I think that's one of the areas where we weren't on the same page. Husky wanted me to work with Aldon and stuff like that, and I understand. They're a business and the business is for me to win races and for them to sell dirt bikes."
Anderson, meanwhile, has not won a race since his 2018 title season.
"Working with Aldon Baker, we're still relatively close," said Anderson. "He even let me ride there a little bit this summer. It's just tough when you get into life. I won my championship, and then you get that feeling, 'What's next?' We were all working toward that one goal, and then I achieved that goal [the 2018 Monster Energy Supercross Championship], and I was like, 'You've got to keep going.' But it's hard, because you don't have that fire. But at the same time, I do love racing. I feel like I'm finally back to that point where I want to end on a banger."
Anderson struggled early in 2020, but he got back to his old level late in the year. He didn't get that win, but he got hot at the right time. Could he have won a race in 2021? Yes. By the Atlanta rounds a victory looked almost inevitable, but it didn't come together. That's okay, because teams are looking for wins or the potential for wins. So while his time with Rockstar Energy Husqvarna was over, finding a new home would not be difficult. He landed with Monster Energy Kawasaki, as capable a unit as any. Now he is in the same spot so many other riders get to when they make a late team switch. Change, simply, is good.
"But at the end of the day, where I'm at now, I want to end my career on a banger," he says, sounding rejuvenated. "And I don't mean end my career, I don't mean this is my last year, I want to race another three to five more years. Because when I quit, I'm not going to know what to do with myself. But yeah, I want to thank Husky for all the years, they've been kick ass, everyone on the team and everything they did for me. We've been a family for 12 years."
Anderson once enjoyed a unique relationship that stretched beyond the usual, we pay you/you win exchange that drives most sports. Can he with his new family? Wins or the potential for wins. That's what matters to most.
---
Main Image: Matt Rice/Team Fried Media Group