New Berlin, NY
Unadilla
AMA Pro Motocross Championship
In 2019, Levi Kitchen scored his first-ever moto win at the Monster Energy AMA Amateur National Motocross Championship at Loretta Lynn's Ranch. His 2-6-1 scores left him third overall in 125 (12-17) B/C, behind Gage Linville and Josh Varize. At that point, he was just getting rolling, riding 125s for two-straight years Loretta's, and collecting a second and a third overall. Then in 2020, he went next level, absolutely dominating his B classes with six moto wins. But Kitchen, however, was already 19 years old, and he won the 250 B Limited and 450 B Limited classes. The fastest riders, usually, race the regular B classes, for modified bikes. Was his strong run at Loretta's really a thing?
It was. Kitchen kept on winning, even through the A classes, and by the time he got to Loretta's this year he was the most hyped amateur in the country. He also had a ride with Monster Energy/Star Yamaha Racing. This year, with the target on his back, he pulled through, outdueling Preston Kilroy and Chance Hymas for the 250 Pro Sport and Open Pro Sport Championships. Now he has this year's AMA Nicky Hayden Amateur Horizon Award. He tried out one Lucas Oil AMA Pro Motocross Championship round at RedBud earlier this year, but he's in for the final five rounds of the season starting this upcoming weekend at Unadilla. Here's what the Washougal, Washington, native had to say after his week of racing at the ranch.
Racer X: First of all, I saw you over there talking to Jeff Emig? You learn something there?
Levi Kitchen: Yeah he had a lot of good things to say. He said first off that I have to work on my starts, because he was one of the best at starts and he wasn't impressed with my starts. But he was impressed with my riding. He thinks my goal should be to top three a moto by the end of summer.
I have to apologize. I said on the podium that you didn't get any good starts, but you were correct, you did have a few good ones, for example you had a moto where you led early but then Hymas got by and you fell. So that made it a come-from-behind moto even though you had a good start. The starts weren't all bad.
No they weren't. Actually, all the 250 Pro Sport Motos were top ten or top five and I holeshot one of them. But the Open Pro Sport motos, those were not good.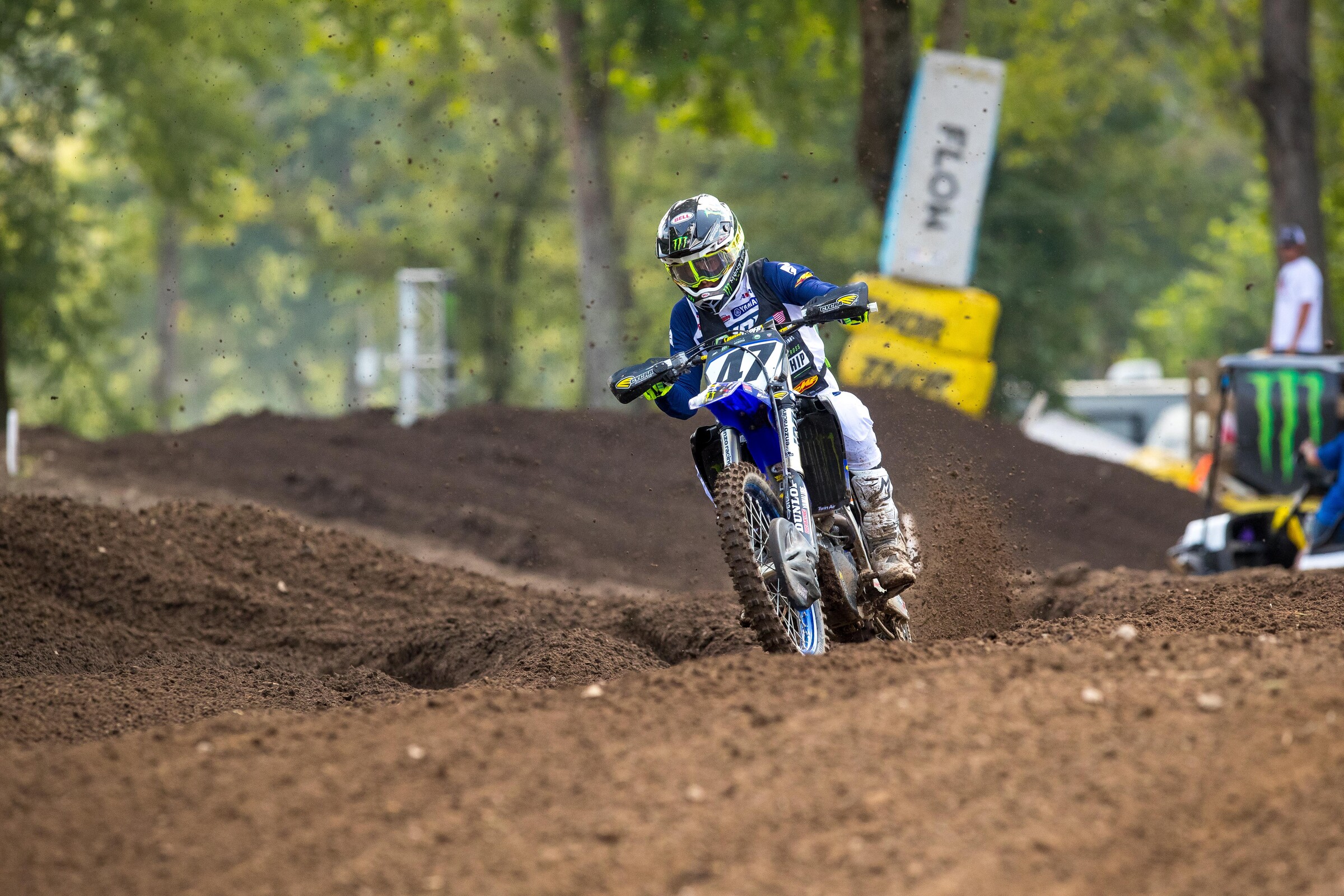 Yes, and you said it wasn't a 250 versus 450s thing there. You should have gotten better starts.
Yeah, not a 250 thing. I just got bad starts, myself.
Okay so Jeff Emig comes up and wants to talk to you. You win the Horizon Award. You're on a factory team heading to the pros. Are you getting used to things like this? Or is it still like "I can't believe this is all happening?"
A little bit of both. It's still a little surreal, talking to those guys, but as far as the results, we work really hard, and we do it to get results like this. I worked really hard last year, and I was able to win those two titles. We all put in a lot of work. This is my last amateur race and I wanted to win here. To come back and win two titles again was the expectation, but was definitely tough.
So last year, the success felt like it came out of nowhere. You've ridden that wave since. What changed? Did you only start riding and training full time last year? What happened?
It changed in the beginning of 2019. That's when I started training, I guess you could say. I used to just pretty much ride, but then I moved to Louisiana and started working with Kevin Windham and the Real Deal [Training Facility] crew. That led to last year when I won. Now I have the Star ride and I work with Swanny [Gareth Swanepoel] and that crew.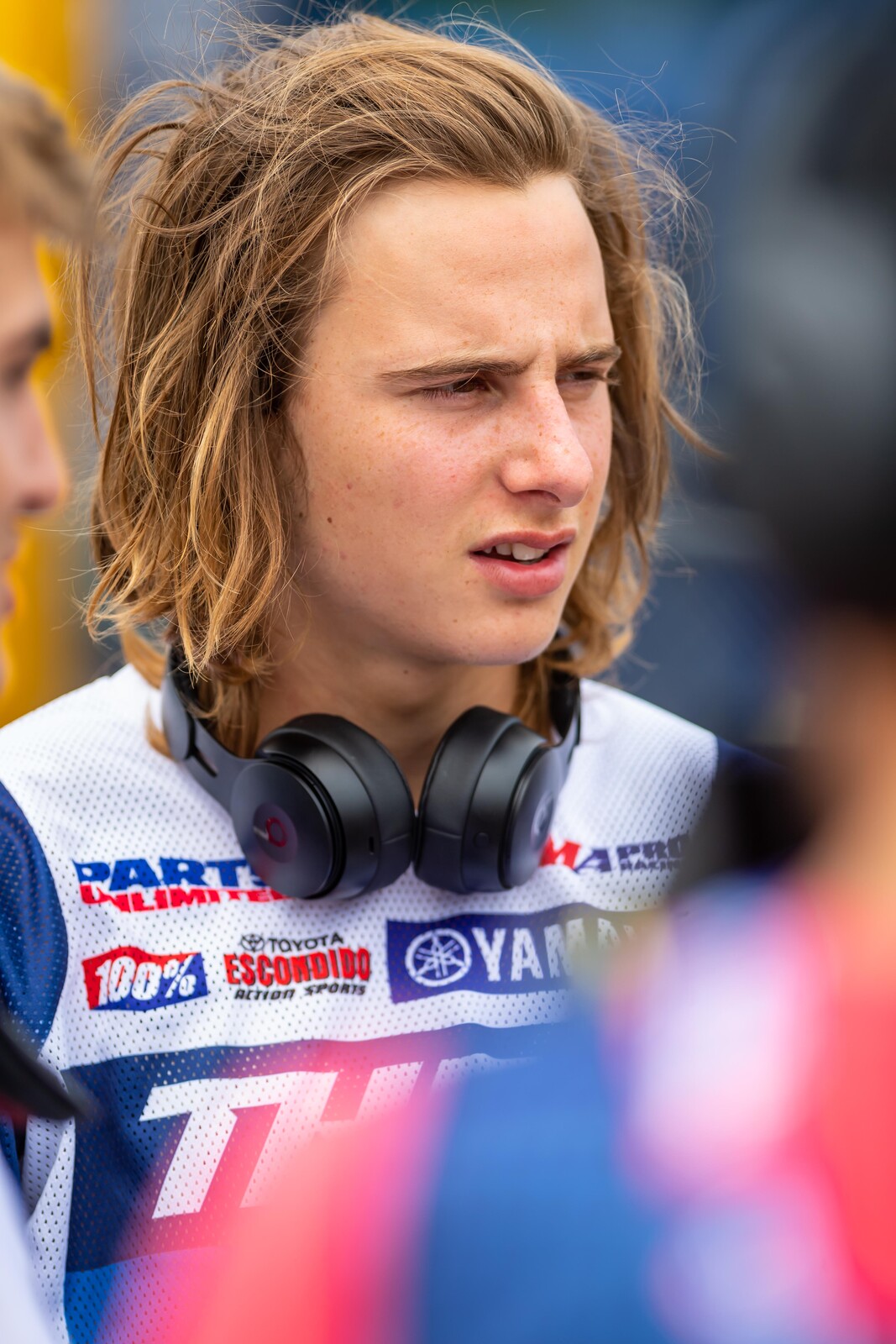 Are you almost glad you did it this way? You've been hard at it for less than three years now. At your age, it could have been eight years, or ten years.
For sure. I definitely got to enjoy everything, I stayed at home and got to do the other hobbies that I like. Definitely not burnt out right now.
Okay so regarding the fun part, is it starting to get way more serious and stressful now?
Um, yeah, it's pretty serious. I get to golf and I still get to fish a little bit, but not as much as I used to. I don't get to go home, but after outdoors I do get to go home for a little bit. Definitely more serious than it used to be.
View the 2021 Loretta Lynn's results
As far as the results, let's say you didn't manage to come back in that last moto and get that second title. That moto became pretty stressful. So in your mind, was it like, "Ah, I'm already a turning pro next week so this is no big deal?" Or did you feel like you had to come out here and win? Was it serious pressure?
Yeah but I try to tune that out. I definitely wanted to win, but I have to have a lot of fun on my bike in order to ride my best. This week was fun. There were a lot of people complaining, "Why is this guy racing Loretta's, he raced RedBud?" I don't know. Guys like [Jo] Shimoda, Jett Lawrence, those guys did the same thing. It's what you do, I guess.
[Note: Shimoda and Lawrence didn't race pro until after Loretta's, but stayed under the points threshold so they could come back and race Loretta's the next year. They ended up turning pro full time and didn't return to the amateurs.]
Well, Star would have had six bikes under the tent for all the nationals.
Yeah if I did all the nationals.
Was that ever the plan? Maybe just skip Loretta's this year and start with Pro Motocross? Or was it always Loretta's one more time?
It was always Loretta's the whole time…well, actually the plan was, I was riding supercross in the off-season, and I thought I was going to race supercross this year!
Really?
Yeah but I ended up breaking my hand. With Bobby [Regan, team owner] you never know what he's going to do. He hears you're going fast at the practice track, you might be racing the next weekend.
What's it like to work with Bobby? He's definitely not the typical team owner in this sport. He will get on his guys to get them fired up. Has he lit into you yet?
Um, a little bit, but it's good. He doesn't beat you down, but he likes getting you pissed off, and he likes to do that to everybody. I like it positive, but at the same time, as long as they know I can do better and they believe in me, yeah, then that's when I do my best.
How are all these moves going? We talked to you a few weeks ago about going from Star's setup in California to Florida.
Yeah at first the move was kind of stressful. I was staying in a hotel deal for the last month. Now I have my motorhome back there so I'm staying in an RV park near Tallahassee. My house will be ready in December.
We actually have five pro races to go here. That's more than usual. There's ten motos to dial something in by the end of the year.
Yeah, I want to set goals every weekend. Obviously, I want to get through healthy and learn as much as I can, but to be honest I really want to use these races to set myself up as one of the guys for next year.
So instead of using next year to learn, do it now.
I want to come out swinging next year.
How did the supercross prep go?
It had its ups and downs. I was doing pretty good, but me being tall, I thought I could get to the last five whoops and I'd just lean back and pin it. That came back and bit me in the ass a few times! I ended up breaking my hand. I was pretty good in the rhythms, though.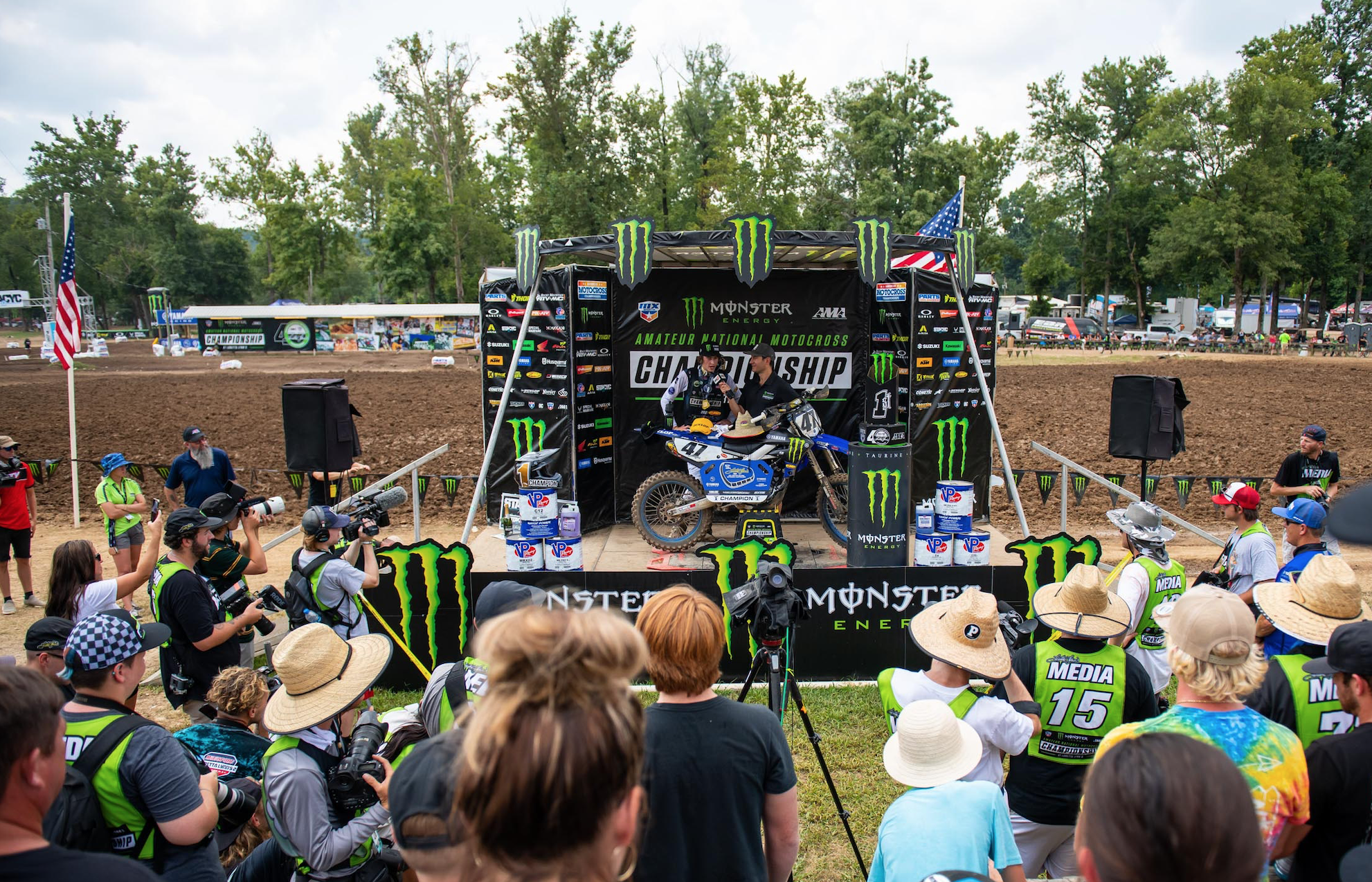 Okay the headphones. I feel like they're part of your look. What music are you listening to to get ready for a moto?
Yeah, I like the headphones, I like being able to block some stuff out. The music depends, honestly. Obviously, I will listen to rap, but that gets old sometimes. I'm from the Pacific Northwest so I like some grunge. Me and Seth [Rarick], the new 250 manager, we like some grunge.
Bro that music is older than you!
Yeah, I know. I'm weird like that. I like it all, I'll throw some Metallica in there.
Last thing, heading to Unadilla, you got these wins here and some experience at RedBud. Does that mean you'll be less nervous this time?
I'm going to hope I'll be less nervous, because I was really nervous at RedBud. I know if I'm not nervous I'll do a lot better than I did there. I got so tight in that second moto at RedBud. I think this weekend will be easier for sure.