Hurricane Mills, TN
AMA Amateur National Motocross Championship (Loretta Lynn's)
Amateur National Motocross Championship
Levi Kitchen made his much-anticipated pro debut at the RedBud National in early July. The Washougal, Washington, native finished 9-19 for 12th overall, then he was back off to Florida, where he continued his training for the upcoming 40th annual Monster Energy AMA Amateur National Motocross Championship at Loretta Lynn's Ranch. We called him up to get his take on the RedBud MX track, the pace of a pro race compared to an amateur event, his prep for Loretta's, and more.
Racer X: How did your weekend at RedBud go?
Levi Kitchen: Weekend went pretty well. Coming into it, I was pretty nervous. I didn't sleep too much the night before and I had a hard time eating the morning of. [Laughs] It was good. After the first qualifying, I started to feel better as the day went on. The first qualifier was terrible. I tightened up super bad. In the second one I was P10, I think. So I got a pretty decent gate pick. First moto I came out of the gate, I was probably about eighth on the start and the first two laps I just wasn't used to that pace that early and kind of got swallowed up. Went back to around 15th and then kind of just tried to settle into a good pace that I knew I could hold, and I did. It was actually good enough to get up to the top ten. I had some good battles with [Max] Vohland, [Austin] Forkner and [Dilan] Schwartz. Me and him went back and forth a couple times. I reeled in Jalek [Swoll] and Pierce [Brown] for a little bit there, but the last three laps I fell off a little bit. Got kind of tired. I rode it home for ninth. Then the second moto, I had a terrible start. Was probably mid-20s, maybe even 30th off the start. The first two laps it was actually the complete opposite. The first one I was ripping. Made some good passes. Got up into 12th, I think. Then I ended up crashing. Dropped back to probably 20-something and then started charging again and fell again. I ended up falling three times that moto, but I still ended up 19th somehow and got 12th overall. I was pretty happy with that result, to be honest. My goal was the top ten, but I feel like I probably would have been able to get a top ten overall if I didn't fall so much the second moto. All in all, it was fun. Definitely a lot gnarlier than anything I've ever done. It's nothing like an amateur race.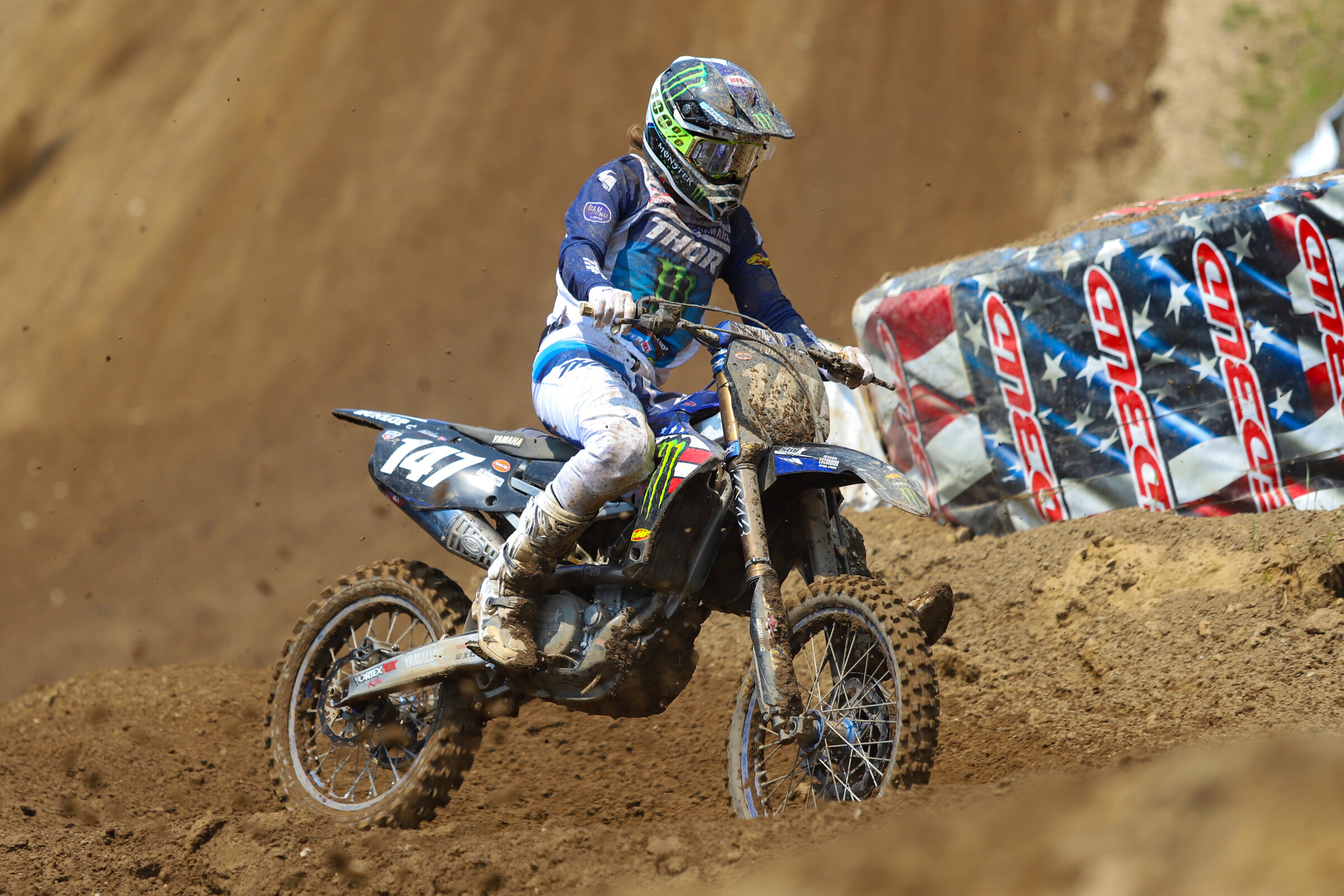 You said you were nervous coming in. Were people hyping you up a little bit or you just really didn't know what to expect and just general nerves? Did that hype get to you a little bit?
Yeah, that for sure got to me. Personally, I hated how much hype there was around it. I always had people ask me, "What's your goal?" I tried staying off my phone and stuff like that, but my phone was just blowing up. You read the comments, stuff like that. I'd say it got to me. Now it will never be the same from now on, because you can only have one debut. [Laughs] It was nice to get it out of the way but looking back now I kind of wish I would have honestly just not even had a phone for about a week. [Laughs] I would say it was mainly just all the hype and stuff that made me so nervous.
The biggest thing is we all put in so much work that if it didn't go—I mean, I wouldn't say my weekend went great, it could have gone better, but it also could have gone a hell of a lot worse. So, all the work you put in, you're just sitting on the line. All the sacrifices your parents have made and stuff like that, you obviously want to do good for them and your team. Even though the team, there was not really any pressure going in because I was only doing that one and I'm a rookie, but you still feel pressure and stuff and you know what they expect.
Like you said, you had those crashes in the second moto. Was that just kind of pushing the tempo and trying to push yourself and it just kind of led to mistakes?
I guess everything is avoidable but the first one, actually the lap before, Jalek Swoll crashed in the same spot. I had been taking this line, and it was on the side of this roller. I was just using it to kind of try to carry speed over the roller and he crashed the lap before and blew it out. Then I tried to go up the side of it and washed my front end. Took forever to get my bike going. The bike is pretty tough to start in gear. The first one, I would say it wasn't really my fault. The second one I was pretty tired by that point. It was just a dumb mistake, I don't even know. Then the third one, I just lost the front end coming into a turn. I would say a lot of them were caused by being pretty fatigued. [Laughs] Thirty-five minutes at that pace is pretty gnarly.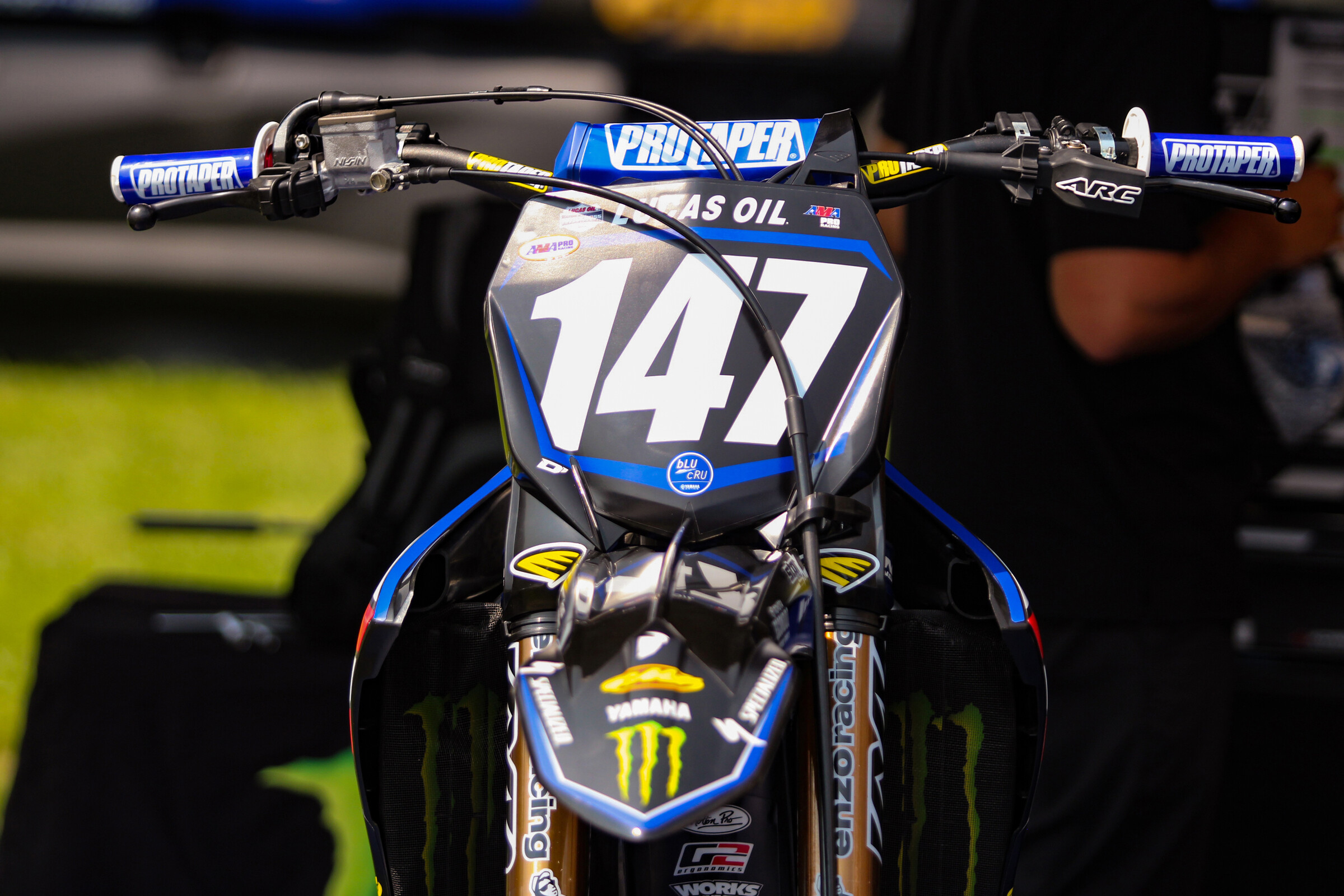 You mentioned about how gnarly it was. How different was it compared to the amateur races in terms of how the track formed up and the intensity, the longer time?
The track was super gnarly, I thought. It was just my first national. But I even talked to some of my teammates and stuff and they were like, "Yeah, that was definitely the roughest one so far." But the lines formed pretty cool. Everybody is fast. You have a few lines that are all hooked out and stuff, like the ruts, but for the most part they're all pretty good. But as far as the intensity and stuff like that goes, every time I would make a pass as an amateur, I got to the point where once you make the pass stick I knew chances were I wasn't going to get passed back by that guy. In the pro ranks, I don't know how many times I passed Schwartz and he passed me back, or Vohland. Everybody is so good the whole time, you take one wrong line, and you go outside then they're right back by you. So, that part is pretty crazy. You work so hard to get up in your position then you lose some, and then you try to work back by and then you fall again… It's draining for sure. But by the end of the second one I was mentally done, to be honest.
Initially when you came across the checkered flag after the first moto, what was going through your head? Is there a sigh of relief where you're like, okay, I got that first moto under my belt?
The first one, I honestly didn't know what to expect. I knew I got a pretty good start, but I knew that people would pass me right off the bat. I didn't even know that I was anywhere near the top ten, to be honest, until I think it was three laps to go. My mechanic wrote on the pit board P9 or P10. So, I would say three laps to go, once I got the pit board, then I was like, This is sick. Then I knew once I crossed the finish line that I held that position. So, I was pretty stoked. I was definitely relieved. At the same time, I was a little bummed because [Peirce] Brown and Jalek Swoll were super close to me at the end. So, I knew that I could do better than that. That was kind of the mentality I had going into the second one. Obviously, it didn't work out that way. Then the turnaround time between motos is nothing like I've ever done before. I got undressed and tried to cool down. It seemed like literally four minutes later, Seth [Rarick] and my trainer, Swanny [Gareth Swanepoel], and those guys were saying gear up again, get ready. It was brutal. I was cramping up and stuff.
This point two or three years ago you really didn't know what your future was. You were kind of working and would just get up and ride the races on the weekend and stuff. Did anything hit you like, wow, I'm on a factory bike, this is a pro race?
To be honest, I got that feeling when I got off the plane and I got back to my hotel. I was staying at a hotel by myself. My parents had their own hotel [room]. It definitely hit me. I was like, "Damn, this is what I dreamed of doing." To be out there was definitely a blessing. Then when I got on the bike too, obviously I was pretty nervous, but it was definitely a pretty surreal feeling sitting on that line. Before the first one, I was on the line with my mechanic, Konner [Croushorn]. I was like, "Hey, Konner, I need you to hold my bike." [Laughs] I went to the port-a-potty, and I thought I was going to puke, but I couldn't puke. I was pretty nervous. [Laughs] ...It's definitely a different ball game.
I know you train with these guys and ride with these guys throughout the week, but what was it like being around the team and everybody on a pro race weekend when it's crunch time?
To be honest, on race day everybody kind of keeps to themselves. I talked to my trainer a little bit, but as far as my teammates go, I didn't talk to them too much. Everybody was pretty focused on trying to get a good result and stuff. I talked to Justin [Cooper] a little bit and talked to Colt [Nichols] a little bit. We talked about lines here and there, but once it came to race time there wasn't much said. Everybody is there to obviously beat each other, even though we're on the same team. There were six bikes underneath the tent. [Laughs] We all definitely want to beat each other and try to get the best results, so we really don't care what they're doing.
What kind of feedback did you get from the team? I'm sure the team had to be pumped.
Yeah. It was pretty cool, actually. Before the moto, Bobby [Regan, team owner] called me over and was like, "Hey, what's your goal this weekend?" I was like, "To be honest, I don't really have a goal. I just want to learn as much as I can." He's like, "We've got to make a goal. I won't tell anybody your goal, but we've got to make a goal." I'm like, "I think it would be great to top ten." So, for me to go out that first moto and get ninth, when I came back, he gave me a big old hug. So that was pretty cool. He was pretty pumped. Even at the end of the day, I was a little scared to go talk to him after that second one, but he was actually pretty happy with how everything went.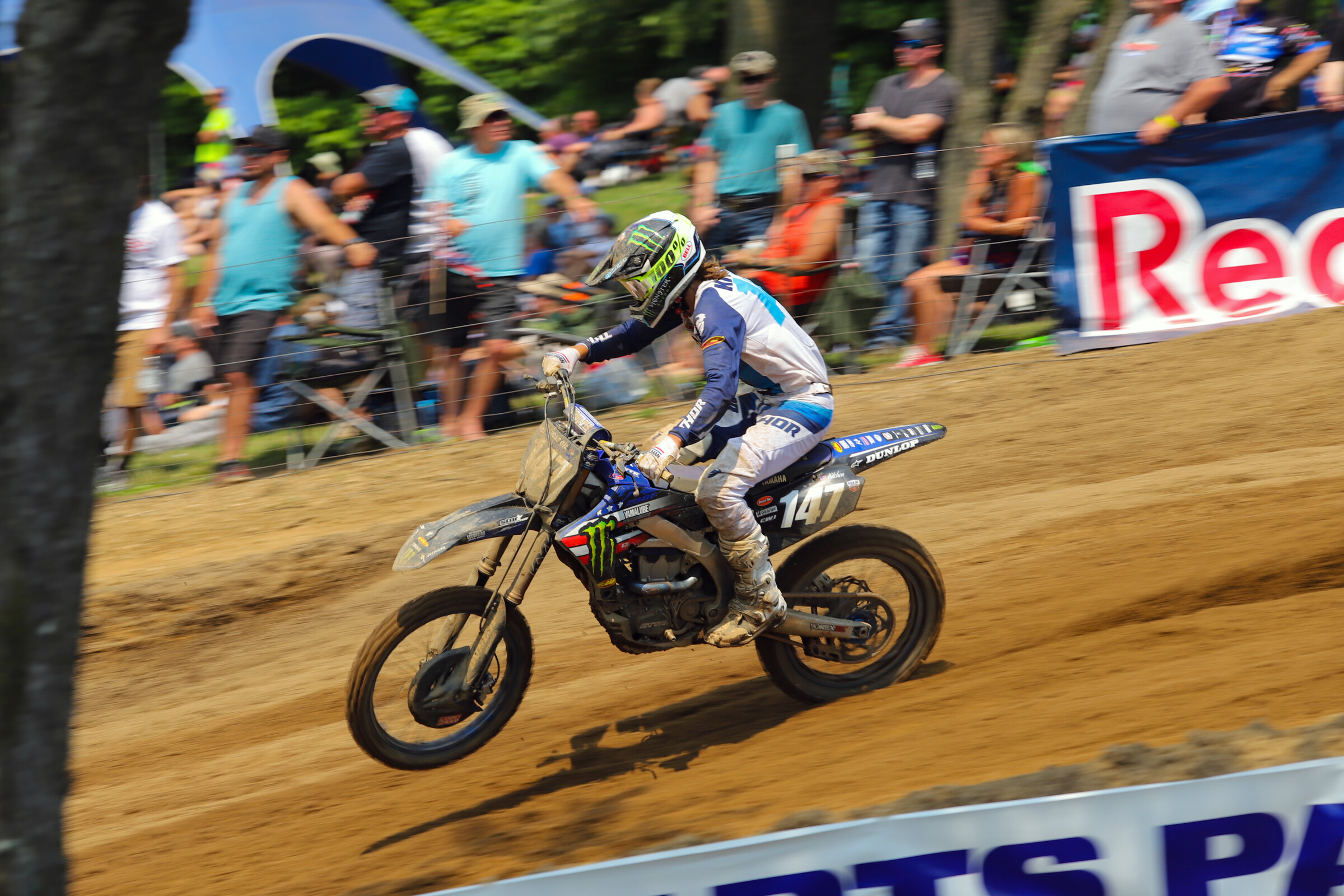 That's got to be intimidating a little bit.
Yeah, he signs these guys and he wants you to win. I didn't know what to expect. I think I did better than they expected, to be honest.
Can you talk about how racing RedBud is going to help you physically and mentally for Loretta's?
I think RedBud definitely will help me a lot for Loretta's. I know I'll line up pretty confident knowing that I did pretty decent at RedBud. Also, as far as fitness goes, the first moto I did about 30 minutes perfect honestly. So 20 minutes is going to feel pretty short. I think it will definitely help. From now until then I just want to work on my starts. My eighth-place start at RedBud potentially is like a holeshot at Loretta's. Not talking down anybody I'll be racing at Loretta's, but there were 20 of us on a factory bike. I know that there's not more than ten at Loretta's on a factory bike.
You said you're in Florida now. Are you at the GOAT Farm?
Before RedBud, I was in California the whole time riding Pala and Elsinore and Glen Helen. After RedBud, I flew back to Windham's where I used to train at Real Deal [Training Facility]. Then I grabbed my truck and drove here to Tallahassee [GOAT Farm] Monday after that and rode a little sand pit. The boys were getting ready for Southwick, so me and Nick [Romano] right now, I guess I'm technically an amateur again, we went out and rode a ton in the sand. I just got settled in, but I'm out here until Loretta's just getting ready.
You said you stopped by the Real Deal for a little bit. They've kind of seen you grow and progress both as an individual and making your name as a rider. What was their reaction like?
It was cool. I saw all the kids I used to ride with and stuff and they were happy to see me. I was happy to see them. I didn't really see my trainer, Rob [Burkhart]. Kevin [Windham] was actually out of town with his son for baseball. I saw my old gym trainer, Sherry [Burkhart], and all of them. They were definitely super proud of me. I still keep in touch with all those people as much as I can. I would love to go out there and ride. It's not really up to me anymore. Hopefully one of these days I'll get to go out there and ride. They were definitely all excited. It was cool.
You're supposed to do the last few Pro Motocross races after Loretta's, right?
Yeah. I'll do five of them.
I know you have Loretta's before that, but is there anything you can look ahead and anticipate how that's going to go?
That was kind of the nice part about doing RedBud is now that I kind of know going into these last five. The goal obviously is to conquer top ten overall, but to be honest, I think by then I can be capable of doing even better than that. My biggest goal, to be honest, is to get a holeshot and lead for a little bit. That would be pretty cool.
That's going to get you some experience for sure!
Yeah, but I have to run like hell to get a holeshot. [Laughs]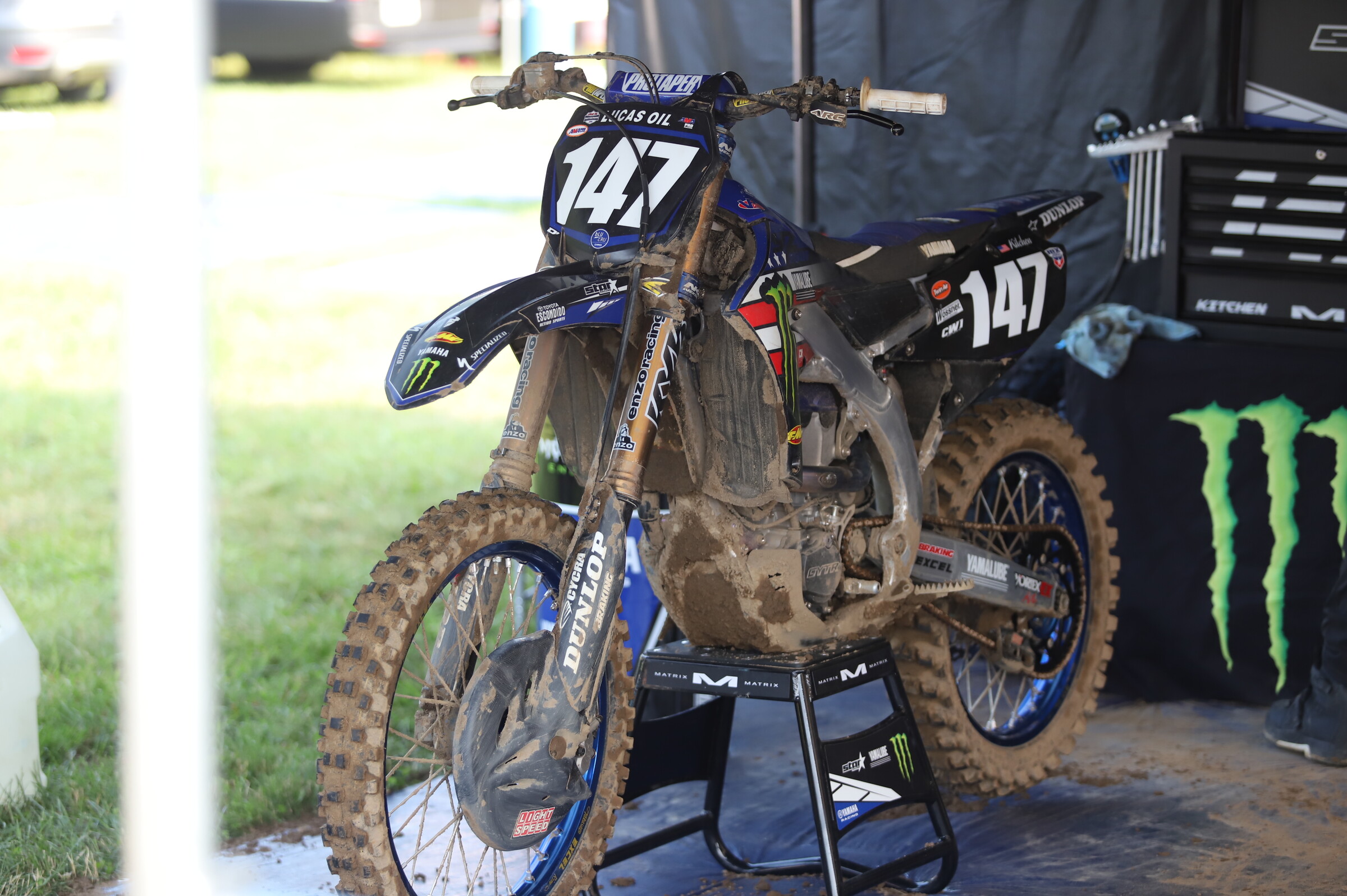 Has your amateur number been #147 for a couple years now?
Yeah, since 2013.
How did that number come about? Is there any meaning to it?
I used to be #47 and the meaning to that was my favorite riders were Carmichael and Stewart. Pretty basic favorites. They're gnarly. [Laughs] Then actually [Jo] Shimoda came from Japan and I raced him as an amateur, and it was pissing me off because every time I would go to an amateur race I would always have to slash my number, so I was tired of it. So I just said, 'Screw it, I'll throw a one in front of it.' [Laughs] That's literally the exact reason, because of him.
Do you ever give him crap for that nowadays?
No. I haven't really brought it up to him. I'm definitely bummed. Eventually I want to get 47 as my national number, so seeing Jalek Swoll [as #47] kind of makes me mad.
Anybody you'd like to thank?
Obviously thank the whole team, my parents. Shout out to my niece, Rylee. My sister had a little girl but she needs her first shout out. She can't even read yet she's only six months old. [Laughs]
---
Main Image by Mitch Kendra