Mt. Morris, PA
High Point
Lucas Oil AMA Pro Motocross Championship
Sore subject, but I'm going to start a Ken Roczen and Adam Cianciarulo story by referencing Aldon Baker. Yeah, they haven't worked with Baker in years. This isn't about that. The point is that Baker has been asked a million times how one maintains racing rivals as training partners. Aldon's answer is actually quite simple: How often, really, do any two riders really start 1-2 and battle for a race win? It's far less common than you would think. Heck, even when Aldon has four riders on the gate in a single race, they often don't find each other in that race, and they never finish 1-4. One guy gets a good start, and one gets a bad start. One has a good day, and one has a bad day. Throughout an entire season, there might only be 2-3 races where it really comes down to those two riders battling for the win. Or less.
Okay, now back to Cianciarulo and Roczen. They've been besties for a long time. They were also, at some point, destined to be racing rivals, as it seemed assured Roczen was going to take control of the top slot in the sport (or at least form a 1A/1B rivalry with Eli Tomac). Logic dictated that Cianciarulo might someday become the young 450 kid looking to knock Kenny off. For a brief spell in 2014, for example, Roczen was a 450 rookie knocking on Ryan Villopoto's door, and Cianciarulo was leading 250SX East Region points in his rookie season. Give it a few years, and they would collide in a similar duel.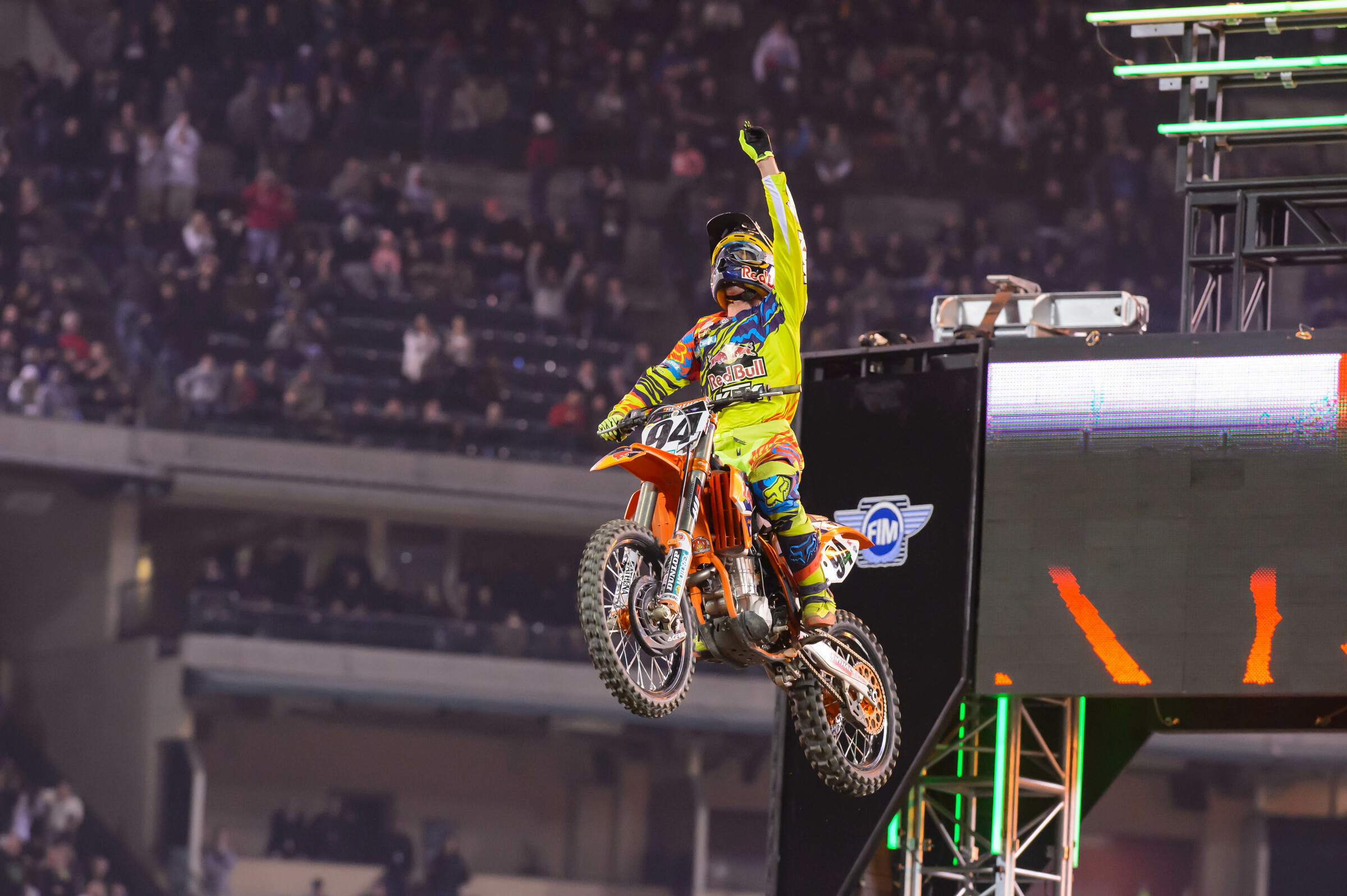 There was some serious wonder how they could maintain that relationship. Turned out not to be a problem, for three basic reasons. First, neither one became the unbeatable force that the 2014 season indicated. They're good, but it's not like we're in an only-two-riders-can-win-races-and-it's-just-these-two scenario right now. This ain't Reed/Stew. Second, and related, riders don't find each other on the track as often as it seems (as mentioned above). This is Adam's second 450 season, he missed about half of supercross both years, and Kenny didn't race outdoors last year. So they're not elbow to elbow often, anyway.
Finally, and this is the biggest point: it's possible for riders to battle on the track and still be friends once the race is over. Just depends on their personality.
Way back, Kenny and Adam rode and trained together at Villopoto's place, with Baker. They split with Aldon, but still rode together at Villopoto's old place, now called Moto Sandbox, during the week. That's what they did during Florida time, although both would go through larger chunks of riding in California, too. Last year, Cianciarulo moved his Florida base from the Moto Sandbox to the Stewart Compound, so the two friends no longer ride together as much. How's the friendship? Still pretty good, actually. Turns out that the friendship goes much deeper than just logging motos together on a Tuesday.
"When he's in California and I'm in California, if we're riding outdoors, we'll hang out, wake up and ride," said Cianciarulo last week after the Thunder Valley National. "I'm at [James] Stewart's and he's at Sandbox in Florida right now, so we don't get to ride together too much. Kenny has been one of my best friends since I just turned pro, like 16, as soon as he came over and we were all training together and stuff. So, I talk to him all the time. Mostly not about dirt bike stuff. It's funny. We're pretty transparent with each other and what we're thinking about, what's going on in our lives, in the sport and all that stuff."
No doubt since that 2014 time, they've both been through the wars, with injuries and disappointments. There are few people who can understand what Ken Roczen has been through the way Adam Cianciarulo can, and vice-versa.
Thunder Valley represented a high-water mark, with both riders back on the track together and healthy. Their familiar skills showed early, too. Roczen and Cianciarulo might lead the 450 class in first lap speed, so it finally led to a connection at front in the first 450 moto. Cianciarulo led quickly, Roczen got him, Cianciarulo got him back, and they battled hard. Almost too hard, at one point, when Cianciarulo got into the side of Roczen and made contact while making a pass.
No hard feelings.
"I heard somewhere that somebody said, 'This is for sure going to affect their relationship,'" said Roczen. "Before moto two I came up to him and I'm like, 'Hey, I think that's what they said,' but not one bit did it faze me at all. It just doesn't. I honestly want Adam to do good. He's been through some injuries as well. We race each other hard on the track and it was fine. I had zero problems with it."
Roczen also pointed out that the left hander was a blind corner, and he didn't even realize Cianciarulo was there until it was too late. Cianciarulo, meanwhile, only cared about getting into the lead, regardless of who he had to pass.
"Not in the heat of the moment like that. I'm not reading jersey numbers out there," Cianciarulo said. "I'm just trying to get to the front and do my job. I was hoping when I showed a wheel on the inside that he was just going to brake, but he kind of took it all the way to the end of the corner. Obviously, it was an aggressive move, but he got me back a couple of laps later so it's all good."
Indeed, Roczen would later get the edge, passing Cianciarulo back in a nasty, rutted corner and pulling away. He'd get the moto win after a duel with Dylan Ferrandis, with Cianciarulo third.
Roczen keeps getting asked about his preseason form. He told the world that his expectations were not high to start the season. He's won three of the first four motos. Was he playing mind games? Cianciarulo, as expert witness, says no.
"He was definitely not kidding when he said that he was coming in and wasn't sure where he was at," said Cianciarulo. "He'll tell you. We did a moto together in Elsinore a couple weeks ago and I put some time on the man. Then he beat me by 36 seconds the second moto [today]. I'm like, come on, man!"
"It's all true!" added Roczen. "What else can I say?"
The two friends probably wish they had a mountain of motos where they battled for the win. Perhaps more are coming. Either way, what they've learned about each other—and what we have learned about them—is that this friendship stretches much deeper than merely racing dirt bikes. Which means the stuff than happens when they're on them really doesn't have an impact on what happens when they're not.