Pala, CA
Fox Raceway 1
Lucas Oil AMA Pro Motocross Championship
We caught up with Zach Osborne last week as he worked through his prep for a return to racing in the Lucas Oil AMA Pro Motocross Championship. The defending 450 National Motocross Champion saw his 2021 Monster Energy AMA Supercross campaign cut short due to a back injury, but it wasn't from lack of trying. Zach had speed this year indoors and did everything he could to get back into the stadiums and race again, but it wasn't happening. So he has now switched to outdoor mode. We saw Zach last week at ClubMX in South Carolina, this week he's back in Florida continuing to work.
Here's what Zach had to say on a variety of topics last week.
Racer X: So how's the comeback going, Zacho?
Zach Osborne: It's going good. this is, I think, my fifth day riding, and it's starting to get to where I'm comfortable riding all day, and in a better position. A few weeks ago I was getting concerned, but now I'm making progress day in and day out. There's hope in sight.
You didn't expect it to be this bad, did you? You even raced once after the injury.
Yeah, I raced Orlando 2 with it the way it was, but it was really bad. By the time I got home that night I was done, I was down. I knew it would take some time, but I had every intention of racing Daytona. I took a week off the bike and I thought I could maybe try to ride. I wasn't even close. That was the Monday before Daytona. I wasn't even in the ballpark. Then again I was still like, Take some time, get as much therapy as I can and I'll be ready for Dallas. Then Dallas came and went and I wasn't even close to that. I started riding before Atlanta 1, so that's 10 days or so now, and I've been able to do five days since then. I'm in a position where I'm pretty comfortable moving forward and I think I'll be in a good place when the racing starts.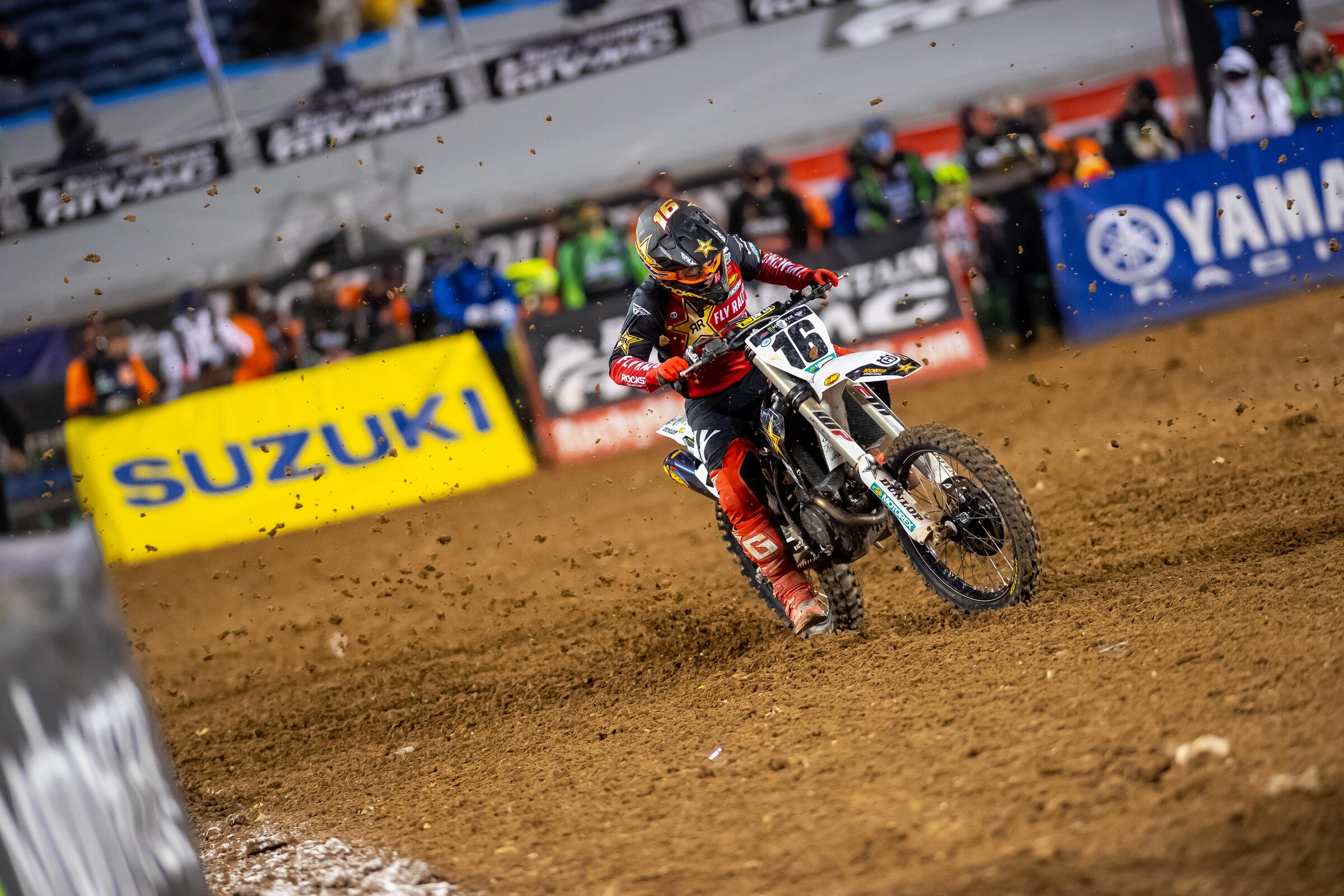 You didn't want to let supercross go. That had to be a big bummer.
Yeah, I mean I tried three times to not let it escape me. I didn't want to let it get to the point where it was just toast. I was riding really, really good at the start of the season. The results just weren't happening. Just starts or whatever it was. I got one podium which was good, but for as good as I was riding, one podium was terrible. I didn't want to let it die that easy.
You probably felt that if you could have just gotten back out there, the results were going to come. You had just gotten that podium.
Yeah, I had just gotten that podium the week before, things were going good, I had found my starts again and things were headed in the right direction. Then boom, done.
You maybe had some momentum from last season. You were going fast, but the results just didn't happen. So, are there things you learned to make sure this doesn't happen next year, or was this just random racing luck and there's not much you can do.
Well it was frustrating. I've never had the kind of speed to qualify first in the 450 class. In the Lites class yes, but in the 450 class I had never been even close to the pole. Then in Houston, to be right there, top three, pole in some sessions, that was big for me. It was one of those things where I kept asking, "Why am I so fast with no results." My motto had always been, "Who cares if you're fast in practice." This was the opposite. I was usually able to pull it together in the race. This really just boiled down to my starts. We've seen all year, even if the good guys start in the back, it's not easy to come through. My best night was at Indy where I got stuck in the gate and come back for fifth. That was a huge statement for me. I got lucky with a few guys going down, but it was still good. Even better than my Houston 2 ride. It's just racing at the end of the day, but there's always something you can find or focus on to try to make things better.
So for next year do you already have an eye on what you can make better?
Yeah. It all boils down to my starts. I have to put myself in better positions.
The Atlanta races, what did you think of those tracks?
Watching from my couch, I think they looked like they suited my style a little bit. A little sketchy, and little wide open. It bummed me out a bit to not get to race it. It's just one of those things. Luckily I had already laid the supercross thing to rest this year before I saw those tracks, or otherwise I would have been freaking out. It was tough to watch. As a kid I raced the KJSC [KTM Junior Supercross Challenge] at Charlotte. I wasn't in Atlanta, but from what I could see it was the same vibe.
Let's talk about this year's racing. You see Cooper Webb quite a bit. I don't know how he does it. Every time you think he's down he figures out a way. I don't have words for it. What do you think when you see a guy on struggle street and then he wins.
Yeah, that's just who he is. I would call him a mental giant in sports. Even sometimes in the heat race, I'm just like, "What are you doing?"
What about practice during the week?
He's sold during the week but it's not always like that last-five-minutes-when-someone-is-in-front-of-him Cooper Webb. You know what I mean? When the gate falls and the money is on the line, you cannot count him out. Like I said, he's a mental giant. He doesn't care, he's going to put it on the line. It's pretty cool to see. I respect it and I know how hard it is to turn it around, and he does it with ease.
You've ridden with other guys. Heck, you rode at Eli Tomac's house back in the day. I'm sure you've seen some amazing talent.
Yeah. It's not like he lacks ability. I mean, we're all super talented at this level. It's just, to flip that switch like he did in Atlanta 3, to make up those last five seconds at the end….what people don't understand is, we're so on the edge as it is. To find that much more? People will tell you "Oh, I'll make you 10 percent better." No, you can't, because that would be three seconds a lap faster than anyone on the track. There's no way. We're searching for three tenths of a second during the entire off-season. For him to just come up with two seconds in one lap ,that he hasn't had the whole main event, on a track like that, it's just unbelievably impressive.
I knew you could articulate that well. Another one for you. Okay I know those whoops in Atlanta were gnarly. I heard Chase Sexton say he hit them on the parade lap and he struggled, and he knew it would be bad. So that means you guys, when it's the first lap, and you're in the pack, you're just crossing your fingers that whatever line and technique you go with works. You're in the pack, you can't just go slow! What is that feeling like?
It's not fun! It had one of those feelings at Orlando 1 on the parade lap. Those whoops were gnarly, too. They were short but gnarly. I was like "I can jump triple-quad here, and I know I can do that." I went to the gate and pulled the holeshot, so then I tried to skim and almost killed myself!
Right because you're in the lead! You have to go for it!
Right. If you're in the lead, you're not going to go triple-quad jumping whoops! It turned out to be my strongest point at the end, but you skim whoops so much, so much, so much. To come around leading a 450 supercross main on the first lap and commit to a jump line…that's tough. So yeah, I know what it's like right there.
That Orlando race, you kind of did what Webb does. The first few laps were good, but then you made a mistake in the whoops, started going backwards, but then you pulled it back together!
Yeah, that's kind of one of my strengths, too. I can kind of gather it back up. Even outdoors, there were plenty of times where I was three seconds behind the guy on pole, which was typically AC [Adam Cianciarulo] who I was battling in the championship, and then we'd go out there and battle in the races. It's just that ability to know that when the gate falls you're going to be at the front and there's no other way about it. You have to have that mindset.
Listen to the full interview in the latest Racer X Exhaust Podcast below: