Salt Lake City, UT
Salt Lake City 1 (East)
Monster Energy AMA Supercross Championship
Everything you would have expected to happen at this round of Monster Energy Supercross didn't happen, which is what makes things that much more interesting with one round two go. Teammates re going to battle for titles? Nope. Teammates that aren't in title contention will help teammates that are in title contention? Nope. Jo Shimoda has a shot at a supercross title? Yup.
The series is back at Salt Lake City for the first of two races at Rice-Eccles Stadium. Ken Roczen was once again in a must-win situation against Cooper Webb with a need to make up points, and the Honda HRC man jetted off to an early lead like he did last weekend in Atlanta. Like Atlanta, he then crashed while leading, and this time he lost the lead before he got up, partially because Marvin Musquin was keeping him honest. Marvin Musquin? Yes. Remember him? The man who was plenty fast in 2017, 2018 and 2019 but then missed all of supercross in 2020 has had a tough season in '21, but he was on it on this night. Still, like last weekend's Atlanta race, Webb was ready to step up once he saw Roczen down. He shed off a battle with Malcolm Stewart and Jason Anderson to get to second, and then he hunted down Marvin. Knowing how this season has gone for these two—Marv without a win and Webb with several via huge late-race charges—this outcome seemed inevitable. Plus, maybe Marvin would move over to help his teammate potentially clinch the title?
No! Just as soon as Webb caught him Musquin responded, adjusting his line in the whops and holding to steady outsidelines, just fast enough to where Cooper couldn't get him. That was that. Musquin became one of the few to withstand a late-race attack from Webb, and he had his first supercross win in since late in the 201 season, when he won in Seattle (but was docked points for jumping through a red cross flag).
"Salt Lake is good to me," said Musquin. "Back in 2018 I won the heat and won the main, it was a great race and I was fighting for the championship. This year was a different story, I had a big injury and missed all of last year. My goal was to come back. I had some good races but I've been obviously struggling and the result hasn't been great. I can't believe it right now, I'm standing on the top of the podium. My goal was to get better and better. There's so many good riders, ou could see it in practice, we're so tight. Kenny was out front and he was not really going away and behind me was close. I was trying to be consistent. Those whoops were really tough. Then I saw Coop coming and I was like, "Yeah, let's give it my best!" I'm happy I gave it my all tonight."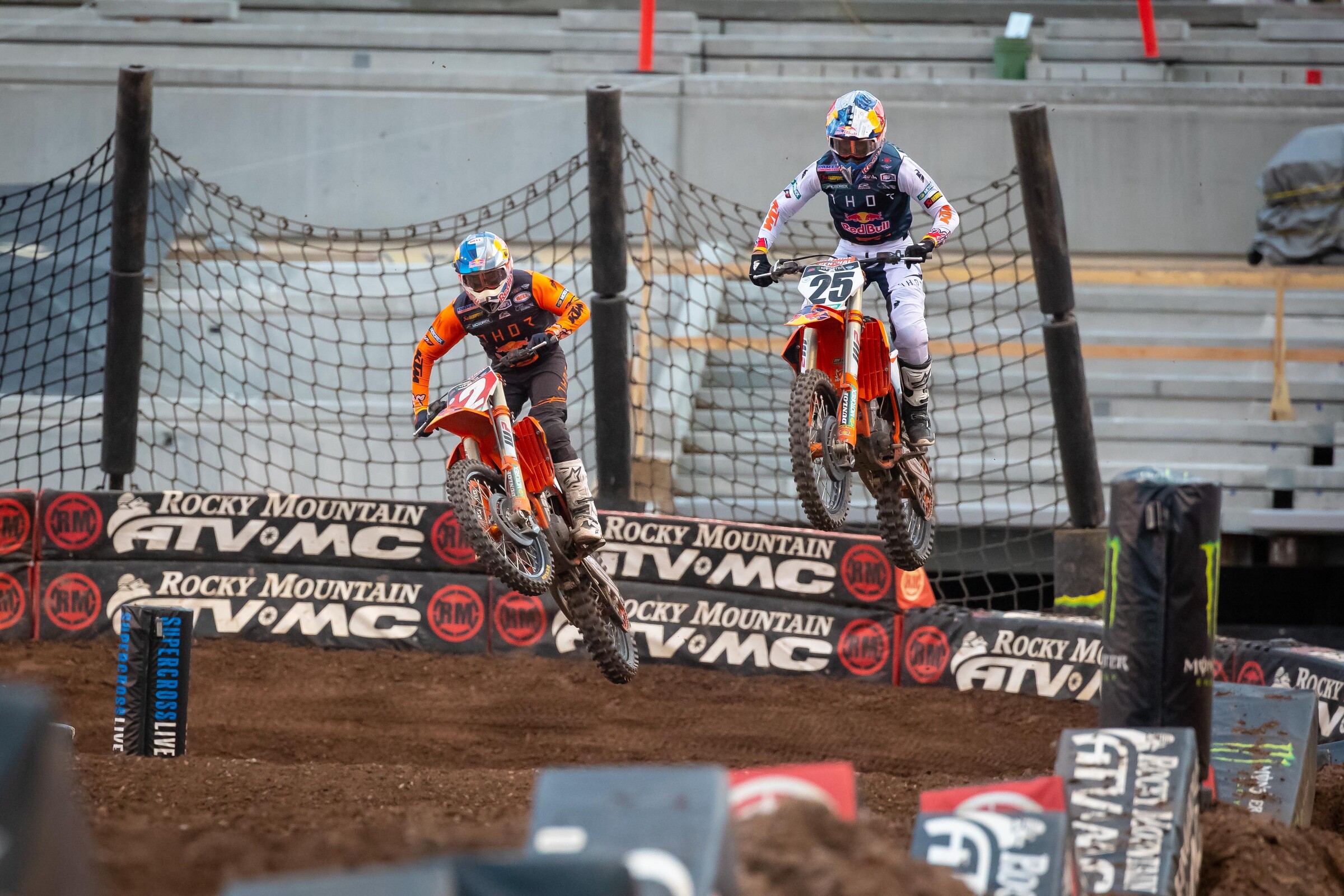 Webb was bummed to finish second, because he's been saying that he's racing for wins and not points.
"Second place is never fun, but congrats to Marv, it's been a long road back for him," said Webb. "Pumped for him and the team to go 1-2. I didn't get a good start tonight and that hindered me. I made some moves good moves but I was struggling a little bit early. Found my way up to Jason, I but Malcolm was really good in those whoops and they were super tricky. Finally got a good line and felt pretty good, made a charge there at the end. I thought I was in a great position but Marv really stepped it up at the end. Points is key, but you really want to win when you get that close."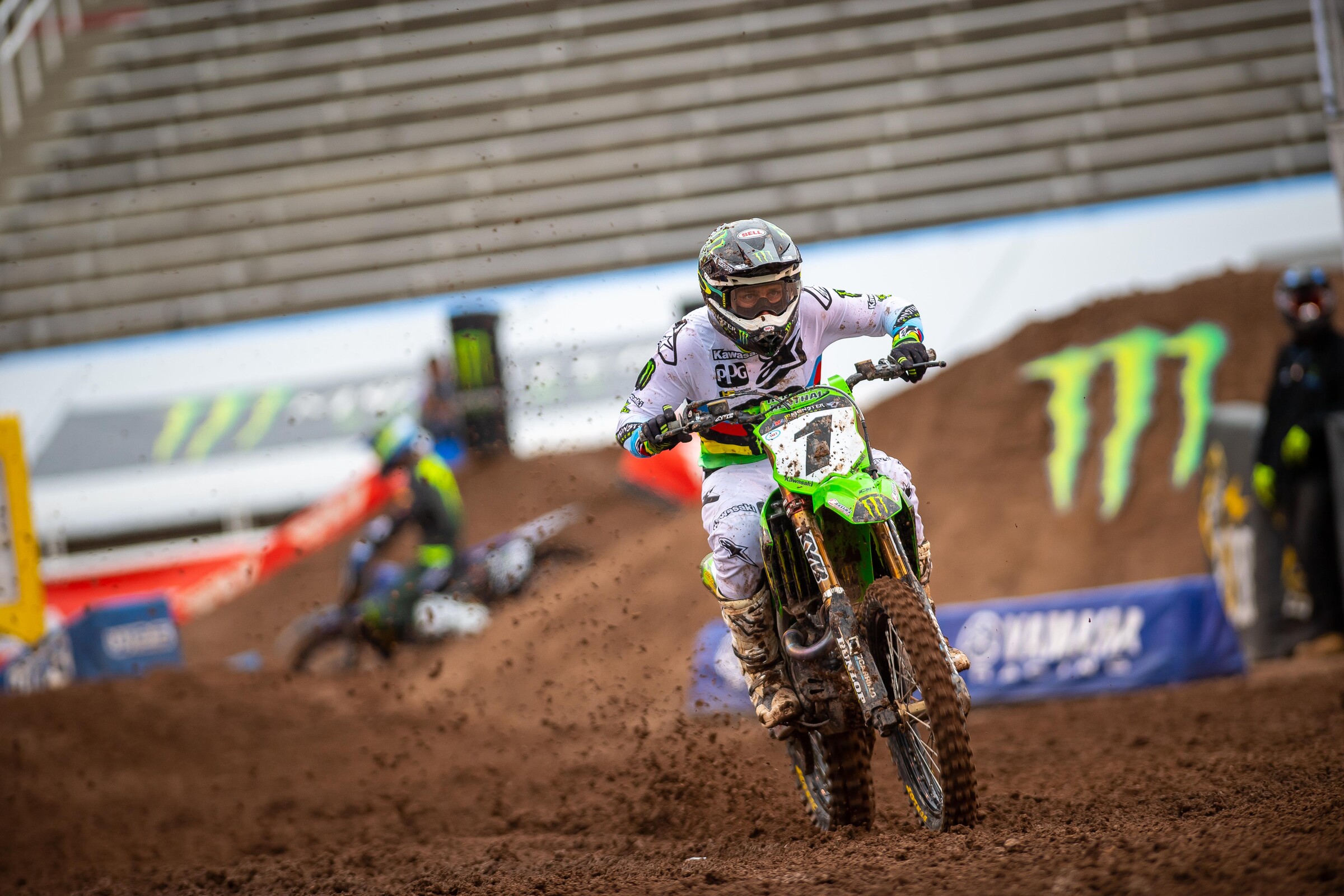 "It was kind of a sigh of relief when Ken went down," said Webb. "I felt like me Malcolm and Jason were riding a good pace but we didn't get the better starts.We had a gap to make up. When Kenny went down it was like a sense of urgency for me to kinda get going. I kinda knew this was my shot to get going. I saw Marvin making those mistakes in the whoops and I kinda knew that would be my spot, but then he found that line I was comfortable with."
Stewart took third, a very popular first-ever podium.
"For some reason I like Utah," said Stewart. "I've always rode good here, the track was tough, I would say it was easy but what made it tough was everyone was doing the same thing and you could make a mistake. It was nice to be in that battle and be in the mix because half the time I've been in the back or riding by myself. I tried to go for a pass on Coop and he just turned it up on me! The ship sailed from there! I did all I could to hang onto that number 2. First podium for me. You do all you can to make that happen and then to succeed, it's like all the weight comes off your shoulders."
Supercross
Rider
Hometown
Bike
1
Marvin Musquin
La Reole

France

KTM 450 SX-F
2
Cooper Webb
Newport, NC

United States

KTM 450 SX-F
3
Malcolm Stewart
Haines City, FL

United States

Yamaha YZ450F
4
Dylan Ferrandis
Avignon

France

Yamaha YZ450F
5
Chase Sexton
La Moille, IL

United States

Honda CRF450R
Full Results
Supercross
| Position | Rider | Hometown | Points |
| --- | --- | --- | --- |
| 1 | Cooper Webb | Newport, NC | 388 |
| 2 | Ken Roczen | Mattstedt | 353 |
| 3 | Eli Tomac | Cortez, CO | 326 |
| 4 | Justin Barcia | Monroe, NY | 289 |
| 5 | Aaron Plessinger | Hamilton, OH | 264 |
Full Standings
Roczen got up and battled with his Honda HRC teammate Chase Sexton, and Sexton, like Musquin, didn't make it easy on his teammate. Sexton held Roczen off, a nice bounce back after a huge practice crash. Just ahead of them was Dylan Ferrandis, who logged another great ride that won't show in the results, passing both Honda riders to get fourth.
"Everything was going to our plan, we executed on the start, we made the right decision to go inside," said Roczen. "I was feeling pretty good but we got into some lappers as well, I made a mistake and I had to double through that entire rhythm lane and that cost me some time. Like everyone said the whoops are really tricky. I think I needed a little more safety, if I could have gotten my bike to settle a little better it would have been better flow around the track. I just didn't have it there, I changed up my line over there and it was a little bit better, but I came out of that turn and I don't know, it happened so quick, I just lost the front over a couple of bumps. What do you want me to do? I gave it my best out there. I gave it my best but it didn't go as planned in the end."
Jason Anderson was said to have suffered from altitude sickness, which has been a problem before. He dropped to seventh.
Roczen falling and Musquin holding off Webb was nothing compared to the unexpected in the 250s. Christian Craig was flexing in practice with fast lap times and everything looked great. He blasted past his teammate and title rival Colt Nichols in the whoops in the final session of the day. Then he clipped a jump in a rhythm and bailed off his bike He landed the jump on the downside, without his bike, and injured his lower leg. The official word from Craig is a broken fibula and a sprained ankle. He tried to line up for his heat race but he couldn't jump any jumps, and it was over.
So, with that the title was Nichols', right? Nope. Jo Shimoda, who many probably hadn't considered in points, did what he had to do to keep Nichols from clinching. Normally not a good starter, Shimoda jetted out to the early lead to withstand heady pressure from Michael Mosiman, who did everything he could to get around him. Well, almost everything. Mosiman was too patient and too nice while pushing the issue and eventually, instead of passing Shimoda and taking off with the win, they were both caught by Jett Lawrence. Lawrence battled past Mosiman—and then flipped him off in mid-air because he believes Mosiman was about to t-bone him—and caught Shimoda. Again Shimoda didn't put a wheel wrong and out lasted his buddy Lawrence to net the win.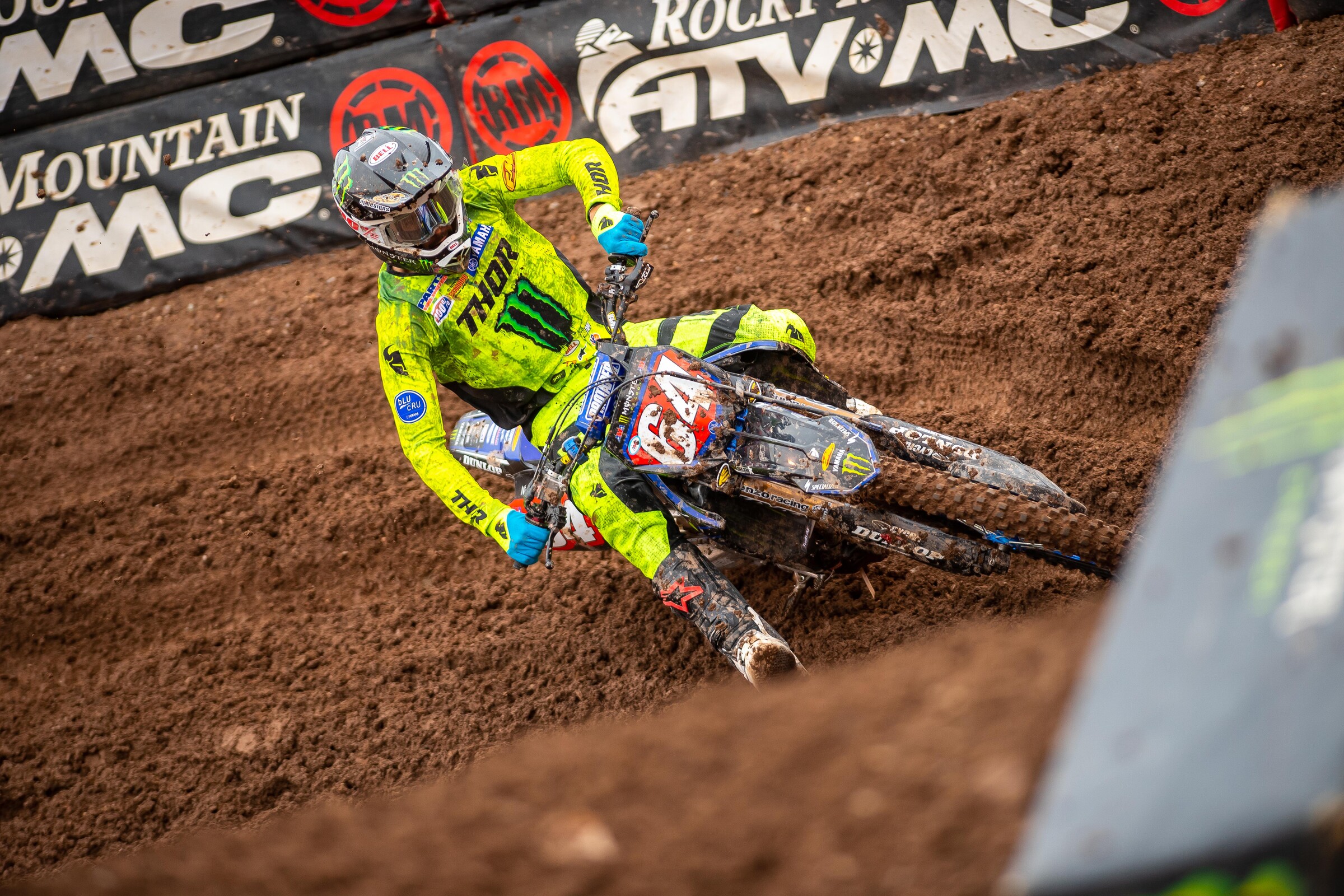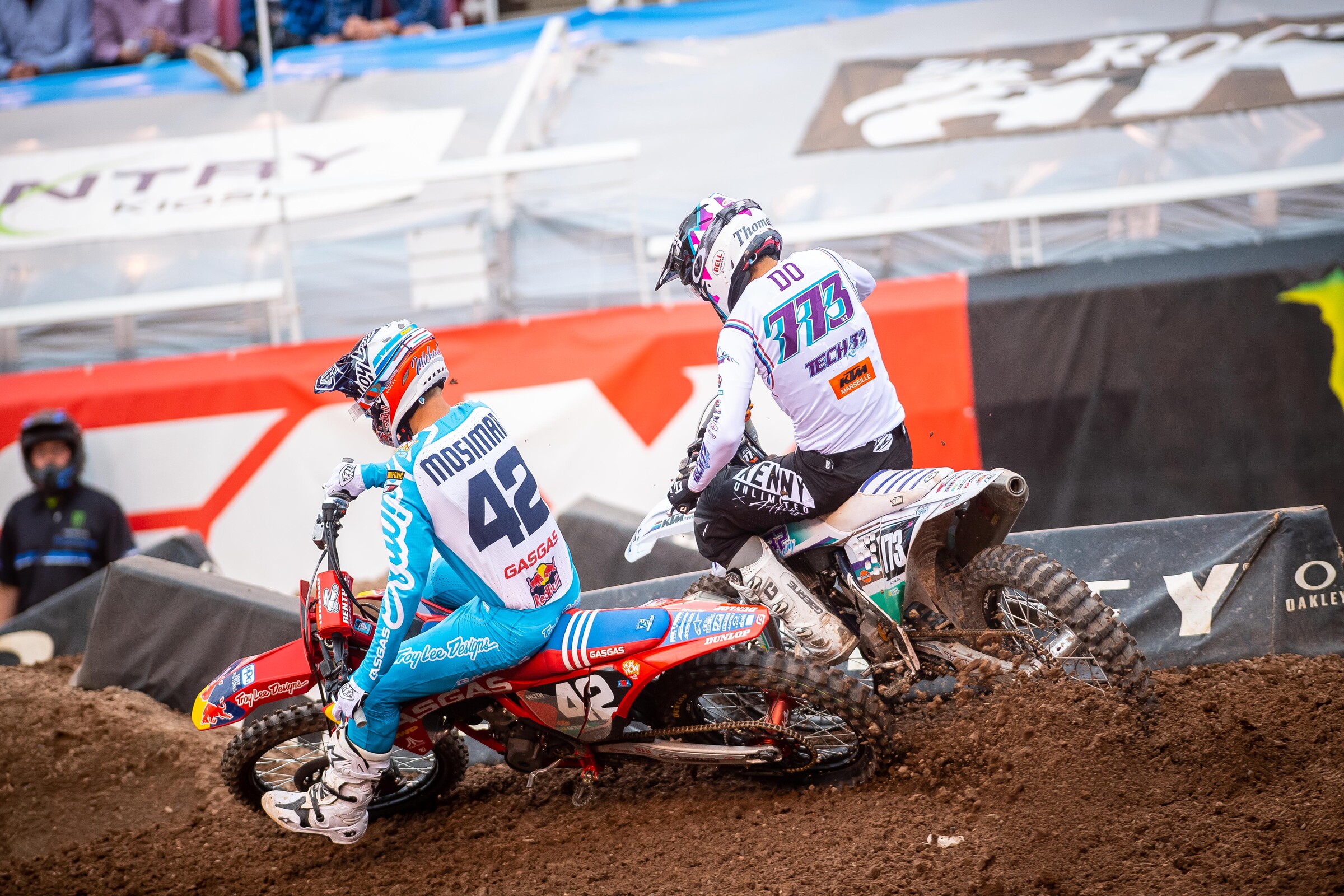 Then came Nichols, who admitted he was emotionally out of sorts after seeing Craig, who he had focused on to win the title, go down with injury. That led to a bad start and struggle laps early in the main. Nichols pulled it together late to net third, but this leaves Shimoda with a slim shot at the title next weekend. Mosiman nearly crashed trying to hold third on Nichols and went down, and Thomas Do was fifth.
Supercross
| | Rider | Time | Interval | Best Lap | Hometown | Bike |
| --- | --- | --- | --- | --- | --- | --- |
| 1 | Jo Shimoda | | 19 Laps | 0:49.331 | Suzuka | Kawasaki KX250 |
| 2 | Jett Lawrence | | +01.150 | 0:49.190 | Landsborough | Honda CRF250R |
| 3 | Colt Nichols | | +03.050 | 0:49.284 | Muskogee, OK | Yamaha YZ250F |
| 4 | Michael Mosiman | | +21.717 | 0:48.978 | Sebastopol, CA | GasGas MC 250F |
| 5 | Thomas Do | | +52.011 | 0:49.773 | | KTM 250 SX-F |
Full Results
"First I want to say thank you so much to my family and my team, and my family is here from Japan right now, so it's really nice to do it in front of them," said Shimoda. "Just imagine coming over from Japan with only part of your family, and then you get to race supercross, and then winning? That's an incredible thing to me. I rode my best all day and this is where we ended up, so thank you."
"I'm super pumped for Jo, he's good buddy of mine, so congrats to him but also damn you Jo, I needed those points!" laughed Lawrence after taking second. "No, I made a few silly mistakes I shouldn't have made, I'm bummed about that. Track's gnarly. You have to hit your marks because it looks tacky but it has a slippery base. Good to be back on the podium, I missed this."
"I'm a little frustrated with how it went, the one guy I didn't need to have win won, but hats off to Jo, he rode great, same to Jett," said Nichols. "Sad to see what happened to Christian, you never like to see that happen to someone, [I know because] I've had my fair share of injuries. There's a lot on the line here, and I just push, pushed pushed, but I ran out of time. Jo did what he had to do and I straight-up didn't."
"It's been a long time off the bike and a long time off racing but it felt great to get back into it today!," said Mosiman in a team statement. "I felt like I was the fastest guy out there today, I just crumbled on the race craft, trying to make passes in spots that weren't ideal and it cost me the win. I believe I was the guy that should have been winning and it's disappointing but I'm trying to learn from it. I will be better going forward."