Orlando, FL
Orlando 2 (West)
Monster Energy AMA Supercross Championship
Just like that, Cooper Webb has reversed the momentum in Monster Energy AMA Supercross. Ken Roczen took three-straight wins in Indianapolis, but Webb has now answered with a two-race sweep of the Orlando rounds, and now sits just six-points back in the points standings.
The Red Bull KTM rider spoke to the media in a virtual press conference on Saturday night.
Racer X: Cooper, you win both Orlando races. We're near the halfway point in this supercross season. Are we going to see a roll? Have you gone over that little hill on the backside of this supercross season so far?
Cooper Webb: Orlando has treated me awesome. Tonight was a great race, all in all. Like you said, we're at the halfway point. I think we're in a really good spot with the bike. After you get a few races under your belt, you know how it kind of works and who's going to be who and where, and stuff like that. We're always fine tuning and trying to get better. I think we're in a really good spot, though.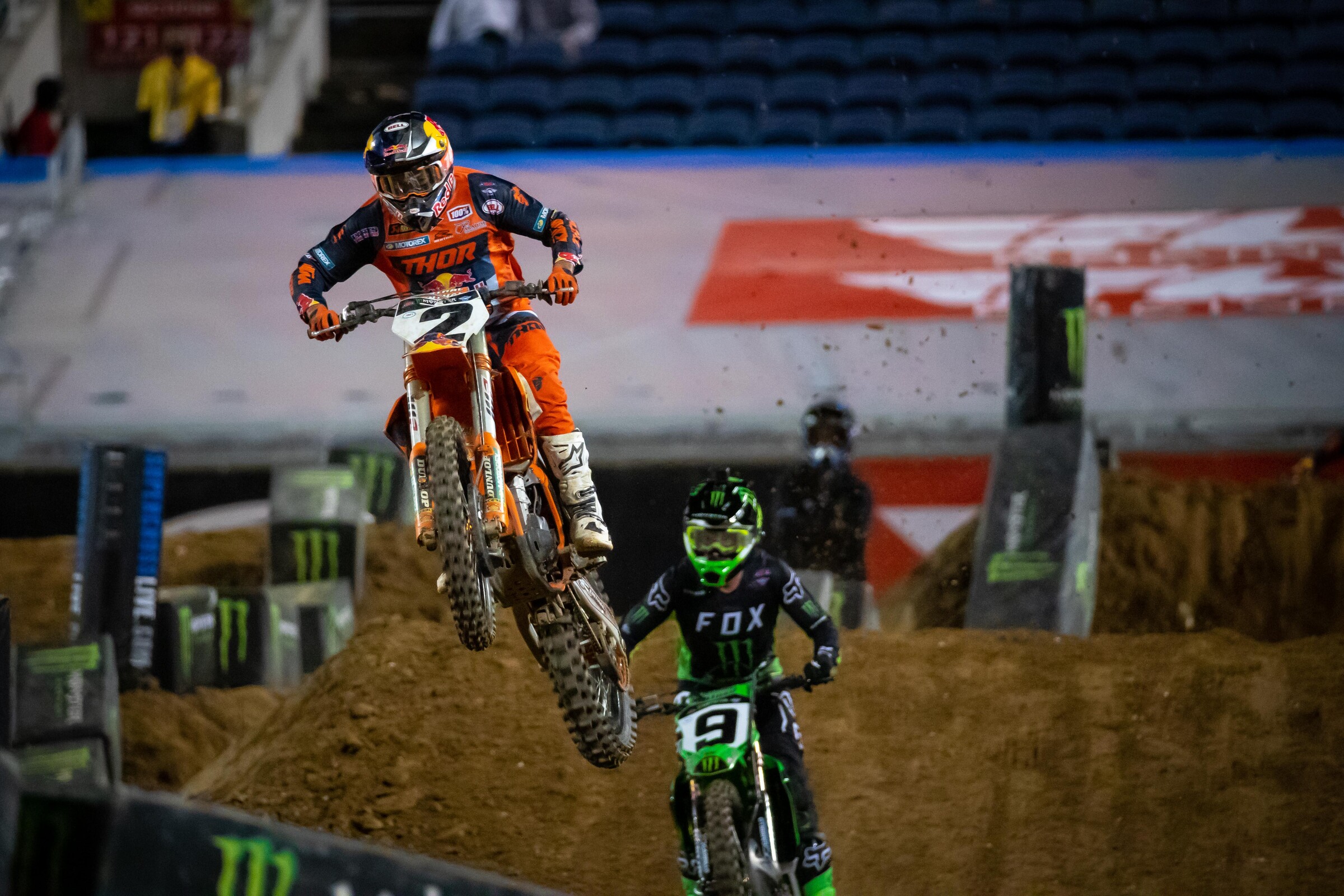 It looked like for back-to-back weeks, same stadium, same dirt, completely different conditions. How different were those two tracks?
The first Orlando definitely had some better traction, I would say. Like Bam Bam [Justin Barcia] said, it was kind of unfortunate that it didn't get it [the track] rebuilt like we would have all kind of expected. I'd say today it was definitely a lot more hard-packed. As you saw in practice, it was pretty dry. The night show was a little better, but it had some really tough, weird places. It just felt like the dirt had been sitting there for a while. Some of the jumps that were the same, it just seemed like they had been baking all week and stuff. It just felt super hard. I think it was nice having a little bit longer lap times than what we have had these first five, or whatever it was, in Indy and Houston. That was one cool thing. Overall, it ended up being good. Open stadium, you never know with weather what can happen. So I think that was a positive, not having a full-blown mudder. Overall, I'd say they were pretty similar. The first one was definitely some better traction, that's for sure. But it felt like we did kind of two races at the same track, almost.
One key component that everybody knows that you and KTM have been working on all year is the air shock, you went back to a regular spring shock this week. Is doing that just taking one element out of the equation so you can just focus on racing and trying to close this points gap as the season moves on?
Yeah, absolutely. The air shock has such massive potential, but we weren't able to really get as much testing as we were hoping to in the off-season, just due to lack of parts really. The team was here this week and I feel like we actually made great progress with the air shock. I was feeling really good this week with it and confident. Do you change what you just won on last Saturday? For me, I wasn't willing to do that. So like you alluded to, I think after that first Orlando when everything was clicking, that's [the spring shock] the go-to. In this class and in the sport we're always improving and trying to get better. So we'll work on some things and see where we end up with at Daytona.
Do you feel like you're in the perfect position for the way you like to ride? You'd probably rather be leading, but coming from behind in the points might be perfect for you.
It's definitely a good spot to be. Like you said, having that red plate is always the goal and where you would love to be. There's some racing left, that's for sure. Kenny was super strong at the beginning of the season, and he still is. We needed to try to close that gap. There's plenty of racing. You never know what can happen, but it's nice to close that gap these last two weekends and at least put a little pressure there. I like where I'm at, I like where the schedule is headed, as far as these next few races, and Daytona. I've always liked Dallas. I think Atlanta will be an interesting one. I really enjoyed Salt Lake. I'm happy where I'm at, but we'll keep plugging away and try to fine tune. The class is stacked. It's gnarly. There's a lot of guys that can get in the mix and be up front.
Three different stadiums so far in the series. We're obviously eight rounds in. What has that dynamic been like in terms of the rhythm of the championship?
It's been a lot different, that's for sure. I definitely like going to a different stadium and different venue every Saturday, but with COVID[-19] it's obviously restricted. I think as we've seen, it almost seems like each guy kind of gets to their stadium that they gel with or the track or the condition and kind of have good nights overall. I can't complain. Obviously, Orlando was great for me, but as we saw with Kenny in Indy. I think it's what makes supercross so exciting and different is going to those new stadiums and new dirt, new layouts, new floor every weekend. But like I said, times have changed. It's good to be racing, but it's definitely a little different. I've enjoyed the Saturday and Saturday [schedule] this time to be able to get some practice in during the week. I live in Clermont which is about 30 minutes away from the stadium, so it was a super mellow week for me. So will Daytona.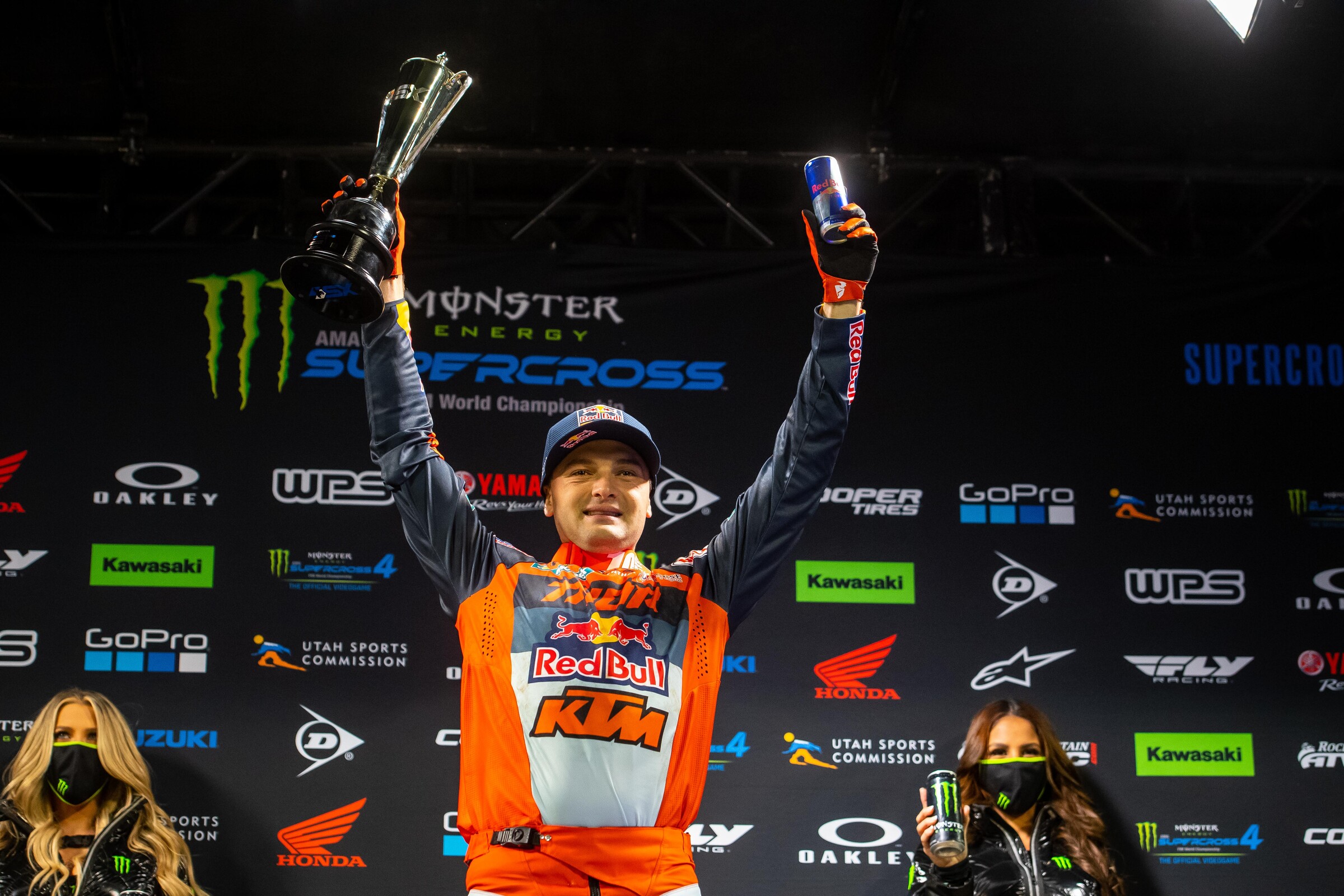 When you win a race like tonight and you get to the podium and the guy that you're trying to catch in the points isn't there on the podium, is that like a bonus of some sort? What goes through your mind there?
Yeah. I was kind of gauging where everyone was. Over the triple you kind of see. I was liking what I saw at the beginning, especially with AC [Adam Cianciarulo] in there and Eli [Tomac] ahead of him [Roczen], and stuff like that. I knew I needed to capitalize on it. I feel like for me, I saw that and kind of knew it's a big night to get that win and get those extra three on second. I cut it [the points lead] in half tonight, so that was a really awesome thing. With racing you never know. With this class it's consistency but at the same time you've got to win and maximize those points. When the championship competitor doesn't land on the podium, that's a plus.
We all know how physical this sport is. Can you talk a little bit about your mental preparation and stamina? It seems to me you're one of the few riders that can really excel under pressure.
I'm not sure. I just enjoy racing. Our goals are all to win and be the best we can. For me, I feel really comfortable in those high-pressure situations. I don't know if I have an answer for you. We compete at the highest level so it's already such an adrenaline rush. When you add that pressure for me, it just takes it up even more notches. I just really enjoy that. That's what I kind of live for, I guess.
Watch the full press conference from the 2021 Orlando 2 Supercross below: