Orlando, FL
Orlando 2 (West)
Monster Energy AMA Supercross Championship
Well, maybe Justin Cooper just got his bad luck over early. The 250SX West Region opener for Monster Energy AMA Supercross served more drama and heartbreak than it should have, with contenders Alex and Jeremy Martin and Jordon Smith crashing out of the race. Meanwhile Cooper, of Monster Energy/Star Yamaha Racing, had broken a bone in his foot a few weeks ago, stifling his supercross prep. His race day in Orlando was smooth, though. He controlled the race from the front (twice, as a red flag due to Alex Martin's crash led to a full restart) and rode in control from there to notch the victory.
Cooper spoke with the media after the race in a virtual press conference.
Racer X: Justin, you had an amazing night tonight winning the first round of the 250SX West. Any questions coming into this first round that you kind of answered tonight?
Justin Cooper: The first round is always wild. It's good to get through them healthy and better yet to win it. We saw with that red flag and a couple guys go out. That's not what you want to see. Pretty sure I rolled every jump for two sections. There were medic guys running everywhere. I think Cameron [McAdoo] even, I heard, got one of them. It was crazy. It was hectic. I knew it was going to get red flagged after that. I got two good starts. Got out front again and really just put down a couple laps and was able to ride pretty comfortable out front. Started to get into some lappers and just glad it wasn't too bad. Overall a good day. Felt pretty good all day. The track was tough. Just glad to get this one safe.
We didn't really get a full measurement of your ride because there were so many other riders that had problems. Do you feel like the foot injury is behind you, or do you not even know necessarily where you stand?
Honestly, coming into it, it was more just getting mentally ready. It was hard. When you break a bone, you really can't do much. I was sitting there doing some exercises for like 45 minutes, all arm stuff. Had to stay off the foot for a good three weeks. It was mentally tough. Just had to keep pushing through it and keep the mindset right. The fitness probably isn't as good as it could be, but I was able to get a holeshot and ride some clean laps. Didn't really have to push into that hard zone. I felt good on the bike all day. The bike was setup good from the off-season, and I never really had any issues with it today. I didn't make any changes. So that's always good. A good base starting point for the season.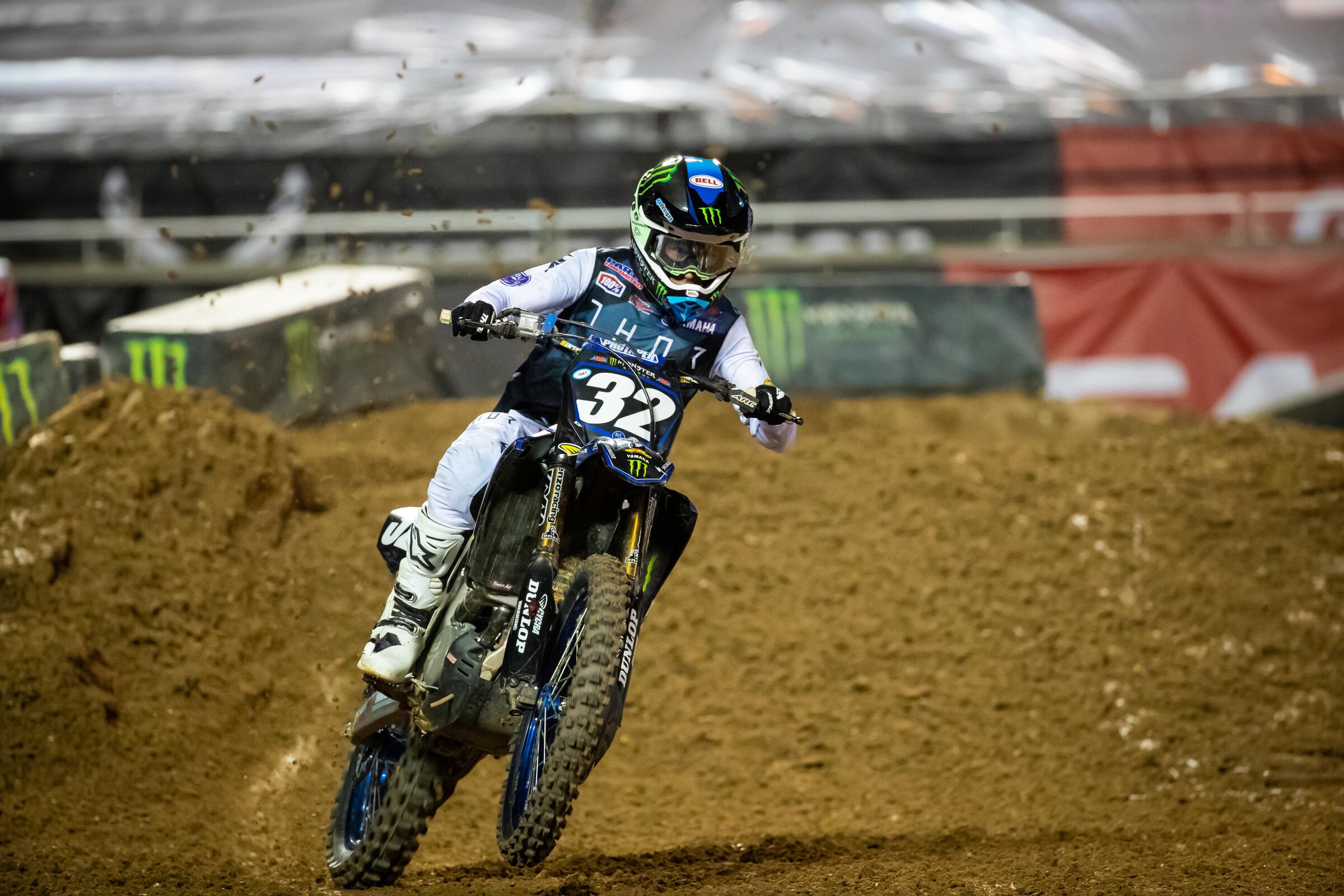 Last year you had the red plate at one point and you started out really good. At the end of the year, things kind of tapered off for you. Is there something you're focused on this year?
Yeah, for sure. That's always the goal, to stay consistent. Last year, before Salt Lake I had a really big crash. I didn't really want to race the rest of the series after that. I came in pretty beat up. It was with my chest, so it didn't help with the breathing and the altitude. So that really set me back. Obviously I'm taking all that into this year. It's go time for me, that's what's expected. Take what I've learned over the last couple years and do the best I can with the experience that I have already, being a veteran of this class. Just trying to live up to that a little bit.
Because of the foot injury, you were kind of flying under the radar quite a bit rolling in. How much time you spent on the bike prior to racing today? Did that take a little bit of pressure off of yourself, knowing that a lot of people didn't expect you to come in and crush it?
Yeah, it was the same thing for me. I had a lot of questions for myself. I didn't know what was going to happen. When I crashed, it was like four and a half weeks away. I knew right away that I broke something, I just didn't know how bad it was. Luckily it ended up being pretty minor and I was able to get back on the bike, I think at three and a half weeks. So I had three or four days on supercross before this. I felt pretty good the first day. Just didn't have that intensity all the way through the motos like I usually do. So just playing catch-up there. Just really excited to be back racing, especially because I didn't think I was going to make this. We have a couple weeks off to keep working. I think that's really important for me because I'm still catching up a little bit, not really where I want to be yet. It was a good start to the season though.
Safe to say you'll have more time to prepare for Daytona than you did this round?
Yeah, for sure. We got a weekend off now, and I'm actually staying here in Florida. So that's exciting. Get to ride on the East Coast a little bit and play around with some settings, because Daytona is pretty tough on suspension and bike setup. I like that track. I like that venue. I got on the podium there last time I raced there, so looking forward to it.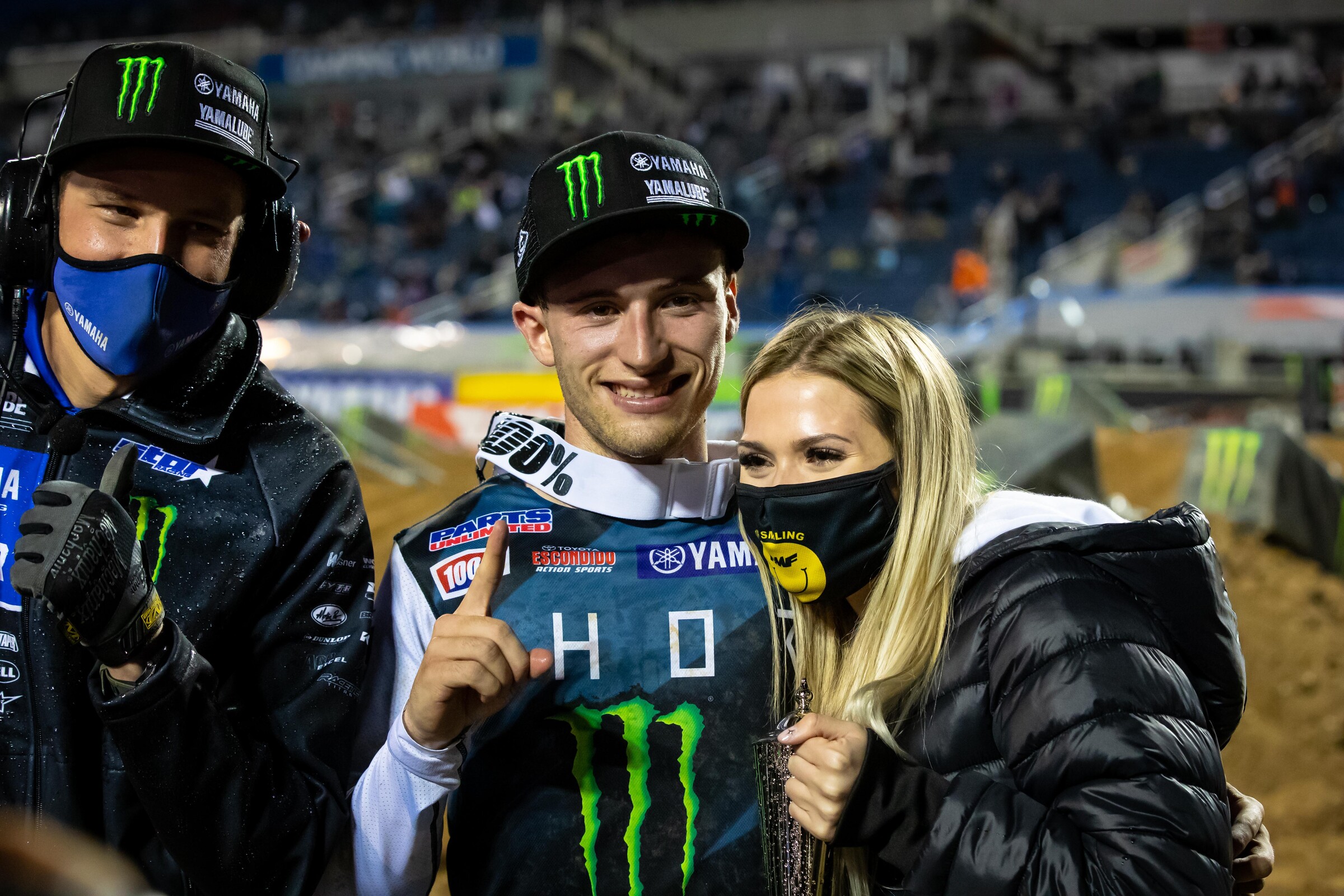 Watch the full press conference from the 2021 Orlando 2 Supercross below: