New season and new talent in the 450 class. This year's grad group boasts exceptional credentials, with Chase Sexton and Dylan Ferrandis each boasting back-to-back 250SX Championships in their respective regions. The class also welcomes Shane McElrath (second to Sexton last year) and Brandon Hartranft (fourth in 250SX West). Here are some thoughts from each rider based on Tuesday's night's 250SX media conference and the Monster Energy Supercross preview show on NBC.
Unfortunately, the Monster Energy/Star Yamaha Racing rider suffered a crash and a hand injury during the off-season, and that cost him some valuable prep time.
"I've been back on the bike, last week I had a big week, I went riding four times, then Monday and Tuesday and we head to Houston," he says. "It's okay. I haven't lost a lot, physically, but I did lose a lot of time on the bike and testing days in different conditions. This is part of the job and I will have to deal with that. I feel good lately on the bike. The team did a good job on the bike for me and making the bike fit me. It will be a big, big challenge to be good in Houston, but the season is really long and we'll have to take it race by race.
"It's a new class, new goal, new everything, so I have to forget a little bit my past years on the 250. It's kind of a big reset. I am where I've always wanted to be and we will see what I can do."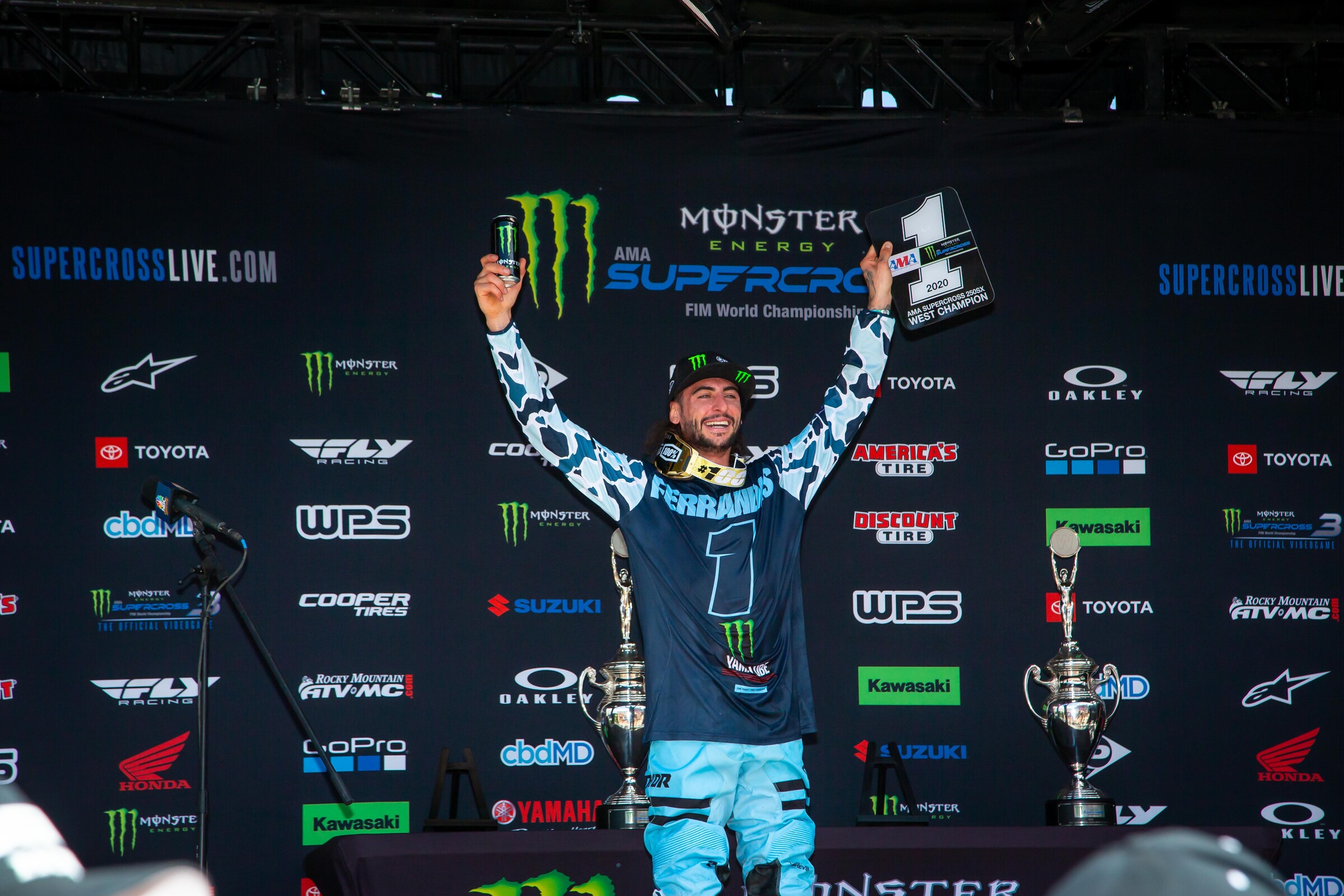 Ferrandis will have help from his coach, David Vuillemin, a winner of seven premier class supercross events. DV is one of the most unfiltered personalities in the sport.
"We could go one forever with the mental side of it, and with opinions and all that, but the bottom line is we don't believe in it. It's almost like a myth," said DV in the Monster Energy Supercross preview show on NBC. He has no use for the usual armchair psychological mumbo-jumbo in racing.
"The biggest help [from DV] is to have a different eye, from outside the team, to look at me and look at the bike," says Ferrandis. "I feel like we did a good job the last two years. Moving to the 450, I feel like the biggest challenge is to set up the bike, and he's really good at that, to see me riding and set up the bike. That's what we tried to work the most on. I wish we had more time to do that but unfortunately I crashed."
Sexton was good winning the 250SX East in 2019—but his title was overshadowed because Austin Forkner dominated most of the year before an injury, and Sexton only won one race. He looked much faster in 2020 en route to defending his title, then he jumped to the CRF450R for the Lucas Oil AMA Pro Motocross Championship and opened some eyes. He had the speed to match the big names and took an overall win at the season-finale.
"I'd like to use last summer as a little preparation and that was the whole goal behind hit. It's crazy how fast you forget about the 250 class, those championships seem like they were so long ago. We have a new goal ahead and we're just chasing that every day. A lot of new faces coming into this year and I think it's gonna rase the bar a little bit. Adam and I, outdoors, I think it pushed the older guys a little bit and it led to great racing, and hopefully we get the same thing this season."
It's hard to really set a real expectation because this is a new class for me, but having that outdoor series—and I know it's different, that was outdoors—but supercross has always been fun for me and I feel like I excelled. I think I have the potential to win races and be on the podium. But lots of top fives and being consistent is kind of my goal. I've never done 17 races before, obviously. I'm excited to just get racing and I want to contend for wins. I feel like that's what I'm capable of and that's why I wake up every day and work my butt off. Ultimately, I want to win races."
Sexton, like Ferrandis, brings star power into the class beyond just himself, with two-time supercross champion James Stewart in his corner this year.
"I told Chase, 'If you do what you need to do, there's no reason you can't beat these guys,'" said Stewart on the NBC Monster Energy Supercross preview show. "I think you have an opportunity to do something special. There's only a select few guys who are great, and I think you can be one of those guys. But it all starts upstairs, and I think that's the biggest thing I've been trying to work with. I can only say it to him so much—you can lead a horse to water, he's got to drink it. I believe he's thirsty, so we'll find out."
Everyone probably expects Stewart to push Sexton into crazy scrubs or huge leaps like he used to do, but Sexton actually says James' has contributed big time in other areas, like big setup.
"James does draw a lot of attention," says Sexton. "I had him in outdoors and he helped a lot. Bike setup, like Dylan said, is a big part of the 450 class. It's a lot harder to set your bike up. James has helped with that a lot. He's been around for so long, and he's probably played the biggest roll. He's brutally honest, he calls it as he sees it, and he sees me ride every day."
Shane McElrath: You can read an extensive interview we did with McElrath from the off-season. He's now part of the SmarTop/Bullfrog Spas/MotoConcepts Honda team, but a recent shoulder separation could keep him out of the opener.
"We're still doing everything we can, and that's kind of the hardest thing right now," McElrath said on the injury. "All I can really do is the bicycle right now. We'll be out there as quick as we can."
It was a bit of a surprise for Hartranft to move to the 450s after just three building years in the 250s, but when the factory-ride music stopped, he didn't have a seat. The Twisted Tea/HEP Motorsports Suzuki team came calling with an offer with an RM-Z450, so there goes "The Brick" into the big class.
"It's definitely earlier than I expected, but I gel with the 450 well," said Hartranft, not known as a man of many words. "I've been a big kid and I was riding them at 16. The team has worked their butts off for me. After about two days I've felt good on the bike."