Millville, MN
Spring Creek
AMA Pro Motocross Championship
It's been a rough go for Joey Savatgy. He lost his spot at Monster Energy Kawasaki once Adam Cianciarulo came on board, and Joey barely got time in his JGRMX/Yoshimura Suzuki Factory Racing RM-Z450 before he crashed and broke a bone in his foot, and shattered his heel in November 2019.
He was off the bike for a long time, but hoped to have a head start on Lucas Oil AMA Pro Motocross Championship prep since most of his competitors were holed up in Utah for the Monster Energy AMA Supercross wrap up. Any advantages haven't materialized, and Savatgy is still digging, trying to get back up to the elite pack of riders he used to run with.
He's not denying the struggles. Joey talked about it in a press conference on Monday night.
Racer X: Joey, you finished eighth overall at Spring Creek. Moved into top ten in points in the 450 class. You want to tell us a little bit about how your season is going and kind of how you feel heading into the final couple rounds?
Joey Savatgy: I'd say the season has definitely been sub-par. Very far from what the expectations are, really just struggling to figure things out. Had some decent rides. Unfortunately the results don't show. Obviously the second moto with RedBud we were running third and then got into it with Marvin and went down. First moto at RedBud was going better, and then had a brake issue and also this weekend at Millville. First moto was going better, still not where we want to be but better. Had another brake issue about 20 minutes in. Then I got into it with Barcia. Couldn't stop, so I hit the side of him and went down. Millville was tough this year. It was different than it's ever been. Very hard base, and then obviously being on a 450 with a lot of power it's very tough to keep the forward drive going, or at least I struggled with it. Going into the last three, it's kind of just one of those deals where we're still trying to figure things out as we go, unfortunately. Both RedBud and Millville I started the day off on suspension and settings that I've never ridden just because we're still trying to figure things out. That's never really what we want. I don't like going into a race or practice or riding a motorcycle and not knowing what it's going to do or how it's going to react. So it's been tough. But at the end of the day I'm just happy to be back. The results aren't what I like but it beats sitting on the couch. There's definitely times where I feel like I'd rather be sitting on the couch than seeing the performances I've had, but like I said overall I'm happy to be back and building, in a way. It might not look like it on paper, but we're figuring things out.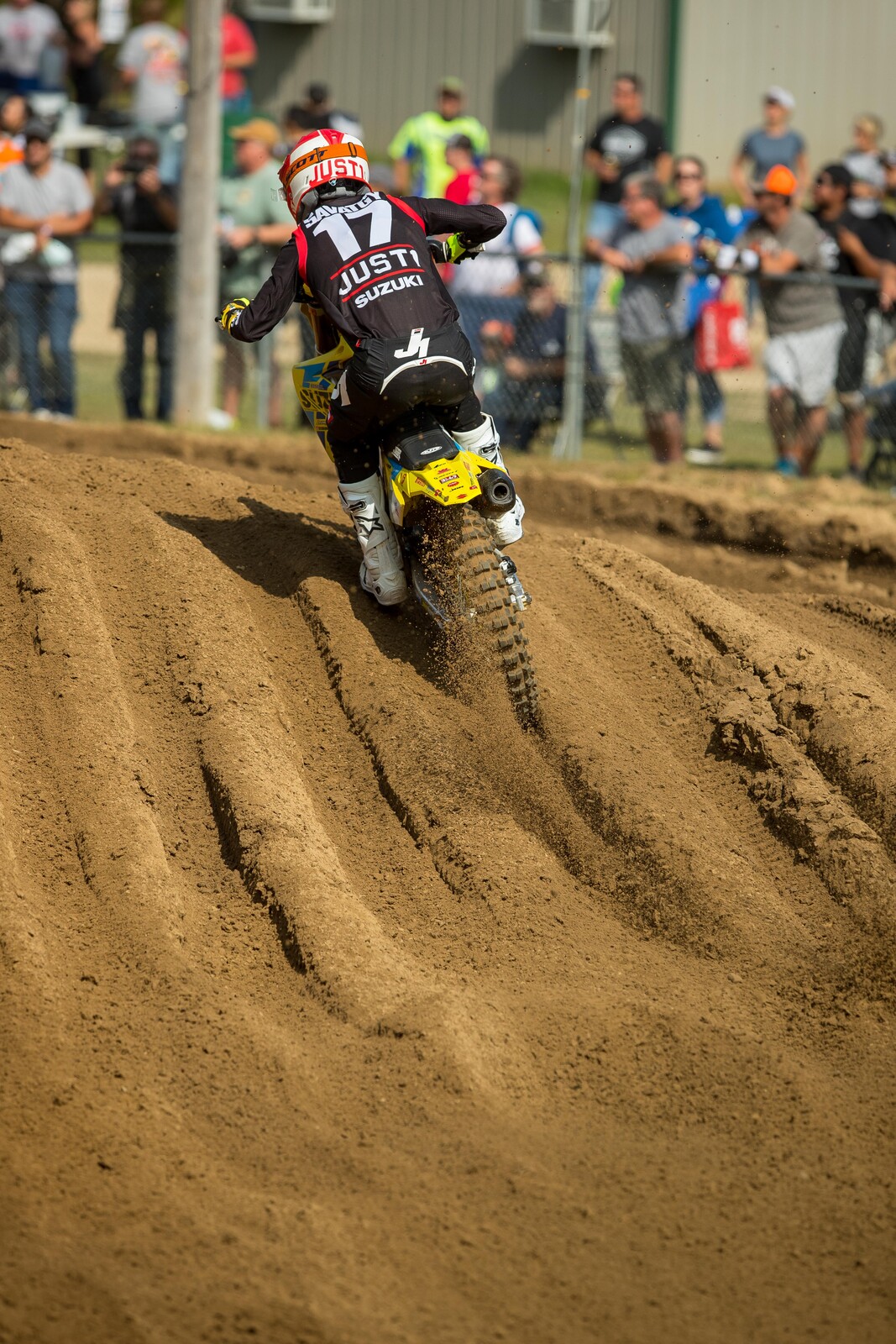 Going into outdoors, did you think you might have had an advantage because you didn't do supercross and you were ahead, or were you still coming back from the injury?
It's tough. I think obviously anytime someone lines up they're optimistic. The goal is always every weekend you line up you want to win, whether that's feasible or not. You don't go to the gate with the mentality of I'm looking to get top ten. Me being in the position where I've won races before, maybe not in the premier class, but I've led laps in the premier class and I've won races in the Lites class, it's hard not to have that mentality of I could battle with these guys for wins and be on the podium. What advantage I thought maybe we were going to have going into outdoors, obviously with coronavirus and having such a long time off everyone got kind of time to test in-between their hiatus. So any little bit of advantage that I thought we were going to have was obviously out the window. To be honest, it's just been a struggle. Definitely haven't been where we would like to be. I think we were a little bit blindsided coming into the season as far as being ready. We thought we were going to be pretty ready and as things turned out we were probably on the complete opposite side of ready, struggling. It's not easy when you have guys who are on their A game and aren't struggling. Obviously switching from Kawi to Suzuki is another new change. A lot of these guys have been on that bike previous years so they have settings to go off from and unfortunately I don't. It is what it is. I thought we were going to have a little bit of an advantage maybe and as things turned out there's been definitely no advantage. The goal going into Loretta's realistically was to leave there top five to start the season. Finally things at the second RedBud started to click. We had some issues that were out of my hands and felt like I could have put two decent motos together there that would have got us close to the top five. The same with this weekend. Second moto we made some suspension changes that were worse, but first moto we were running sixth for a while by ourselves. Like I said, an issue that was out of my hands and caused the guys behind to catch up. Sexton went down late in the moto. So realistically I think we could have got fifth that first moto. The second moto is what it is. We just took a gamble and that's kind of our only option now. It didn't pay off. The goal is always to win. It's hard to line up every weekend and tell yourself that when things haven't been going that well, but as I'm sure anyone else knows, this game is very mental. You have to tell yourself that you're capable of doing it. You've got to look at the guys who are winning and I know that I beat the guys who are winning right now and I can do it again. It's just a matter of trying to get all the pieces to the puzzle together and unfortunately it's not that easy.
Take us through the injury because that was a bad one. We heard it was the heel. As soon as we hear that, we know it could be 12 months. This was in Australia. What was the process? How bad was it, just the injury itself?
I went over the bars and shattered my heel and broke my scaphoid. Actually, I had more pain with my scaphoid than my heel. We had an issue and went into a false neutral. That was Saturday afternoon. I had surgery Sunday morning in Australia. They put some external fixtures in to basically keep the foot apart so it didn't crumble together because everything was shattered to the point where there was no structure. So they basically went in there to keep the whole foot spread apart. That was on Sunday and we flew out Thursday. We found a medical doctor that I hired to fly with me back from Australia to make sure that we didn't run into any issues with health. Landed Thursday morning. Met with Dr. Thoreson out of LA. Met him at noon on Thursday and he came in and unwrapped my foot and look at it, looked at me and said, let's do it. I was in surgery by 3:00 that afternoon. It's a crazy process. Honestly it's been the most pain I've ever experienced in my life. I wouldn't wish it upon anyone. It definitely wasn't fun. The heel they always say is never good. Honestly, I feel good. Health-wise I'm good. We're just trying to get things together.
We saw you race Paris and New Zealand, then a long break with the injury. You're still trying to figure out the right setting, but do you feel that it's there? You can be competitive if you get it right?
Yeah. We really didn't have that much time. That's the biggest thing I learned doing the overseas stuff is that we were very, very unprepared. There's people who frown upon those races but I still would do them again in a heartbeat, especially Paris. There's just so much racing. It's good because the track gets beat up and it kind of gets you a little bit in the mentality of what it's going to be like during the season.
I do feel like we can be competitive. We're running out of time and on a shortened series that's never good. Obviously taking the time off and being hurt is I think also a little bit of a factor, just taking so much time off, not being used to being at the races and battling. It's been an adjustment because I really haven't missed the whole season since I think 2014, I believe. I've missed some races, but the last time I missed an actual series was I think 2014 East Coast supercross. Then to take the amount of time off that I did, it's hard. But I do still believe in my ability that I can win races. I just look at the guys who are up there now and I've beat those guys before. I might not beat them every time out, but we've battled plenty of times and I've won plenty and I've lost plenty. So it's definitely tough. I don't think it's impossible. I think we just need to figure things out sooner than later.
The track prep this weekend was not really ripped as deep. It seemed like they left it a little bit fast and more hard based. Do you like what they did with the track?
Me personally, no. I wasn't a fan of it. I don't know so much about if it's the bike or what the deal is, but we do have a tendency to struggle a little bit more with hard pack. So for sure this weekend wasn't in our favor. But there's reasons why it wasn't tilled deep, from what I heard. They were afraid that if they tilled it deep and they got good water in it and they had a cold night, they would have to deal with a track that had frozen parts to it. So you can't really blame the track people because at the end of the day, they're damned if they do and damned if they don't because if they tilled it deep and they put water on it and it was 32 like it was the morning before, parts of the track will be frozen. So, they took the gamble and they didn't till it as deep but it wasn't as cold as it was the morning before. So it's one of those deals. It definitely was far from normal.
What would you say has been the absolute highlight for you so far this year? Some good starts for the Suzuki as well. Is there any one thing that you can point towards and say, that was pretty solid for me?
To be honest, no. RedBud we ran third for six laps, I believe. We weren't too far off those guys in front of us. They were getting out of the sand rollers before the RedBud tabletop and I was starting the rollers. So we were still on the same straightaway. The starts have been good. Honestly for me, like I said earlier, I'm just happy to be back. As tough as it is and as miserable as it can be sometimes when things aren't going your way, I just have to think back at the end of November when I was lying in a hospital in Australia how much worse things can be. It's tough to think that way when racing is on your mind and being a racer is all you're worried about right now.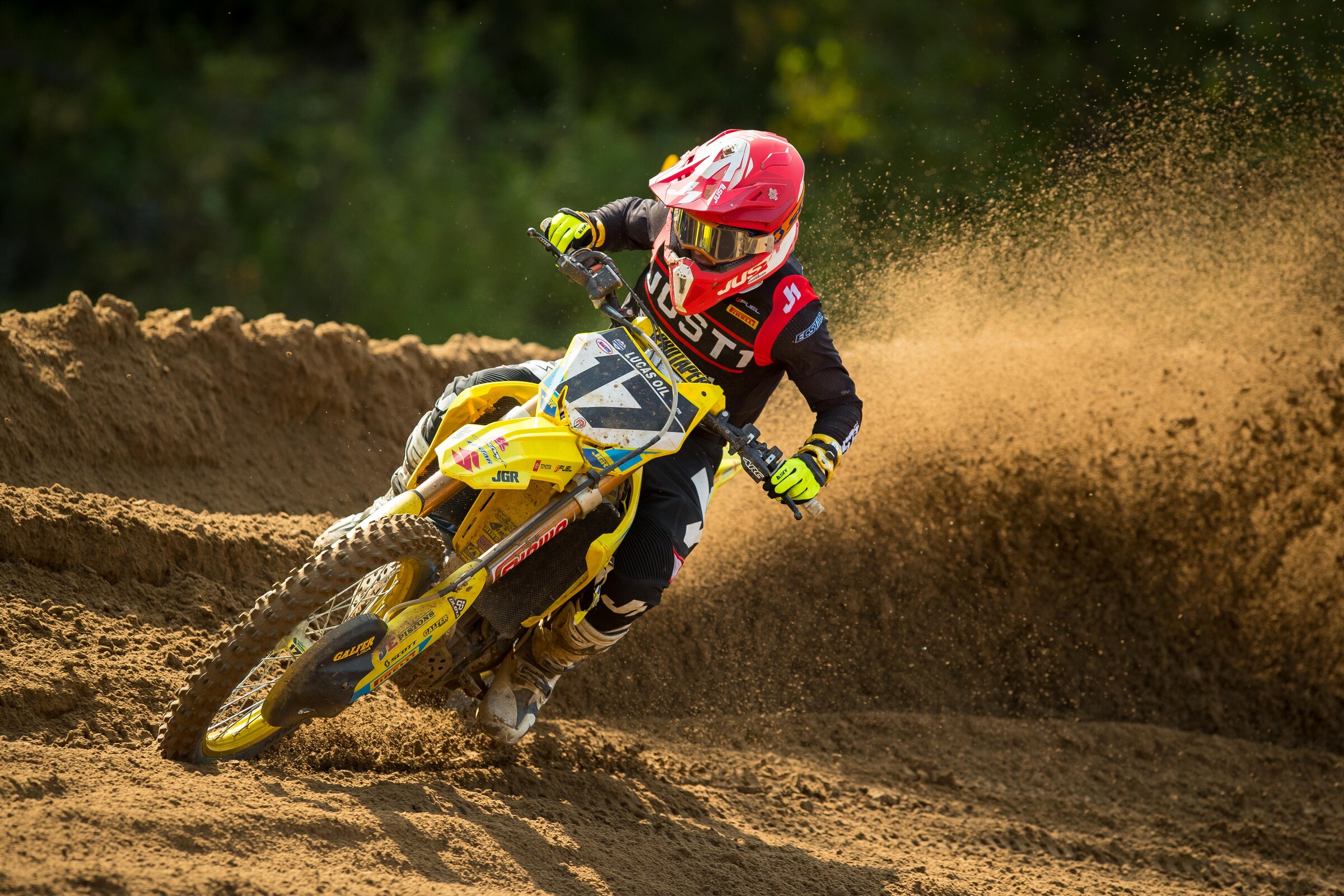 Is a rider in your position sort of racing each weekend to cement your future in a way? Or when do you expect that to sort of be finalized?
Yeah, I would say I'm racing for a future, absolutely. Not doing myself a lot of favors. Obviously if I was doing really well and had good results I think my future would be a lot more cemented than it is now. But it's just the cards I was dealt. As far as the future, I was really stressed out about it for a while and I've kind of just got to the point now where I'm not worried about it anymore. All I can do is show up on the weekends, try to get good starts and ride the best that I can each time. If that only puts us in ninth place or seventh place, it's a tough pill to swallow but that's all we got. If it gets better and we keep improving and we get closer to the top five, then that's awesome. But the future is unknown and it's unfortunate because I do feel like I do bring a lot to the table, but what's meant to be is meant to be.
When you had this injury and then the season is not going your way, who do you rely on to pick you up? Is it family? Is the trainers around you? I know that you're new to the team, so I don't know how well you know those guys.
Obviously I think family first. My wife has been very helpful. She flew to Australia to basically pick me up and got me to California to get things fixed to begin with. So she's been awesome. I think my number one fan, obviously my little girl, she's happy to see me no matter what place I get. So that always hits home for me. I know as bad as things have been and results haven't been there and the future is so unknown, she doesn't know that. She just is happy to see me. Honestly as I get older that's everything. It's so awesome. Obviously my parents, my dad has been my mechanic since I was riding, [starting at] three and a half years old. So he's been around the whole time. We've definitely gone through some rough patches, but he's learned and I would say gotten more professional as well as I have along the way, knowing when it's time to step in as just my mechanic to tell me to do the stuff and when it's time to step in as a dad at the races and just remind me that there's a lot of people that would kill to be in the position I'm in regardless of where we're at. So obviously O-Show [Johnny O'Mara]. He's been awesome. He's always very positive with things, even when it's hard to be. It's definitely been tough to keep positive, but it helps when you got people to push you along the way.
Watch the archive of Monday night's press conference or listen to the audio from the press conference in the podcast below.