Millville, MN
Spring Creek
Lucas Oil AMA Pro Motocross Championship
Well, I have to say that although we still have three rounds to go in the Lucas Oil AMA Pro Motocross Championship, I was skeptical that we as an industry would get all nine rounds in. Tickets are on sale for the final three rounds and we haven't had any issues so far. It seems (clenching teeth) we'll get these rounds in.
Count me relieved, by the way!
I'll let you guys in on a little secret…Millville, the site of last weekend's national, is the best track on the circuit. I know you RedBud MX truthers out there might be upset and let me be clear, RedBud is a great track. But Millville, well it's the best one. It's got elevation, great dirt, the sand whoops—it's got it all. The sand whoops are so good, the RedBud guys tried to put some in years ago! I think what put Millville over the top for me was the addition a few years ago of Mt. Martin. John Martin, the owner of the track, probably took his Can-Am out of the shed and carved some lines up and down to start the process and now, years later, it's got the elevation needed. Love Millville!
I didn't go to the race this weekend but that doesn't mean I don't have some "Observations" and general thoughts about what happened.
First of all, here's what I wrote after RedBud 2 a couple of weeks ago:
I will not be surprised if, with Osborne thinking of the title, AC rips off a few more wins here as the series winds down. By the way, has anyone thought that just maybe Cianciarulo is an outdoor specialist only? IJS.
Guess what? He ripped off another win! One-one, led every lap, and got both holeshots. And with Zach Osborne's flat tire, he pulled to within 15 points of Zacho for the points lead. The only blemish for Cianciarulo was the fact he qualified second behind his training partner Chase Sexton. Just couldn't complete the perfect day, huh AC?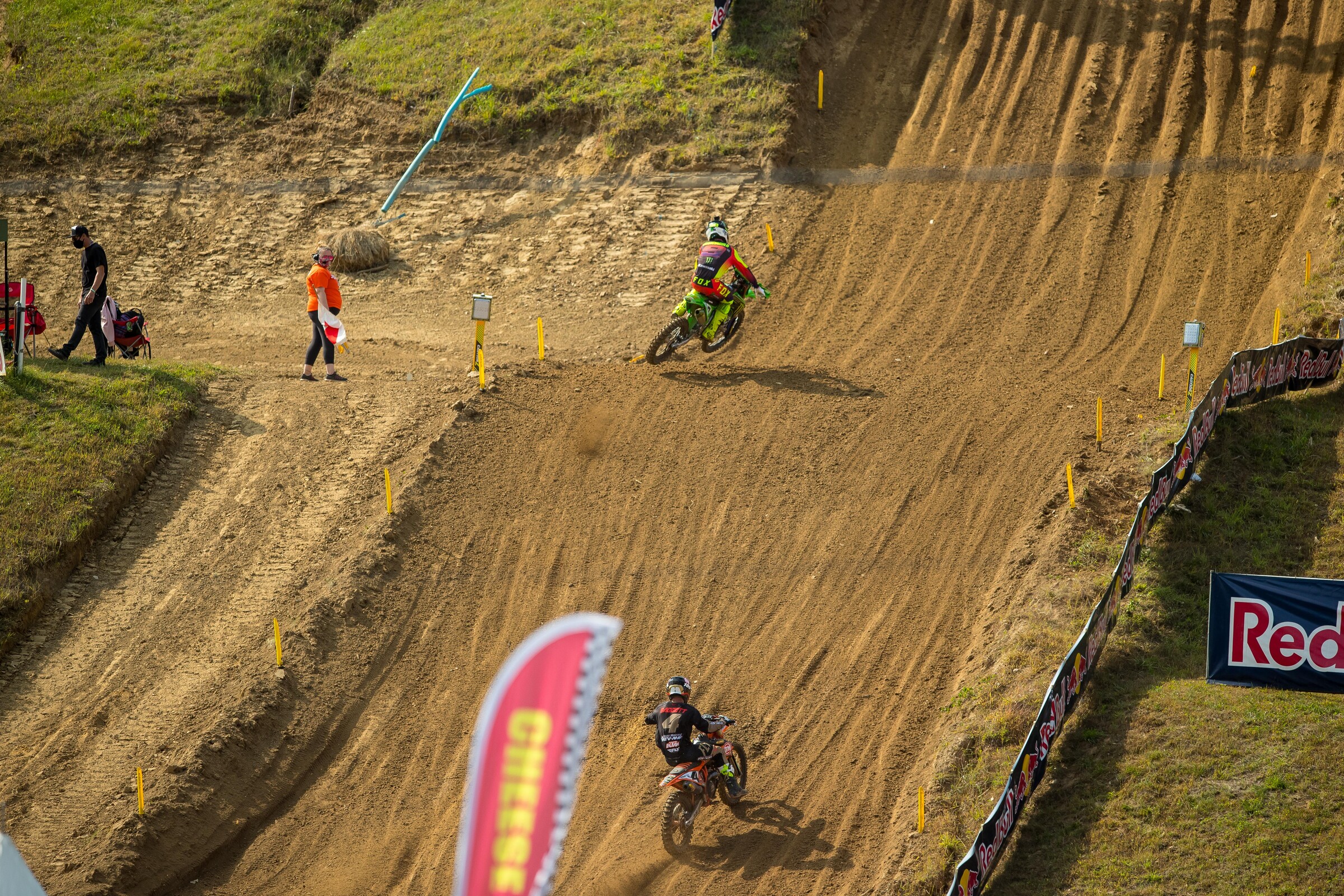 Adam got heat from Blake Baggett in both motos as Blake's season appears to have taken a complete 180-degree turn since his moto win at RedBud 2. But as hard as Blake was riding, I felt like Adam was in complete control the whole time. I know he felt like he was three seconds up and able to maintain that no problem on the #4, but at one point he made a mistake and BB4 was on him. We all know that the #9 can, at times, get a little buck wild out there, but at Millville, I didn't see it. Granted, I was watching from TV and the TV decided to show me Zach Osborne doing 2:27s for 10 minutes, but when I saw AC he looked calm and composed. If Baggett had wanted to push the issue, I think Adam could've wicked it up. Great ride for AC!
I'm telling you; Adam Cianciarulo is an outdoor specialist! Mark it down! He's a cross between Steve Lamson and Doug Henry!
I'm still not going to jump on the "Baggett can win at anytime" train I was on a few years ago even though Millville was great. I can't go there yet, Blake's too Blakey for me to fully commit. Talk to me after WW Ranch and maybe I'll come around.
I know there was a lot of talk about Osborne's front flat and why didn't he run a mousse insert in there, which would've prevented the flat, but in the USA, most riders run tubes in the front with a mousse in the rear. When you run the mousse insert, the front-end traction feels weird and the riders for the most part don't like that. So, it is what it is. Don't get mad at the team or Osborne for that—most of his competition have tubes as well.
Zacho wasn't a fan of the track prep and AC told a funny story on the PulpMX Show on Monday where the track people were asking him about the prep and Adam, knowing Osborne wanted it watered and ripped, was saying that the hard base was awesome! He was pushing for it to stay the same while Zacho wanted those deep, East Coast ruts and a more normal style of track prep the guys are used to.
Watch Monday's PulpMX Show at around the 1:40:37 mark to see Cianciarulo's interview:
So that cushy points lead Osborne had built up is down to 15 and the second-place guy seems to have some momentum, right? I think Zach's got the right attitude with this, whereas if you had told him with six motos to go he'd have 15 points, would he take it and of course, he'd say sure. This thing should be great down to the wire though!
It'll be interesting to see at the end of this thing where Marvin Musquin stands in the points. He might be ruing his late second moto crash. He was a strong fourth and went down somewhere out there which robbed him of seven points. That crash put him in third in the points and not second. It's a small detail but it could come back to bite him. For a smooth calculated guy, Musquin doesn't usually make those types of mistakes. Also, his second moto streak of doing worse than the first moto continues for him.
Speaking of costly falls, Chase Sexton fell late in the first moto when he was seemingly all by himself. After a great ride in moto two, that fall ended up costing him a spot on the podium. It's the small things that matter in the sport and I'm sure Sexton's wallet really regrets that fall in moto one.
Speaking of Sexton, man he's looking more and more like a moto win is coming for him before we're done in these next six motos, right? He looks so good on the bike, like he's barely trying out there. Kevin Windham-ish!
Dylan Ferrandis put on a clinic at Jeremy Martin's hometown track. He came into the race trailing J-Mart in the series and had to be thinking the best-case scenario was that he needed to try and limit the damage before we get to the last three races. Well, he not only did that, he crushed it going 1-1 on the day and retook the points lead.
It was odd to see Ferrandis looking around so much in moto two for Martin. He was really worried about the #6 it seemed but he matched the hometown kid lap for lap out there. The top two guys absolutely crushed everyone else and as Martin wicked it up, so did Ferrandis. Great race for Dylan!
Jeremy was on the PulpMX Show and mentioned that in the first moto he just couldn't get going out there on a "relatively" smooth track. He said everyone was going the same speed and fifth was all he could do with his start. The second moto was impressive. He wicked it up and tried everything he could do to get Ferrandis, but it wasn't happening.
As we talked about on the show, even though Martin's GEICO Honda is much improved over last year and it's not the slowest bike at all in the class, it's still not as fast as the Yamaha. This is not opinion, this is fact. [Editor's note: we know Steve LOVES Blu Cru but this argument is legitimate] So, Martin, with the elevation out there, has to be perfect at the bottom of the hills while Ferrandis, as we saw, could get a little out of shape or not hit a turn great and still power up the hills. It's got to be frustrating for J-Mart out there, but he gets it—he won two titles on the Star Racing Yamaha team not that long ago!
Some other news and notes:
Back in the day, David Bailey's stepdad Gary ran a national on a track that David rode a ton and he went 1-1 on the day which led to some grumbling. The Martin brothers grew up at Millville and aren't that great there which is a bit weird. Alex has five podiums in 11 races there (14 podiums at other tracks) while Jeremy, of course a two-time national champion, has raced there five times and has two wins. Good records for sure but not great, right?
Troll Train went 4-4 for the podium, which is good but again, if "we" want to start "our" push for this championship then "we" needed to win this race. I blame Greta.
Great to see Hunter Lawrence put together two motos. As I've written here before, this dude won motos last year and since then it's been injury after injury so to see it sort of coming together for him here late is cool. His little brother, THE JETT, will be getting an overall podium here very shortly.
I'm still confused about Justin Cooper. I get that a pre-season injury held him back a bit (never mind that poor SLC supercross series performance), but we've seen one moto pretty good and one moto where he doesn't look like the dude with the incredible podium percentage since he turned pro. To me, and I'm just spit balling here, if you can get a podium in one moto then you're fine, right?
Eli Tomac got garbage starts, worked his way up through the pack and went 6-5 on the day. He's also fourth in the points, 39 back of the lead. None of this is a joke.
I can't believe that for the most part Broc Tickle is fine. Horrendous crash up the triple uphill and he seems to be okay. Wow.
I saw that Justin Barcia got third overall and I have a couple of thoughts on that. One is that he's really been on the gas-gas lately (tip your waiters) and two is that he got about 13 seconds of airtime in the whole TV show.
A-RAY FINISHED BOTH MOTOS. This is not a test.
Speaking of A-Ray, his teammate Justin Rodbell continues to impress each week putting it inside the top 15 and beating some big names. Nice to see his boss letting him off the job early!
Tough summer for Tyler "The Bear" Bowers. I hate to see this.
Also, Henry Miller, at his hometown race and riding well this summer, crashed in practice and I think he'll be out for a while. Massive bummer for Hank. He'd been on it and for sure would've gotten his season best at this race.
Where the heck did the Brandon Hartranft that got third overall at Ironman go? Ironman, RedBud, and Millville are sort of the same track and he's been nowhere close to getting back on the box at the last three races. Weird.
RJ Hampshire's a tough dude but the pain from his crash in practice was sure bugging him after his second in moto one and it wasn't a surprise to see him drop back in moto two.
That's it folks! Six motos to go and both classes are primed for some great battles going down the stretch. WW Ranch and the sand are waiting this Saturday. Email me at matthes@racerxonline.com if you want to chat about this race or something else.