Millville, MN
Spring Creek
Lucas Oil AMA Pro Motocross Championship
For just the second time in the eight years that Alex and Jeremy Martin have both raced a pro national together on their home track in Millville, Minnesota, the brothers once again stood on the overall podium together. Though it wasn't quite like the 2016 triumph for Jeremy and third place finish for Alex, their second and third overall scores, respectively, this year was still a welcomed homecoming to the facility in which their parents are the owners. After the dust settled and the champagne bottles were empty, the duo spoke to the media about their days at the races.
Racer X: Jeremy, you guys had a great battle going in that second moto. How do you feel overall about your day? I imagine it felt pretty good to know that you had the pace going into that second moto. Two rounds left. How do you feel heading into the final part of the season?
Jeremy Martin: It's good, I guess. I rode like garbage in that first moto. I didn't get a very good start. I made a couple quick little passes, but I was struggling, and I just basically got fifth. Then moto two kind of made a couple little changes to the shock to allow me to push a little bit harder and got a better start. I was dogging Dylan the whole time and trying to get him, but he's fast. I just couldn't quite get up there and get close enough to try to make a move and got second overall on the day.
Alex, third overall on the day. Second overall podium of the season. I'm sure it felt good to do that in front of your home crowd here at Millville. I believe you're just eight points out of third now in the championship. How was your day? Is getting that third place in the championship a goal that you have moving into the final two rounds?
Alex Martin: I felt pretty good. It was nice to qualify P1. I haven't done that since 2016. So that was awesome to see that I still had the speed. Starts were okay today. I think I was top three or four both motos. That first moto I rode a little tight and I was basically between Jett Lawrence and my brother most of the moto, just a GEICO Honda sandwich. Was able to hold my brother off. He was all over me. It was kind of chaos. Not too pumped with how I rode. Second moto I actually got a better start. We switched tires actually for the second moto. The scoop, the paddle just wasn't doing it for me that first moto. So, second moto the bike was handling a little bit better but straight up Dylan and my brother were on another level that moto. I tried to hang in with the pace they had there at the beginning, and it was tough. They ended up winning by 30 seconds or whatever. So, I kind of just did the best that I could and focused on myself. The track was pretty tricky. I kind of was searching for lines the whole moto. I started to figure it out probably way later than I should have but was able to go 4-4 for third overall. It's always good to be on the podium, especially at the home race with everything going on.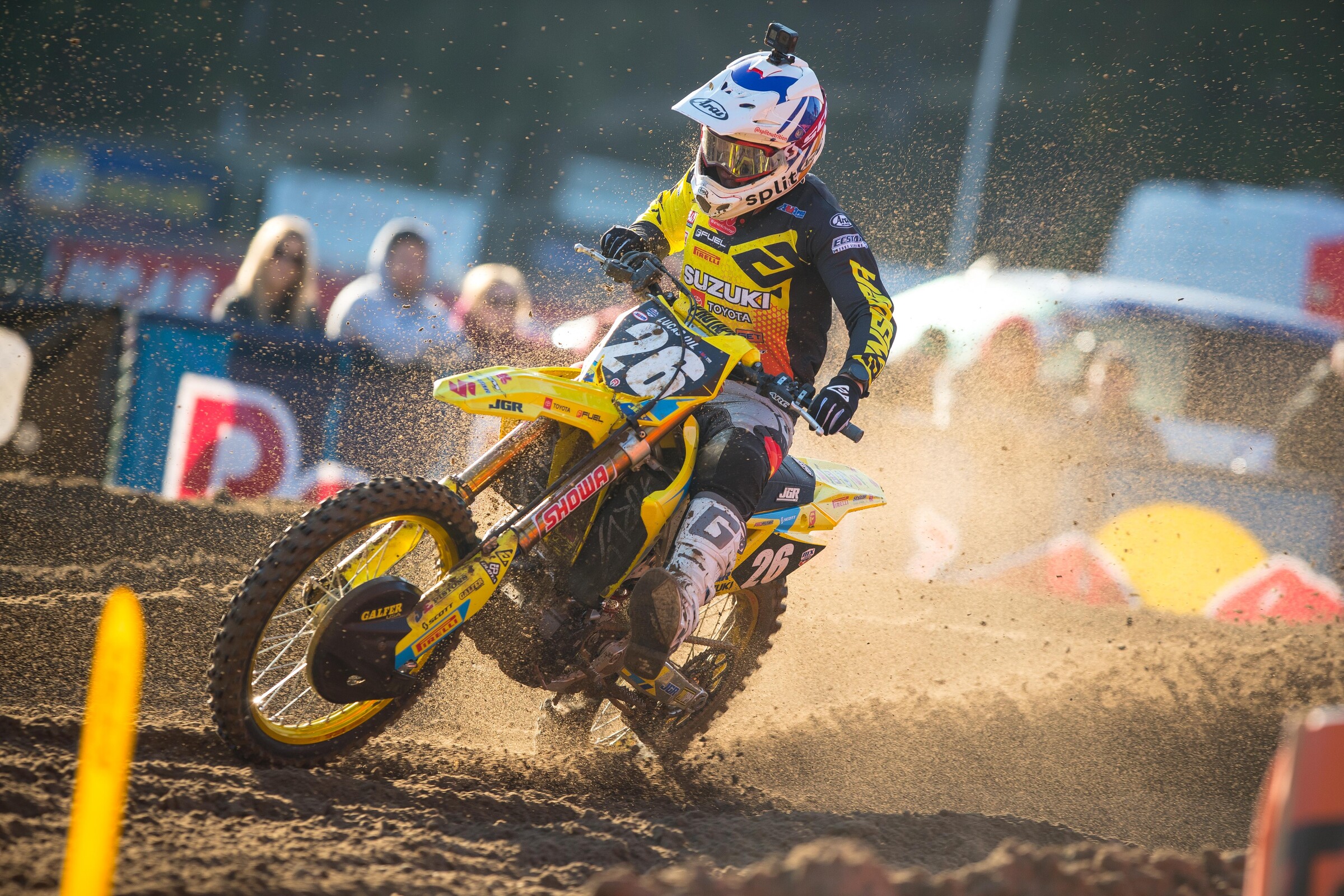 Jeremy, both of those triple step-ups, preferably the second one closest to the finish line, it looked like a lot of you guys were having a hard time getting over it. Was there just something in front of it or was it just gnarly lip, no run to it? It looked like a lot of you guys were casing it.
Jeremy: It was tough for me. Actually, in the second moto to the right side of the face there was a little bit more of a lip and it shoots you higher up, so I felt like I could kind of get over it. But if I went left or whatever, there was no way. But the triple before it was such a steep face that it would pop you up. It was hard to carry that momentum that you had from kind of initiating once you did that first roller and then you did that second double. That triple before the step-up, the face was just really steep. I honestly think it just robbed a lot of speed to where it was just hard for me to kind of consistently get up over that every lap.
Is there anything to really the "home field advantage?" Your home track? At the level you guys are at, everybody adapts pretty quick. Do you really feel any home field advantage?
Not really. I felt like the track was definitely a lot different today. I love my dad, but I was a little bit surprised with how hard packed and just overall the lines were kind of blown out. That hasn't been the normal thing. I wish he would have took the big digger and definitely ripped it more. That would have been nice. For sure an advantage no doubt, but with that comes a lot of people that want to talk to you, and they want to hang out and catch up and et cetera. Sometimes it's a double-edged sword. You enjoy the home race. I literally didn't have to travel and I'm back at my house right now. But when you go away to a different race, you don't get a lot of people that really want to talk to you sometimes. It's fine.
You've been saying the whole season that Dylan is the fastest guy, but you hung right there with him obviously. In the second moto you were all over him. This championship is coming down to the wire. Do you let that go now? Do you feel that he's still the fastest guy or do you feel that you've built some confidence today?
To me, I still view him as the best guy. I think that overall, this year, I showed good speed in a moto today, but he showed really good speed consecutively. Even though he hasn't gotten the best starts and hasn't gotten a bunch of overalls, like I kind of have this year, he's still been really good. So, for me, it was nice to battle with him. The last time we were in that position he waxed me pretty good at Ironman in moto one. It was nice to see the 14 on the back of that chest protector there for the entire second moto.
Alex, you're fourth in points. How important is third compared to fourth overall for the series? I think first and second are probably unlikely right now, but moving up and getting third, is that a huge goal for you? What is the goal for the rest of the season?
Alex: Yeah. For me, I've got my sights set for sure on top three in points just because the way my contract is structured. I do have a top-three bonus. So, there's a lot of incentive for me, financially to be top three in the series. I think also for Suzuki and JGR obviously, too. For me, financially it's definitely a big motivation to be top three.
Jeremy, it was way cooler than it usually would be here for the Spring Creek National, so how does that affect you in a race?
Jeremy: Like Dylan said, it was kind of tough to get warmed up or whatever. Normally it's pretty hot and you're like, alright. The body feels pretty loose and everything is pretty good. But it was cold this morning. I'm not going to deny it. Probably the coldest… I mean, I've been staying up here and I was like, "Damn man, this is cold." But I came around and it was pretty good. It's just a little bit different.
I talked to you a little bit about this before the race. Talk about embracing this challenge. You said you almost like having someone that's as good as Dylan to battle and that gives you motivation. Can you talk about that a little bit?
For sure. My first championship that I won, I pretty much had it under control the whole time and everything. The second one, Marvin was really good. I went into the last round; I had the points lead and I was three points up. Then he ended up having that DNF or whatever. But for me, Dylan went 1-1 on the home turf today, for me. It was my home turf. I did what I could. I'm proud of the effort I gave, especially in moto two. Moto one could have definitely been better. He won the battle today, but this is a war. What is this, the sixth round? We're six rounds in and it's a nine-round series. So, it doesn't matter. We could be brawling it out and probably will until the last race, the last moto. If I happen to take over the points lead and beat him then, that's all that matters.
It seems like that gives you fuel. Some riders that would be pressure of, "Man, this is going to be hard," but that seems to make you almost feel better having that kind of challenge in front of you.
I think it's cool. Obviously would it be nice to have a massive lead? Yeah, for sure. But at the same time, I do embrace the challenge and I feel like it brings the best out in me, physically and mentally, and I like to think that it brings out the best in him, too. I'm ready for it. Let's go.
Jeremy, looking back at that second moto, is there anything you could have or would have done different to make the difference and get the win?
I got close a couple times, but Dylan was really good. I was putting some pressure on him and he did make some mistakes, but I made some mistakes too. He was really good going down the first set of whoops. He was really good on that 180 turn back. He was really fast. He was consistently faster than me. I couldn't quite get up on him. He would kind of pull me there. So, I would try to get him other areas. I was putting pressure on him and I was hoping maybe something would happen. I tried, but he was going fast. There's only so many opportunities to kind of pass at Millville, and I've always kind of known that, but he did what he needed to. That's for sure.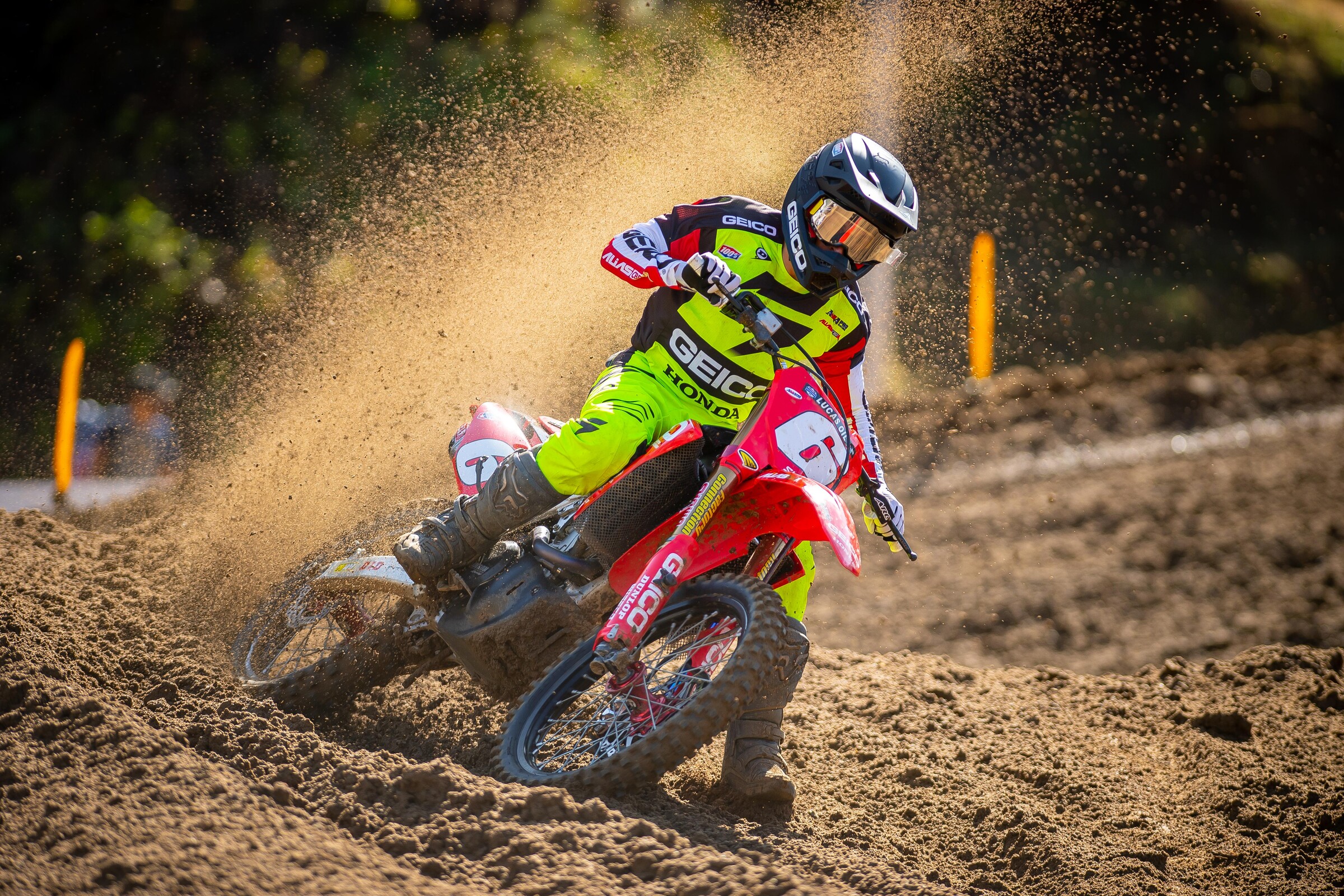 You ran a 2:05 your last two laps. You obviously found a little speed there. I guess you had ran a 2:06 in the middle of it. Did you find something late there, or was that just pure drive and trying to go after it?
No. At that point I was just like, there's your moto speed that you can sustain, and then I knew that to make a straight up raw pass on him is tough. He's very technical. He was taking good lines. He's light on the bike in the right places, so it was tough for me. That was just me full bulldog, just pretty much giving her the gusto, giving her the beans to try to do whatever at that point to try to make something. I knew that if I could have got in front of him or whatever maybe I could have been able to fend him off, and then the roles would have been reversed and he would have been going full crazy to try to send it into stuff to try to get me back. I just wicked her up and that's everything I had.
You said after the race you had no idea that was for the points lead. You didn't know where you were after moto one?
No, I didn't know. I knew it was obviously tied. He won. I got fifth. Kind of common sense. I kind of was like, okay. It's close. We'll give her the beans in the second moto and go all in. He rode good. I will say, I hate to get second. I hate to lose, especially to him because we're both going for the championship and it is so tight, but that's probably one of the funnest motos I've had in a long-time racing someone. We were racing each other hard and clean. He had some good lines and some good sections, and then I had some stuff. I kind of picked up on him a little bit. I'm like, all right, dude, I'm going to try to take that line. Then I picked up and it helped me a little bit. It kind of helped me try to put in a surge on the last two laps.
How big was that mentally for you moving forward that you reeled him in and stayed with him? Like someone else had said earlier that you had been saying he's the fastest rider. Was that pretty big for you mentally to be able to reel him in like that?
Yeah. It was nice just to be able to be there. The last time we had that opportunity he just kind of blew my doors off and said, see you later. I remember he looked over. There was this big tabletop in the middle. He saw me and looked back, and then you could just tell he went full send. Like, I'm going to break this guy, and he did. It was my home turf, so it was nice to at least throw in a fight and say, hey, dude. It's not going to come easy.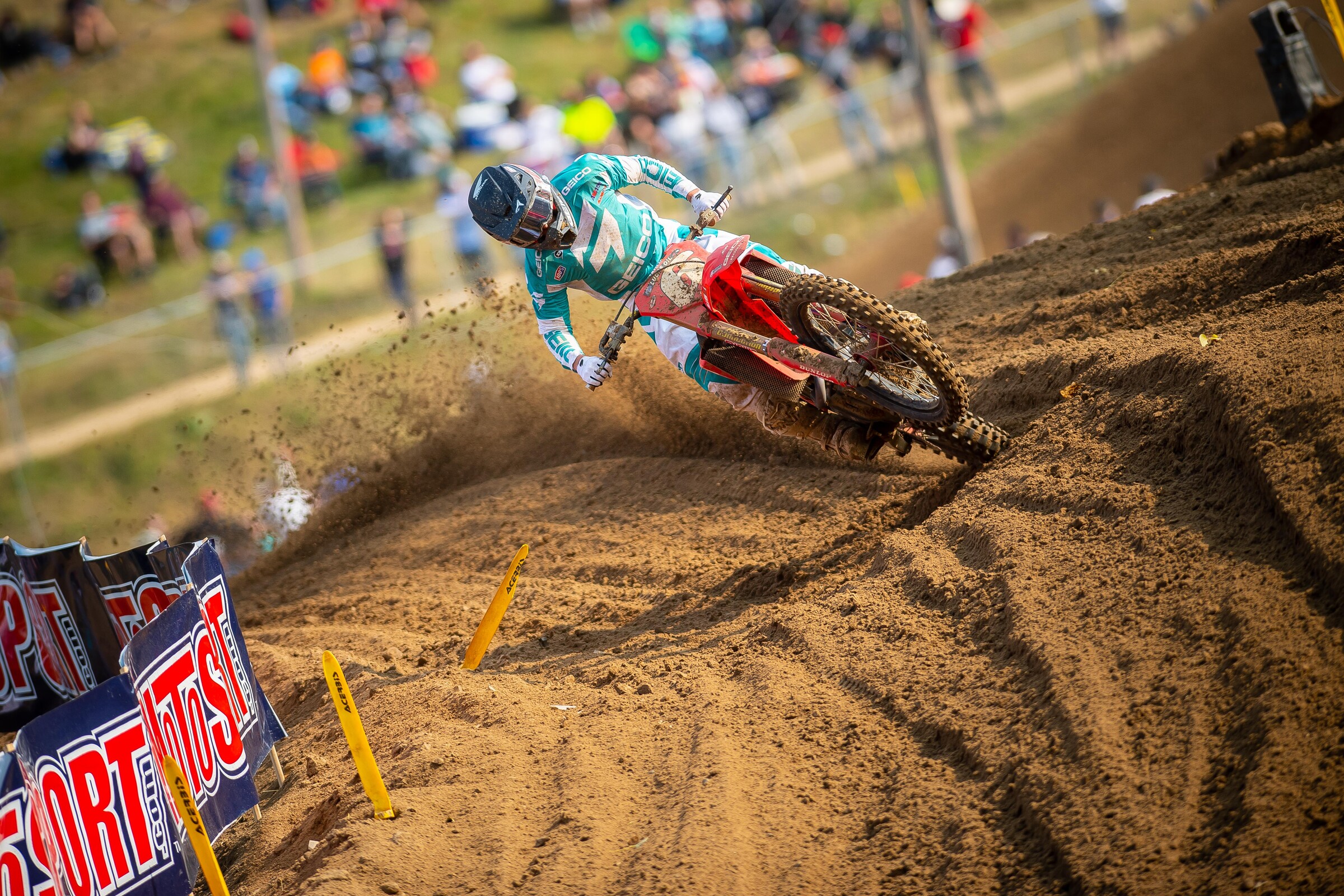 Alex, you guys grew up there. It's your backyard. At any point when you guys were young, I know you did it in 2016 as well, but did you ever have a little bit of fantasies about both of you being on the podium as brothers at home?
Alex: I never really thought much about being on the podium with my brother growing up. It's only been recently. But any day that we are on the podium, it's not just at Millville, it's any time we're at a national or a supercross it's pretty special to be on the podium with him, for sure.
Jeremy, in both motos, and this was kind of a recurring theme all day, you got kind of stuck behind Alex and Jett there, and then in the second moto you spent so much time behind Dylan. Was it the track or was it just that the pace was so close together that it was just hard to set up a pass?
Jeremy: Yeah. Moto one it was pretty tough. I made a change to the shock, and that affected me for sure. The guys in the first moto had a little bit more energy, like Jett. Big Al, I know he's fit so he's good for both motos. It was just a little bit harder to kind of make a move, I felt like, in the first moto. The character of the track really hadn't developed enough to kind of slow some guys down or whatnot. Millville that's the way it kind of works up. I've known that. Alex and I did a local race together before the season there, and it kind of worked up similar that way. It was tough. I had my spots where I could get Alex and whatnot. So, it is a little bit kind of tricky to pass around the entire track for sure.
You can you can watch the archive of the 250 Class press conference or listen to the audio from the Spring Creek National post-race press conference below.