Millville, MN
Spring Creek
Lucas Oil AMA Pro Motocross Championship
After a frustrating few weekends at the races, Dylan Ferrandis looked determined to get back on top at the Spring Creek National. Entering the day nine points behind Jeremy Martin in the championship, not only did Ferrandis manage to win his first overall since Loretta Lynn's 1 but he also moved back into the points lead. Now with the red backgrounds back on his Monster Energy/Star Racing Yamaha and just three rounds left in the series, Ferrandis has his eyes on the prize. He spoke with the media after his great day at the races.
Racer X: Dylan, obviously a great day for you. Overall, much better starts today. Your first 1-1 of since the season opener. You've got the red plate now. Take us through your day and how you feel heading into the final three rounds?
Dylan Ferrandis: It was a good day. Obviously, we did the 1-1, so it's perfect. This was awesome. It was crazy to think that's my second win of the season after so many races. I was really hoping to have more, but it's the way it is. A lot of ups and downs. The last few rounds were tough for me. It's good to bounce back with a double moto win and get back the red plate also is really important. For sure winning on the Martins' soil was awesome. I wasn't sure if I have it, but I did. It was a really good experience and a really good year so far.
Did you practice starts over the off weekend? It seemed like that was the only thing that was holding you back was not getting a good start and you got two good starts this weekend.
Actually, I didn't ride since RedBud. I just rode the one-time Thursday, a quick ride because I need to recover from my shoulder. We did practice starts but maybe five, six. Was the same as usual. The only change we made was more on the bike setup. I always wanted to set up my bike to get the maximum speed on the track, to suit my roll speed. I think we kind of forget a little bit to set up the bike for the start. I think that was causing me my bad starts the beginning of the season. So, we went back with some changes with more focusing on the start. The riding, we lose a little bit on the roll speed I think, but it was enough to get the 1-1 today so we're going to keep in this direction.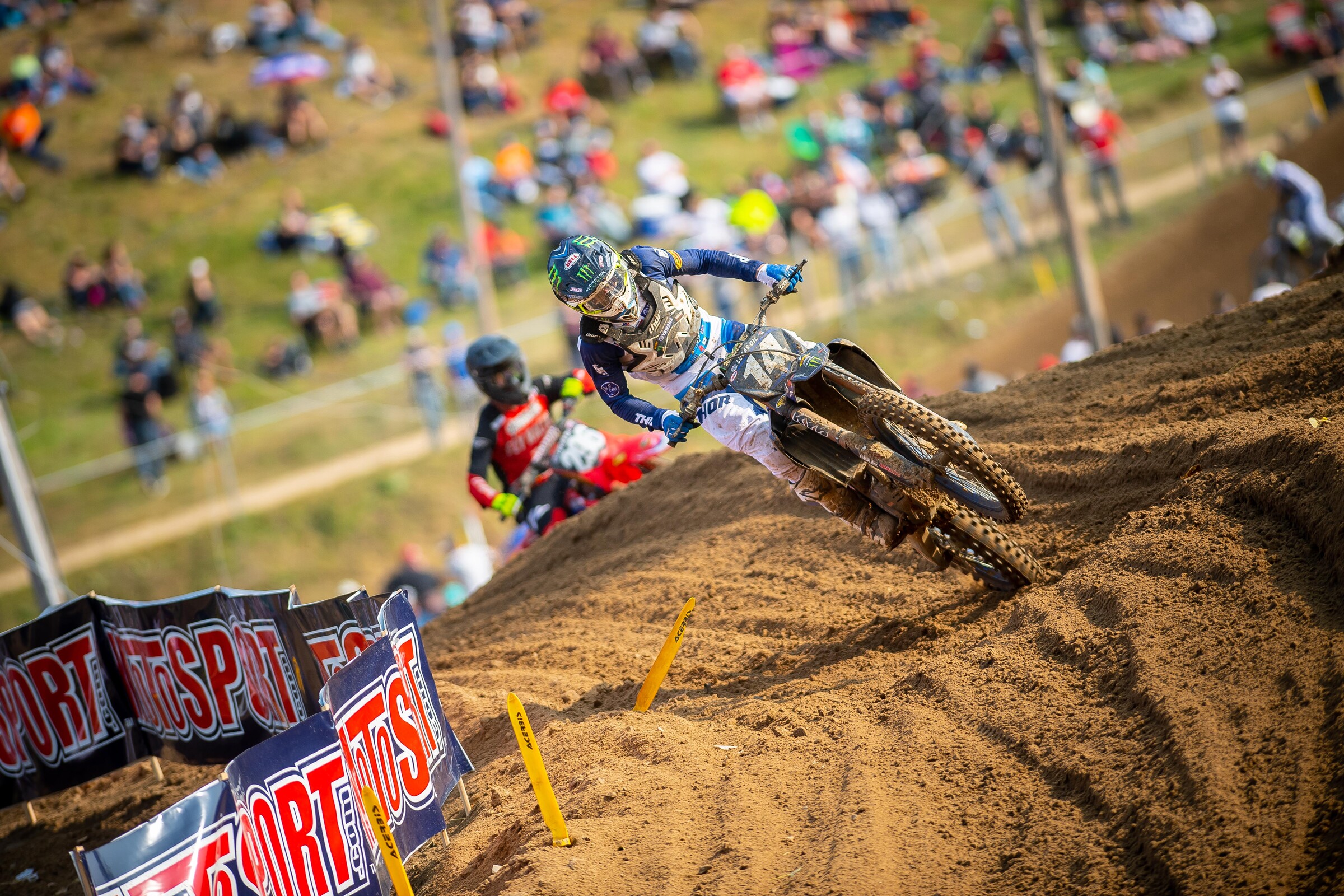 The last time you and Jeremy started together you were able to pull away. Were you surprised at times that he was still back there? Did you think you could break him? What was your reaction when he pretty much hung there the whole moto?
I was not surprised at all. He's on his track. What do you expect? We're both battling for the championship. He wants it as bad as me. When I took the lead and I looked back two corners after and I saw that he passed my teammate I was like, "Okay, here we go." It's going to be a battle, a physical battle also because I was not on my best day because I had to recover from my small injury and couldn't really train as hard as normal. So, it's going to be hard. We didn't disappoint, I think. I knew he would do everything, and that's what he did. I was really, really happy to beat him at the end of the moto because I really felt he could have beat me today on the second moto. In terms of championship points, it was really important for me to win because if I won, I get the red plate, and if I don't win, I'm three points behind. So, it was really, really important for today.
It was actually cold for what we're used to at a national in the United States, so you're pushing the pace that hard but is it that much different? Does it make a difference in how far you can go or how you feel at the end of the moto?
I feel, because I live in California now, I'm really bad when it gets cold. All day I was cold. It was hard to get warm. I almost feel that cost me some energy to warm my body, so it was kind of funny. I feel like when it's hot and humid everybody kind of has trouble in the last ten minutes and I don't. So that's helped me. But today like I said, I just wasn't on top of myself. I think that's why if you ask Jeremy, I think he saw a lot of mistakes by me during the moto. I did a lot of mistakes that I don't do normally. I was not on my best day, but it was good enough to win. So, I'm really, really happy.
This is obviously going to be a close championship. How does those three tracks work for you?
I don't know. I don't go to the track wondering if it does suit me or not because last year at RedBud, I did 1-1 and this year I did really bad. The last three years in Millville I'm always struggling. I've never been on the moto podium at Millville, which is crazy. And it's my favorite track of the championship, so every year I'm coming to Millville, I love this track, and I do bad. This year I did 1-1, so I don't really look at this stat. I just go on race day and do the best I can. But Florida, I don't know if I hope it's going to be hot and humid, but I know it can help me. So, we'll see. Last year I had a good time there. I won the second moto when everybody was really tired, so that was good. Pala is not my favorite. I like this track, but Pala is not one of my favorites because it's a pretty hard track. Physically it's demanding. Your body hurts a lot with the hard bumps and the step jump and everything. But we have no choice. The track is the same for everybody.
Were you anticipating that level of attack from Jeremy right there on the final lap?
I was for sure ready for that. I knew he was going to give everything. It's his home track. I have a track at home. We don't race on it, but if one day someone is beating me there, I would give everything I had. So, for sure I was ready, and I was close. The last lap I was a little out of control. He almost passed me in the last straightaway jump before the finish. I just shut the door on the last downhill and that was really close. So, for sure I was expecting that from him. Every answer I give, I'm smiling because I think we had this incident in RedBud, but I feel like we both know what it takes to be a champion. We give both everything we had. It's good for the sport and good for the show. I think today again we made a great show and people on TV for sure like it. I enjoyed the battle too, for sure.
Dylan, you won a regional title. You haven't won a national championship yet. How important is this? Where does this rank towards winning a supercross championship and winning a national championship?
I think anybody championship where everybody lines up is important, regional or national. There's no big difference. There is always guys to beat. Everybody is working hard. So, at the end being champion of supercross or motocross, there is no big difference. I came to the United States to ride supercross because that's what we don't have in Europe. I mean, we have it but there is no big championship. So, for sure that's something that I really like. But being a national American champion has always been my goal. Racing the tracks like Millville or RedBud, all these tracks that we have on the circuit is what I always dreamed when I was a kid. Being here is fun, but maybe the championship kill's a little bit the fun because when I don't win, obviously I'm not that happy. But it's still always good to be on this legendary track. I enjoy it. At the end of the supercross I want to ride motocross, and at the end of the motocross I want to do supercross. I think it's for every rider the same. We like both.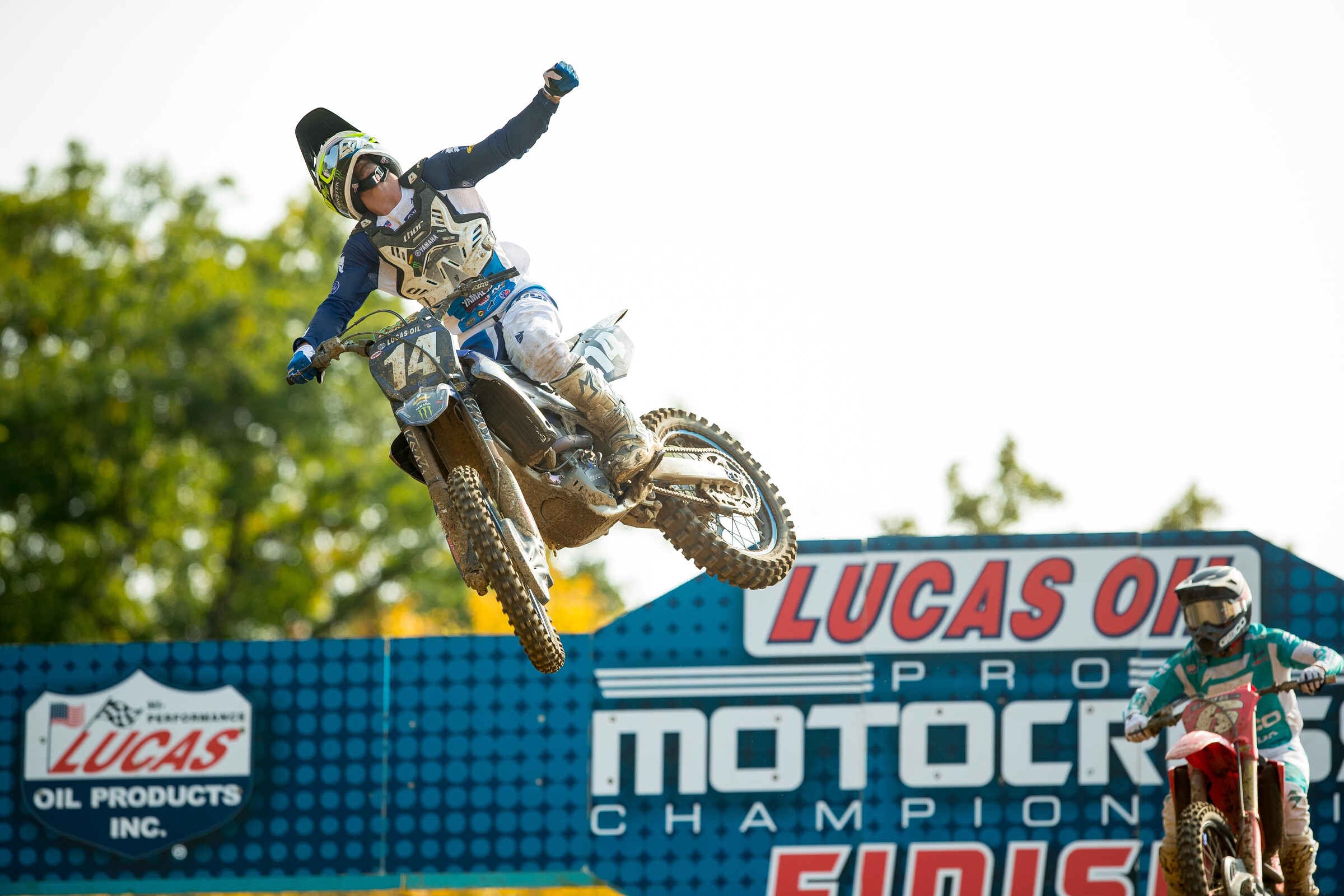 In the second moto you had first gate pick and lined up right next to the box. Was that done on purpose for you to get a little bit of room to your left side and kind of control that, or did you just feel that the rut there was the best one?
Every year we see a good start from the box. The first moto I was the second gate on the right of the box and Hunter Lawrence was on my side and he got a really good start. So, I just felt good there. When you're on the box you have no one on one other side. You feel a little bit more confident, even if it doesn't change much. Nothing crazy. Just the box was good today.
Dylan, the next couple races I see you're going back to the West Coast and then come back to WW Ranch [Motocross Park] next weekend. Is that the plan?
Yeah. I live in California, so every week I go back to California and fly.
So that's a pretty long trip in a couple of weeks. The East Coast boys have to go all the way to California. Does that make your week a lot tougher to have a trip all the way across the country? Or does it really not affect you that much?
For sure, yeah. It's a long trip. It takes some time and some organization. The last two years it was hard to manage. The jet lag also these three hours is kind of difficult because in the morning on race day you have to wake up really, really early compared to California time. So, this is something to manage. But this year I rented an RV and I have a friend drive my RV race to race and that's a big relief. I can just show up late on Friday and do my thing and sleep in the truck. So that helps a lot. Other than that, it's big travel, especially Florida. It's really long. It's the way it is. When I'm back in California I can train normally in good conditions. I don't suffer from humidity during the summer, so I feel it's best for me.
You can you can watch the archive of the 250 Class press conference or listen to the audio from the Spring Creek National post-race press conference below.