Hurricane Mills, TN
Loretta Lynn's II
Lucas Oil AMA Pro Motocross Championship
Moto scores were all over the map at the Motosport.com Loretta Lynn's National 2, and that let a variety of riders get some much-needed shine, albeit on a muddy day. Monster Energy Yamaha's Broc Tickle took second in the first moto and fourth overall with 2-9 scores, and Twisted Tea HEP Motorsports Suzuki's Max Anstie went 15-3 for fifth overall, but led a ton of laps in moto two.
The Saturday evening post-race press conference should have featured second and third-place overall finishers Adam Cianciarulo (3-5) and Marvin Musquin (8-2), but they were on late-night flights home. Tickle and Anstie came into talk about their fourth and fifth place days. The presser was hosted by MX Sports Pro Racing's Brandon Short.
Racer X: Max, congrats. You're back in America. I'm sure this is the kind of thing you were hoping for in your return to come back here. Talk about that second moto. It was pretty impressive. You really made the most of that start. You withstood pressure from Marvin. Zach got by you, but you were in there the whole time and almost took a really big moto win there. Talk about coming back to America and what it feels like to almost get on the podium overall, but get your first podium on U.S. soil on a 450.
Max Anstie: Crazy. I had a lot of fun, honestly. I didn't know what to expect even coming into the first Loretta's. It's a new bike for me, a new team. I'm coming off on Achilles injury that I wasn't sure how I was going to feel racing. You can do laps practicing, and I can do things controlled and precise and whatever, but also testing in California at Glen Helen or Pala, I came to this track and it's completely different. Obviously, I've spent a lot of time racing on conditions like this in Europe, so I knew what I wanted to do but with the bike I'd never experienced it. So, I just wanted to make small steps from last week to this week. We went out in practice. It was muddy. I knew what I wanted to feel and I wasn't feeling it, so we made a few changes. First moto I actually got out and I wasn't too bad. Then I was in eighth or something and I ended up hitting Cianciarulo in the air and going down off the track. Then the bike was upside-down. I was like, oh, great. This is not going to be the best moto. But I ended up picking it up and I thought, I'm just going to keep plugging away. I was going relatively steady. As far as it goes, that first moto was really, really tough for my foot, where you're just dragging your legs everywhere and you're just trying to push your way through everything. That was something that I hadn't done that I was quite nervous in that situation. Second moto, I took the holeshot. The bike worked, and [I tried] to settle in. I could get a relatively good flow. I kept my goggles clean. I kept the bike, tried to not make it too hot and all of that stuff. Everything was going well. I was quick in the sand. I felt fine in the sand. Then one of these lappers, he just went completely across the track and crashed right in front of me. I was coming at him and I just had to stop. I thought, I'm not going to try and go crazy and ride over him or go get all squirrelly and go right or left or whatever. It was a shame because I lost a few seconds then and Zach got by me. I was fast in the sand before the finish. I was like, that was my spot to set Zach up on the last lap because I was going to run out wide, and then slingshot in the turn. But Marv came out of nowhere and messed my plans up before the Ten Commandments! I didn't even realize he was that close. He got me, and then I was like, it's nice. I've led some laps for the team for my second race here. I just wanted to take third and get out of here. Anything can happen in these mud style races. So it would be nice to go to next week on hopefully a relatively dry condition and just see where I'm at, see where the bike is, see where we can improve and go from there.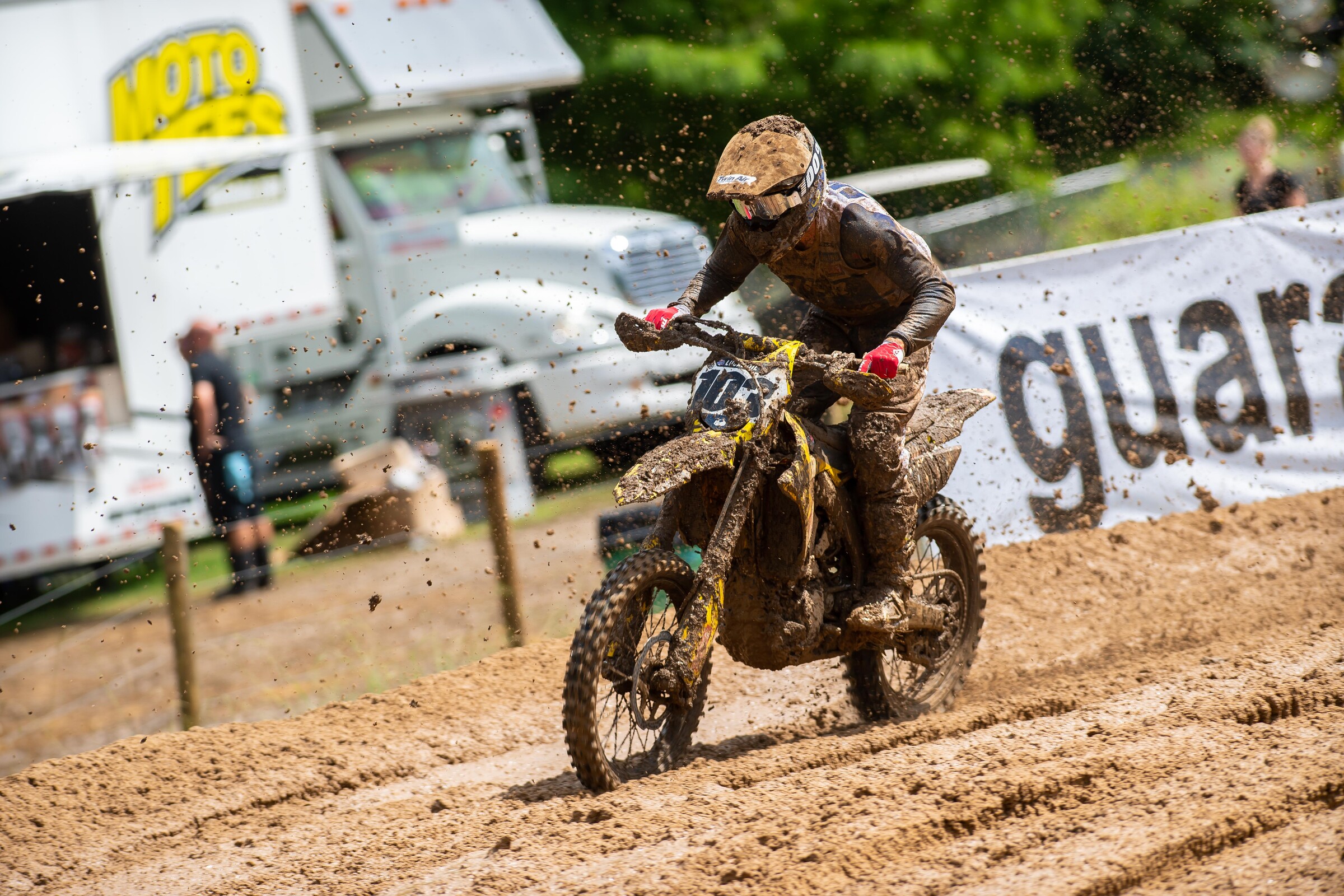 Broc, great start to the day with second in moto one. The second moto was just difficult for everyone. But you still brought home a solid ninth in that moto, just missed the overall podium by a point overall. It's only your second race with the team. I'm sure it's been a learning curve for you to just try to get adjusted. Talk about your day and what it feels like to get on the box in a moto.
Broc Tickle: First moto was awesome. I got off to a good start and stayed clean for the most part. Honestly just rode pretty conservative and hit my marks, tried not to make mistakes and overheat the bike and whatnot. Was able to come home second. I feel like I could have maybe pushed a little bit more, but I was a little uncomfortable, to be honest. I haven't raced outdoors in three years and the conditions obviously for being in SoCal number one and then obviously not being behind the gate for me was tough. In the past, it's [these conditions] have been my strong suit. So I think the experience kind of tapped in when it needed to. But for the most part, it's good to be back racing. I'm stoked with the crew I'm around. I've worked with most of the guys before, so for me it's like a welcome home, to be honest. During the week it's been awesome. I think we can build off this, obviously. Fourth overall missing the podium by one point is great, but I want to be there in dry conditions too.
Max, obviously you didn't get the win in the second moto but what is it like to see your fender peeping into the holeshot here and there out of the first turn? you leave with a feeling of accomplishment? Like I said, you didn't get the win in that race, but is it like, "Hey, I was able to run up front?" Is it kind of building for next week? Is there some accomplishment today?
Anstie: Yeah, for sure. I got a holeshot and led a lap and I thought, It's a good goal achieved. I led three laps. I went, okay! I led until the cross flag, and I was like, That's nice! I'm also not silly and I know the conditions were different and difficult. It was more European style or whatever you want to call it. I'm fine with the mud and all of that stuff. As far as it goes, I walk out of here going… To be honest, if you would have told me two weeks ago I would have got a third place in a moto, I'd have been pretty surprised and happy with that. I genuinely didn't know where I was going to be coming in. It's hard to base myself at Pala or at Glen Helen riding because I'm quite in the dark with the bike because they [HEP Suzuki] have never raced outdoors before. But to be honest, I've got a great crew chief and a great mechanic who have really pulled things together. So I can leave here and go to work for next week. At the end of the day, it's a bit like Broc said. We've got to go and see what it's like next weekend, if it's going to be dry and then go and see how we work. I've done enough races. I'm happy to leave where I did in the position that I'm in at the moment.
Did you feel any kind of rust? We were supposed to see you in supercross but then you weren't able to race, like you said because of the Achilles.
For sure. I'm definitely not as good as what I was at the end of my GPs, like when I won the last Lommel GP or whatever at the end of last season. That's just me fitness-wise with my foot. I'm eight months, and the doctors told me I wouldn't feel normal until I'm at twelve months, a year. It's just one of those. Today was the worst conditions because if I'm compensating a little bit you can go off balance everywhere in all those ruts. I've only ridden on dry tracks. I'm not going to put a number on it. I'm not 100 percent yet, but we're going to build. I'm going to build. The bike is going to build. Hopefully I can keep progressing each week. It's a short season, obviously, but the faster we learn, the better. I'm quite happy that I'm in the battle, I'm in the race. I could have come to the first race and been outside the top 20. I don't know. I genuinely have no idea how the bike setup is going to be. We came in and it was, okay, here's where we are. Make small steps each week.
Then you mentioned with the GPs, you kind of have experience with these muddy races. Is there anything like a muddy race like today that you can take and build on something specific for when the conditions are dry?
Yeah. It's just taking what you learned today with the bike. I changed quite a lot today. The first practice I didn't feel how I wanted to feel, but I wasn't stressed on it. I was like, all right, fine. We made a change for the first moto. We made a change then for the second moto. I can just figure those things out. I changed things this week too, so I'm just getting knowledge of all the areas. I heard Zach or one of the guys say he's riding the exact same bike to what they rode last year, they changed two clicks or something in one press conference or whatever I heard, I'm not on a bike that's familiar. It's those small things that make a difference. Everyone is very good and everyone is fast. I know obviously the lap times can be a bit different when it's muddy and things like that. But the difference is small. You're going three or four or five seconds faster if you feel good, or if you're fighting the bike you won't. It's just learning those things and taking that into the future races and we'll see what happens.
Anstie, with the conditions, with it being muddy, do you feel like it's an opportunity or do you see it as, this is a long day ahead?
Today I thought, my foot is going to hurt. [Laughs] That's about it. It's always an opportunity. Every race in as an opportunity. To be honest, I'm not bothered. Whether it's rainy or dry, I just want to go out, learn, see where we're at and go to work. I've done enough races in the mud, I've done enough races in the dry. It doesn't matter to me.
Tickle, for all the non-pros out there, is there one tip you could give us about racing a mud race?
Tickle: I feel like today I kind of managed myself pretty well. I don't think I was the fastest guy on the track, by any means. As you could see first moto I just got a good start, stayed clean, and hit my marks and worried about myself. I got passed by Eli. I got passed by [Christian] Craig. [Chase] Sexton even passed me I think in the beginning and I didn't let it fluster me. I just kind of stuck to my own pace and hit the marks. I didn't feel comfortable, like I said, and I knew that. So I think as you get more experience that's something you can learn. Kind of like Max was saying. If you're uncomfortable, you can be off the pace, but being comfortable can give you that couple seconds that you need. Today it was all about getting that start in the first moto and kind of keeping myself away from all the nonsense, to be honest.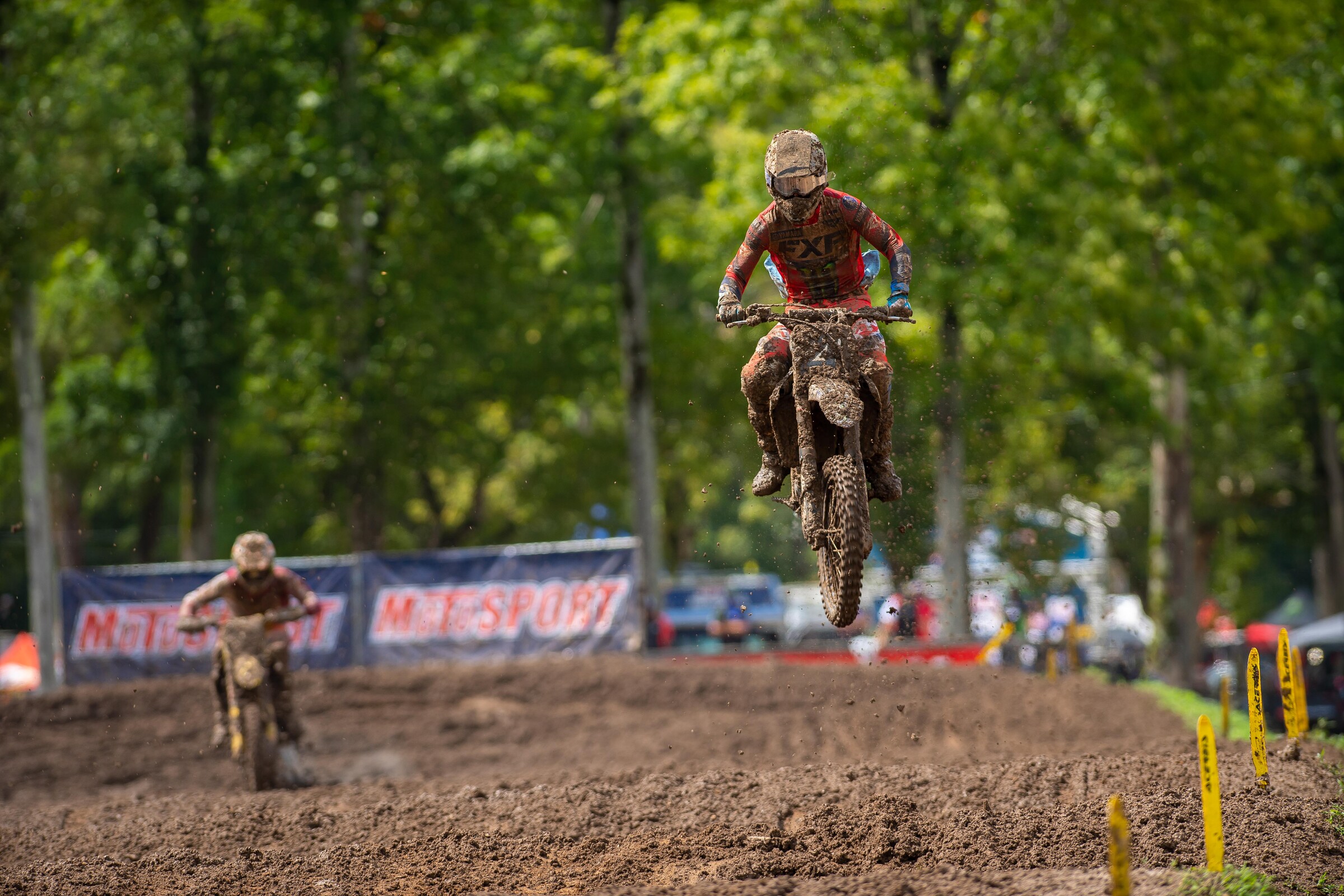 Max, it was good to see you lead some laps and lead a good chunk of that moto. I saw when you went down in the first moto. Was that a bit of a titanic struggle to get that thing turned around and in the right direction?
Anstie: Yeah. I was upside-down. Fuel was coming out, too. So I was actually looking at that like, oh no. I knew we were tight—well, we could have been tight on fuel anyway, especially in those conditions. But hands down to the team. The bike kept going. The bike was solid every moto and all the laps that we did. It was good. It was very easy to have a mess up with the bike, especially when it was upside-down. I was losing fuel. It was a mess.
Of all the things that you've said tonight about having to build a setup, figure out where you guys are, this being your first year in the United States, is this part of a long-term plan to stay here with that team?
Yeah, I'd like to be. I've done too much work just to end up back home. I've been living in Belgium for the last four years. It's a lot nicer living in California, or a lot nicer living in America, I'll tell you. I want to be here. It's the way that it goes with deals and teams and all of that stuff. I had great opportunities in Europe in the grand prix, but when I was a kid, my dad or whatever always trained me to want to come to America. I started my career here in 2009 with KTM and then 2010 with Star when I was 16. I started my career in America. I got the opportunity to come back this year, and not many guys do. Everyone was always telling me, "You're too old, 250 guys go and do that and it's not something that 450 guys do." Honestly, I looked at the options that we had in Europe and I spoke to the people around me and I was like, "Look. If I don't take the opportunity to come to America and just give this a go, then I'll regret not doing it." I didn't know much about the team. I didn't know a lot of what was going on. I came out here and did the test on the bike and did some supercross, and unfortunately I got injured. I actually feel like I would have rather come into outdoors first, anyway. For sure, I want to stay. We're working on things. I want to be here. I want to do supercross next year. That's the thing I want to see where we're at. Obviously I know it's not going to be easy, but I'd rather be here than in Europe at the moment.
Broc, being away for so long and then coming back in and getting these results against this deep of a field, is this where you expected yourself to be?
Tickle: I want to be in the mix. Obviously the class is pretty stacked, but I feel like I still have what it takes to be in the mix. I want to do it in the dry conditions, as well. I just want to put myself in a good position on the start. I want to race these guys. I don't know how much longer is left in my career. I can't answer that for you. I still want to race. I'm still competitive and I still want to do it. I still feel like I have what it takes to accomplish some things I haven't. That's why I'm still here. I'm enjoying this opportunity with Yamaha and all the people I'm around during the week. I'm having fun. I want to enjoy this outdoors season and make the best of it.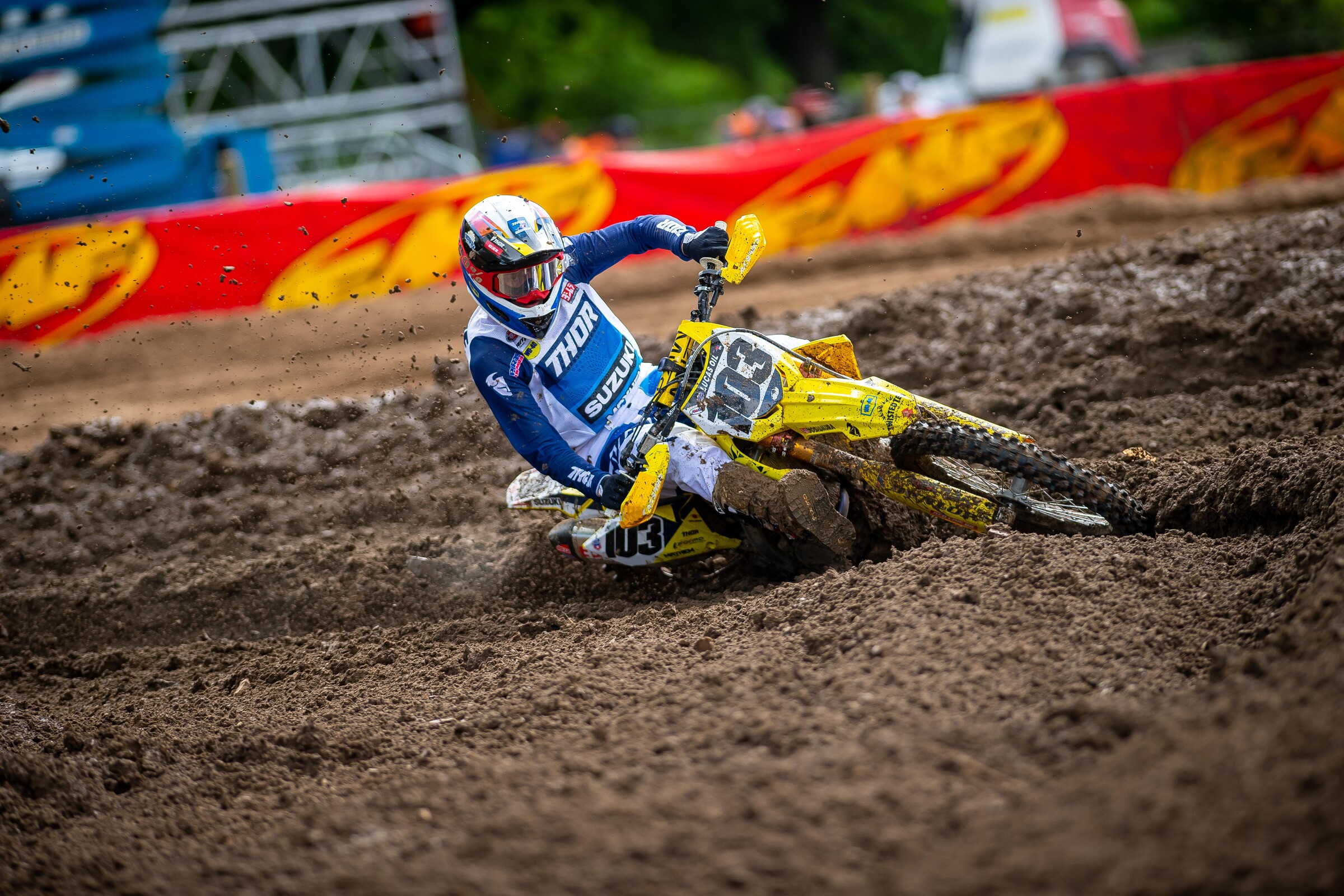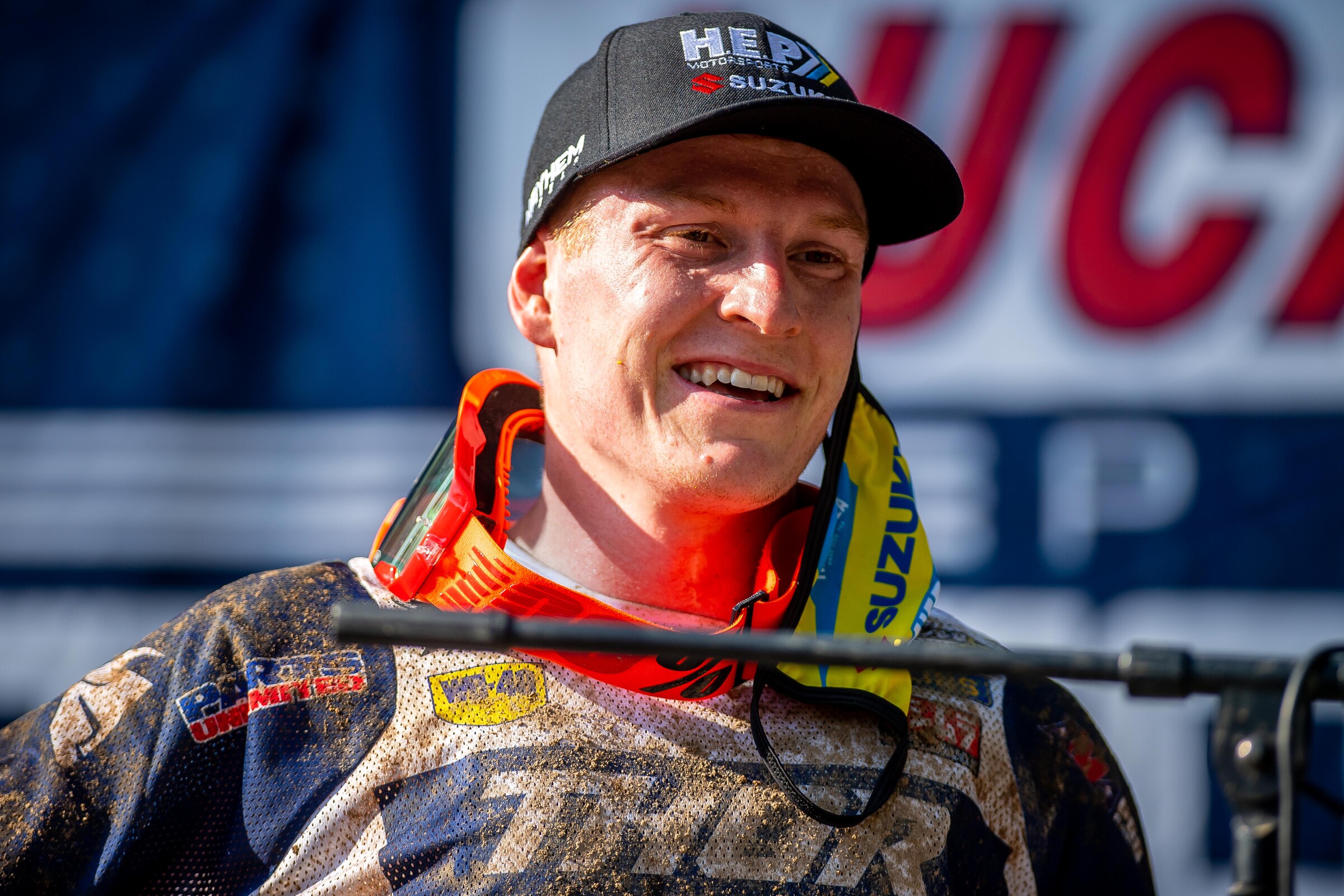 Max, were you worried that this series wouldn't even get going? Because you didn't even get to ride supercross. Were you worried that if this didn't come together, your whole season was done?
Anstie: If the season would have gone ahead in May, there's no way I would have been ready so I would have been done anyway! It's crazy how it works. I've broken a fair few bones, like we all have, and two months or whatever you're fine. This has been a mission of a job. I've, touch wood, never done knees or anything like that, but this is obviously the equivalent of that. I wouldn't have been racing if we'd have started in May. So I'm just happy and thankful that we are able to go racing, and I am able to even just get something and do what we're doing. I don't know what would have happened if I wouldn't have gone racing yet. It's been a crazy year anyway, so I think it's just cool that we are all able to ride.
Broc, you haven't been on the Yamaha very long. You come into Loretta's with this crazy weather. Kind of hard to test for that. How do you adjust that quickly?
Tickle: Kind of like Max said, it's been honestly a pretty crazy year for myself. It seems like when things are just getting put together something else falls in my lap. It's been awesome. Good experiences. For myself, it's been awesome to be part of the Yamaha Monster Energy Factory 450 team. We've made progress every week for myself. Ryan Villopoto tested the bike I think six weeks and kind of got a good base setting, and then I basically built off of that coming into the first race here at Loretta's. Last week we made improvements and then this week we made improvements. So I would say it's a lot similar to what Max is dealing with, to be honest. I'm not on the same bike for the last three or four years, but we're making progress and we want to show up and be competitive. I think everybody underneath the truck feels the same way. I'm excited to finish the series out. Like you said, 2020 has been a crazy year. So, make the best of each day and each race as we can.
You can watch the post-race press conference or listen to the audio from the press conference below, beginning at the 27:00 mark.