Hurricane Mills, TN
Loretta Lynn's II
Lucas Oil AMA Pro Motocross Championship
Early in the first moto of the Motosport.com Loretta Lynn's National 2, it didn't seem like Zach Osborne would leave the race with the 450 Class points lead in the Lucas Oil AMA Pro Motocross Championship, let alone win the darned race and extend his points gap! Yet, after barely qualifying and taking 5-1 moto scores, the Rockstar Energy Husqvarna rider took the 450 overall on Saturday, his second straight overall win, and also the second of his career. You can call it three-straight wins going back to Monster Energy Supercross (and not counting his Grand National Cross Country appearance in between).
Racer X: I don't think that you would have thought that you would have maybe walked out of here with the 5-1 for the overall win, but you did. A lot of your competitors had up-and-down days. It was an interesting day all around in the 450 class. Take us through your day and what it feels like to get back-to-back wins to start the season and extend your point lead.
Zach Osborne: It's awesome to get back-to-back wins, especially with the day that we had from the get-go. As soon as the green flag dropped, my bike stopped. It took them a while to get it fixed. It was just an electrical issue that took some time. That stuff takes time to troubleshoot. We got it fixed and we were able to go out for the B practice. I think I got three or four laps in that and put in the time and then went racing. The first moto was less than stellar from the start, just because I was so far back. Then one of my tear-off pulls broke and I had to stop and kind of fix that. I was like 35th or something. So salved a fifth from that and then to go out in the second moto, had really good flow and felt super comfortable after the halfway mark, and to go to the front was super nice.
That second moto there was smoke coming out of your exhaust. Weege and Langston [television announcers] were both speculating about a power loss. Did you lose any power on that second moto?
No. I actually had no power loss at all. I was getting on the pit board that it was smoking. Typically when it smokes that's me being hard on the clutch, so I took a couple laps there where I was just really, really easy, riding easy, trying to stay out of the deep spots. When I got to lappers I wouldn't panic and try to clutch it and go by them or whatever. So for me there was no loss of power, but it was more like a mix of me just relaxing, being easier on the bike and kind of taking it easier. I've had a couple of those situations in my career. Once I got to the front it was quite easy to do, actually. But there at the end on the last lap I had a decent lead and got to the Ten Commandments where I had been good and I cased the first one and then rolled a couple. Then that shot my lead. Then the last couple corners I was back on the clutch pretty hard.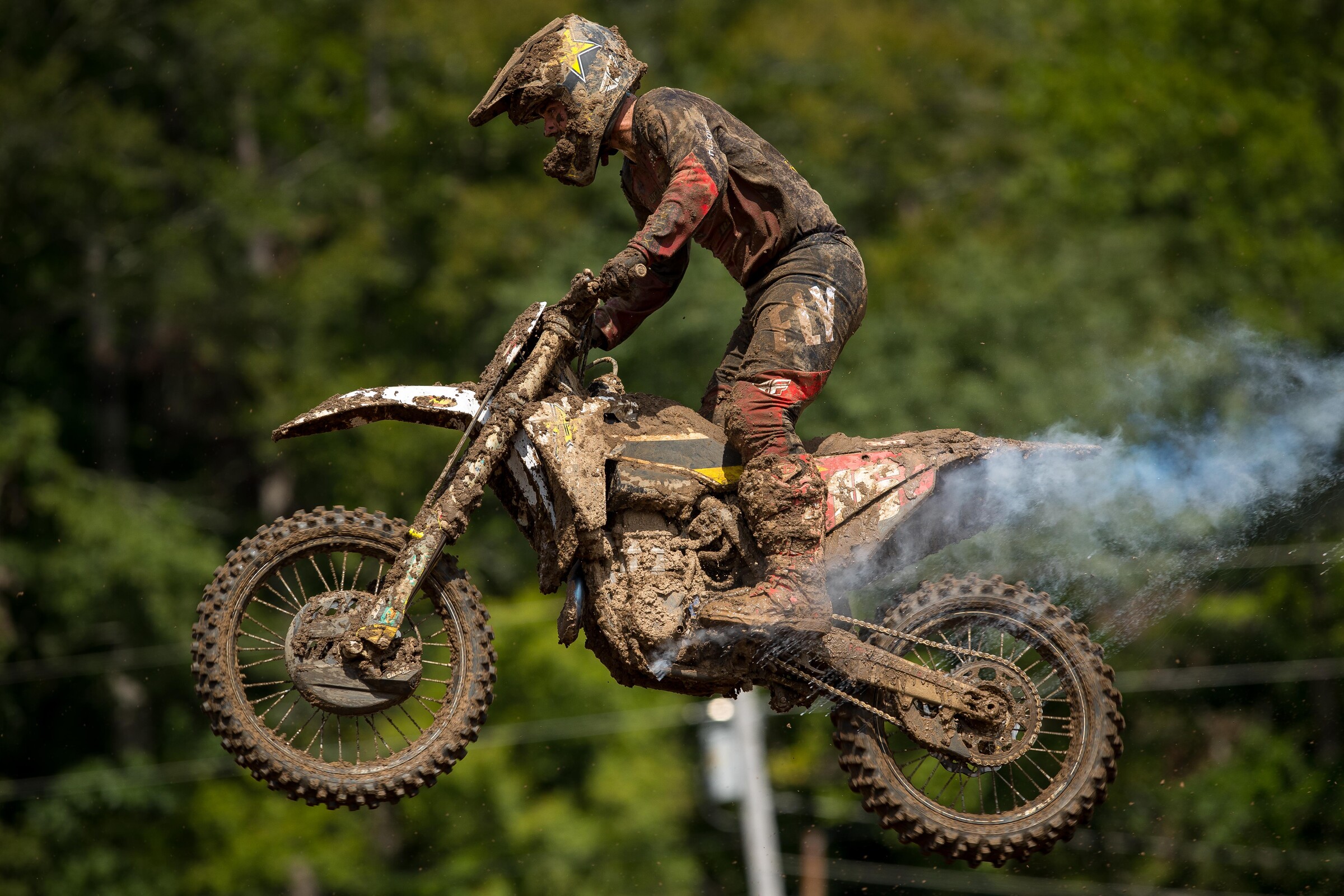 Zach, congratulations on the win. Is there any way you can elaborate a little bit more on qualifying? I know the rules state that if you are in group A you got to stay in group A. Do you feel fortunate given the opportunity to ride group B where a rider not of your caliber might not have been given the same chance?
I don't know about other people's chances. For sure I'm happy that I got to race today.
You qualified tenth. Were you surprised that you were as far towards the inside of the gate as you ended up being in that first moto?
No. A lot of people are I feel like apprehensive to be that tight on the inside, especially on that start. It favors the box or a couple inside of the box sort of position. I like that tight line a lot on a lot of starts, even ones that don't favor it, just because you can manage a good start from there even if you get a bad start, whereas if you're out in the middle somewhere you can end up 20th pretty quick. I feel like even if you do not a great start on the inside, you're going to be 5th to 8th. So I wasn't super surprised.
The 250 guys talked a little bit about it being a race to the first puddle. What was it like sitting on the line and thinking, I got to beat these guys or else I'm ruined?
Yeah. Maybe 50 to 60 feet out of the gate there was that huge puddle. If you got beat there, you were just getting splashed the whole way down and you were blind for a while. It was quite sketchy, actually. That's one thing I wish they would have done today better is just prepped the start better. When there's standing water on the start like that, it's quite dangerous, in my opinion. It was definitely like, I got to get to that puddle first, and I didn't manage it in either race.
You've been racing off and on with Max [Anstie] for a decade or so. What was it like racing Max?
Actually, I have not raced Max that much, not nearly as much as you would think. Most of the time I was in Europe Max was here, and then when Max came back [to Europe], I was back here. So I don't know if I've ever actually raced Max, to be honest, now that I think of it. But I wasn't surprised at all. Max is a great rider. Won GPs and has been on a high level for a long time. So I wasn't surprised at all. I think he has a lot more to show here than just what he did today and what he has so far.
You raced him quite a bit in '11 and '12 in MX2.
Really? Oh, he rode for CLS. Yeah, I did.
During the break you went and did the GNCC. You've done some off-road stuff. You know how to preserve a bike. Days like today, do you fall back on those traits?
Yeah, a little bit for sure. Today it was just tough conditions for bikes, period. The water on the start, that's a nightmare for electronics. Then just how deep some of the ruts were. You would either hammer to clutch out of it and hope that your bike didn't stop, or just get stuck and get winched out. So it was just a tough day in general. I wouldn't say that I'm some expert at saving dirt bikes or something, because I'm actually quite hard on bikes, but today was just one of those days where if you could just stay in a rut and do laps, you were going to do good.
The October 2020 Issue of Racer X Illustrated
Summer Break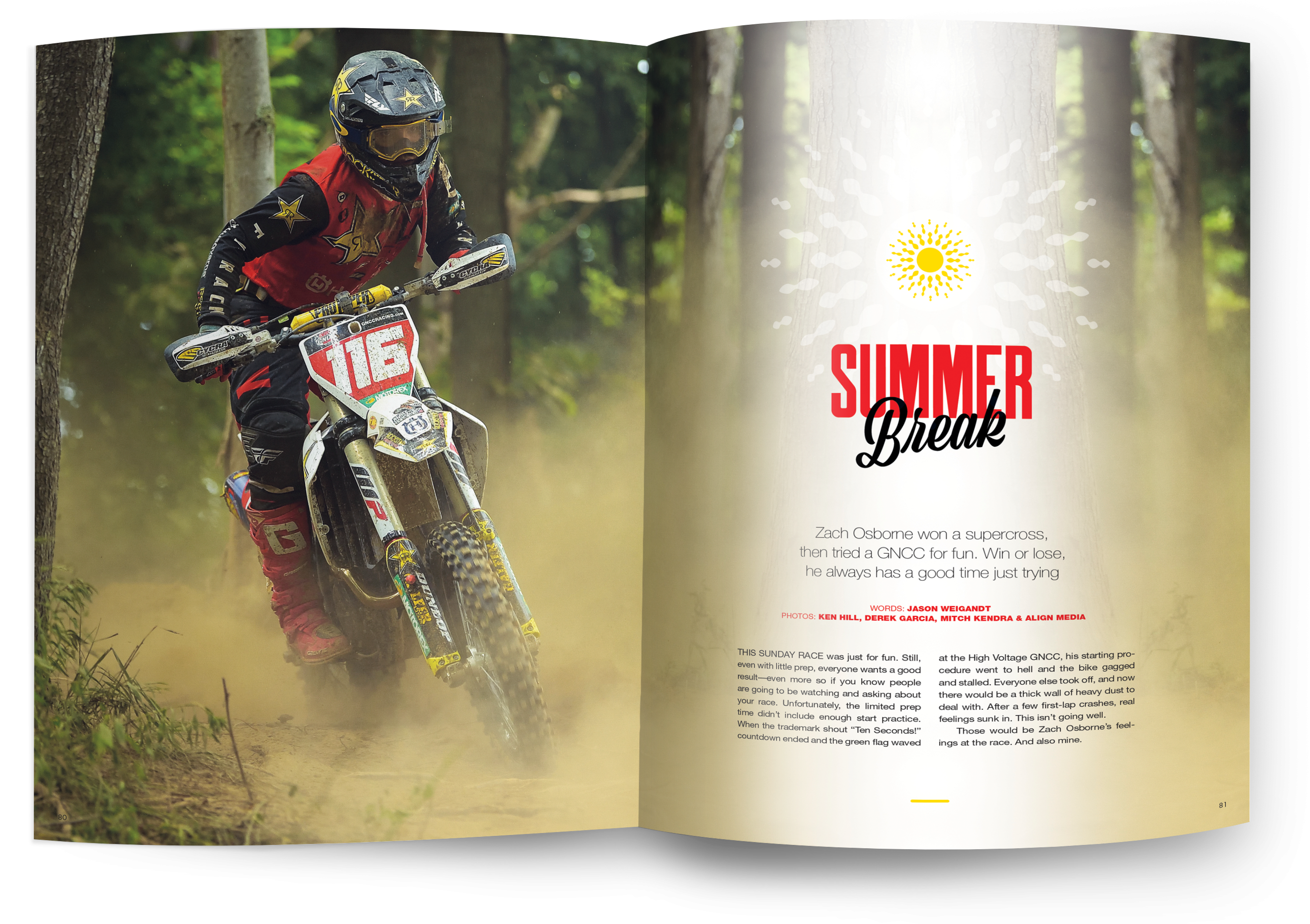 Zach Osborne won a supercross, then tried a GNCC for fun. Win or lose, he always has a good time just trying.
Read Now
Preview Now
Zach, you're two rounds into the season so it's still in the early days, but the championship points are looking pretty good at the moment. So what are your thoughts on that?
It's always nice to be leading points, but it's a lot of racing left. We still have seven rounds, if everything goes to plan, left. But right now the most important thing for me is just getting points every weekend and keeping that lead as long as I can, because we don't really know what's going to happen in the next coming weeks or months. That's the biggest thing is just keep hammering away at it and stacking points.
With the qualifying problem and the tough first moto, did you even think an overall win was in the cards at all?
If someone would have told me I was going to get two fifths, I would have been like, sign me up. But to go 5-1 for the overall, that's not really a common overall win score, and then to do it after the events was the morning was just awesome. The whole team rallied around us when we were having an issue this morning. The boys changed three engines between the motos. It was a hard day for everyone on the team. To reward them with an overall win, and RJ [Hampshire] got a moto win so that was super good. It felt awesome to kind of give back to the boys.
What was the emotion like when it sunk in that you actually turned a day where you barely qualified into winning? When did that all sink in?
Marv got close to me on the last lap and I think according to my math he would have won the overall if he would have passed me. So whenever I turned the right to the finish line, I knew there was no possible way he could get me. I had done the math that no one from the first moto was in front of me was in the top five well enough to beat me overall. So I was like, dang. It kind of hit me. I still wasn't sure that I had won the overall, but either way just after the way things were going and to turn that. We talk about momentum a lot as a group or as an industry and to make that snowball stop after the practice deal and go out there and win, is a big thing. That's probably more momentum for me than in the win, just to kind of right the ship on a day where it could have been a flop.
How did you keep calm, or did you keep calm, during the qualifying deal?
I was pretty calm. I didn't know what was going to happen or whatever. What do you do? There's nothing you can do. It's out of your control and you just stand there and be ready to do your job when you're called upon.
Did you even know about the B practice deal? How did that all come about?
No. I didn't know. I had no clue what the rule was. I didn't know anything about it, to be honest.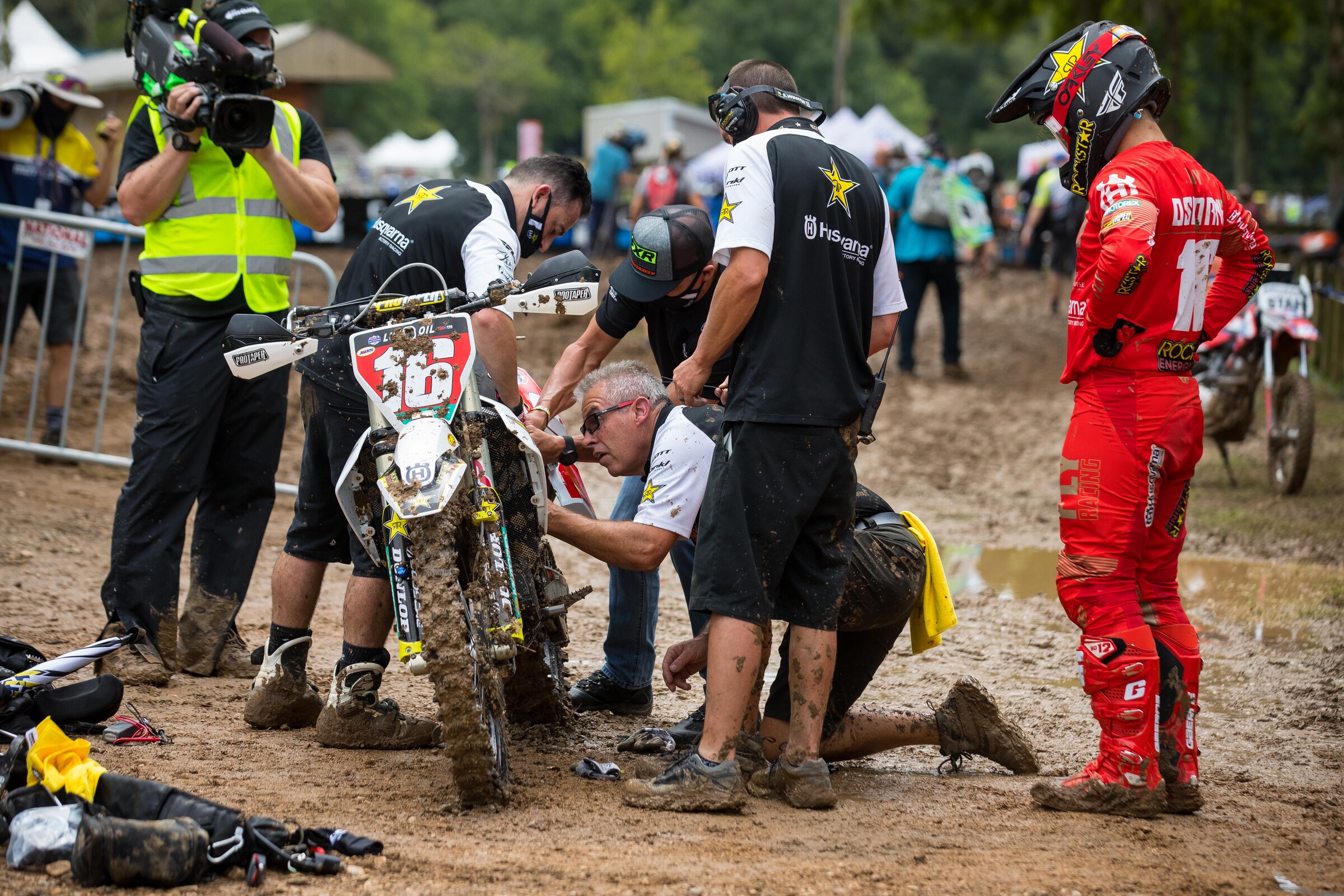 Zach, talk about maybe a little whiskey throttle and almost taking out Adam?
Yeah. That was a close one. I apologized to him, but I don't think he realized how close it was. I was basically riding his bike! I was going for the pass on the inside, but I got kind of tipped towards him on a rut. I was just like, oh, man. We're both going for a ride and he doesn't even know it yet. It was a close one. It wasn't really whiskey throttle. Those ruts were so long. I was going for it. I was sending it. I got a little off balance and kind of side-swiped him, but we were both fine.
So you've won the last three professional races. You're kind of on a roll here. How do you kind of keep that momentum but not be overly excited and make a mistake?
My age. I've been through a lot of highs and a lot of lows. I think that helps me keep things into perspective. It's just like we saw today with the practice thing, it's all within a moment going away. For me it's just focusing on what I'm doing, staying in the moment. I was able to go back to the truck today after the practice thing, do some deep breathing and just kind of calm my mind and know that there was a job to do. That's what I always try to do, is just show up every day and be the same that I am and go in and win. If not, then I can go home and practice and be better the next time.
You can watch the post-race press conference or listen to the audio from the press conference below, beginning at the 27:00 mark.