As we continue to count down to the 2020 Monster Energy AMA Amateur National Motocross Championship at Loretta Lynn's Ranch, we also continue to reminisce about great battles through the years at an event that has hosted plenty of them.
At the very first AMA Amateur National Motocross Championship at Loretta Lynn Ranch in August of 1982, there were a total of 983 entries. One rider accounted for four of those entries—you could enter as many as four classes that first year—and he seemed to tower over the rest. Fifteen-year-old Ron Lechien was a Yamaha support rider from El Cajon, California. He was already well on his way to the pro ranks; the previous year, Lechien had won the 125 Pro class at the Mammoth Mountain Motocross.
Unlike some of the other fast kids who were hoping to get noticed by the factory scouts, Ron "Dogger" Lechien didn't really need to be at Loretta Lynn's. He was already nationally known and set to join Yamaha's factory team the moment he turned 16. But his father, Dick Lechien, had decided early on that he would take his son to races all over the country in order to gain competitive experience, including the NMA Grand National Championships in Ponca City, Oklahoma, and the previous year's AMA Youth National in Reidsville, North Carolina (though he didn't take any titles in what turned out to be a muddy mess). The fact that the Lechiens did come to that first Loretta Lynn's helped put the new race on the map, as his very presence helped bridge the gap that existed back then between the West Coast motocross scene and the rest of the country.
"For sure, Ponca was the bigger deal," Lechien told Racer X contributor Brett Smith in an interview for a podcast about that first Loretta's.
"Everyone was there," he said. "Yamaha was there in full force. We were kind of on our own when we would go back east."
For 1982's new amateur national in Tennessee, Lechien was qualified for four classes, all of them on Yamaha YZ125s. Because he was fast in 125 A Stock and Mod. And because he was 15 he was also able to race in the 125cc Schoolboy (12-15) Stock and Mod classes. He would be going up against a slew of fast guys from all over the country, primarily members of the new Kawasaki Team Green Amateur Support program: Michigan's Eddie Warren, Louisiana's Wendell Simmons, Iowa's Rich Halstead, Virginia's Rusty Reynolds, Florida's Eric Yarnell, Pennsylvania's Dickie Bellora, West Virginia's Brian Stanley, and more. There were also fellow Yamaha riders Keith Bowen of Michigan and Johner Kight for Nevada, and Honda riders Mike Larson from California, Jim Veugeler from Illinois, and Jeff Glass of Pennsylvania. There was a lot of competition there, but everyone knew Lechien was the favorite in every one of his classes. It was the Dogger vs. Everyone.
In the 125 Schoolboy classes, Lechien took two of three motos and the wins in both classes, with steady battling in both divisions with Honda rider Mike Larson, who took the other two moto wins.
The other classes did not go as well for Lechien, as the three-moto format and varying weather conditions led to some unexpected problems.
"I had everything won going into the last day, and then it did what it does every year, and that's a f---ing downpour," Lechien explained. "I think I lost a clutch in one of my bikes in the mud and I lost that class, and then another one of my bikes blew up. So I could have won four classes, but I had bike problems. I think I had won all of my motos up to that point. I was on fire right about then!"
Indeed, Lechien had won the first two motos in the 125 A Stock class over Eddie Warren, only to have his motor seize in the third and final moto. Lechien also won the first moto of the 125 A Modified class, only to struggle in the muddy second moto with a badly slipping clutch. Again, Warren was able to capitalize by winning that moto and the title, though the third and final moto went to Louisiana's Wendell Simmons.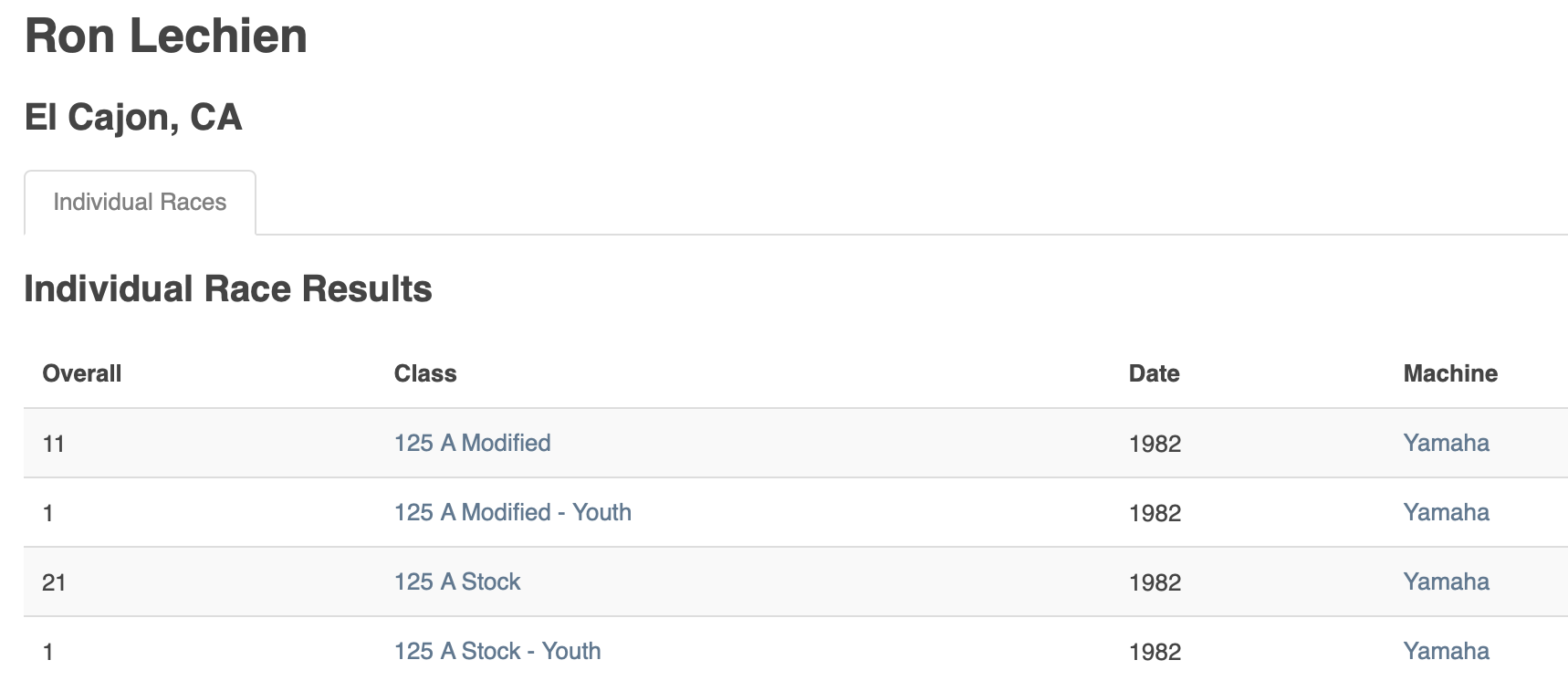 The heavily favored Lechien won motos in each of his four classes in '82, but he was only 2-for-4 in championship titles, as Eddie Warren took the other two. No matter, Lechien would be the first star turned out by Loretta Lynn's: one year later, on back-to-back weekends in June of 1983, the 16-year-old Yamaha factory rider won the Orlando Supercross in the premier 250 class and the 125 National at Lake Whitney Cycle Ranch in Texas. By 1985 he was the AMA 125 National Motocross Champion as well as a member of Team USA at the Motocross des Nations. He was inducted into the AMA Motorcycle Hall of Fame in 2019.
Read More Great Loretta's Battles