Daytona International Speedway
Daytona

,

FL
Ricky Carmichael Daytona Supercross
Ricky Carmichael Daytona Amateur Supercross
Welcome to Racer X Next, where we interview up and coming amateur racers. We'll check in with racers on topics such as their training program to qualifying for and competing at the AMA Amateur National Motocross Championship at Loretta Lynn Ranch, and much more.
This week, we talk with RM Army's Casey Cochran.
Curent Age: 13
Born: 06/24/2006
Hometown: Portsmouth, VA
Instagram: @Casey_MX66
Team: Team Ecstar Factory Suzuki, Fox Racing, Monster Energy
Classes: Mini Sr. 1 and 2, Supermini 1
Racer X: With a break in racing, how much different is your day-to-day schedule now compared to a typical month or weeks leading into Loretta Lynn's qualifiers or another big amateur event?
Casey Cochran: Right now, it's basically the same. Just come out and ride Monday, Tuesday, Thursday, Friday. We're not training as hard as we usually would before a race, but we're still out here riding and still grinding. Pretty normal.
Have you taken any of this spare time to watch past races or highlights? Maybe study a little more or train virtually on video games?
Yeah. I have watched some of my GoPro footage from Daytona and a few other races and just went over and see what I can get better at. I do play quite a bit of video games, too. MX Simulator, I play that game a lot. It's just a really fun game to play. I race the amateur class. We're not as good as the pro's that race on Wednesday, so we're just a little bit under. We race Sunday. But I know a lot of my friends do race on Wednesday night.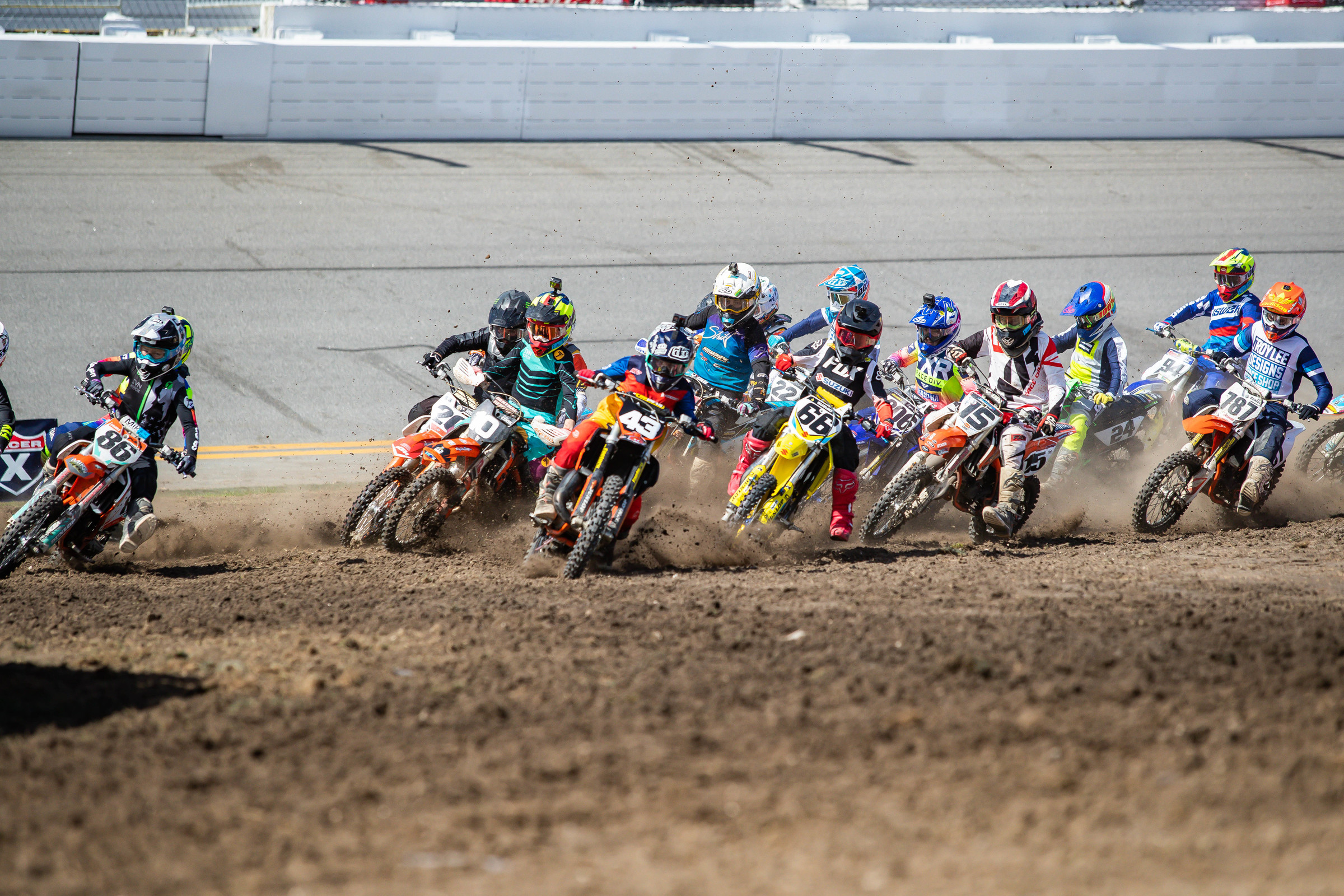 What classes are you racing this year? did you get any area qualifiers in before the break?
I'm racing Mini Sr. 1 and 2, and Supermini 1. I qualified for both Mini Sr. classes at Gatorback in February. Supermini was the one where I had a little off-track excursion. So, I didn't quite make it in that one. We were going to go to Birch Creek but didn't get to go there.
Talk a little bit about your year so far. Obviously, we just talked with your mom, but if you could sum it up in your own words. Talk a little bit about Supercross Futures, area qualifier…
This year has been a really good year for us. I was hoping to come in this year hoping to be our year and get some wins and be up there in the fight. That's exactly what we did in Tampa for the Supercross Futures. I did pretty good there. Had a mistake in the Mini Sr. class. Went down on the start and got second, but I could have won that. Went to Daytona and I did good there and won two championships in Mini Sr. 1 and 2. That was really good. Just hoping we can get back to racing soon and get some more titles. We went and did the Spring a Ding [Ding]. I didn't do too good there. Had some bad starts and had to come from the back. I rode good, and I guess that's all that matters.
Talk a little bit about the JS7 Spring Championship at Freestone MX. You were starting to have a good weekend there?
Yeah. I went to Freestone. I was having some fun there before racing, riding some pit bikes around and just having some fun with some friends. Went out for practice. Did one practice. I felt okay. Then I went out in the Supermini practice and I felt really good. I was excited to race, but they ended up canceling it, so we didn't get to race that week, so that's a bummer.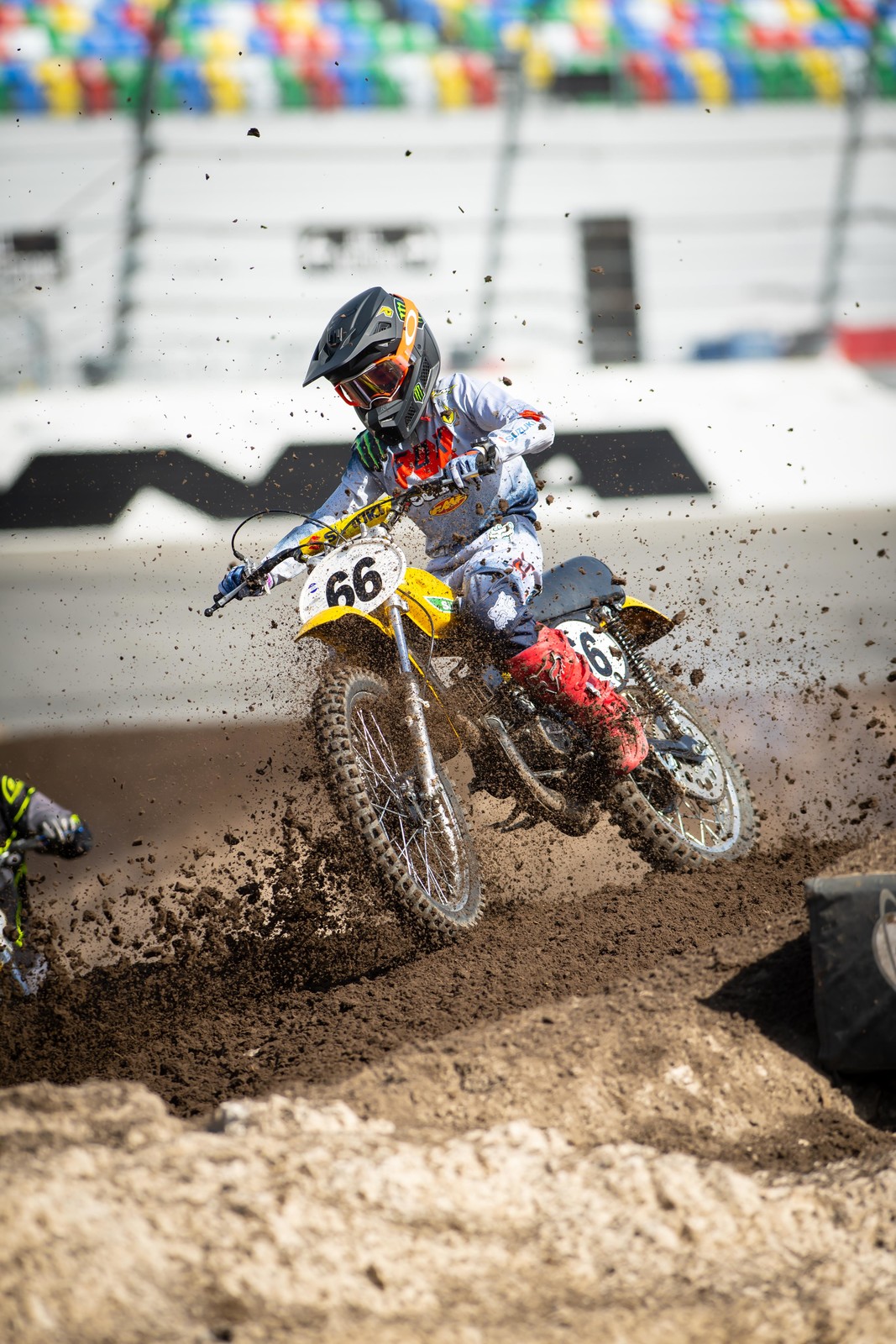 What about Supercross Futures? You did St. Louis and Tampa?
Not exactly full St. Louis. I wasn't really ready because two days before I tripped in the yard and re-cracked my collarbone. So that really sucked. I raced with a broken collarbone, but I got second so that was good enough, I guess. I was pretty happy to come out of there without anything worse than that and not hurt it any worse, and at least be able to go to Monster Cup and qualify. In Tampa in Supermini 1 I got a second or third place finish, and then Supermini 2 I got a fourth. Someone who finished in front of me was already qualified, so they didn't count. They take top three, so I got into Supermini 2 as well. They only had one mini senior class there, I'm pretty sure. So, I got a bad start and went down. Got back to second. I should have won, but it is what it is.
Do you talk much with riders that you are normally racing with at Loretta's or at any of these nationals in this time?
Obviously, we can't go and talk to them in real life because they don't live close, and I guess we're supposed to stay here anyway. They all play video games too, so I do hang out with them on there and talk to some friends and just play MX Simulator, a little bit of Fortnite, and [Tom Clancy's] Rainbow Six [Siege] and have some fun with them on there while we can't in real life.
How did you get into racing?
My mom actually raced a long time ago when she was a kid, about my age. She raced dirt bikes and my grandpa was a professional street bike racer. He owns a motorcycle dealership [Lake Hill Motors]. So, it's just in my blood. I don't think I really had a choice.
Your grandpa raced street bikes?
It was just Superbike because he raced Daytona and stuff. Third at the Daytona 200 one time. He was pretty pumped on that, because the year before he broke his leg at one of the races and he was pretty pumped to come back and get third.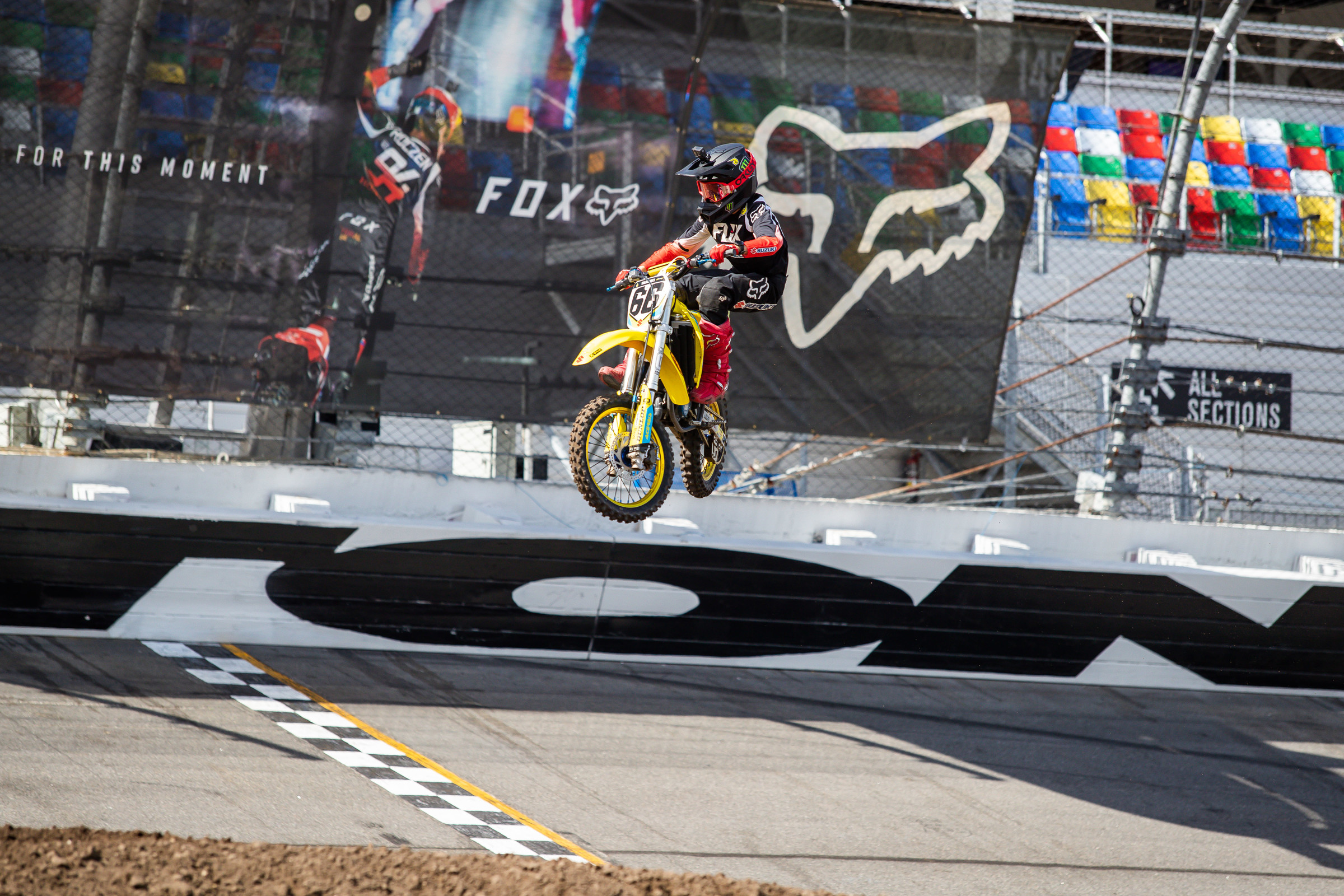 When did you get your first bike?
I was two or three years old on Christmas. I got a CRF50 as a little bike to play around on and have some fun.
Have you always lived in Florida?
No. I was actually born in Virginia, and obviously my parents were in the military, so we moved a lot when I was first born. I lived in Virginia for a year. I was born there and then lived there until I was about one. Then we moved to Memphis, Tennessee, and I lived there. Grew up there, really, from two years old to we moved out when I was eight. So, we were there for a while. Then we moved to Georgia to go train down at MotoX Compound. We lived at Matt Walker's for about three years, and then we came down to Florida and it's been fun since then.
Talk a little bit about your off-the-bike training, what you've been doing.
Ken Roczen's fitness trainer, Blake Savage, I'm good friends with him and he does my workout program, so he's always got me doing some workouts, going on the skier and going on bike rides. Just trying to be the best that I can be.
Cooper Webb is your neighbor?
Yes. We share a fence. He's right there in our backyard. We babysit his dog all the time. He's really shy when it comes to neighbors. I don't know why. He never really comes over, but when we're walking by, we'll say hi and he'll say hi. It's pretty cool.
Any other cool neighbors or friends?
I'm really good friends with Ken Roczen. We always go out on the boat together and go surfing. Really like to hang out with him. I go to his house and work out in his gym all the time. He's probably the tightest relationship I've got with any of the pros. Adam Cianciarulo trains here as well, so I'm friends with him. He goes to Ken's and works out sometimes too. Good to know all these professional riders.
How long have you been on Suzuki's?
I signed with them when I was eight years old in January of 2016, so a little bit more than four years. Been on that bike for a long time. It's a really good handling bike. It's just really fun to ride and throw around. It's one of the smallest ones, so I can really throw it around. Almost feels like a pit bike, so it's a really fun bike to ride.
Will you move up a class after this summer? What will you do after Loretta's?
I don't know. It depends on what happens really, because this year I'm going to do Mini Sr. 1 and 2, and next year we'll probably race Supermini. So probably going to move up to Supermini 1 and 2 next year. This is my last year on 85s. But I am running Supermini this year as well, just running Supermini 1. Already getting used to that class, and then I think we're going full Supermini next year.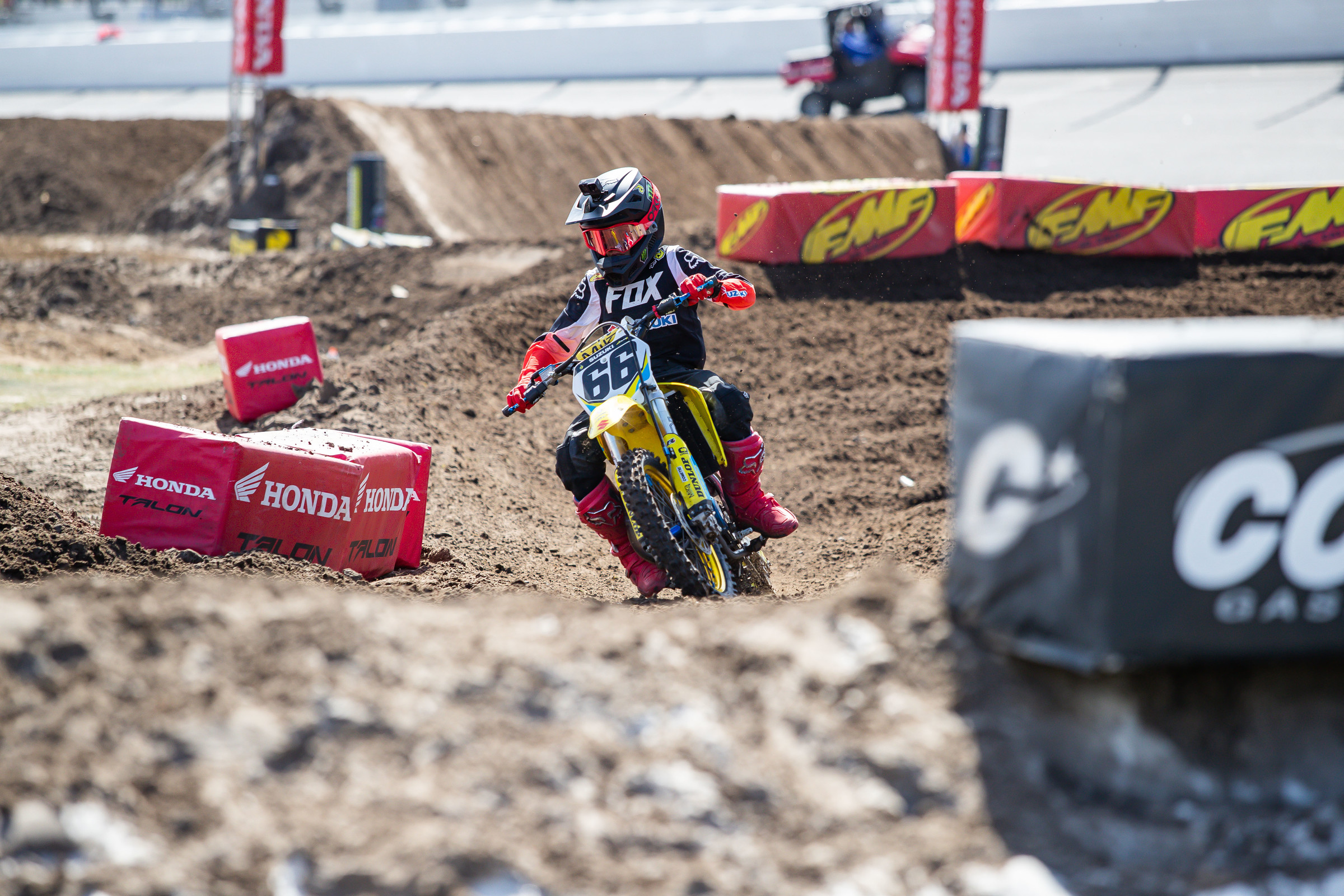 So maybe at Mini Os we'll see you full Supermini?
Possibly. Either at Mini Os or I guess after that areas [qualifiers] is next. I'll probably still be on the 85 at Mini O's and then right after Mini O's I'll move up to full Supermini.
So, we saw you out at Daytona on a vintage bike the last two years, tell me about that.
The vintage classes is a really cool thing to race, to be a part of. My grandpa has a friend that restores bikes and he just happened to bring down a TM125 Suzuki. It was the first year they had the vintage and he was like, "It would be fun to do. Do you want to try it?" I was like, "Sure, I guess. Why not?" It was something we just slapped together last-minute. So, it's a really fun thing to do to ride that older bike to see how much the bikes have changed since 50 years [ago]. The brakes are not good. The brakes are not good at all, and the suspension is not good. There's no suspension. It's like riding a pit bike, just a faster pit bike. It's actually really fast. It's really slow on bottom end, but when you get on top end it goes pretty good.
What's your favorite track or favorite race?
My favorite track that I remember has got to be Farm 14, Kevin Windham's track, but I haven't been there in a long time. I went there for the area qualifier on 65s. It was a really fun track when I went. The jumps are awesome there. I just love to jump, and they had some big triple jumps and the dirt was really good and got good ruts and stuff. It was just a really, really fun track for me.
What else do you do in your spare time for fun, especially now that we're not racing?
I can surf pretty good. I'm pretty good at wake surfing, and I can ocean surf too. When we went out for Anaheim 1, we surfed out in California. It was really fun. I'm not very good, but I can catch a few waves and still have some fun. I can actually do some flips pretty good, as well. I can do backflips on just flat ground and stuff. We have a dock, so we go out on the boat all the time and we have a platform that we jump off of into the water that's about ten feet high. So, it's fun to always go down there and jump off and have some fun doing flips and stuff.
---
Main Image: Andrew Fredrickson