Daytona, FL
Ricky Carmichael Daytona Supercross
Ricky Carmichael Daytona Amateur Supercross
Welcome to Racer X Next, where we interview up and coming amateur racers. We'll check in with racers on topics such as their training program to qualifying for and competing at the Monster Energy AMA Amateur National Motocross Championship at Loretta Lynn Ranch, and much more.
This week, we talk with Team Green Kawasaki's Gavin Towers.
Note: This interview was conducted following the Ricky Carmichael Amateur Daytona Supercross, prior to the cancelation of the JS7 Spring Championship at Freestone MX.
Racer X: So how'd your day go here at RCSX?
Gavin Towers: It was good. I rode Supermini 1 and 2, and Schoolboy 1. I was pretty far back in the pack in Schoolboy 1 because I got caught in a first turn pileup. I ended up just hitting another kid, it was more circumstantial, just in the wrong place at the wrong time. In Supermini 1 I ended up winning the championship after a long hard fought battle with Ryder Difrancesco. Then in Supermini 2, I ended up fourth after a bad start.
So what are your plans for the spring and Loretta's?
We are headed to Texas for Spring a Ding [Ding] and Freestone [the JS7 Spring Championship]. The we will head home to Pennsylvania. I'll be qualifying at the Mid-East qualifier at Briarcliff [MX] and also Northeast which I think is Tomahawk [MX]. When I'm home I go to Ohio to train with Dave Kilgore at KilgoreSemics [MX School]. Then sometime around July I'll head south to Louisiana to get used to the heat and train at Real Deal [MX Training Facility].
What are your plans for 2021?
Right after Loretta's I will get on a 250 with Kawasaki, and I'll be on a 250 for all of 2021. I'm not sure exactly which classes yet, it all depends on what Kawasaki wants me to do but I would guess I'll be riding 250 classes and Schoolboy 2.
How did you get into racing motocross?
Well, my parents were always big barefoot water skiers. So, it was my great uncle that got me into motocross. I also really enjoyed riding around my battery operated dirt bike, it was so much fun. I think I got my first real dirt bike for Christmas in 2008, when I was about four or five years old and I've just loved it ever since.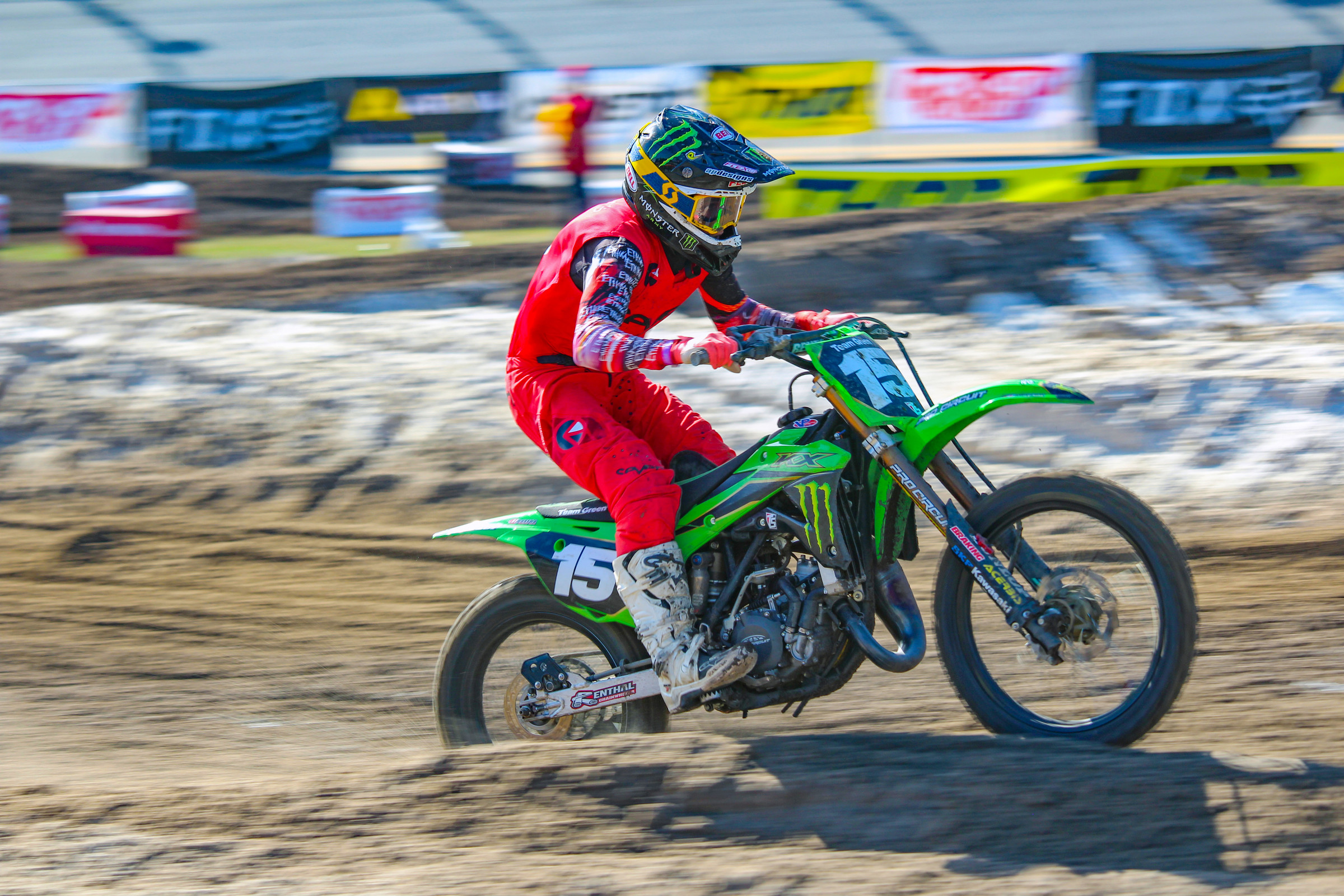 When did you start competitively racing?
As soon as possible! I didn't really grow up in an area where you could just ride in your backyard or you would get the cops called on you. You could barely even start them in your garage! It was just a more populated area. So we always had to go somewhere to ride and racing followed shortly after, probably in 2009.
Who do you look up to in racing?
Honestly, it's a mix of a bunch of them. I like how Ken Roczen is really good at running the first couple laps, then [Eli] Tomac's speed is insane towards the end of a moto, and then [Ryan] Dungey's consistency… so if you could just mix all three of those together—you couldn't be stopped.
---
Main Image: David Lando