Daytona, FL
Ricky Carmichael Daytona Supercross
Ricky Carmichael Daytona Amateur Supercross
Welcome to Racer X Next, where we interview up and coming amateur racers. We'll check in with racers on topics such as their training program to qualifying for and competing at the Monster Energy AMA Amateur National Motocross Championship at Loretta Lynn Ranch, and much more.
This week, we talk with Team Green Kawasaki's Seth Hammaker.
Note: This interview was conducted following the Ricky Carmichael Amateur Daytona Supercross, prior to the cancelation of the JS7 Spring Championship at Freestone MX.
Racer X: Seth, tell us about your day, you had a wild ride there in the 250 A class. You alright?
Seth Hammaker: [Laughs] Yeah! I got the holeshot in the 250 A moto and launched it off the wall jump after the first turn. Luckily, I went down pretty easy and was able to get back up. I made a good charge through the pack and ended up finishing second. I got the win in the Open A moto. In the 450 A I didn't get the best start. I think I was about fifth and was able to make my way up to second, then about halfway through the moto I made the pass on the leader to get the win. All in all, I'm happy with how the day went.
What's your next stop? Spring nationals?
Yep! We will be heading to Texas after this for the Spring a Ding Ding race and the JS7 Freestone Spring Championship. I've already done a Southeast area qualifier for Loretta Lynn's at Gatorback, but I will probably do another one in the Northeast region—I'm not sure which one yet. I'm from Pennsylvania so it will be good to get back up there.
Are you able to ride up there yet?
No—not yet. I've been staying down here in Florida at Ricky Carmichael's Goat Farm. That's where I've been training. I stay there full time, even when I can ride at home I usually stay here because the training is better, tracks are better.
So, when did you start racing motocross?
I started riding when I was four years old. My dad raced. I seen him riding and wanted to try it out, so he got me a bike. I would just ride for fun; we would do a couple local races here and there but my parents both worked full time and we didn't have a lot of time to travel anywhere to go racing. We started to hit it a little bit harder when I was 15. You could say I was a more of a late bloomer, it took me a little longer to get to the top level, but we are here now and I'm happy we did it this way. I'm a more mature and I think that will help me moving into the pro ranks.
Hammaker leading the 250 A class through the first turn at the 2020 Ricky Carmichael Amateur Daytona Supercross.

Andrew Fredrickson
Which pros have you looked up to?
I would have to say Cooper Webb. I feel like me and him are a little bit the same, we have similar riding styles. I like how he never gives up; he rides it out 'til the very end, he has that determination that I think a lot of guys admire, he's very dedicated—and I want to be like that. I want to fight until the end no matter what happens.
What are your plans after Loretta's this year?
The plan is to go pro. So, after Loretta's I will do the last three Pro Motocross nationals and then in 2021 I will make my pro supercross debut on Mitch Payton's Monster Energy/Pro Circuit Kawasaki team.
What are you most looking forward to about turning pro?
I'm really looking forward to racing with all of the top guys, learning that race pace and those race days, and eventually being a championship contender. Honestly, I'm looking forward to racing more often. Right now, it's like we do three weeks of racing and then two months off before you can race again. In the pro series you race almost every weekend. So, if you have a bad weekend, the next weekend you have a chance to do it again.
So, you wish there was more amateur racing?
Yeah! I love racing. I think the more racing experience we have, the better racers we will be.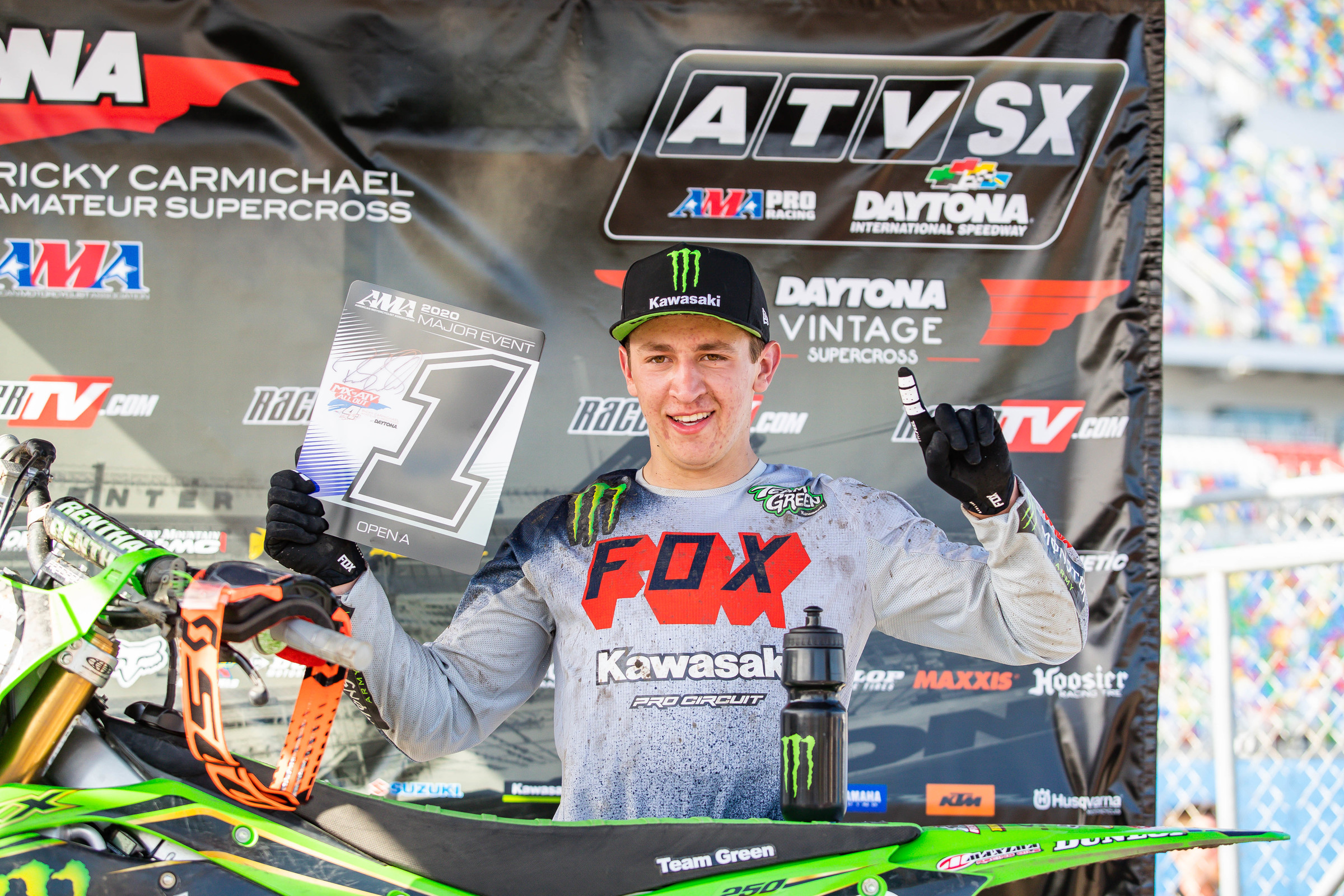 ---
Main Image: Andrew Fredrickson